This post was written by Daniella Spinetti of Eve&Co and also appears in our Easter Mini mag.
Amelia's love of flowers inspired the theme behind this 5th birthday party. At the planning stage, the birthday girl herself announced she wanted a "flower party". In all honesty we were stumped as to how to turn such a seemingly simple theme request into something with 'wow' factor. At that same time, Miss A was fascinated with all things French, so after brainstorming with the mega-talented Leanne Anderson (Dream A Little Dream Events) we landed on 'Le Marché aux fleurs d'Amelia', or 'Amelia's Flower Market'.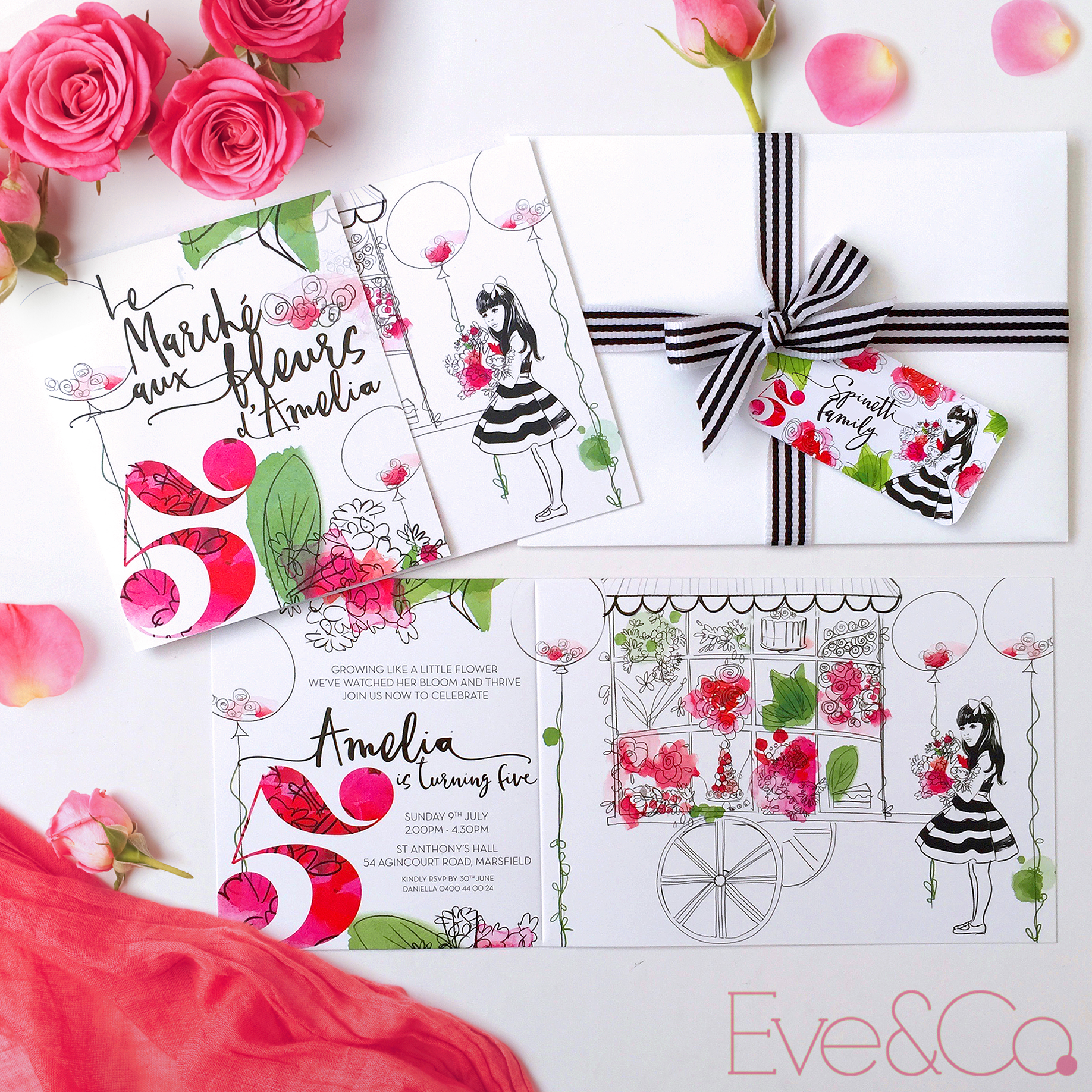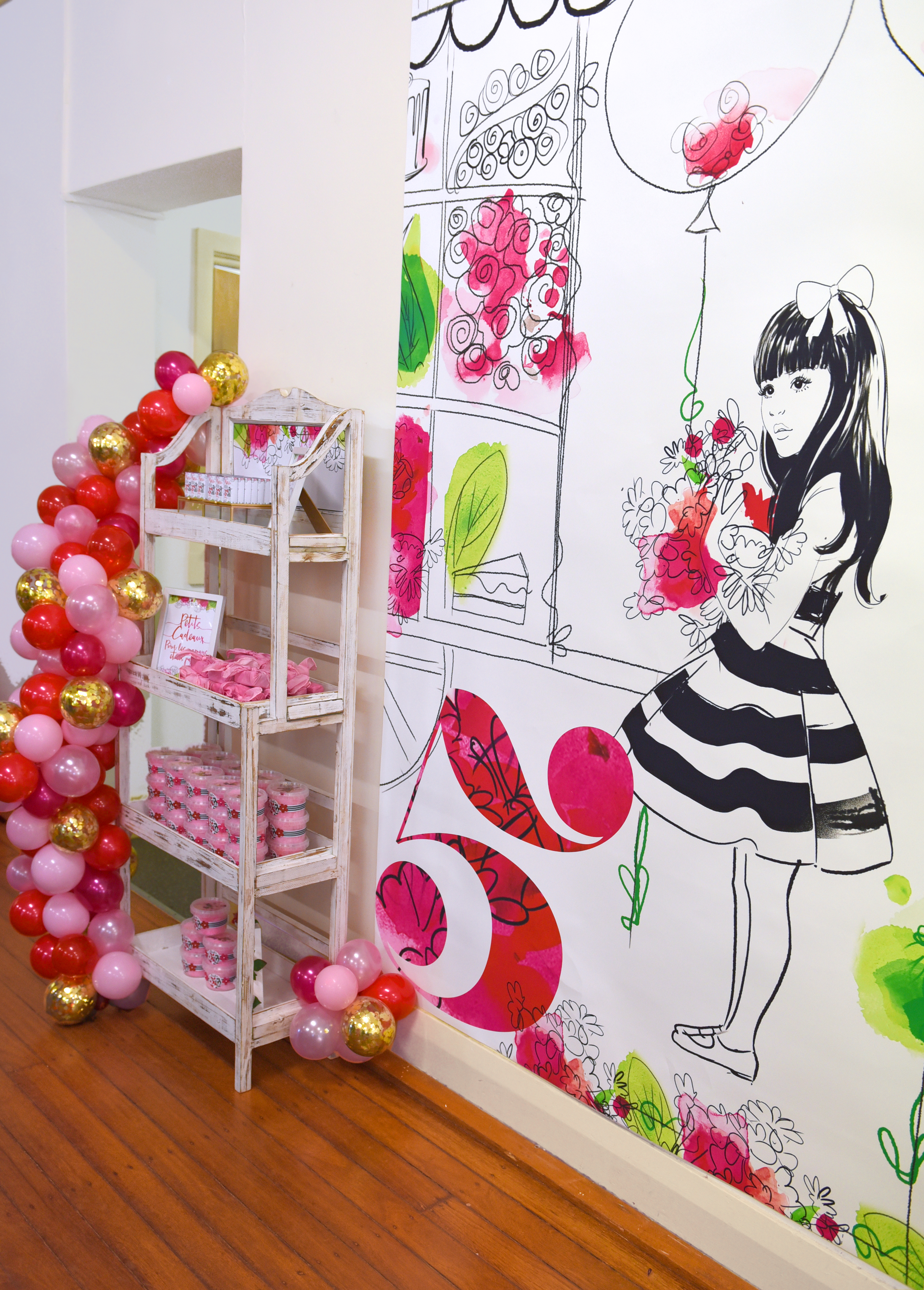 Once we set the theme, we commissioned the most amazingly beautiful custom illustration of the birthday girl which included the cart we planned to use on the day, and it basically became the 'identity' of the event. It all started with the invitation (of course), and expanded out into signage and favours on the day.
We pulled out all the stops and really put together a vendor's list of some of the best in the industry to bring this theme to life. Stand-out work really shines by Thanh Tran (Sweet Event Styling by Thanh) who created the jaw-droppingly beautiful floral display inside that amazing Chanel flower cart, which was the focal point of the party – and which was also filled to the brim with not only flowers, but cakes and sweets.
We really believe that its the little details that leave the biggest impression, and so the guests' tables were adorned with stunning hand-dyed silks or muslins to match the event theme. We also wanted to make the guests' party hats something special, which featured hand crafted paper flowers – they were like tiny little 3D works of art. We carried the theme right through to the favours and even included 'petit cadeaux' for 'le mamans et le papas' (little gifts for the mums and dads) which were the most amazing bespoke hand
crafted soaps, wrapped in a hand-dyed ombre silk.
The party wouldn't have been such a huge success without the amazing talents of our friends from Functions of Fun – their fairies were at the party on time to greet our guests and get them into the party spirit with games, activities and face painting. We wouldn't dream of having a party without them!
It was such an honour and a pleasure to have worked with so many amazing vendors and suppliers to bring this party to life. Amelia was overcome with so much joy when she laid eyes on what we had created for her, it really made all the late nights and hard work worth it, just to see those eyes sparkle with happiness. It was a very special day that we're sure she'll remember forever.
Concept; Dream a little Dream Events, Concept development, Stationery, Art Direction, Design and Amelia's Party Hat; Eve&Co., Event Styling; Eve&Co. and Sweet Fingers Cakes, Photography; Emma Valentine Photography, Chanel Cart; Elegant Tea Time, Floral Cart Styling; Sweet Event Styling by Thanh Tran, Birthday Cake and Floral Tarts; Sweet Fingers Cakes, Meringues; Quincy Lane, Strawberry Tower; Dom's Strawberries Delights, custom lollipops; Petal and Pop, Balloons; Born to Party Shop, Hand Dyed Linens, Runners and chair silks; Her Beautiful Mess, Tiffany Chairs, Children's Table Hire & Plinth; Sweet Heavenly Events & Party Hire. Welcome Sign Print and Large wall print; Jo's Signs By Design, Large number 5; Foamtastic Party Decor, favours stand and kids' soft play with fencing; Tiny Tots Toy Hire, fairy floss favours; Fluffy Crunch, Smartie box covers; Glitter and Glue Designs, Partyware; Favor Lane Party Boutique, 'Eat Up' Napkins, Ruby Rabbit Partyware, paper flowers on kids party hats; Stylish Paper Shop, decorative floral paper 'A'; Hanging Pretty, Amelia's dress; Lottie Clothing, kids' Entertainment; Functions of Fun and custom illustration; Mekel Illustration