Jess from Sass Events tells us all about this New York inspired glistening white Christmas party. This party was featured in our Christmas 2019 Mini Mag. Click here to see more. Don't forget to scroll to the bottom to find vendors in Sydney who can create this look for you!
Below, the kids got to play their hearts out on the beautiful white jumping castle from @bounceorama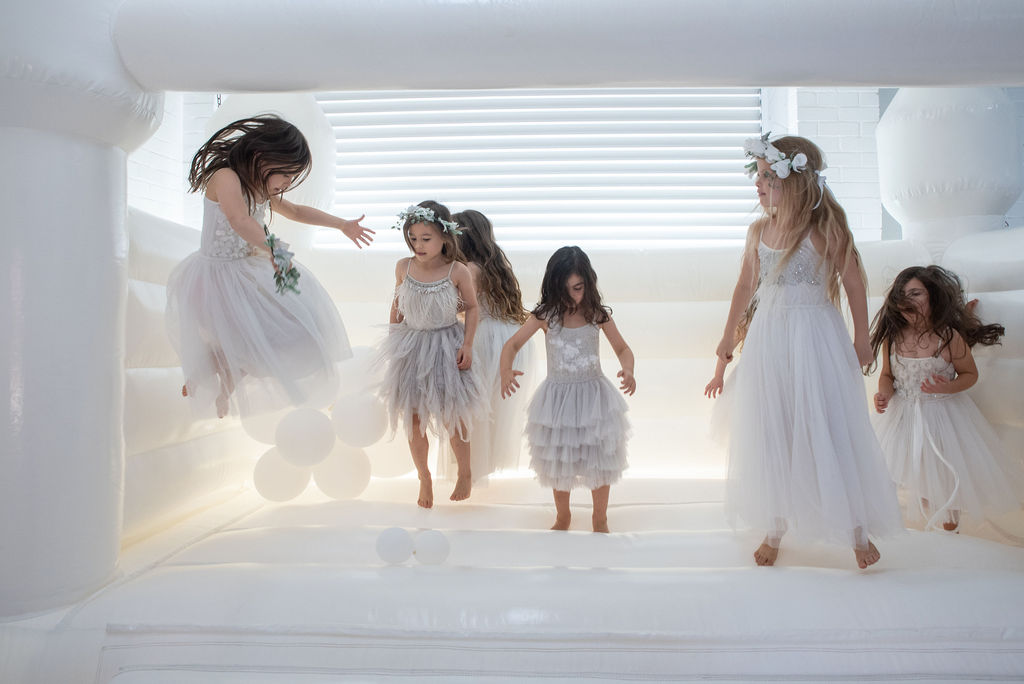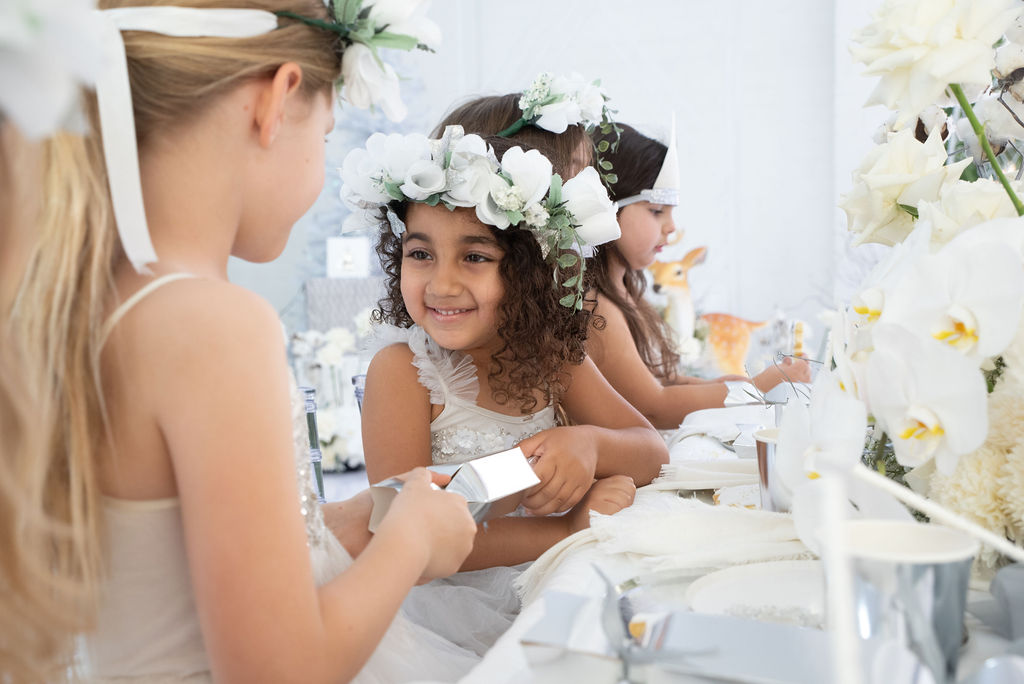 A New York inspired glistening white Christmas party
This year for Christmas I was inspired to create a winter wonderland. To suit our all-white theme, we transformed the venue with a white dance floor and a 10-metre balloon and tassel installation that cascaded above a customised kids table. The table was decorated with a gorgeous bespoke silk table cover and fresh blooms in an array of white tones with silver foliage.
Below, the beautiful table setting featured the popular bon bons from Favor Lane.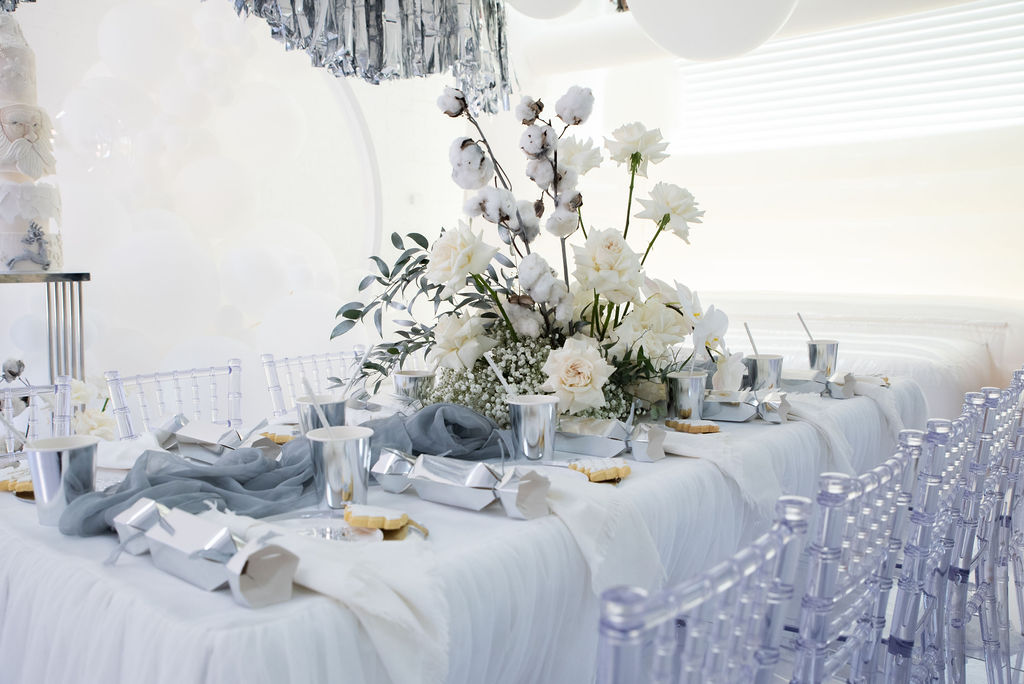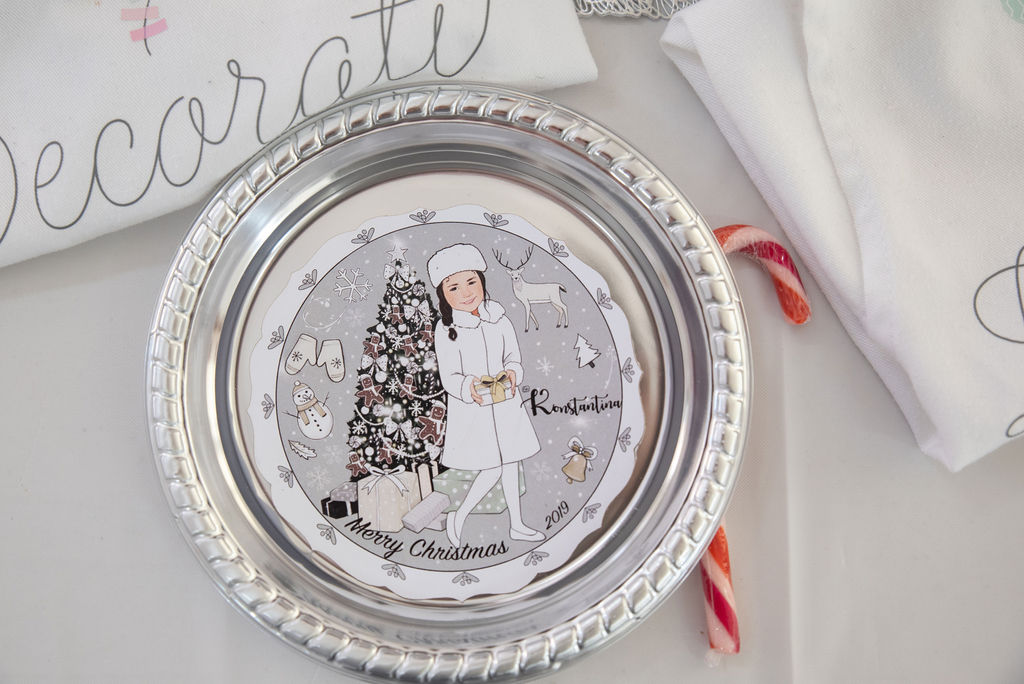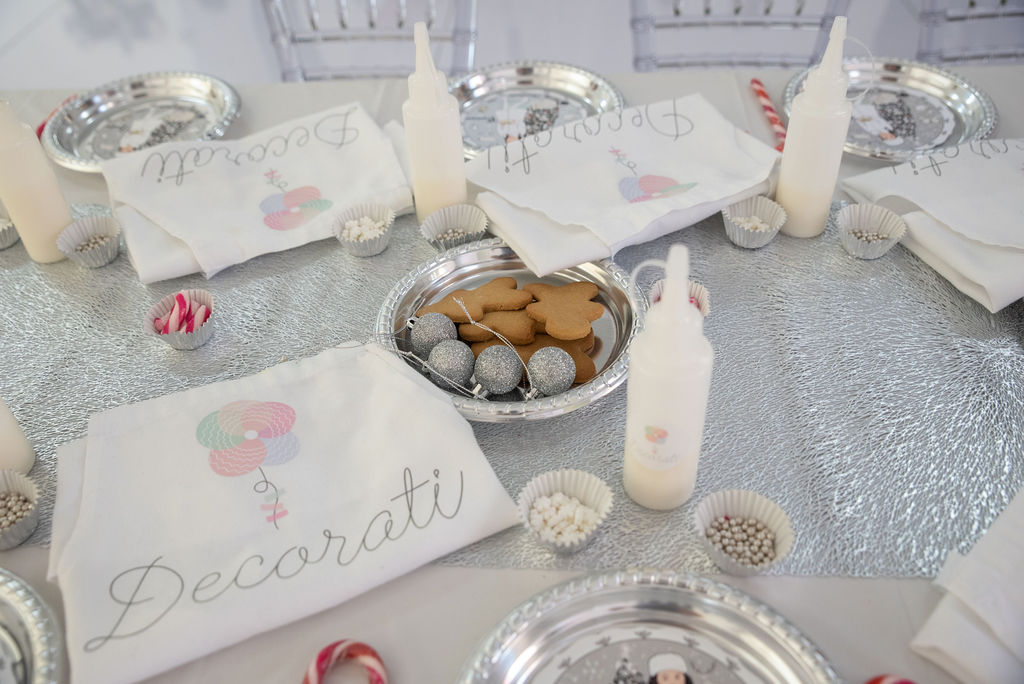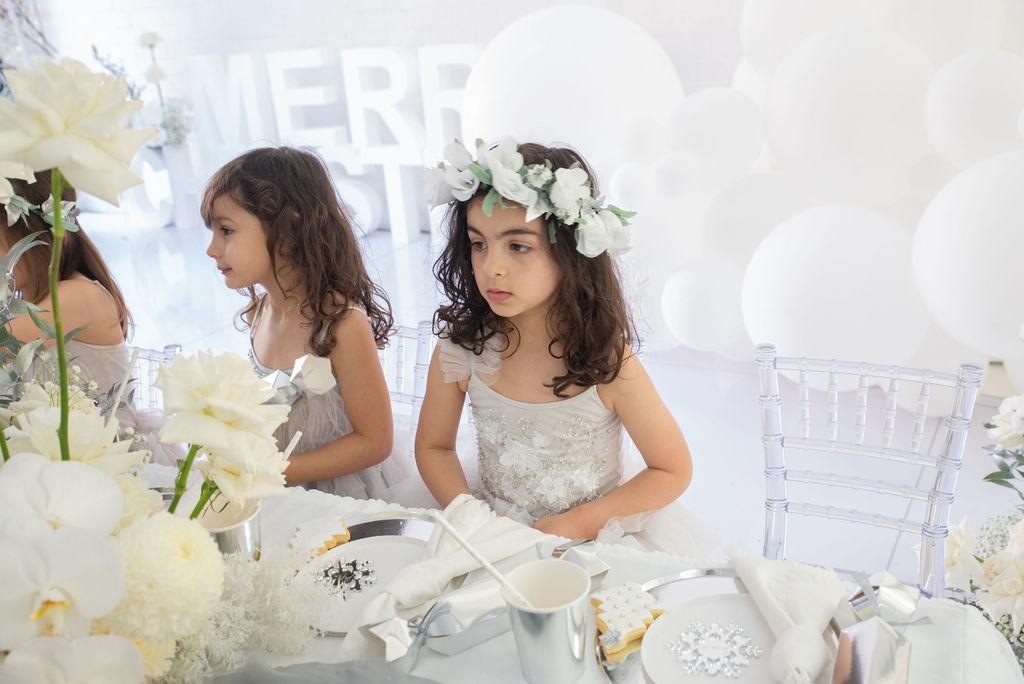 My favourite detail was the cotton which dressed the twigs, giving it a real traditional feel.
The children were all dressed in beautiful white or silver gowns with custom flower crowns and Santa headbands. To keep them entertained we had them decorating gingerbread man cookies and they got to enjoy bouncing around in a white jumping castle whilst singing along to their favourite
Christmas carols.
Below, tassel installations by @love_floats_, sourced from Lovely Occasions.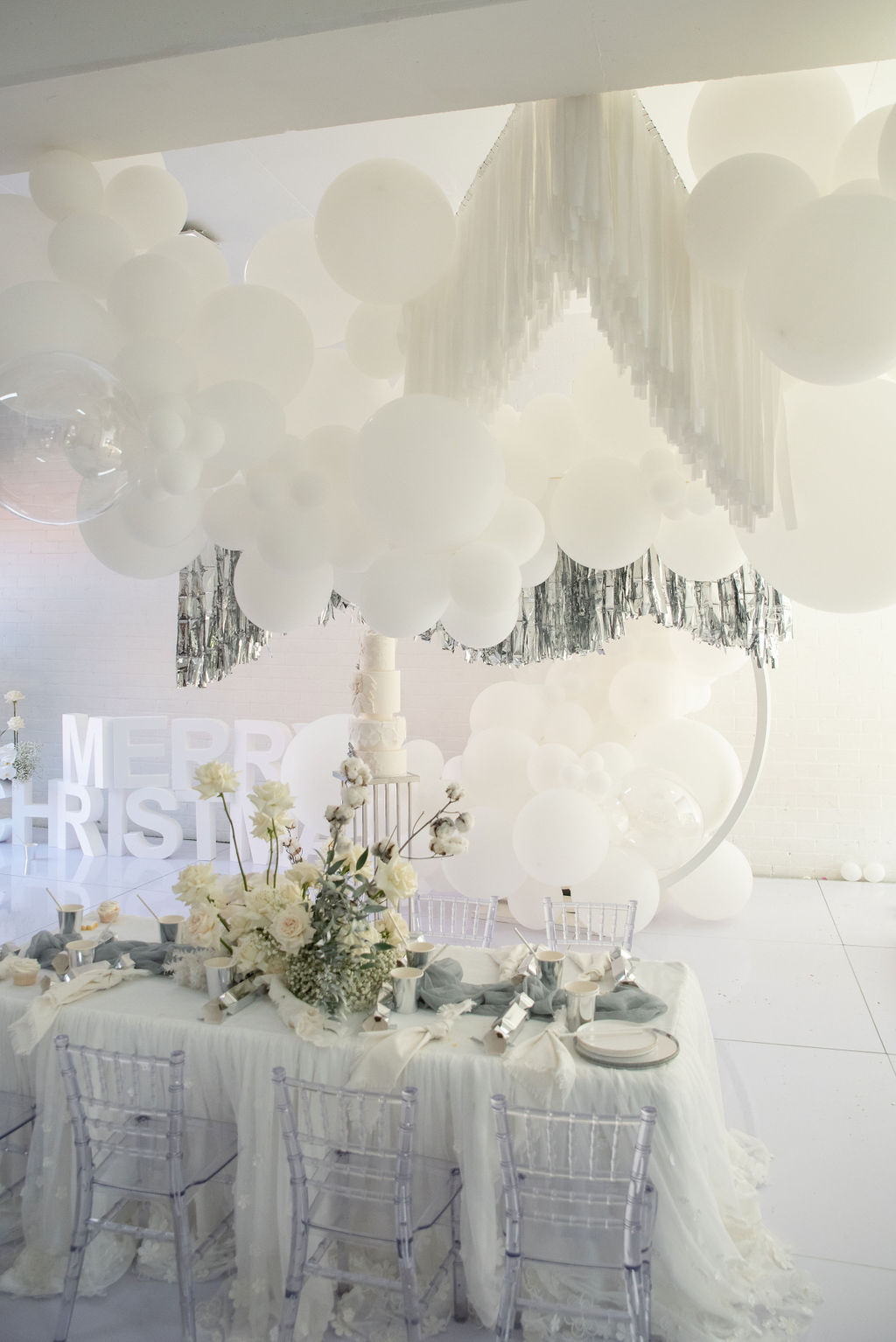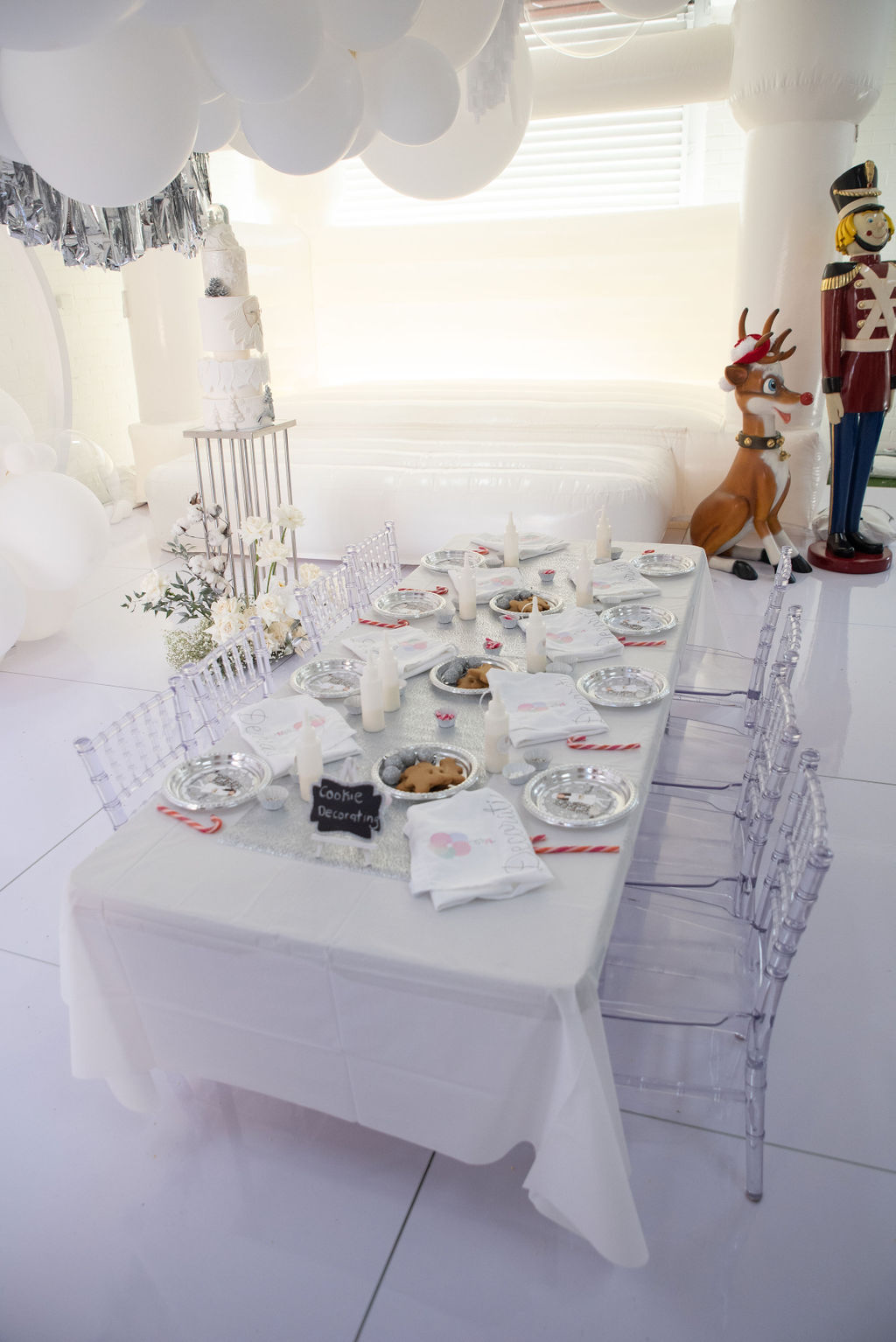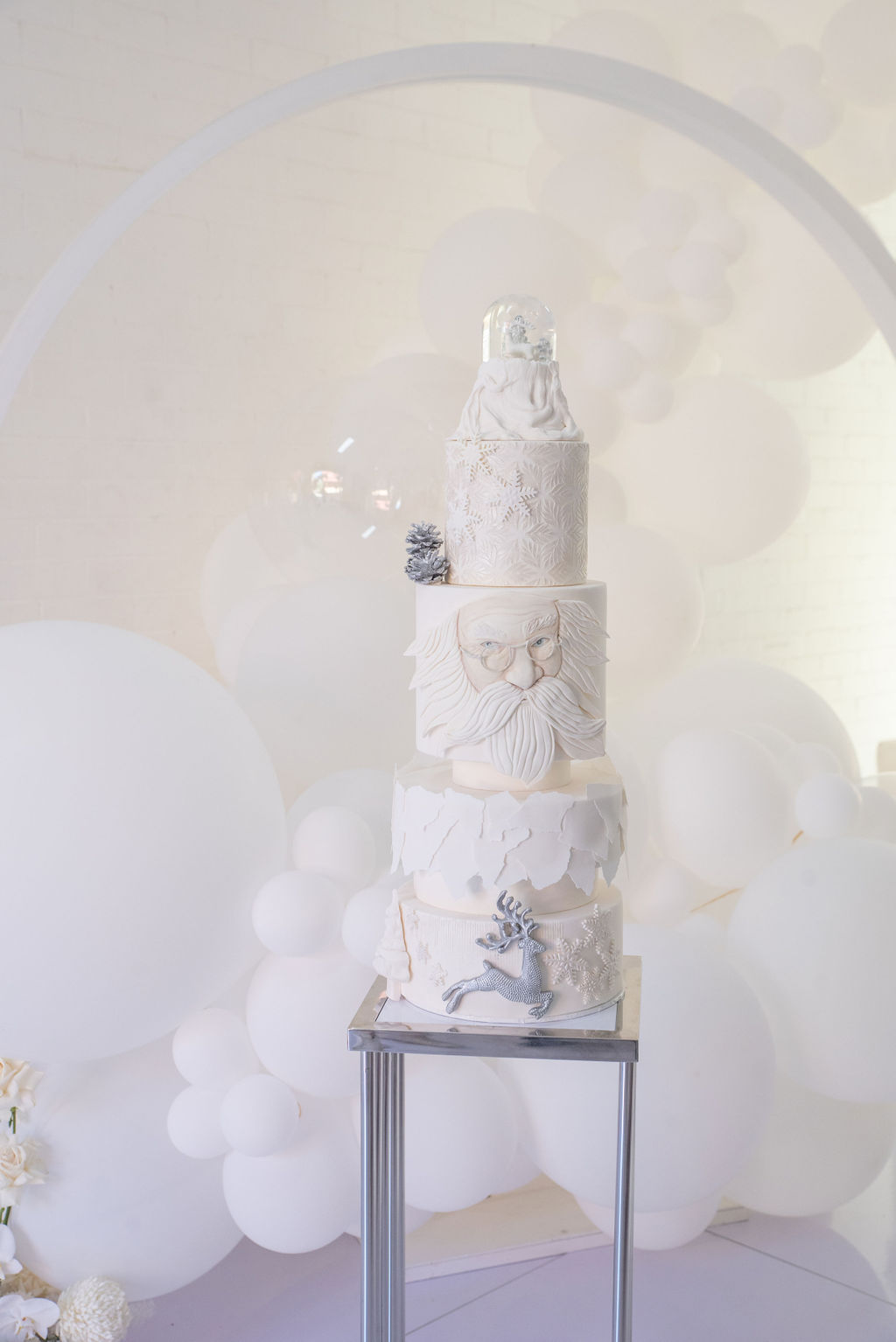 Below, stunning Christmas cake by @fancyeventsparties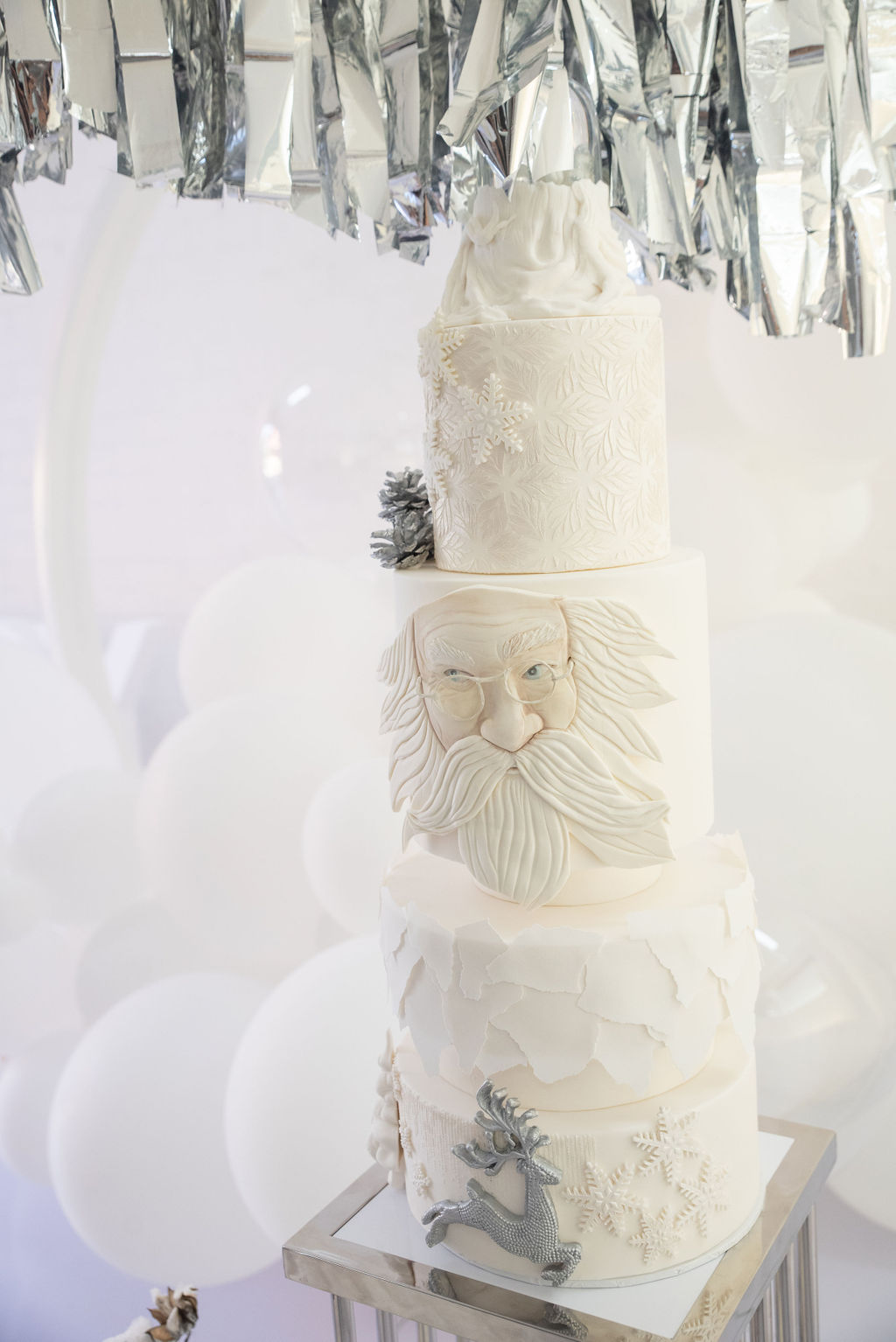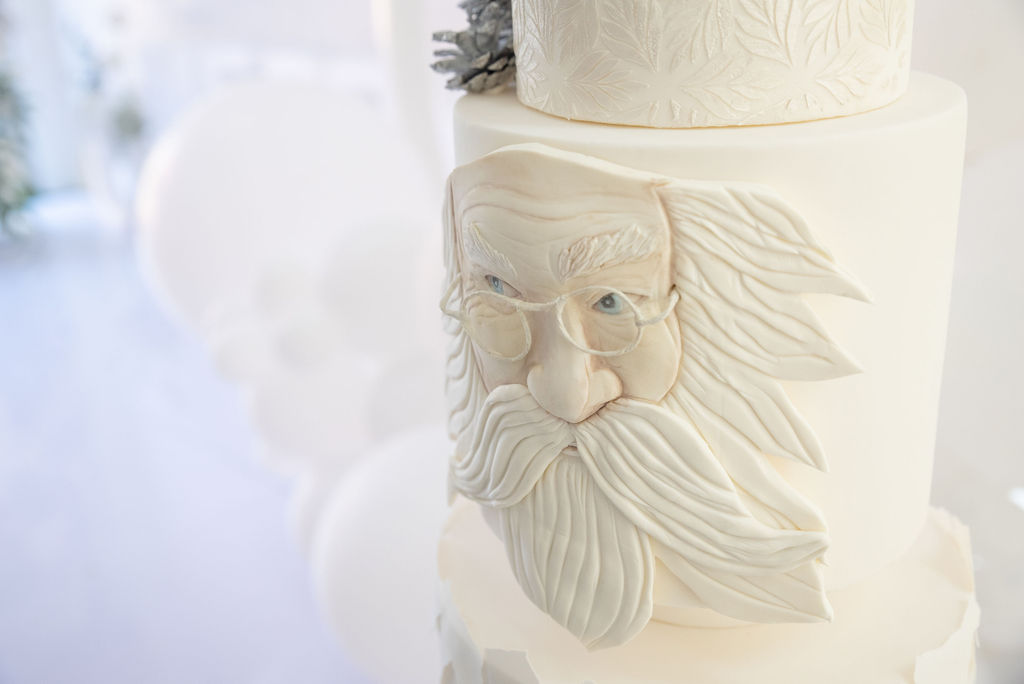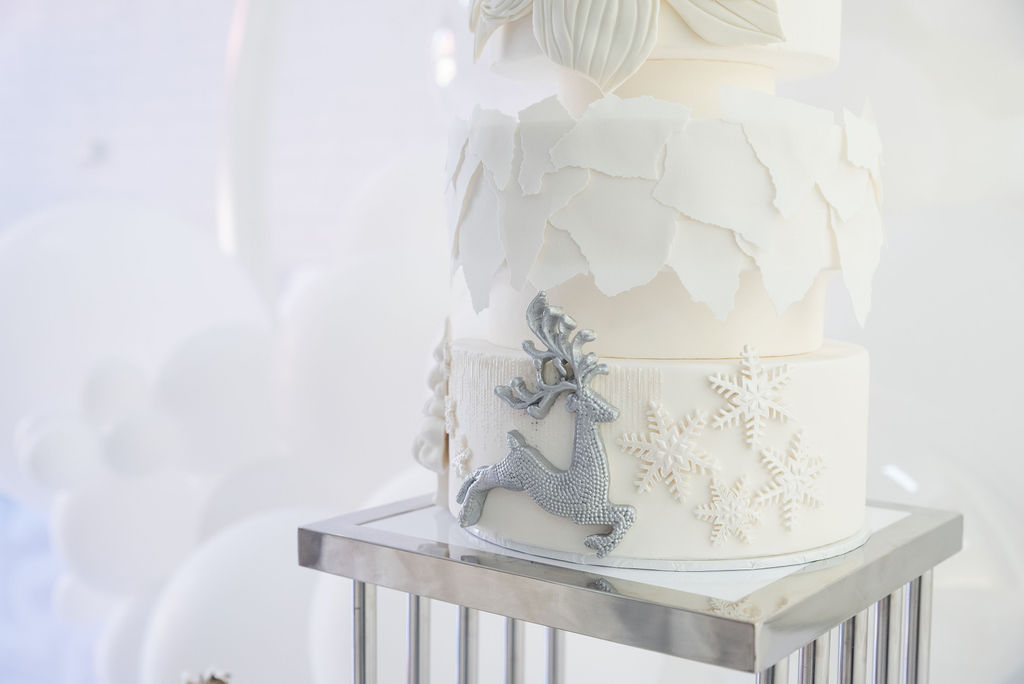 WHY WAS THIS THEME CHOSEN?
It's the most wonderful time of the year, of course! The inspiration of the white Christmas theme comes from Christmas in New York when it snows and is also a symbolic reference to the real meaning behind Christmas – Jesus' birthday. I wanted to keep the colour palette quite crisp and
clean to ensure it represents purity.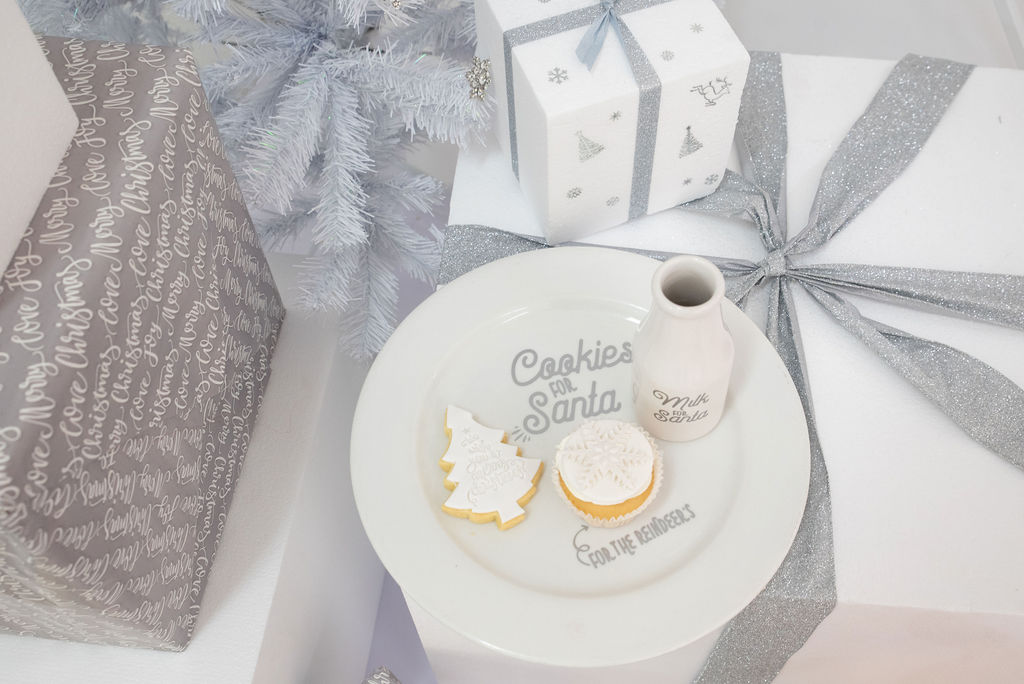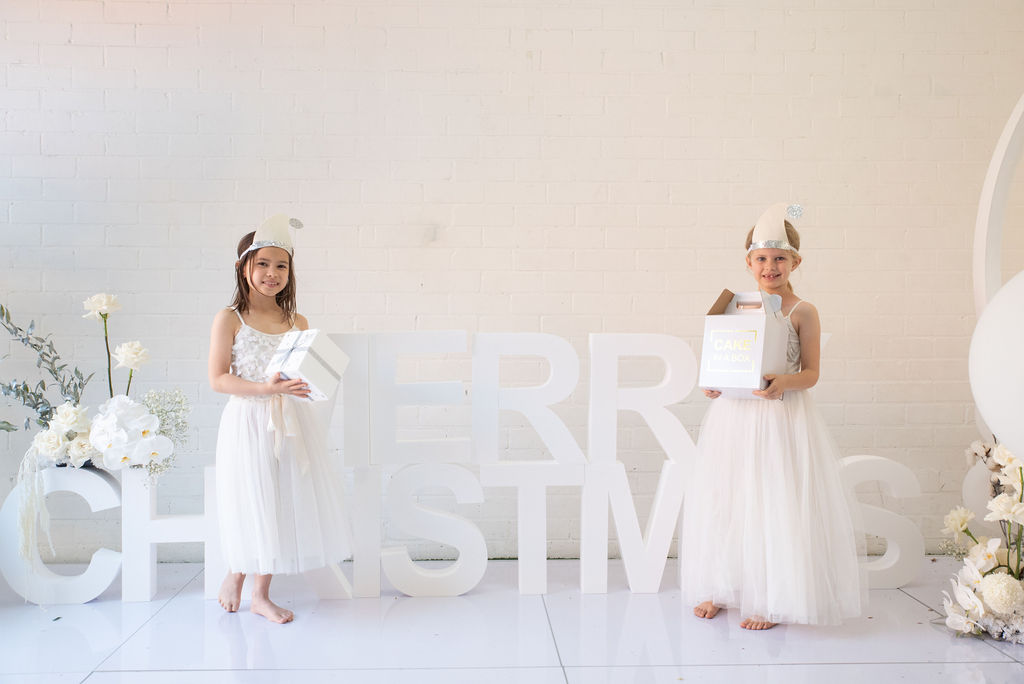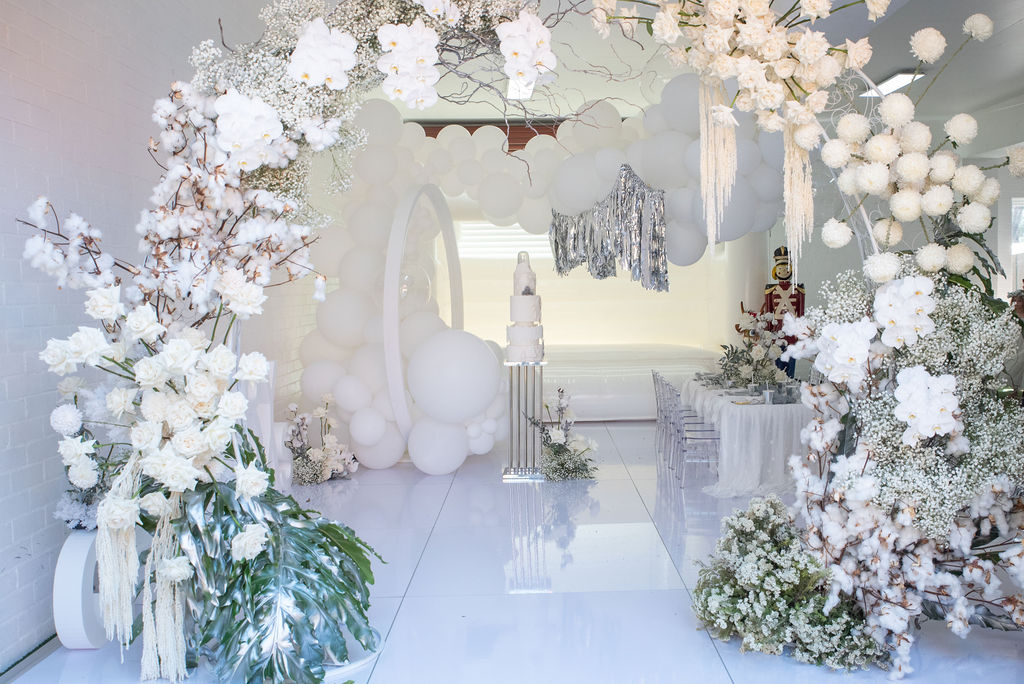 DID YOU INCORPORATE ANY CURRENT PARTY TRENDS OR DIYs IN YOUR PARTY?
We created an all-white balloon cascade which incorporated silver and white tassels that started from the ceiling overhanging the children's table down the wall which then ended through a white hooped frame. Ceiling installations of balloons and tassels are a current party trend and a great
way to create a powerful ambience into the room.
Vendor Credits
Photography @aishanicolephotography
Concept, styling, setup & design @sassevents_au
Photo @aishanicolephotography
Venue @the_b_space
Backdrop, cake table & arch @uniquepropsandevents
Cake & cupcakes @fancyeventsparties
Flowers @ohara.flora
Balloon installation @balloons.by.agustina
Tassel installation @love_floats_
Foam letters & Christmas presents @foamworld_au
Girls' dresses @wishfulplayground
Gingerbread decorating @decorati_kids_
Cookies @annemariemolloycookies
Table, chairs, reindeer & Christmas soldier @tiny_tots_event_hire
Flower crowns @abeliaflowercrowns
Jumping castle @bounceorama
Cake favours @cakeinabox
Illustrations @esinillustration
Plastes, cups, straws & bon bons @favorlaneparty
Santa's plate & bottle @loveiris.au
Cupcake holders, toppers & tassels @lovelyoccasions
Flooring @luxurydancefloors
Tablecloth & linen napkins @montana__silk
Snowflake place setting @onefive8designs
Santa crowns @schooza