Skye Cooper, of Memorable Parties Perth went to infinity and beyond in bringing this nostalgic Toy Story birthday party concept to life! The party was themed around the quote 'You've Got a Friend in Me' and featured a classic colour scheme of blue, yellow and red. Skye gives us the fab details below.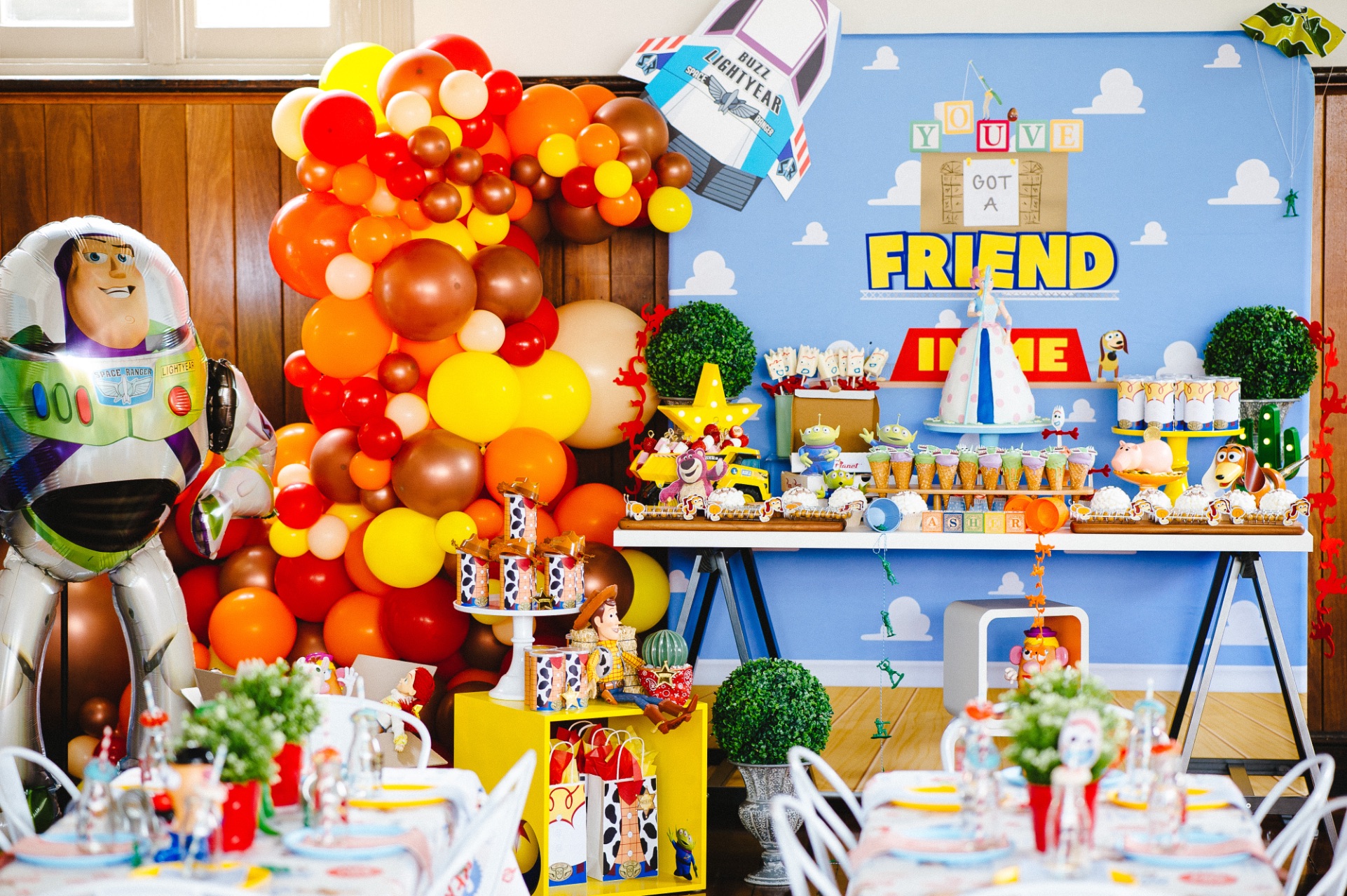 A nostalgic Toy Story birthday party
This kids party really delighted children and parents alike by paying tribute to the cross-generational and beloved 'Toy Story' film series. Décor, desserts, and entertainment drew inspiration from all four films to deliver nostalgia for guests as Asher celebrated her 6th birthday!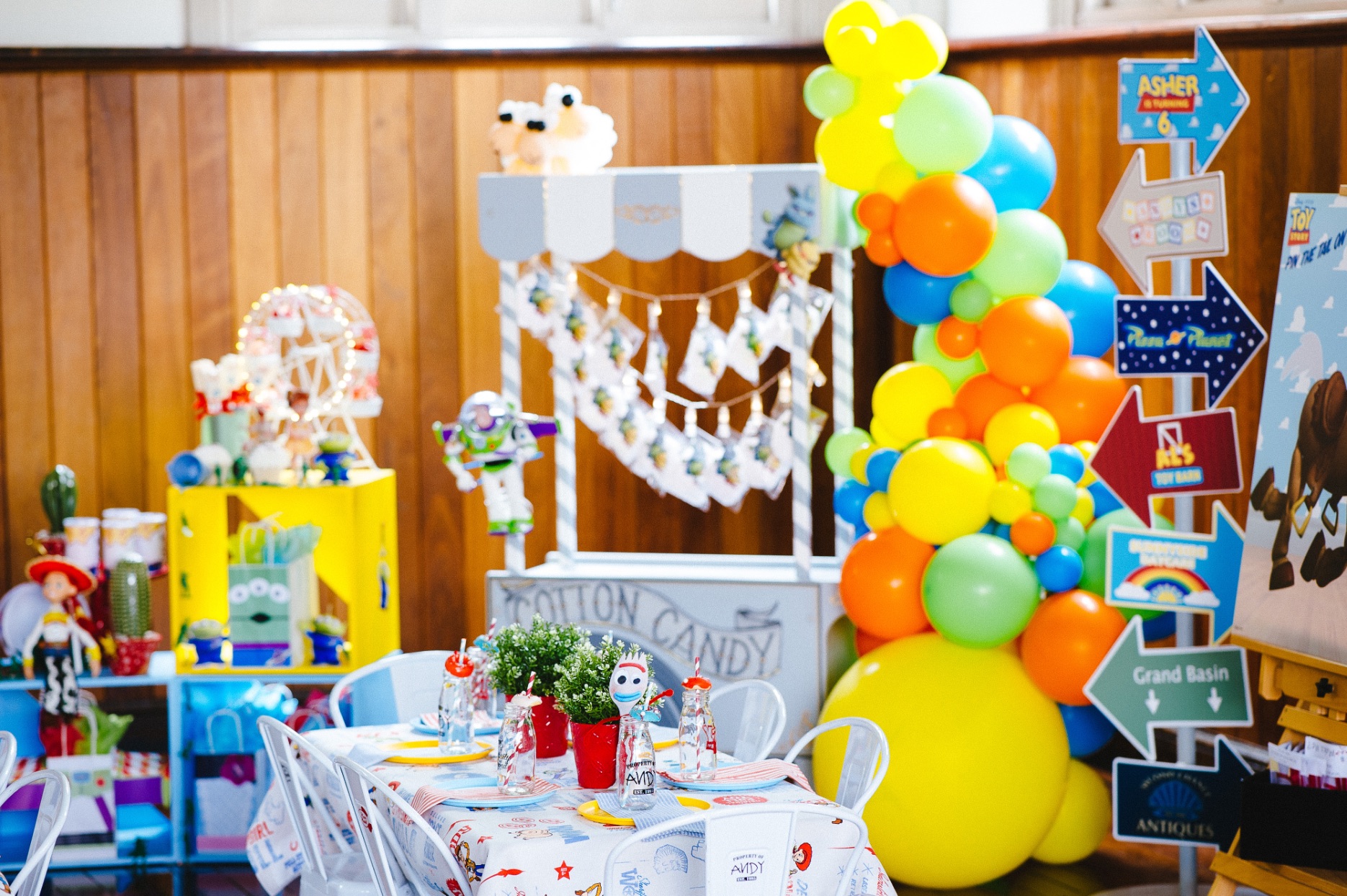 Box card invitations, designed as the Sunnyside donation box, were proudly distributed by the birthday girl.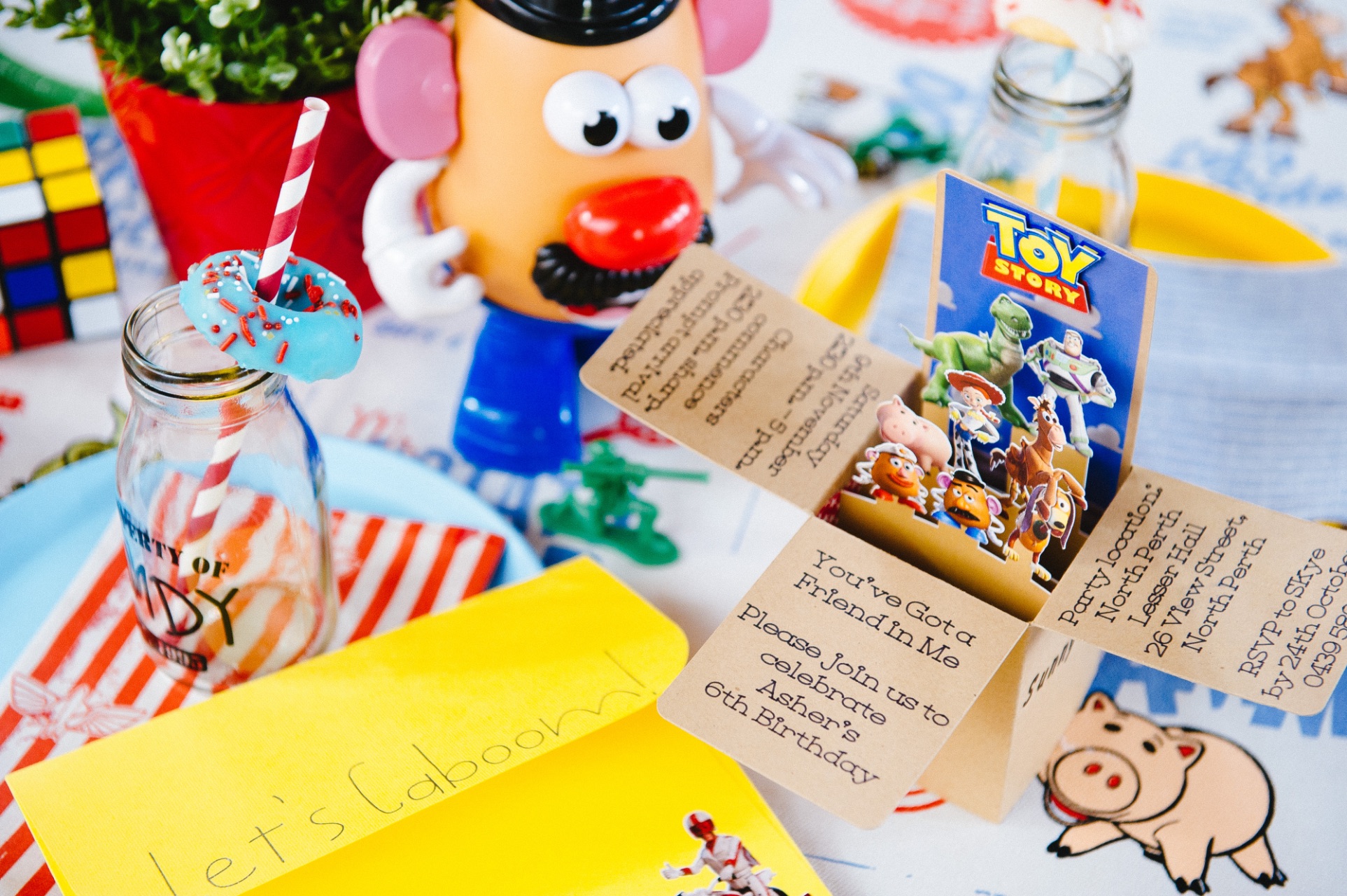 I spotted Adam Southam's Toy Story fan art on Etsy and fell in love with its bold colours. I was thrilled when Adam agreed to modify a design into a custom backdrop, as this set the tone for the entire party.
As guests entered, eyes widened as they were drawn to the backdrop and fiery rocket trail balloon garland streaming from a Space Ranger rocket ship, as a giant Buzz Lightyear balloon stood by. Balloons from Favor Lane Party Boutique in fiery tones were perfect for the talented girls from Little Winks Party's to craft this striking garland.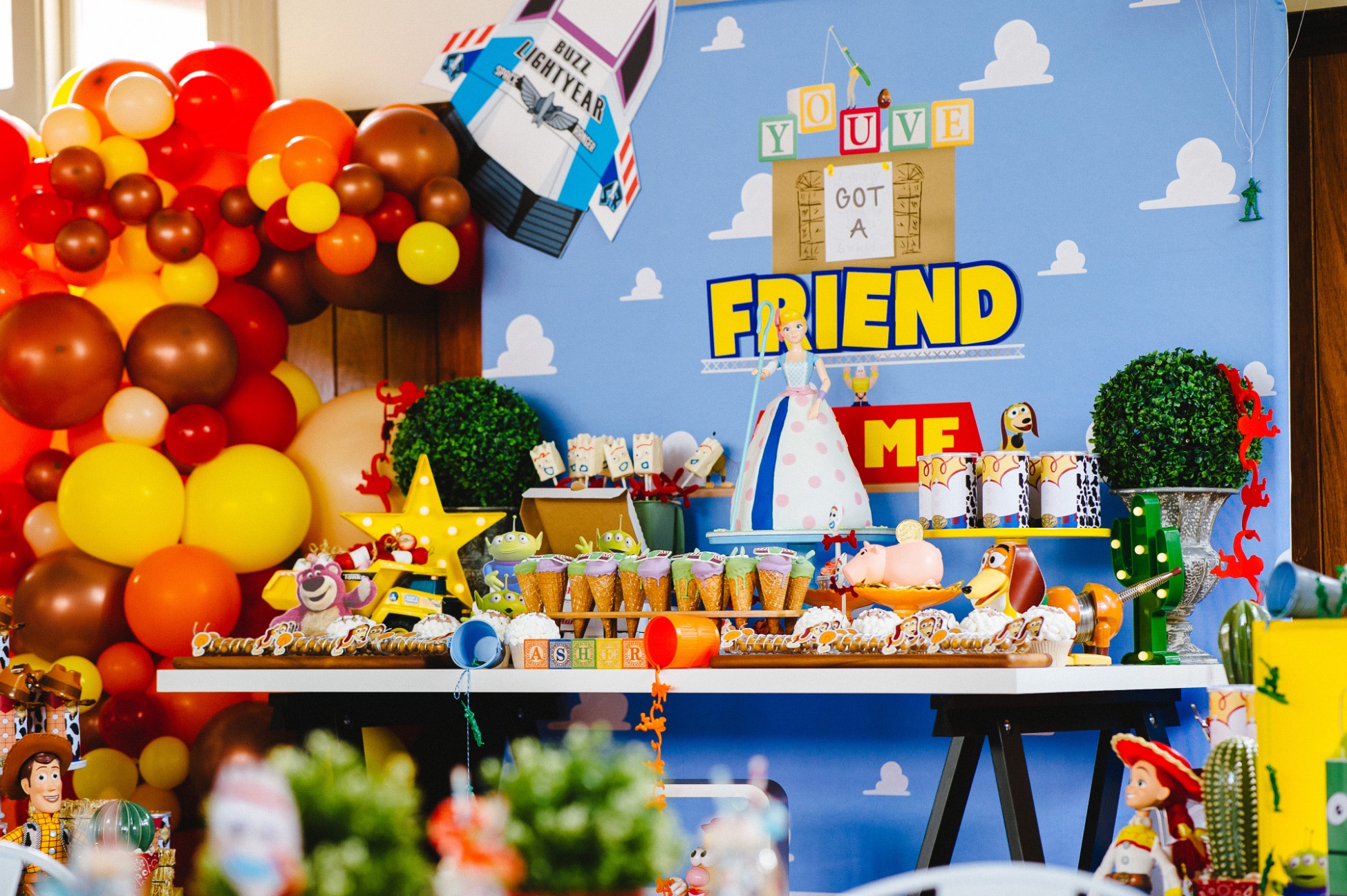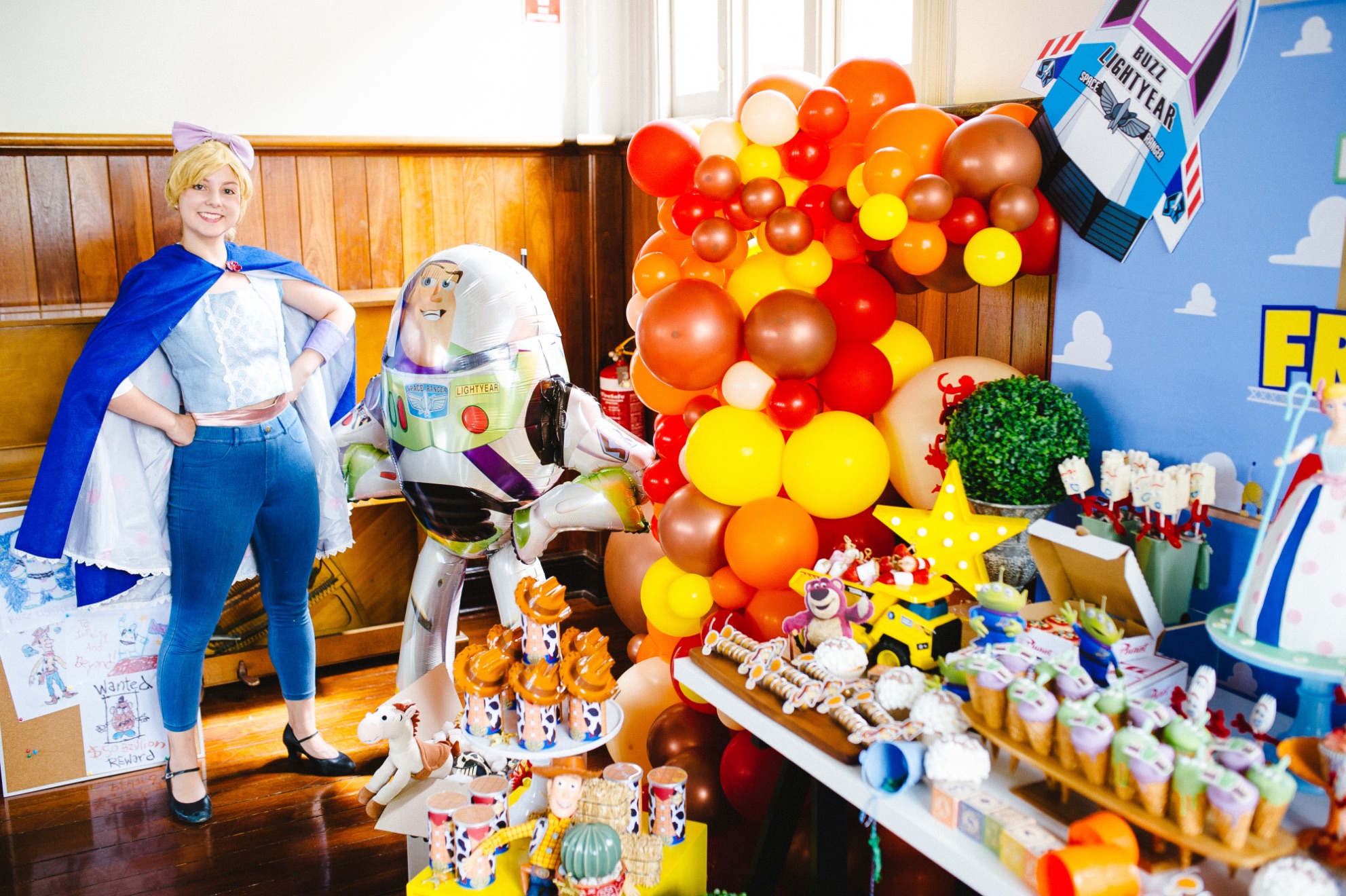 Balloons didn't end there, with Bunny and Ducky inspiring my choice of colours for a garland cascading down a carnival themed cotton candy cart. Bunny and Ducky cotton candy bags hung from pegs, a nod to the two hanging as prizes eager to be won on a carnival game. A Buzz Lightyear toy was cable tied to the cart, reminiscent of Buzz also being cable tied as a prize.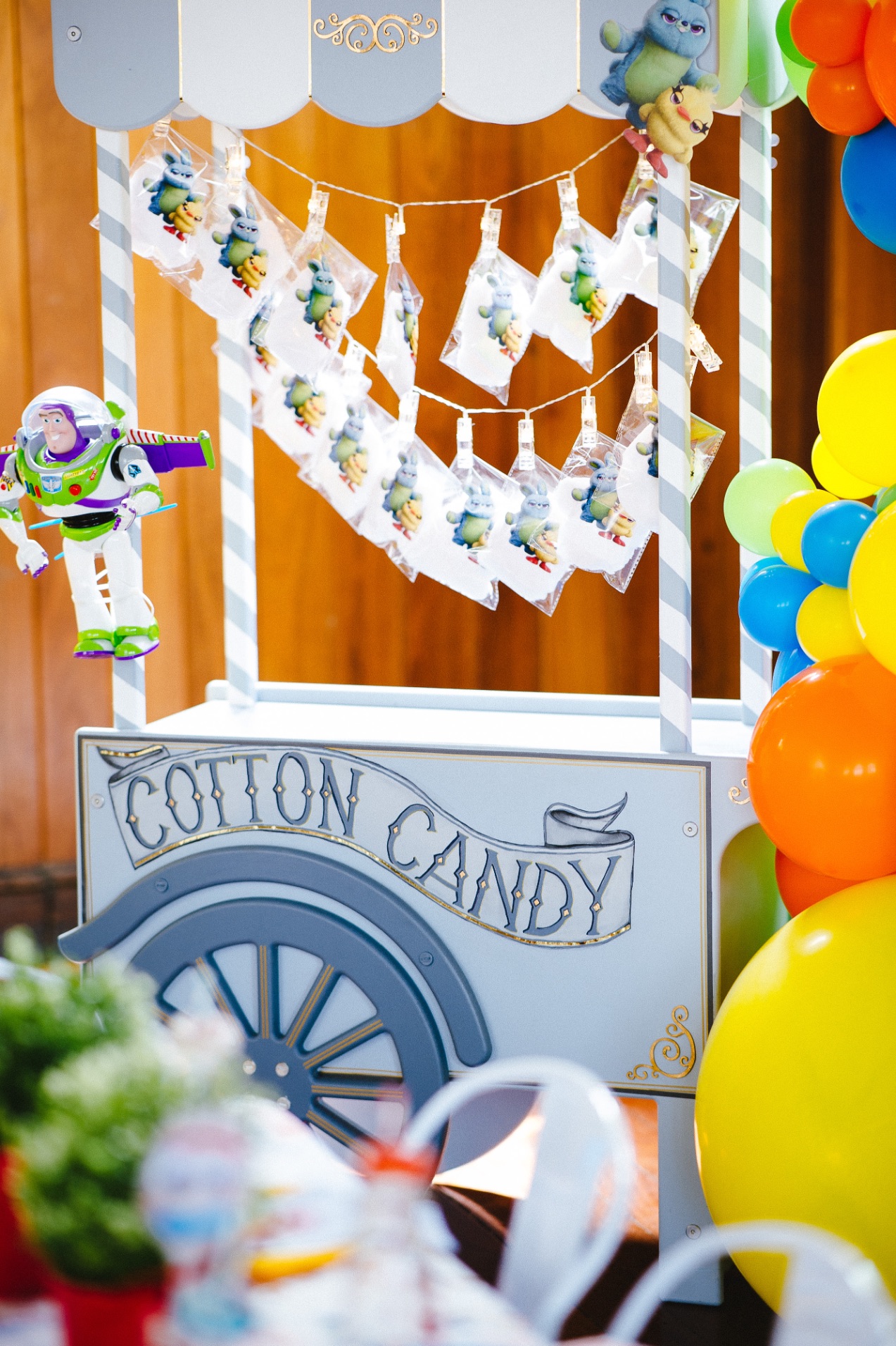 Balloon artist Doug from Blown Up exceeded expectations when he crafted an arcade game claw with squeeze toy Alien onto a headband for the birthday girls Mum to complement her Pizza Planet t-shirt. Doug also created a Billy Goat and Gruff three-headed sheep to complete the birthday girls' Bo Peep costume.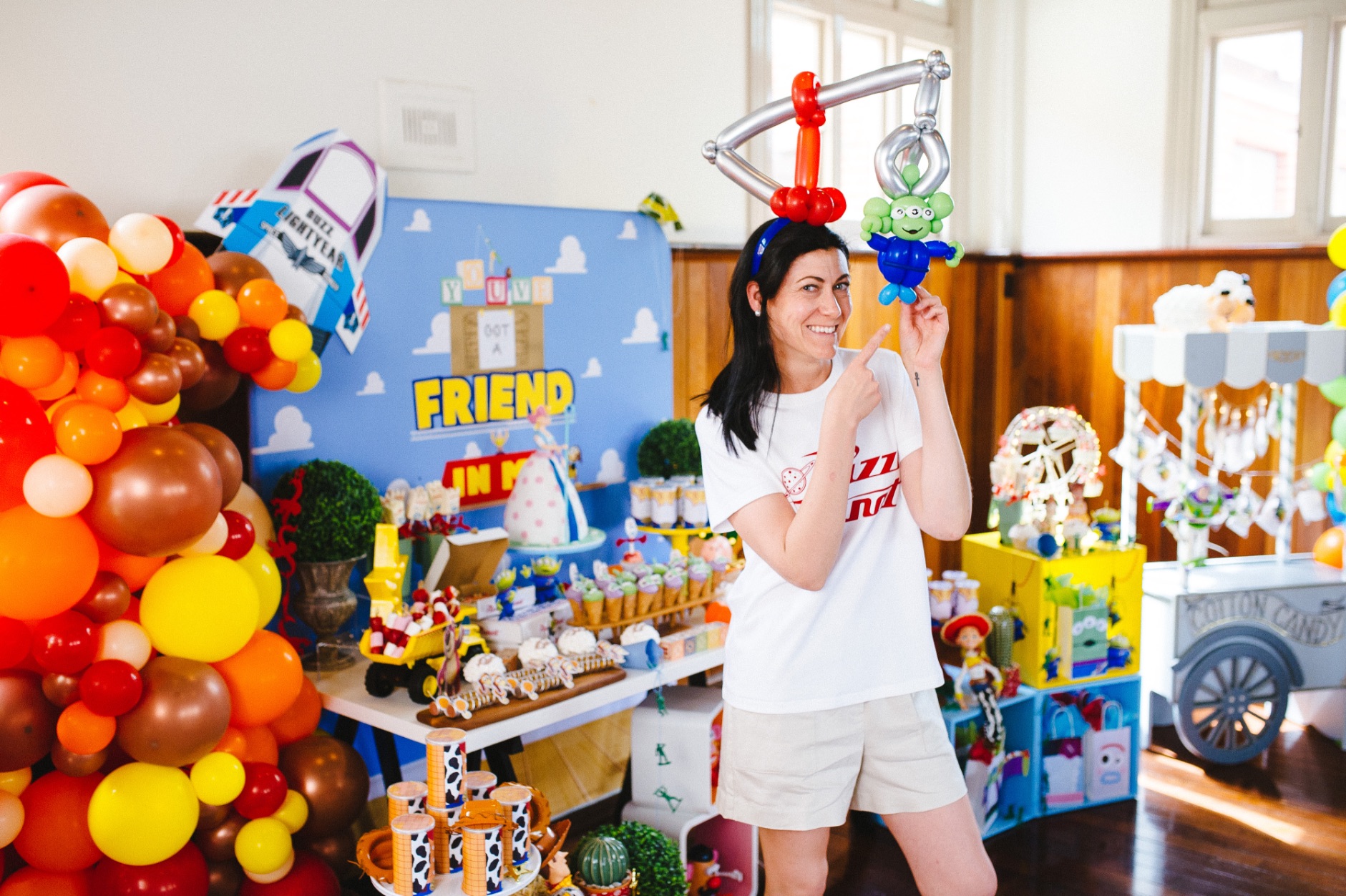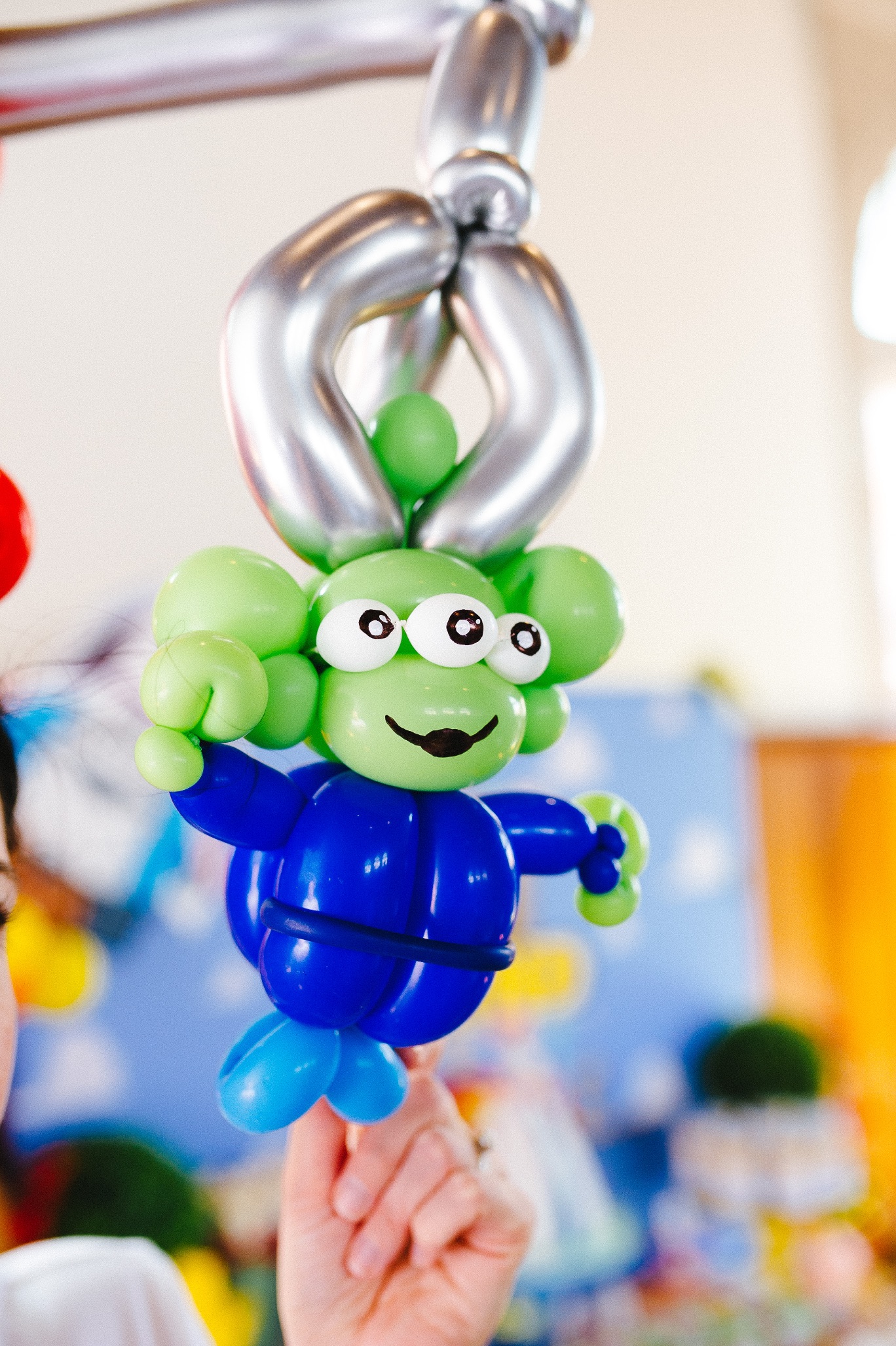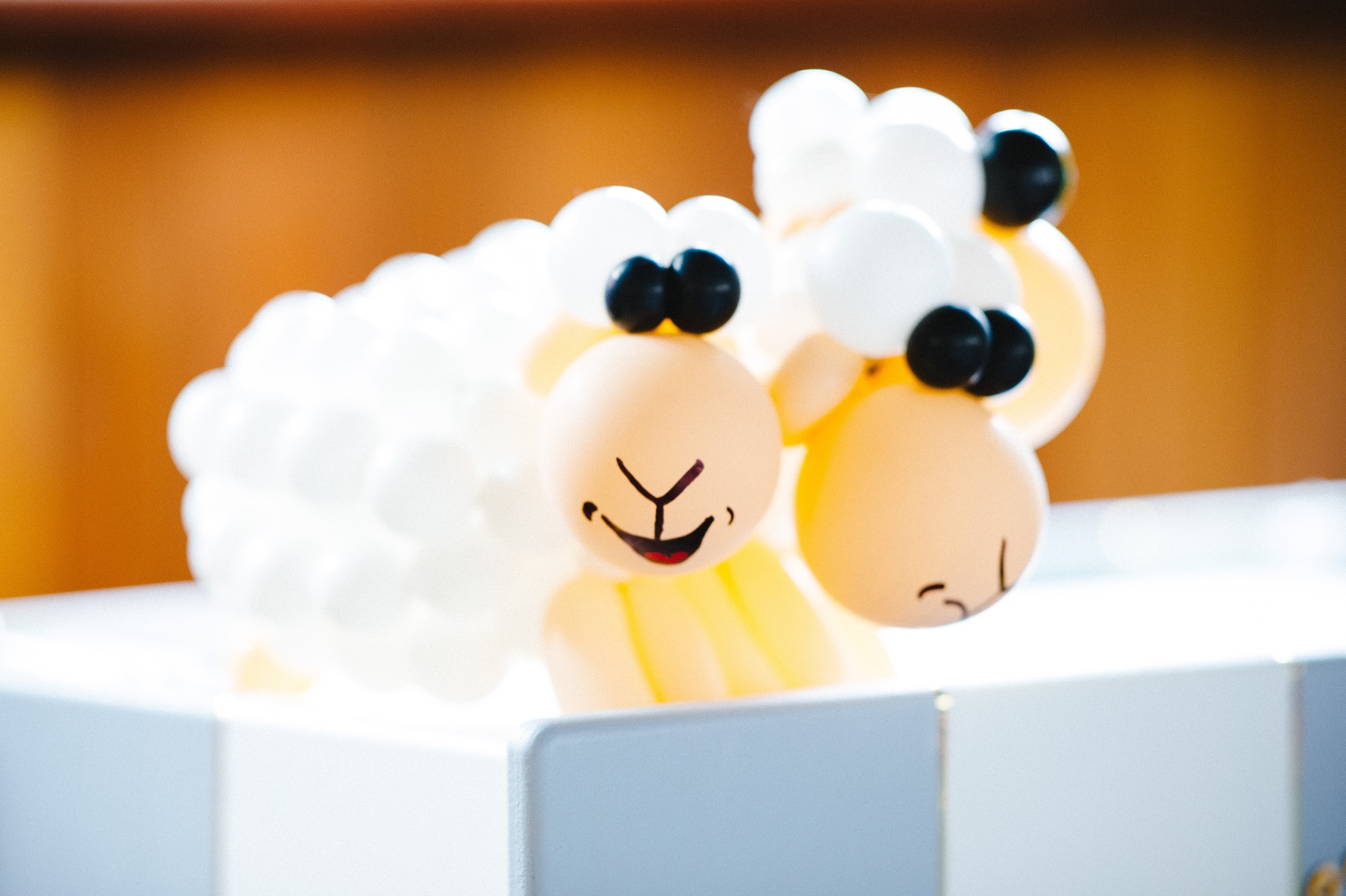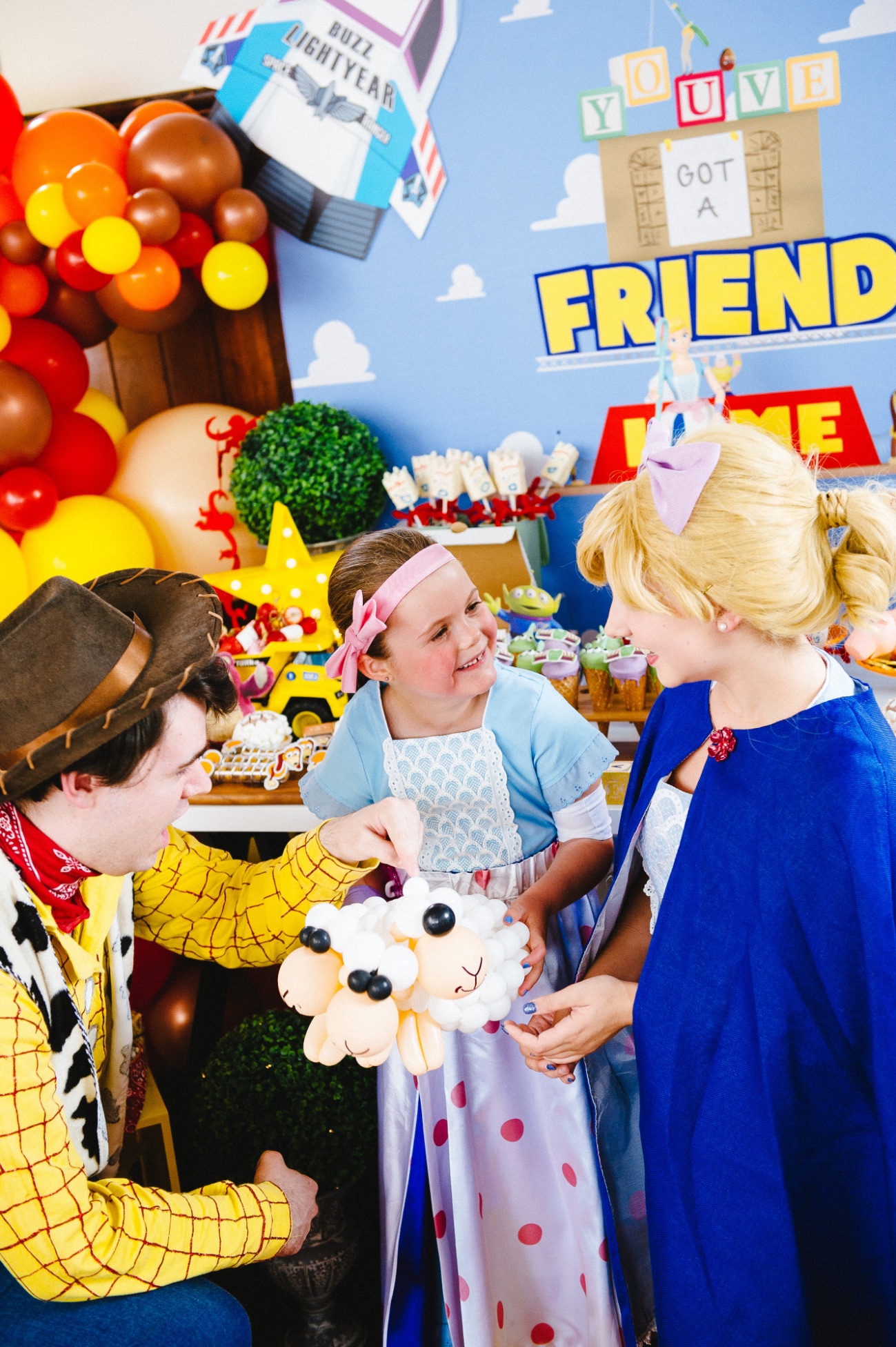 Adjacent to the cotton candy cart stood a directional sign featuring arrows to places featured across all four films. Flag bunting and replica Andy's drawings adorned walls, whilst a pin-up board mimicked that in Andy's room in Toy Story 1.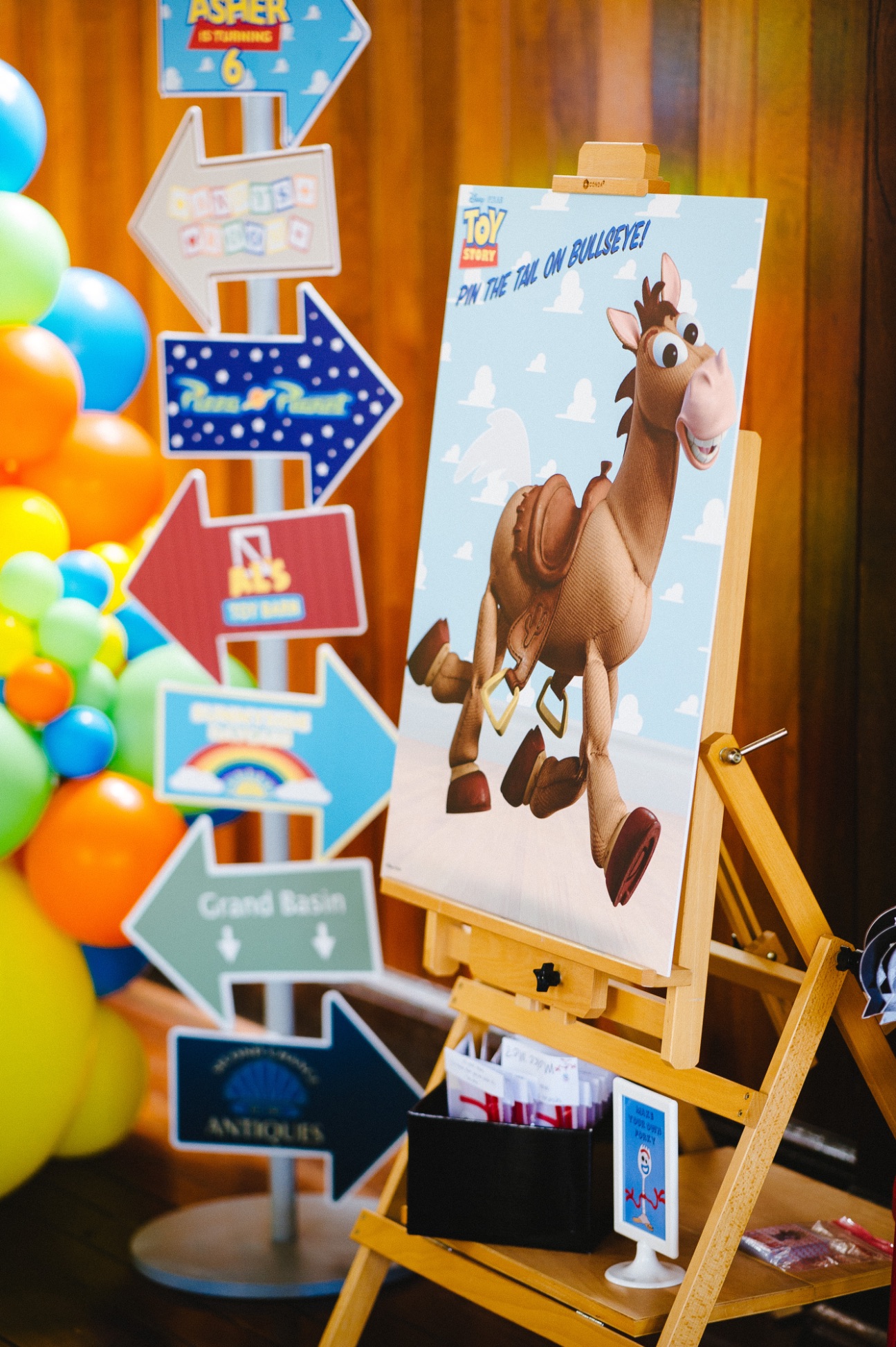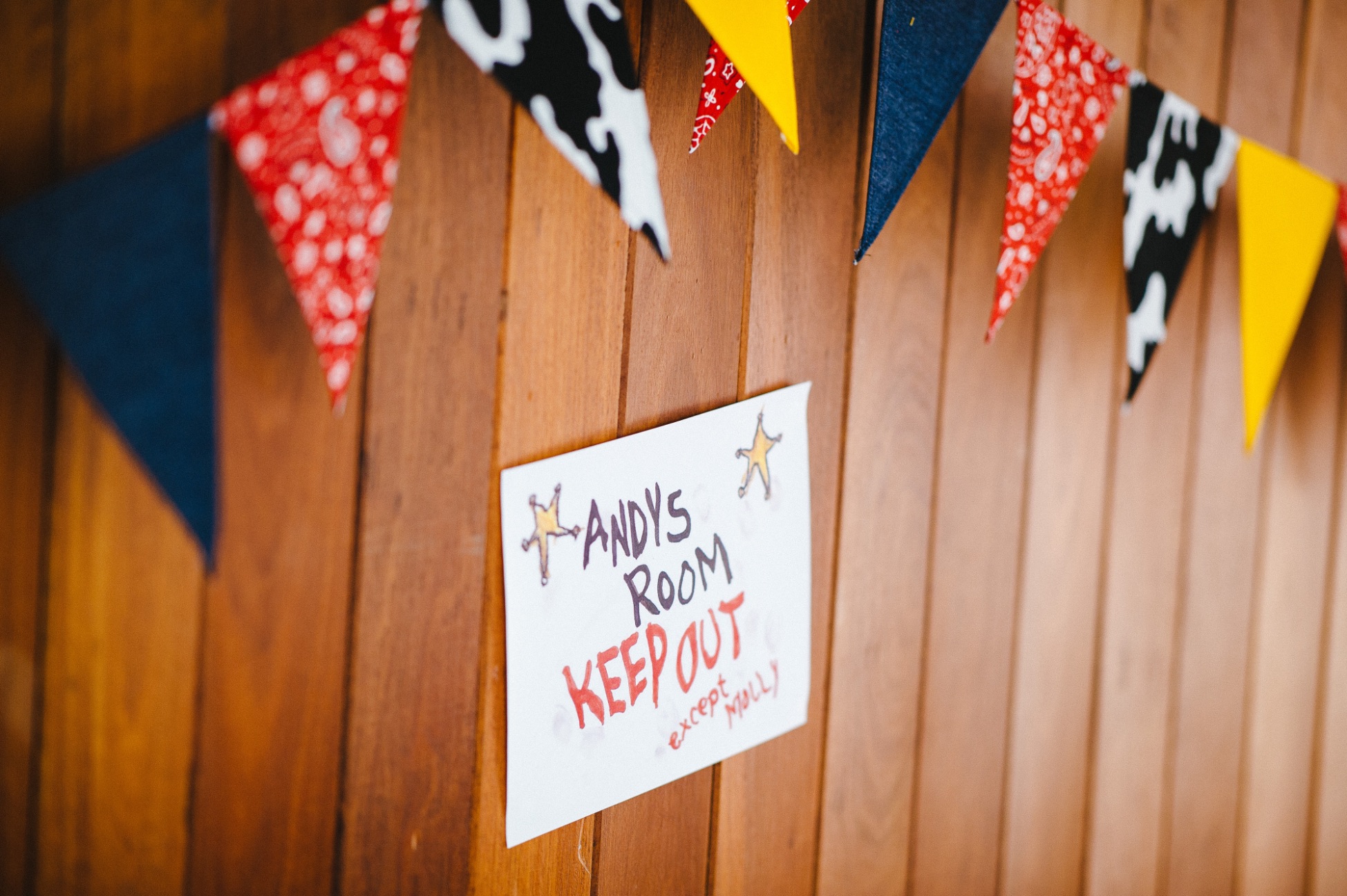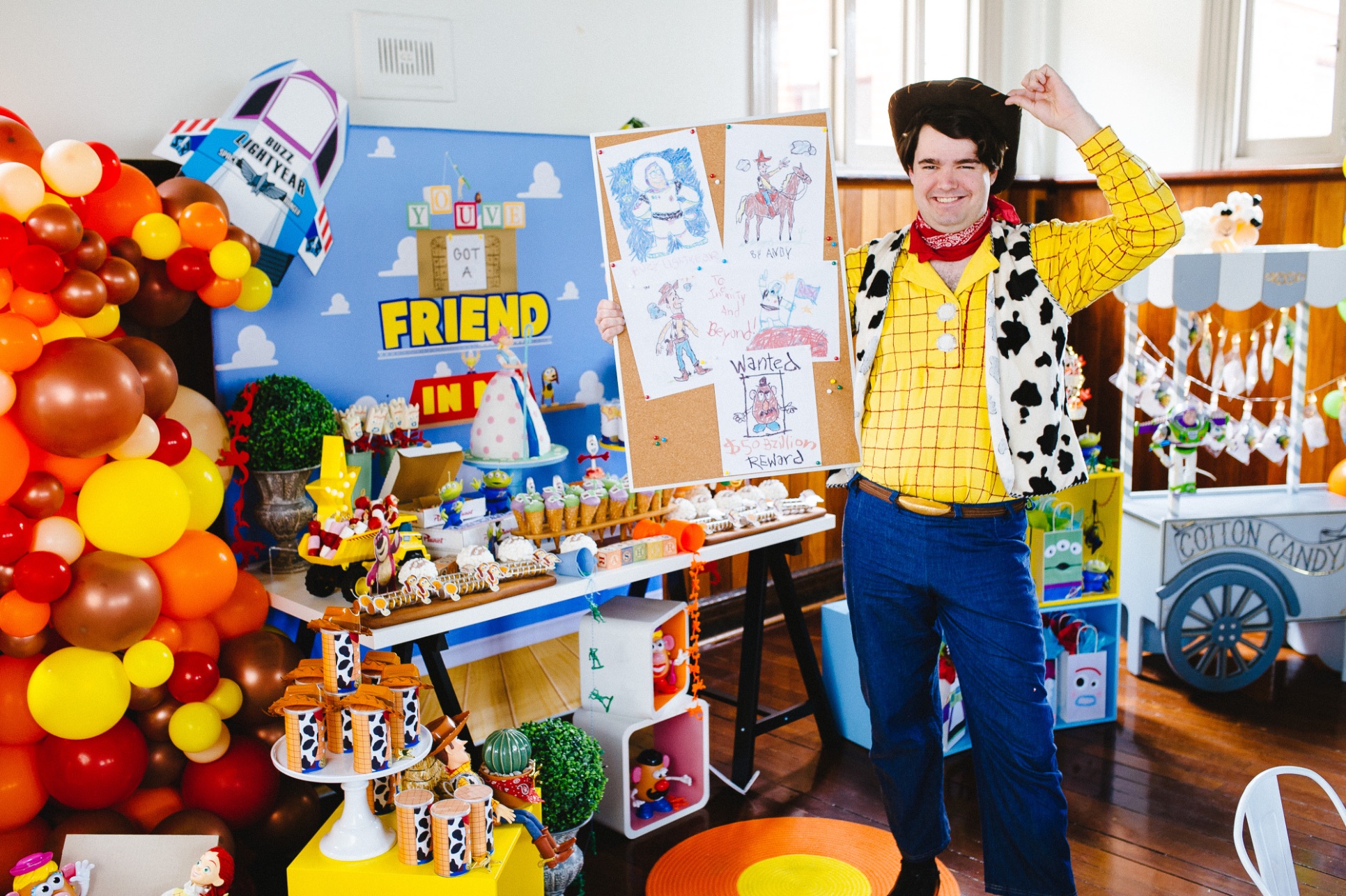 Photobooth props served as the perfect opener when entertainers Bo Peep and Woody arrived as they were a fun way to encourage kids to gather for a group photo before games began.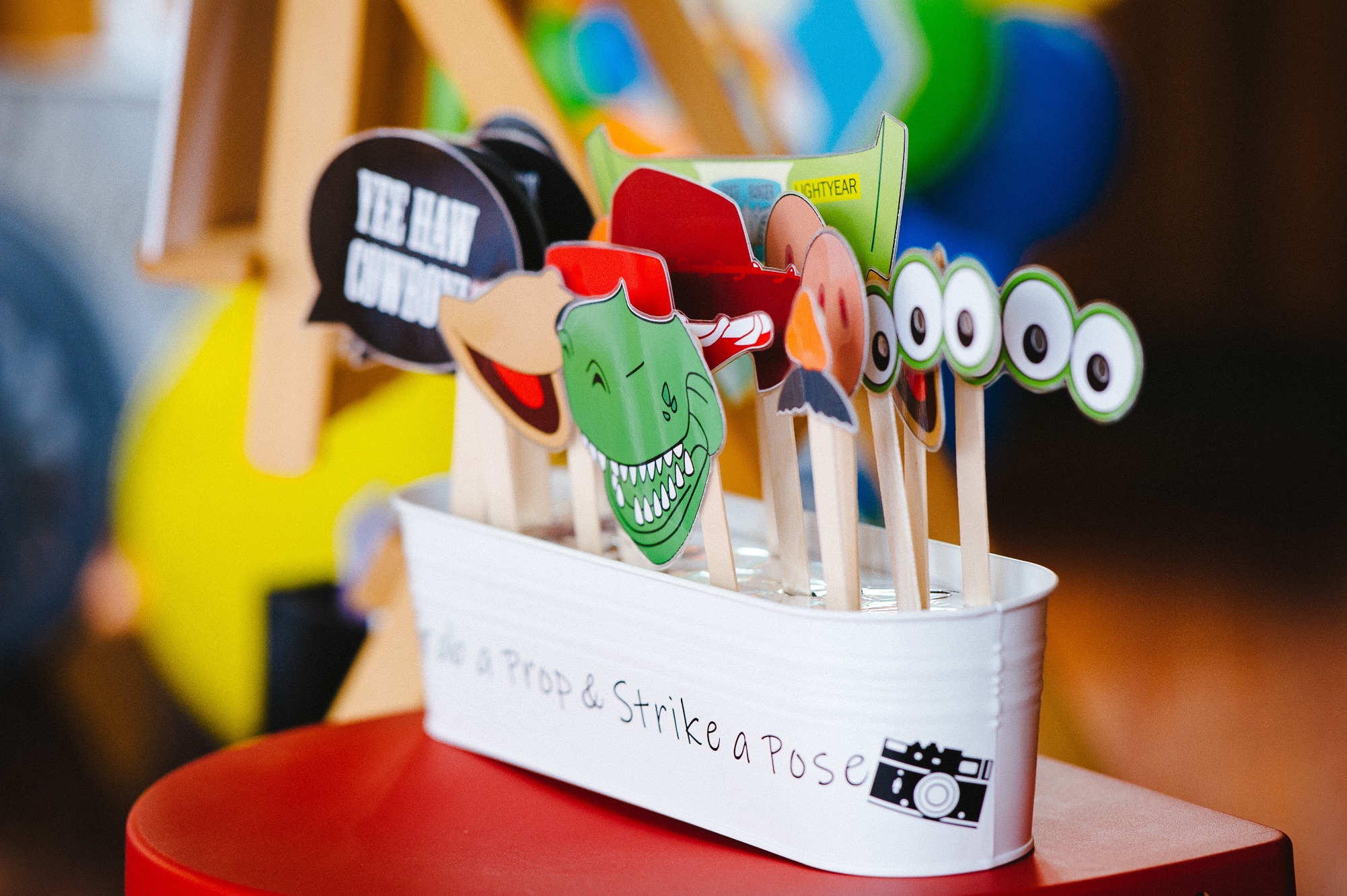 Bo Peep and Woody had the kids enthralled with fun games such as crowd favourite 'Bonnie's Coming' and Pin the Tail on Bullseye complete with personalised tails.
Children's tables were given a classic feel, with vintage napery and tablecloths complimented by bright table wear. Red striped vintage icon napery complimented the blue plates, and blue striped napery contrasted beautifully with alternate yellow plates. Glass milk bottles were finished in alternating red and black vinyl decals and topped with delicious mini donuts. Industrial chairs were finished with identical vinyl decals to the milk bottles, tying the look together.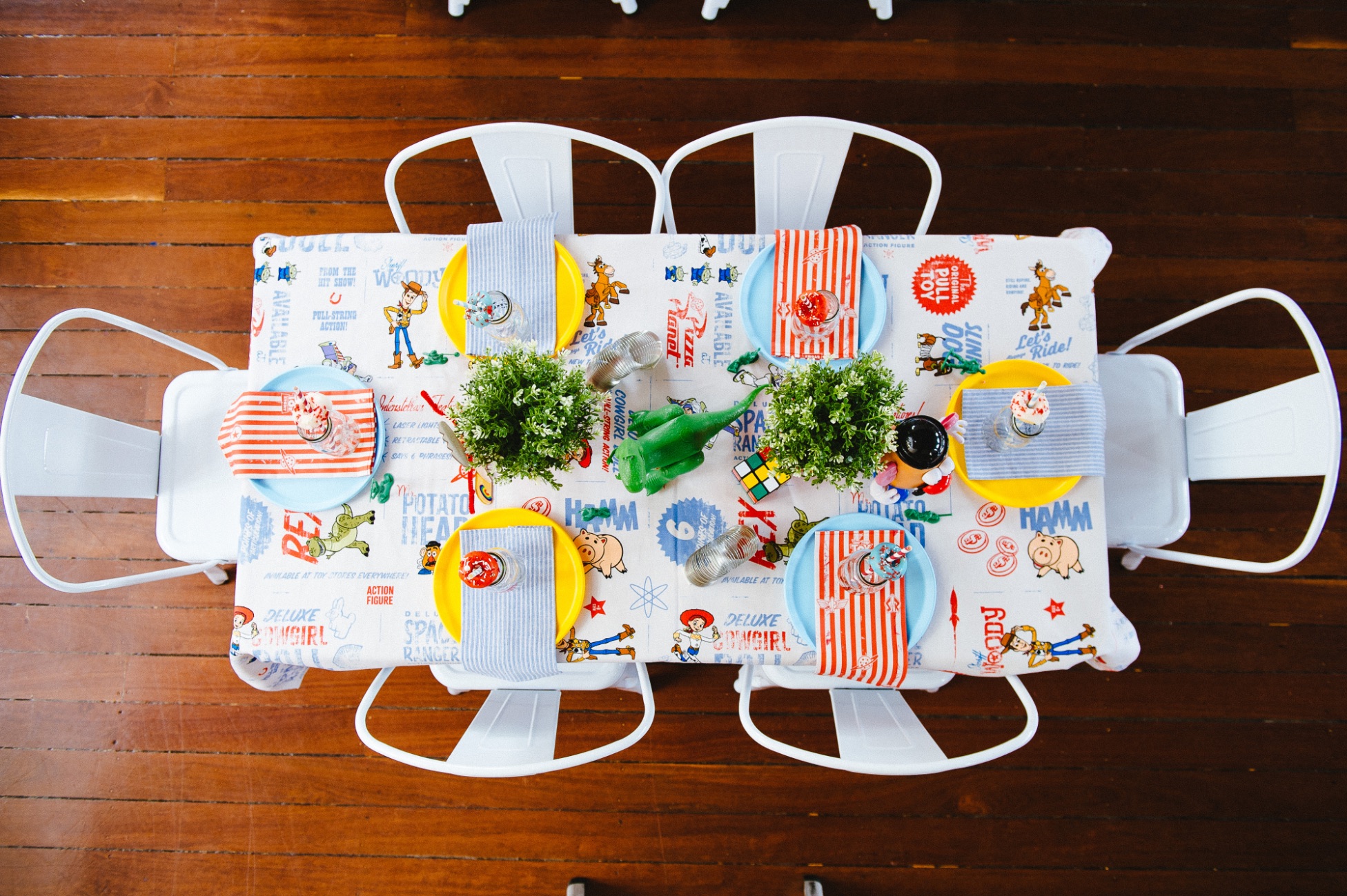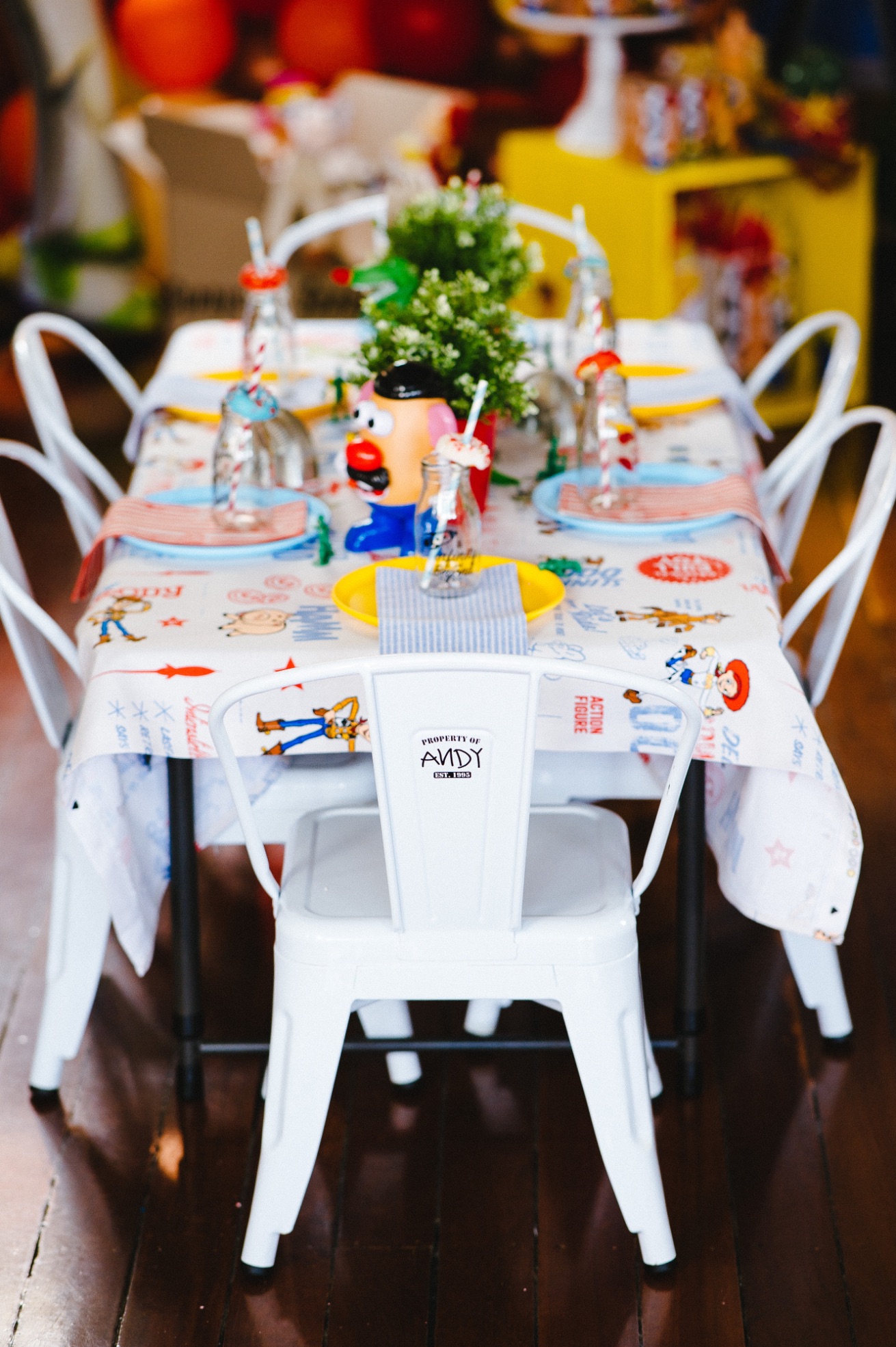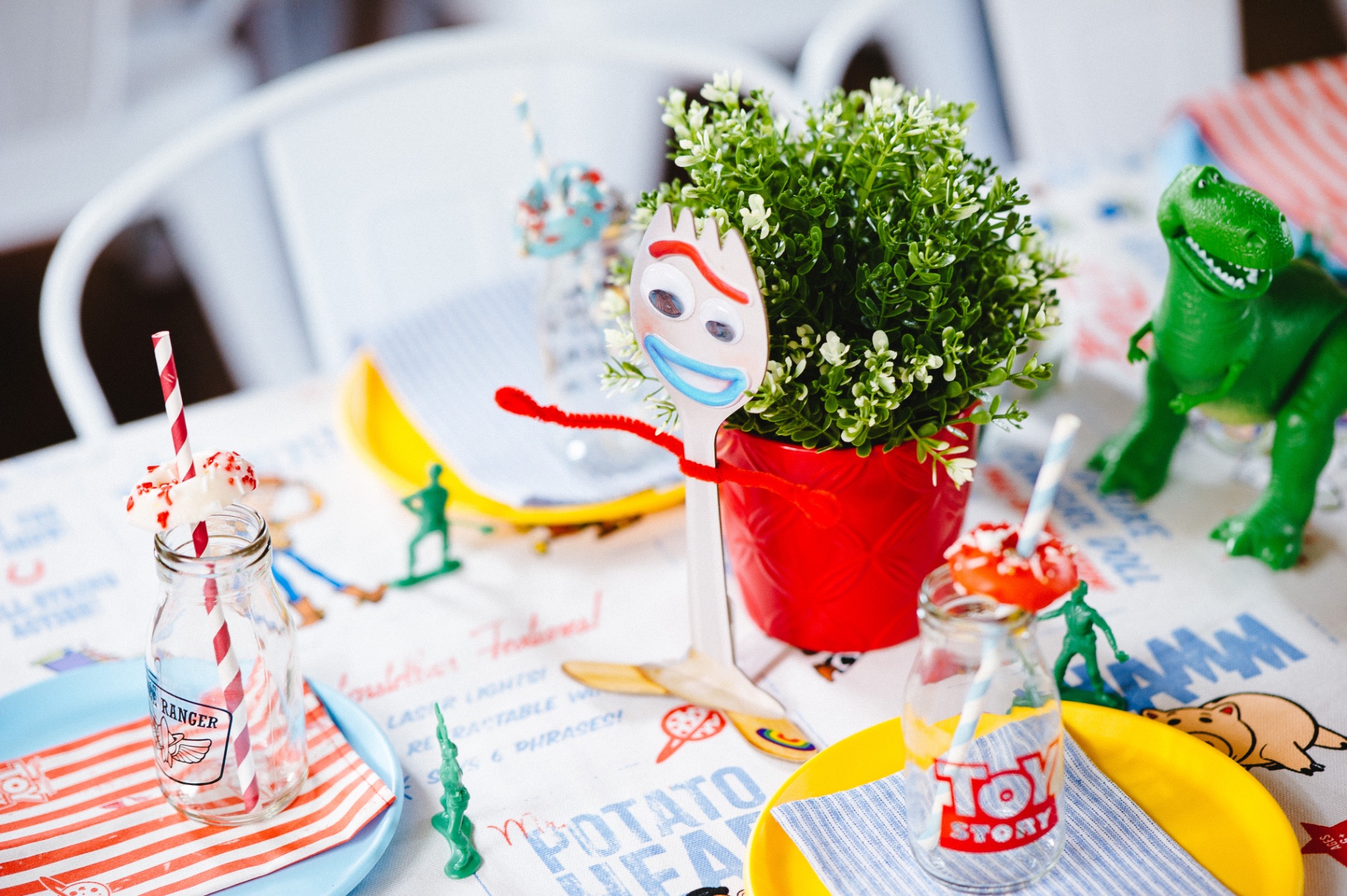 The dessert table featured an array of sweet treats such as Forky marshmallow pops in mini wheelie bins, Buzz Lightyear and Alien cake cones, lost scattered 'Billy Goat Gruff' cupcakes, Lotso's Tonka truck filled with strawberry and marshmallow kebabs (a nod to Lotso's strawberry scent), Pizza Planet boxes filled with pizza cookies, and a darling Bo Peep doll cake left pondering 'have you seen my sheep Billy, Goat and Gruff?'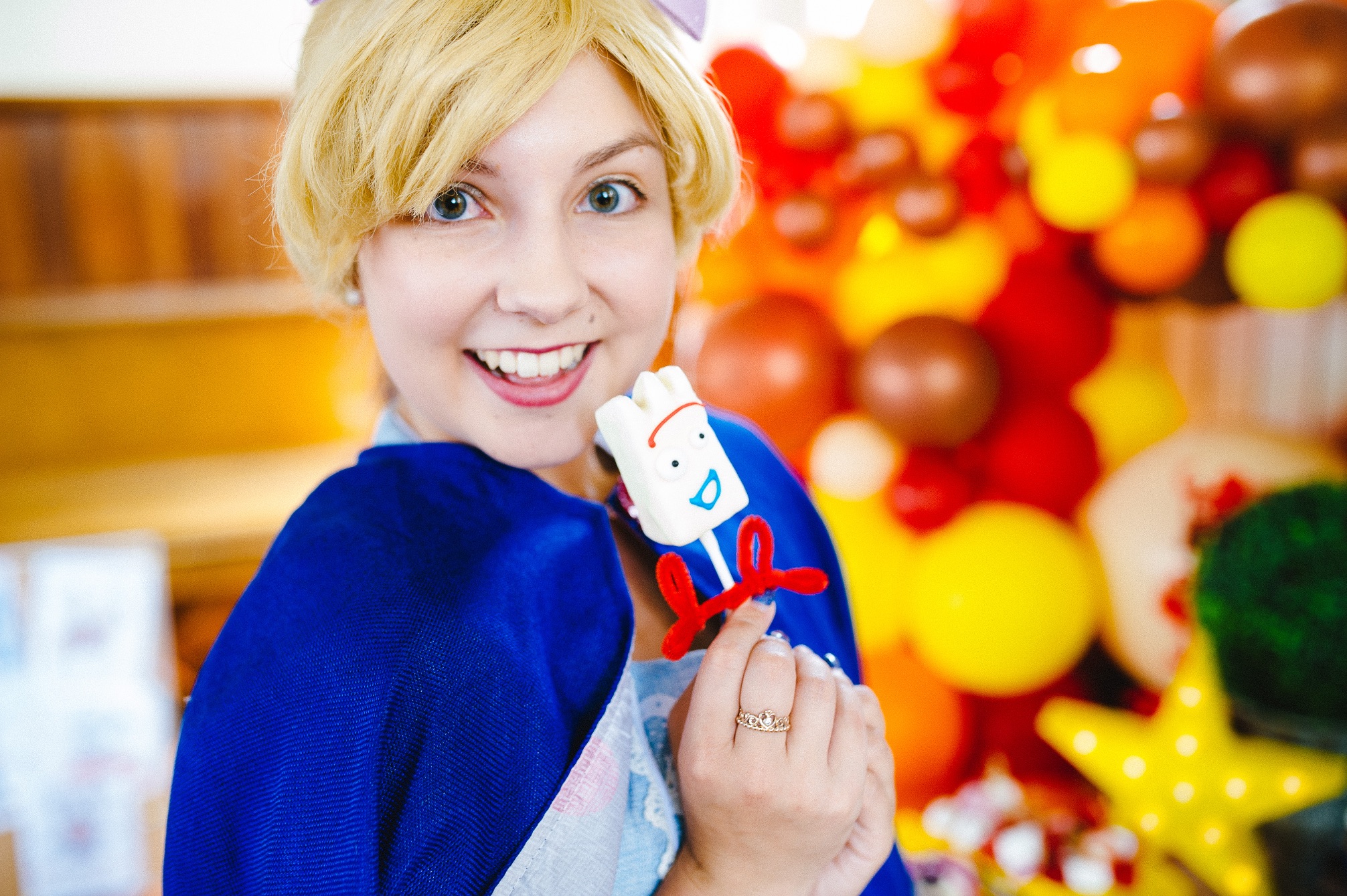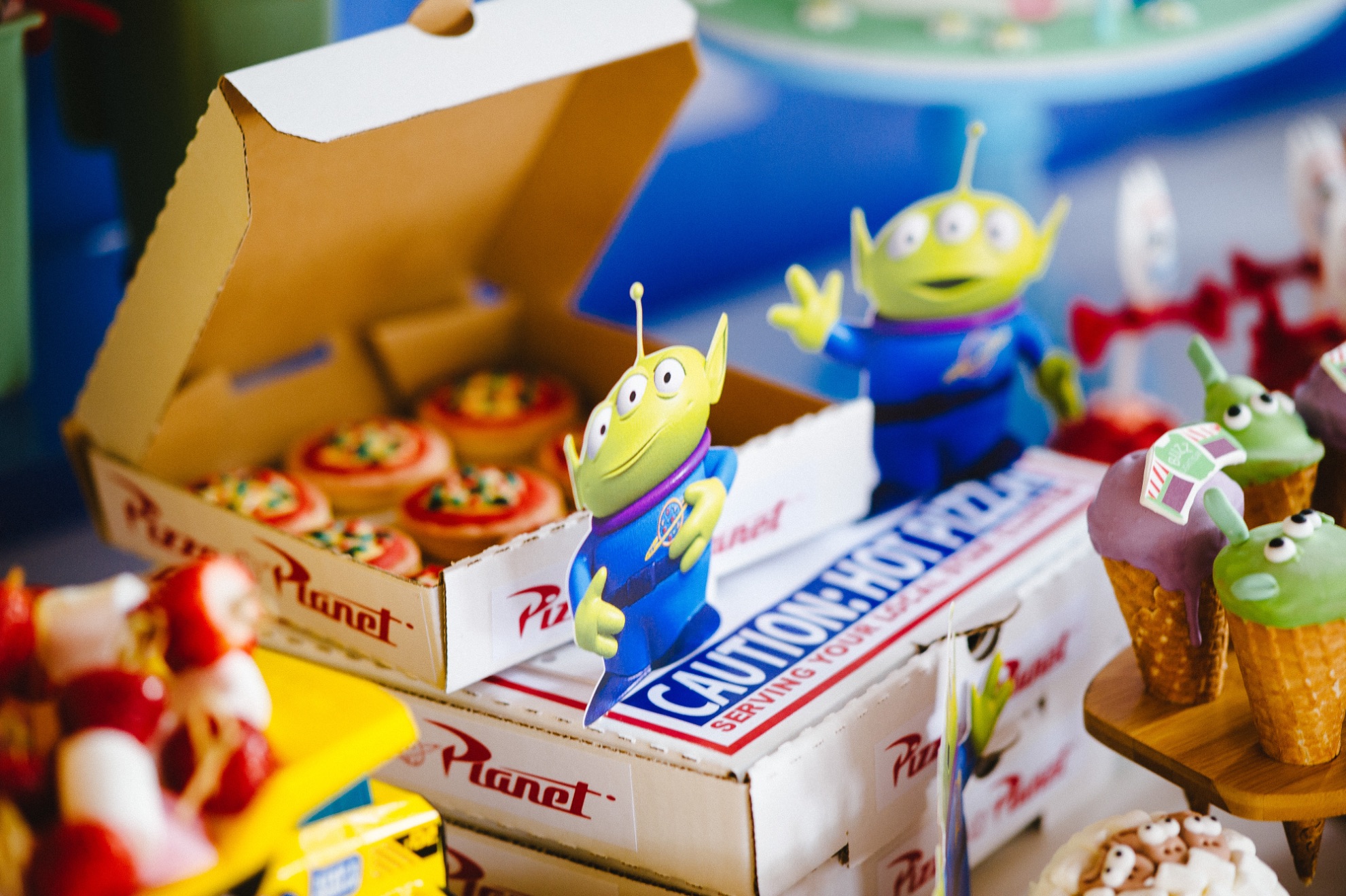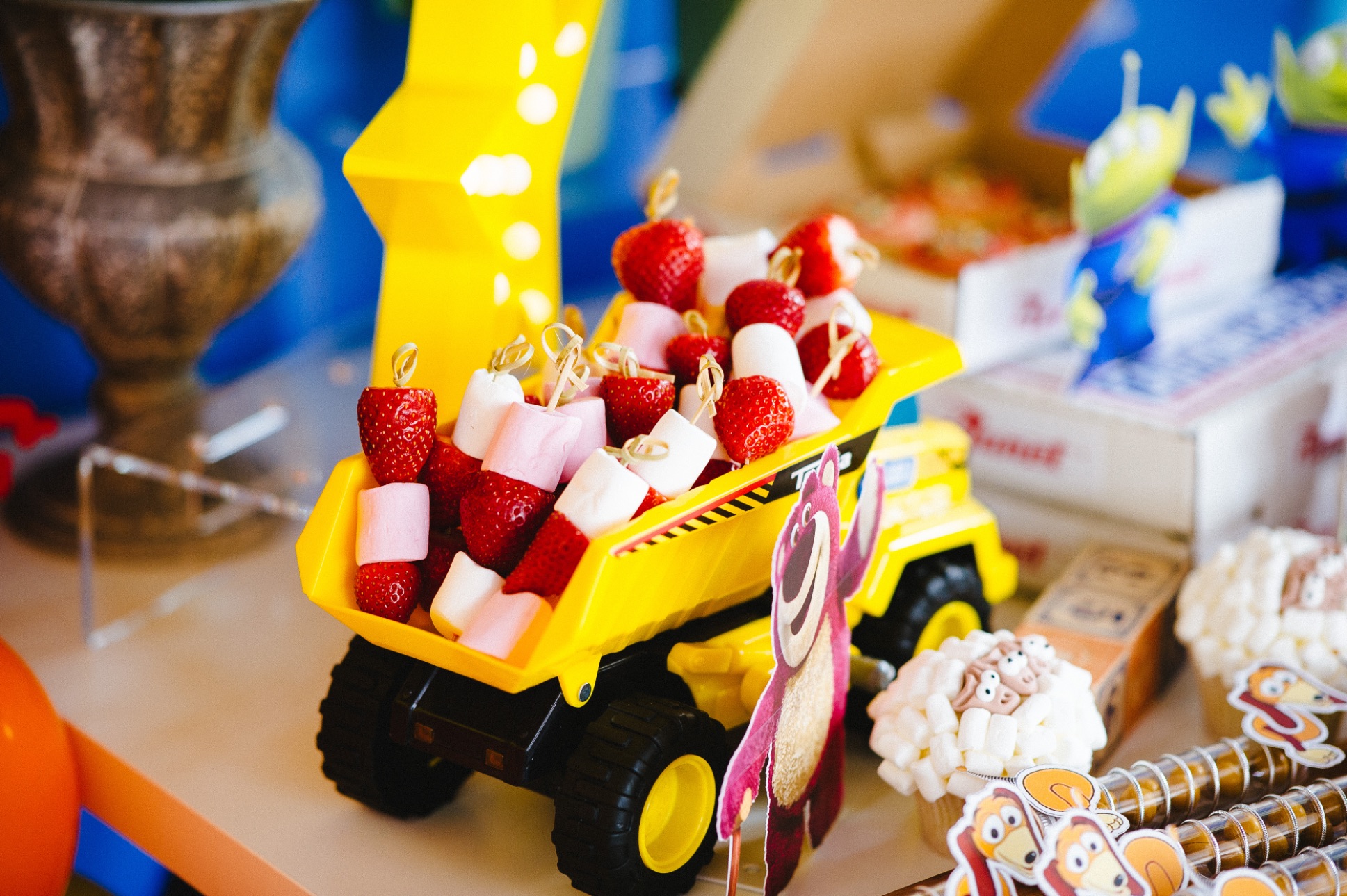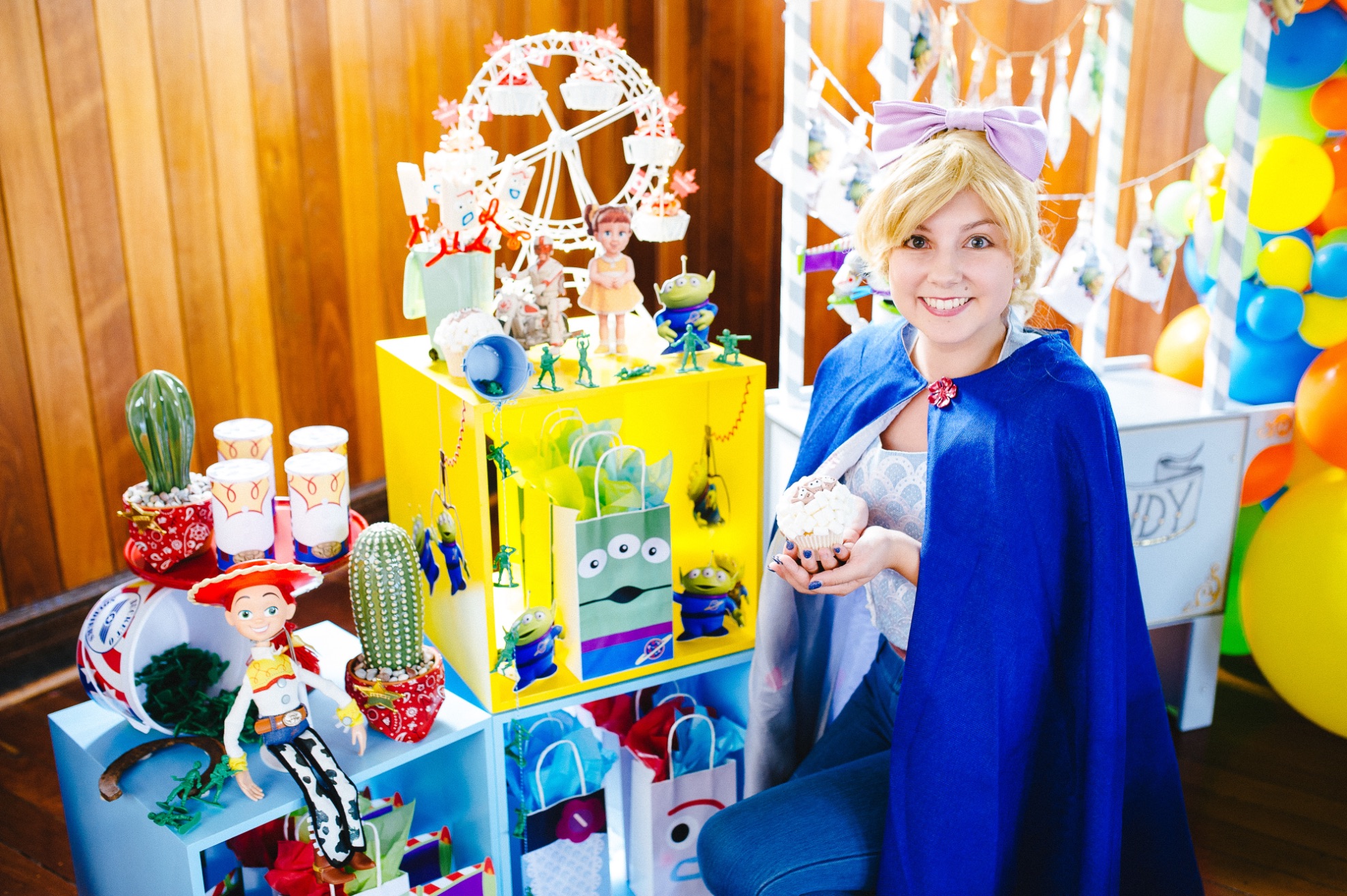 Favors included Slinky Dog chocolate tubes, Woody and Jessie Pringle cans, and Ducky and Bunny fairy floss which were taken home in character gift bags. Gift bags sat proudly in bright yellow and blue cubes, providing the perfect opportunity to expand décor and treats off the main dessert table.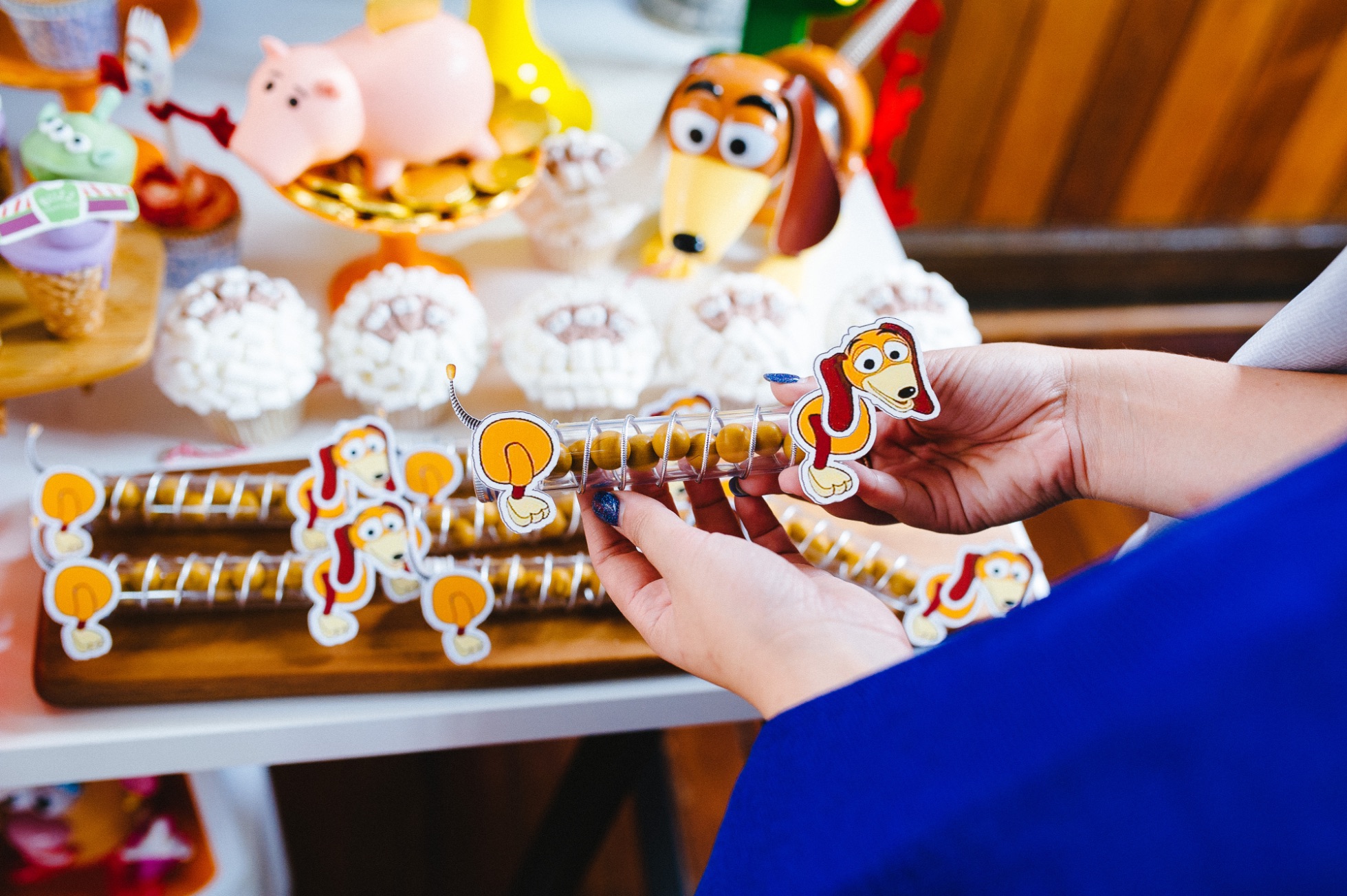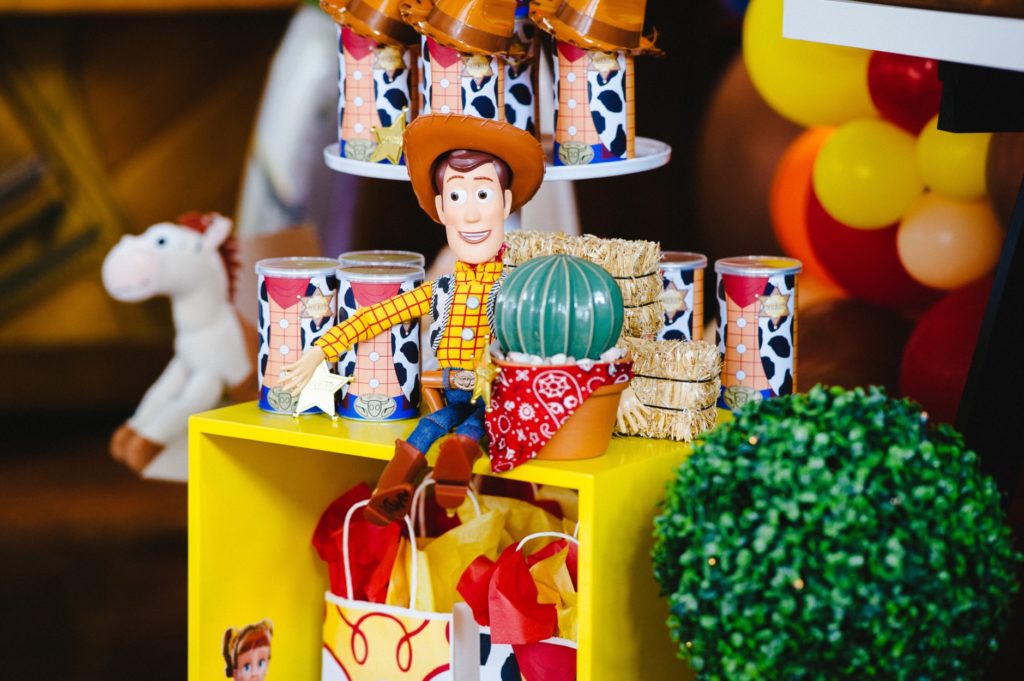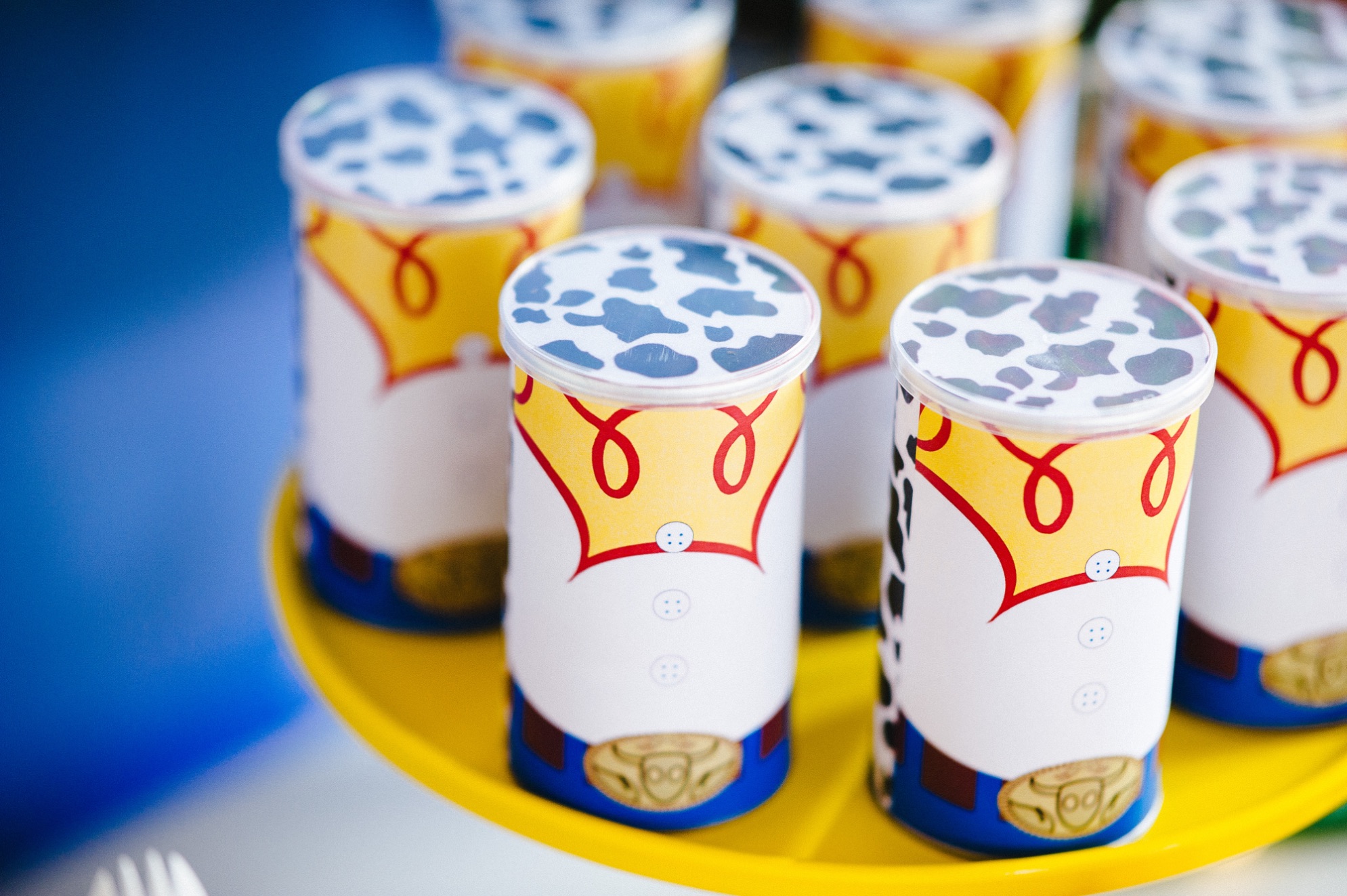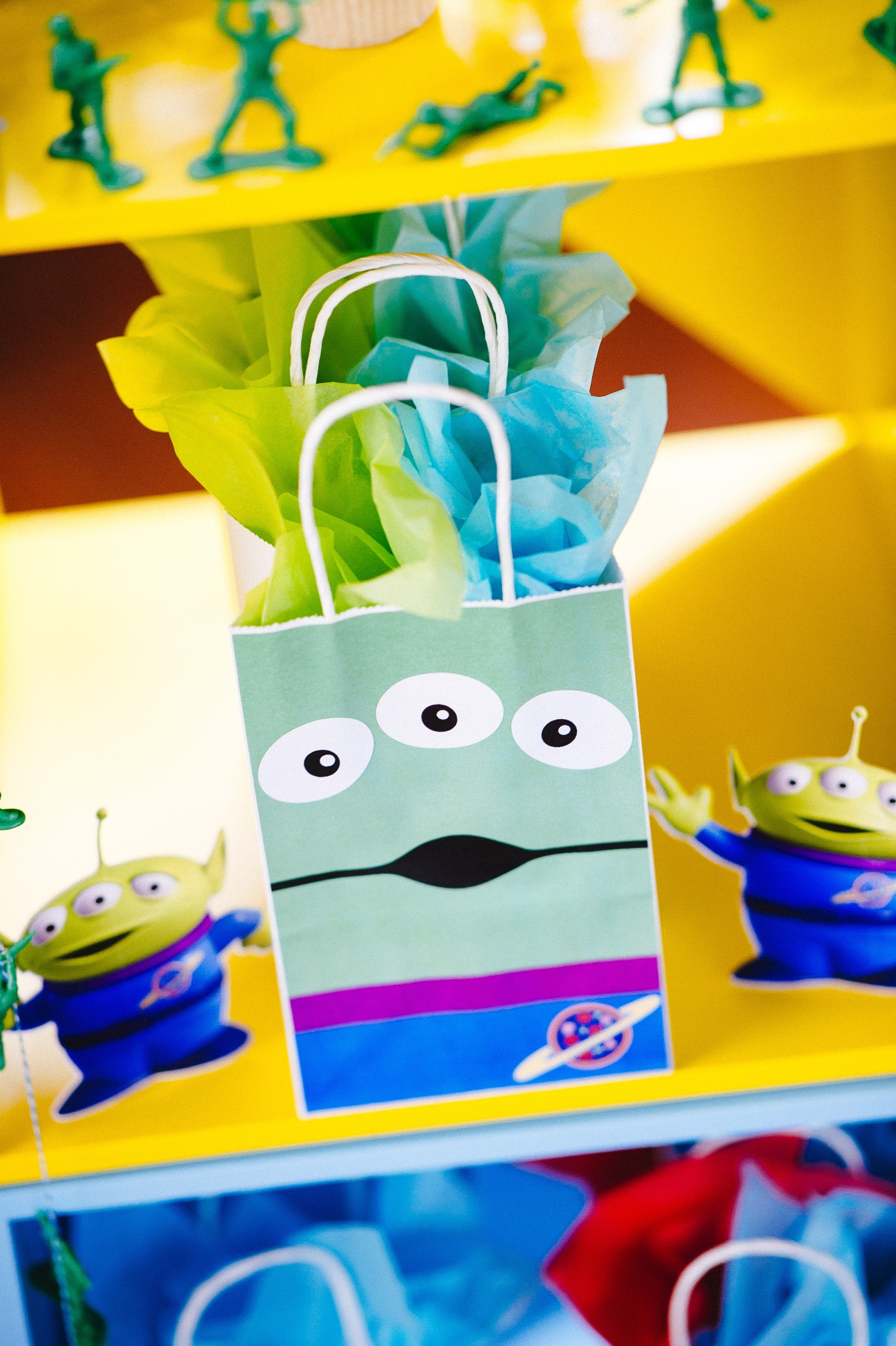 The Ferris wheel cupcake stand was a tribute to Duke Caboom leaping from the Ferris wheel. I made 'Yes I Canada' maple leaf and Canadian Flag picks to finish the Ferris wheel cupcakes, together with Forky's to finish the remaining cupcakes.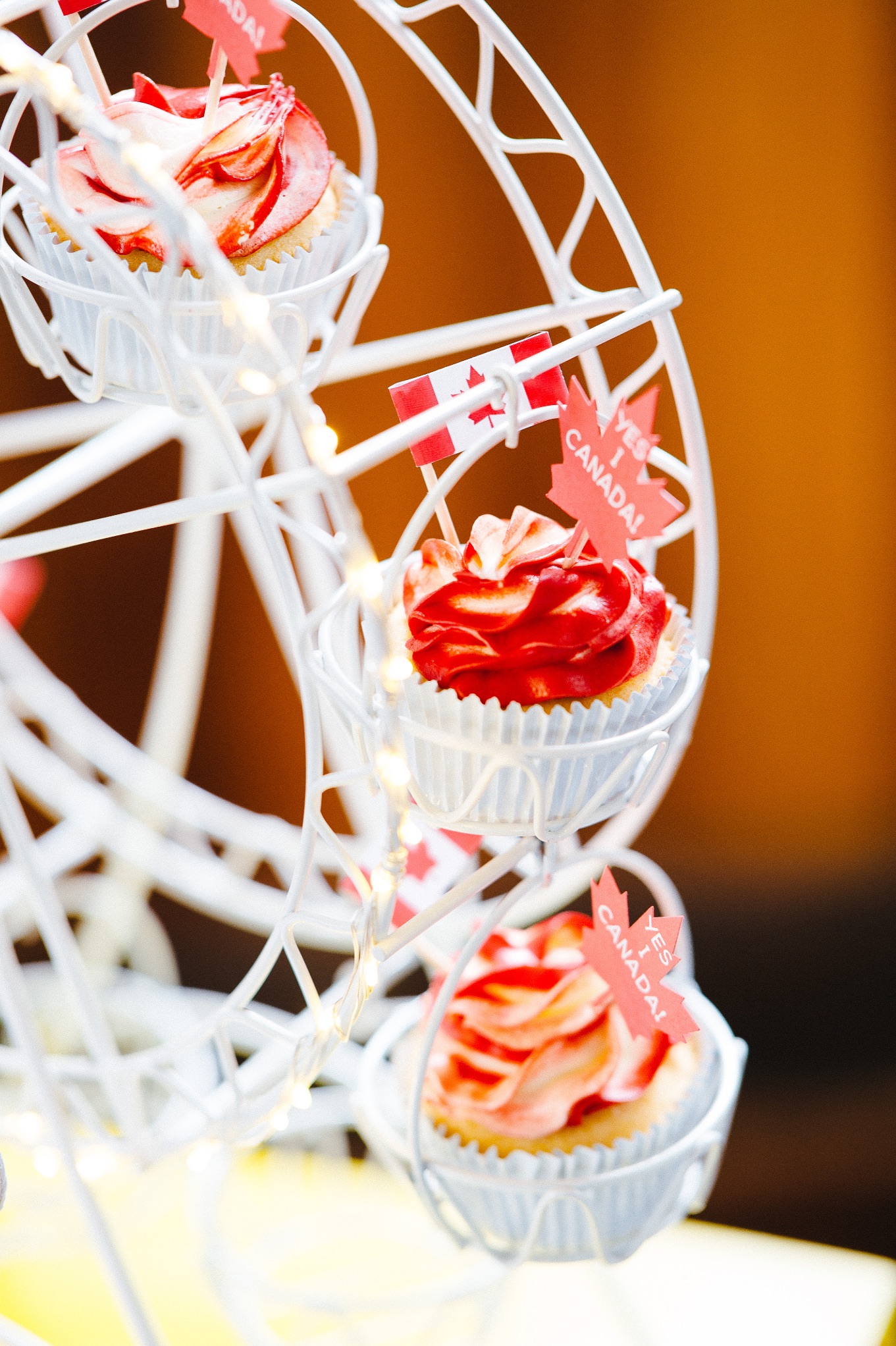 To calm the kids before concluding, each child crafted their own Forky to take home as a toy, not a spork!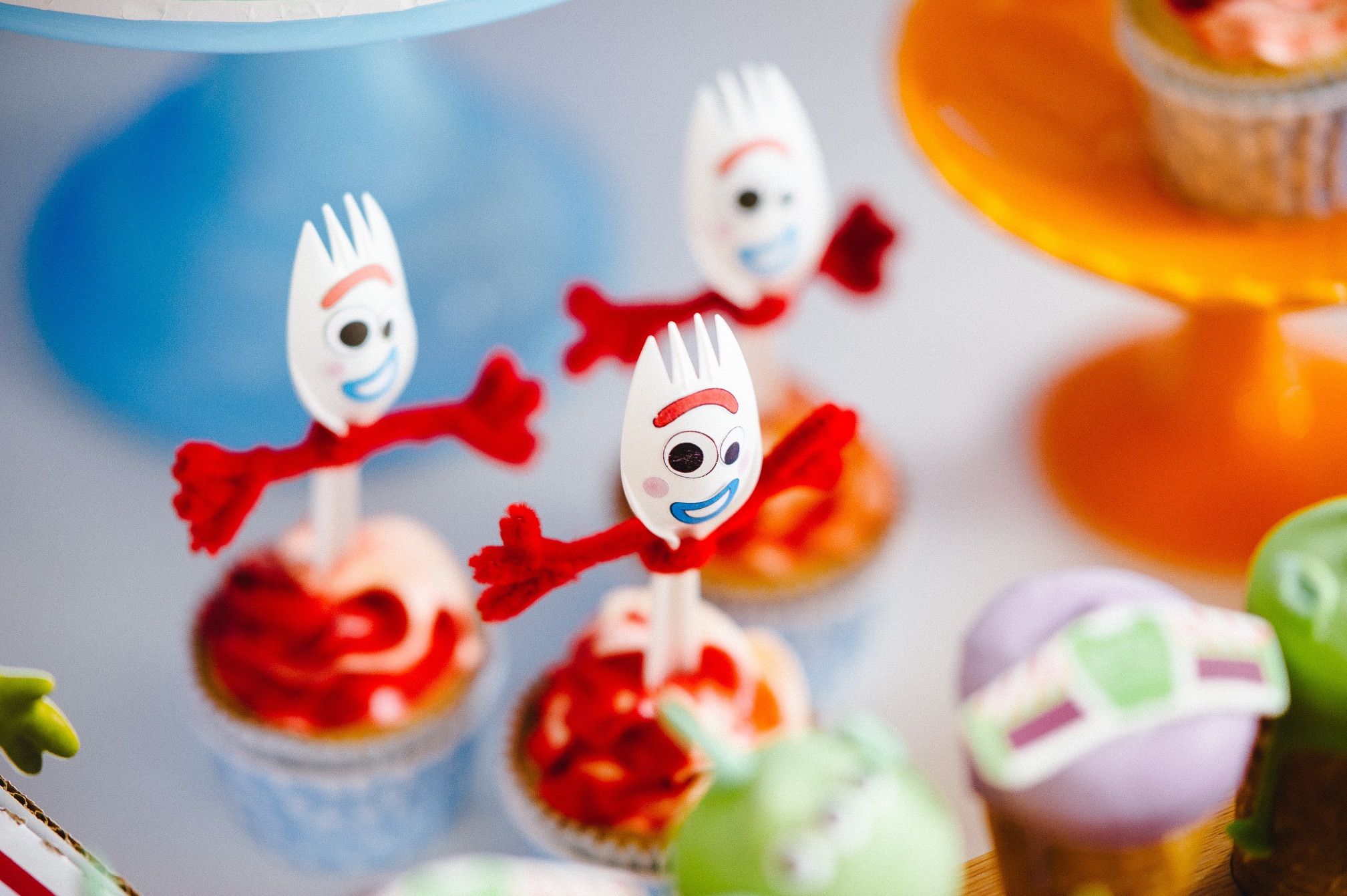 Asher declared this was her most favourite theme yet and asked to repeat the same theme next year!
Vendor Credits
Concept, coordination, furniture, styling, and invitations | @memorablepartiesperth
Photography | @damoguy
Videography | @fadder8
Backdrop design | @adams.artstore
Balloon install | @littlewinkspartys
Balloon supply | @favorlaneparty
Balloon twisting | @dougblownup
Cake, donuts, swirl cupcakes | @cakes2celebratebylisa
Chairs | @allegra.and.grace.chairs
Entertainment | @glass_slipper_ent
Favours and gift bags | @memorablepartiesperth
Forky marshmallows, cake cones, and sheep cupcakes | @2makeitsweet