The sweetest milestone ever! The first birthday always needs to be the most special, and little Aalia definitely got that with this Sweet One pastel first birthday party. Ambica from So Cal Event Planners gives us all the details!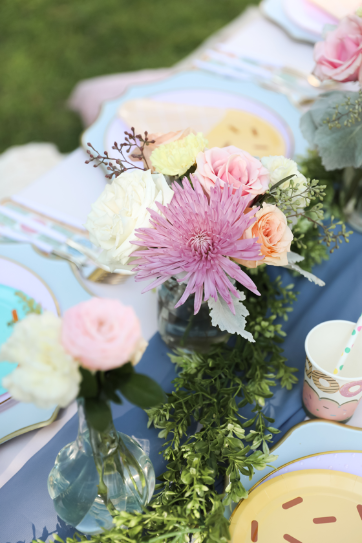 THE PARTY DETAILS
OCCASION: Girl birthday party
THEME: Sweets themed party
COLOURS: Classic pastels – pink, yellow and blue
HIGHLIGHTS; picnic set up, Covid safe ideas, sweets cart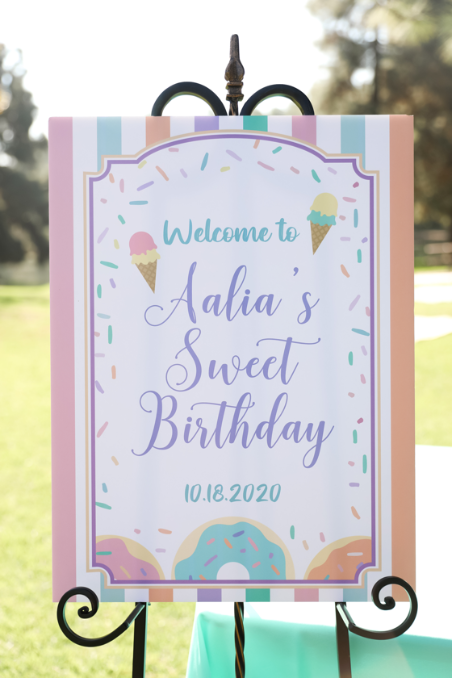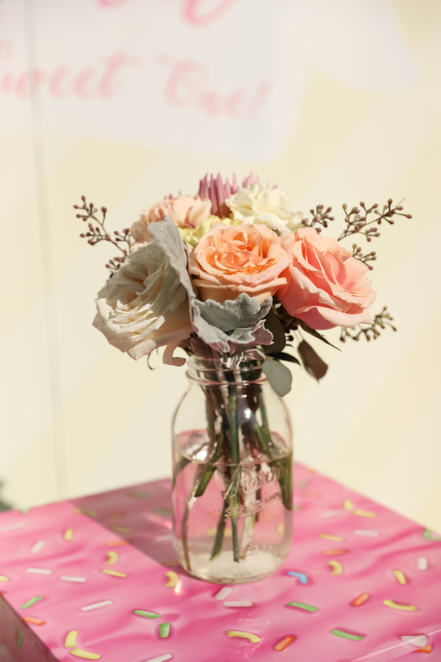 A first birthday party for Aalia, she's a sweet "one." The parents wanted to do something special for their sweet Aalia, but with Covid they were running short of options. They contacted our company, So Cal Event Planners, and we suggested doing it at Yorba Linda Regional Park to ensure there was plenty of space for social distancing. We made sure to space everyone out using individual picnic blankets that were spread out throughout the event space.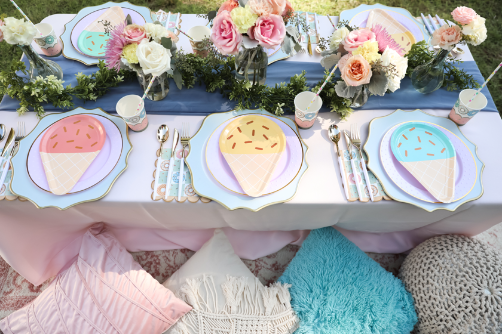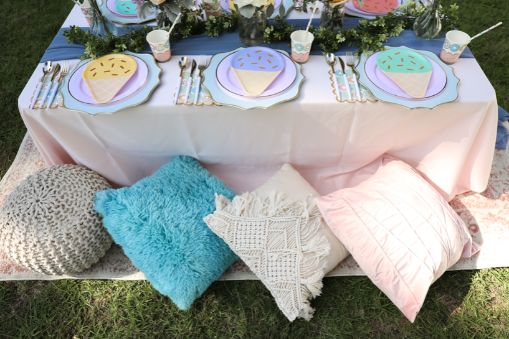 Separate picnic boxes were individually packaged for grab and go lunches as well as having a hand sanitising area to make sure it was safe for everyone. A vegetarian picnic box was curated for guests to enjoy their very own sealed meal and take a to-go mango mojito refreshment.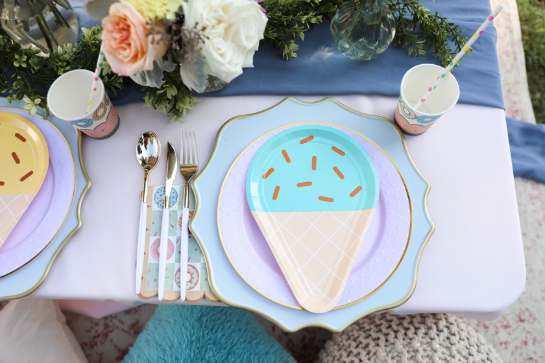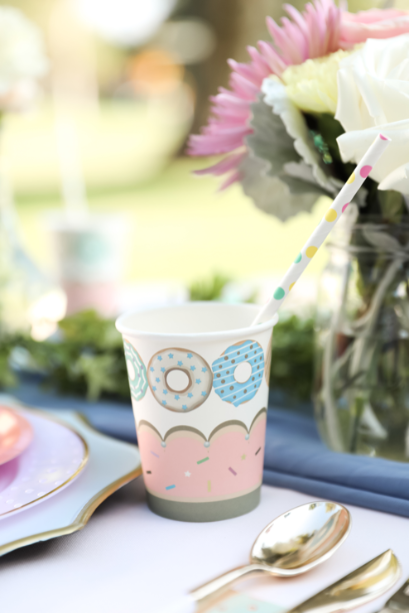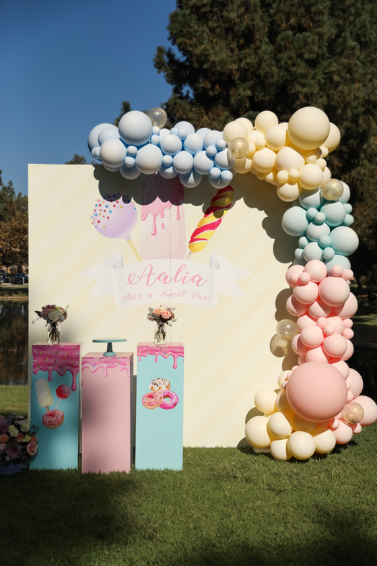 The theme was a perfect play on words and allowed us to be creative with it. Rather than being limited to a candy theme or ice cream, we were able to incorporate all sweets this way and bring in plenty of colours. The tablescape was a perfect example of how we blended the various sweets; ice cream cone plate ware, doughnut themed napkins and sprinkle themed straw.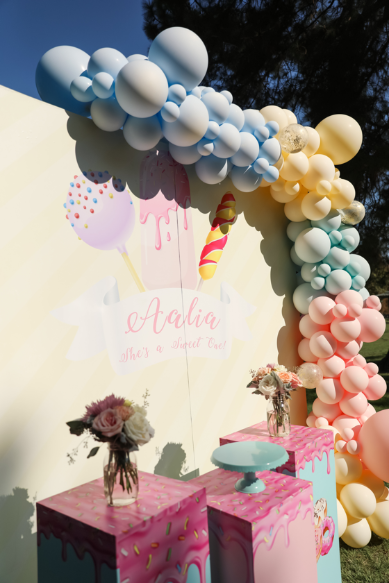 We created a custom backdrop that incorporated all kinds of sweets and treats along with a colourful balloon garland to infuse all the bright colours. In addition, we created custom unique pedestals made to look like dripping ice cream. An added feature to make the whole display come together was the sweet cart for Aalia to share sweet treats from her very own shop.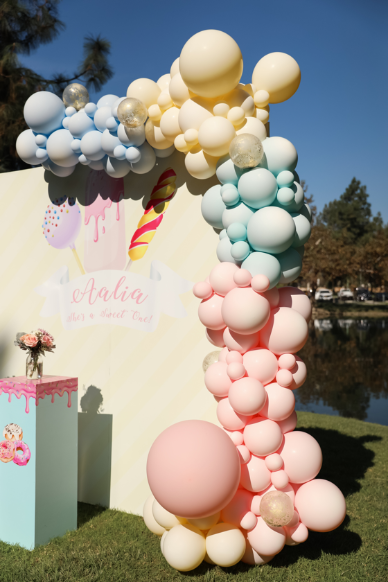 Guests were able to pick up their favourite treats with customised popcorn boxes. Aalia had a variety of sweets starting with bright gumdrops to catch your attention along with the all-time favourites lollipops, and of course some yummy sweet and sour gummies.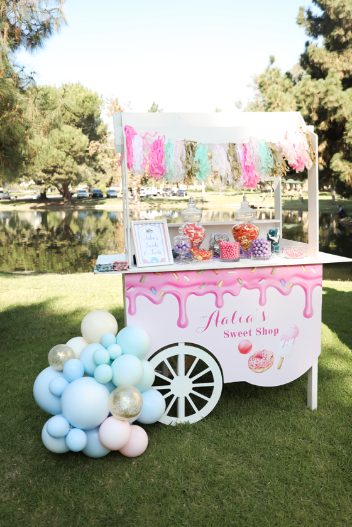 Beautiful floral arrangements were seen on each display tieing in all the bright and playful colours of the theme. A beautiful picnic style table was displayed right in front of the backdrop and sweet shop cart with plenty of pillows for close family to sit on & for little ones to enjoy their sweet treats. Moreover, little ones were able to enjoy a kids party play with a colourful ball pit and unicorn toys. A perfect spot to enjoy a picnic with close friends & family members to celebrate Aalia's sweet birthday.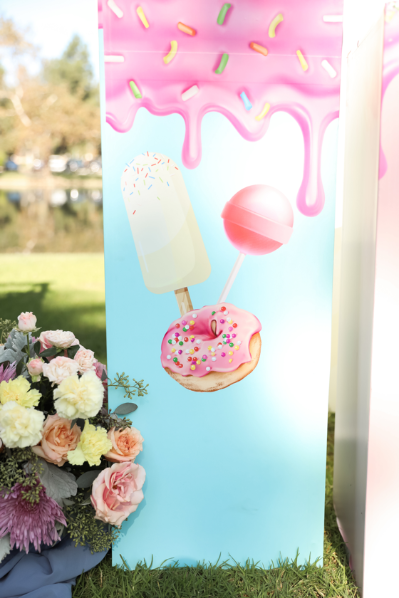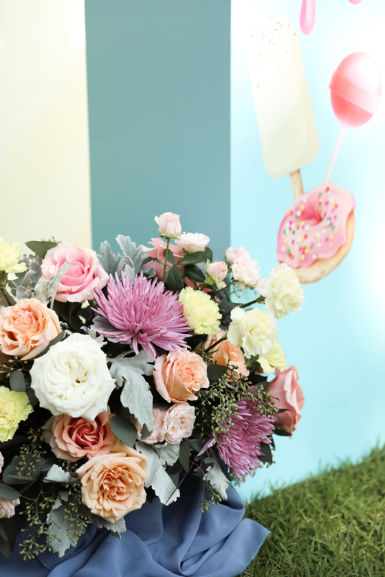 Vendor Credits
Photography | @alyssahunterphoto
Planning & styling | www.socaleventplanners.com | @socaleventplanners
Rentals | @socaleventrentals
Catering | www.mantrarestaurants.com