A house party is a perfect way to ring in the new year! Whether a BBQ, cocktail party or chilled picnic, there's no reason to skimp on the glam. Roxanne from Lovely Occasions shows us how its done in five easy steps. Read on to find out how to DIY your glam New Year's Eve Party at home.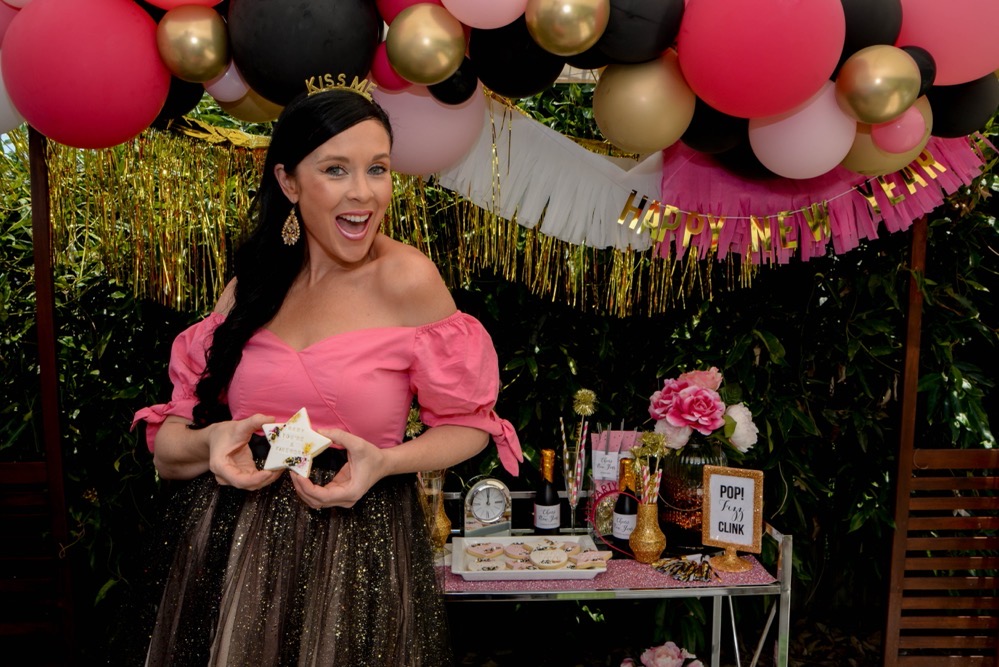 It's nearly time to farewell 2019 and ring in the New Year!
A time to reflect on the year that was and to look forward to celebrating all the new opportunities coming your way in 2020. It's the perfect time to throw a fabulous party for all your friends and
neighbours to end the year with a bang!
If planning a party seems overwhelming after the busy Christmas season don't stress –we've done the hard work for you! Follow these 5 easy steps to create a beautifully styled DIY New Year's Eve party at home!
DIY your glam New Year's Eve Party at home – 5 easy steps
Step 1: Set The Scene
A great way to wow your guests is to set a great 'on arrival' scene. We absolutely love a beautifully styled drinks table or bar cart to welcome your guests and make it super easy for them to serve themselves. Make it fun and festive by adding a few fun details to create a perfect party centrepiece.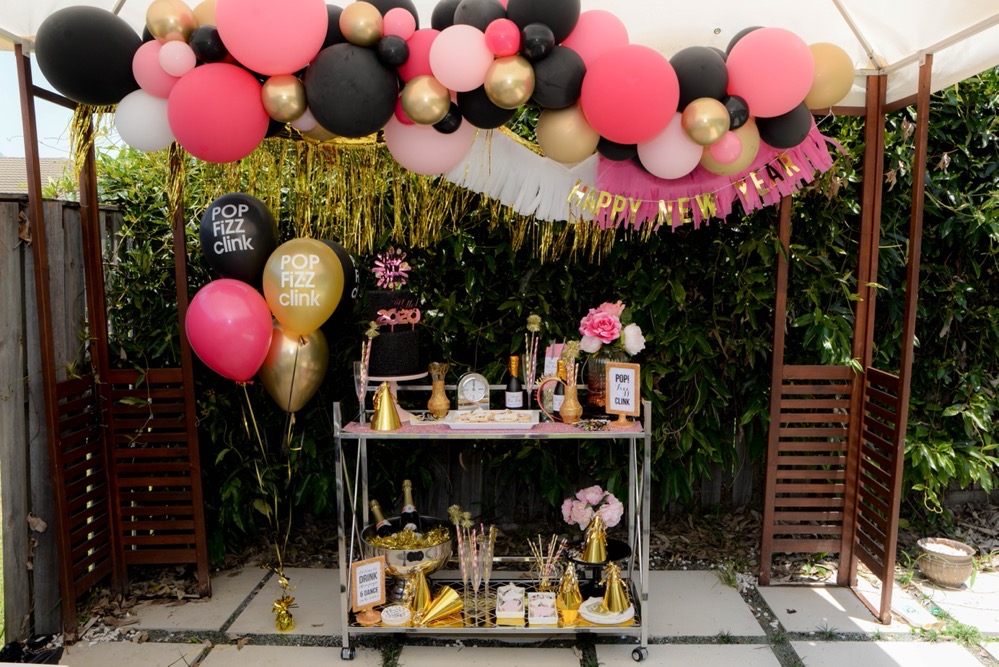 Start by adding a table runner to give it a pop of colour. We added colour coordinating items on both the top and bottom of our bar cart in gold glitter, black and pink as well as a clock to countdown to midnight. Gold party hats and fun headbands are perfect for styling your bar cart and your guests will love wearing them to take fun NYE selfies!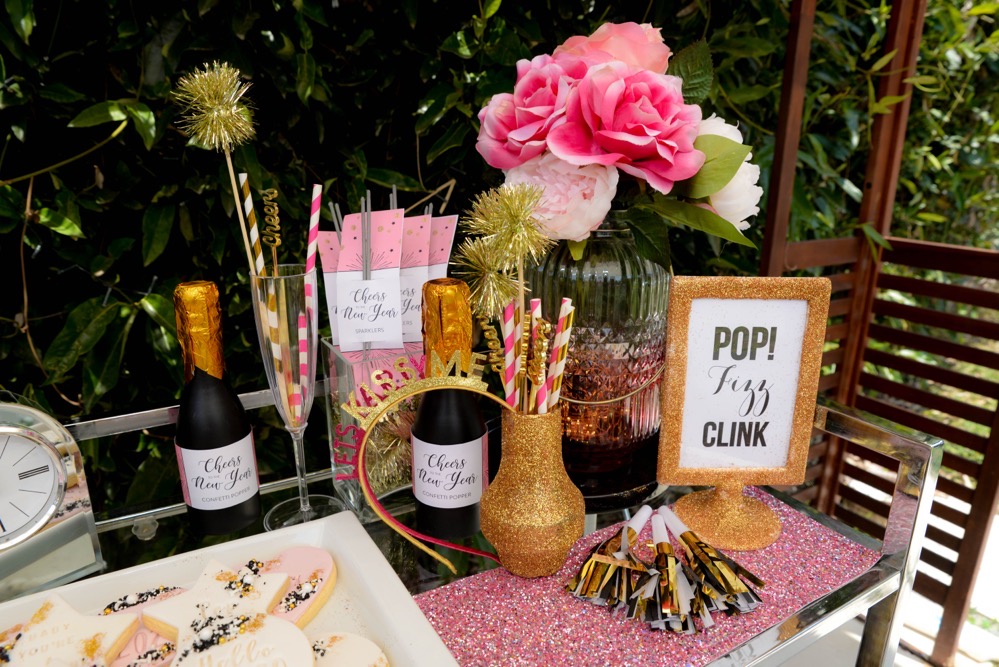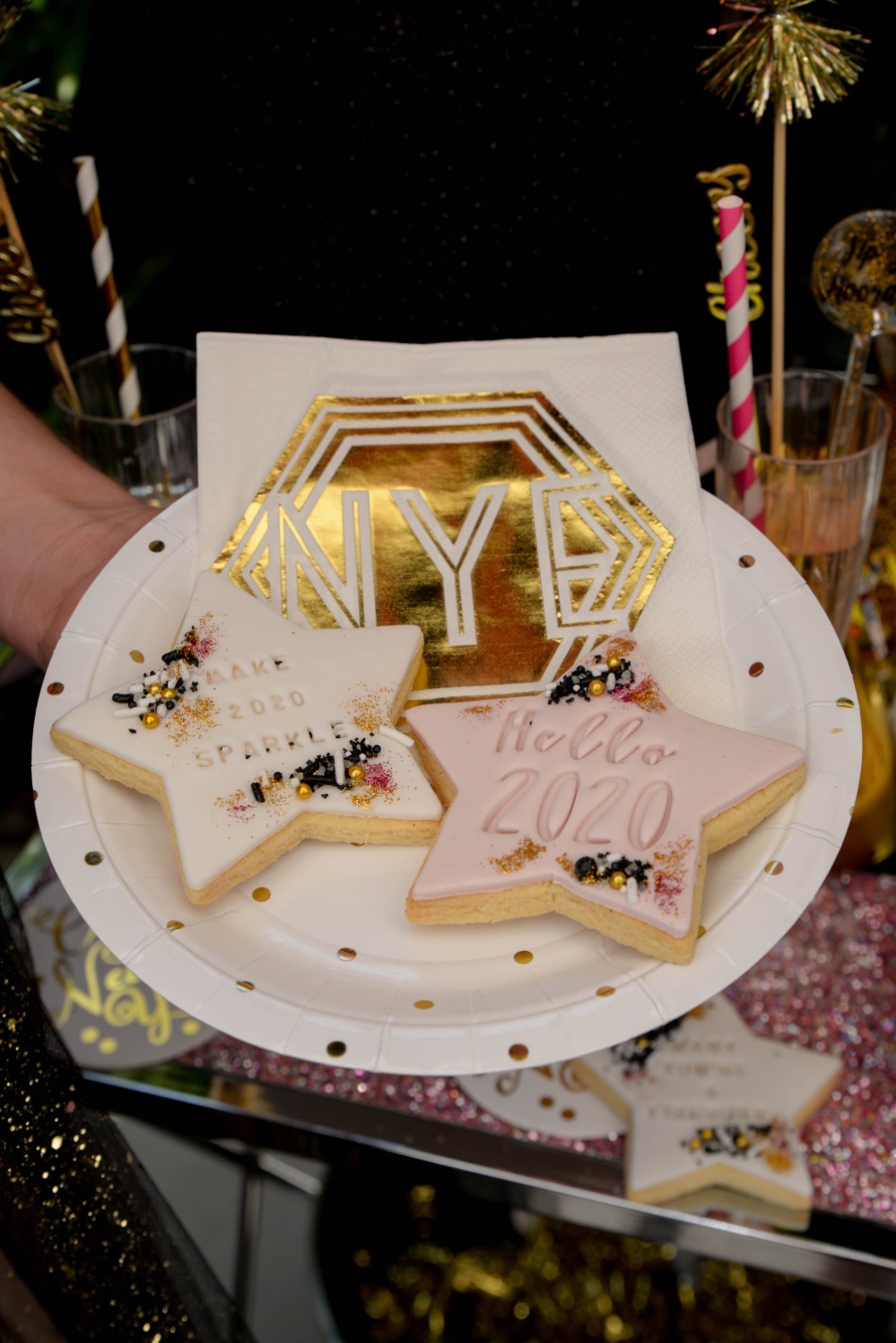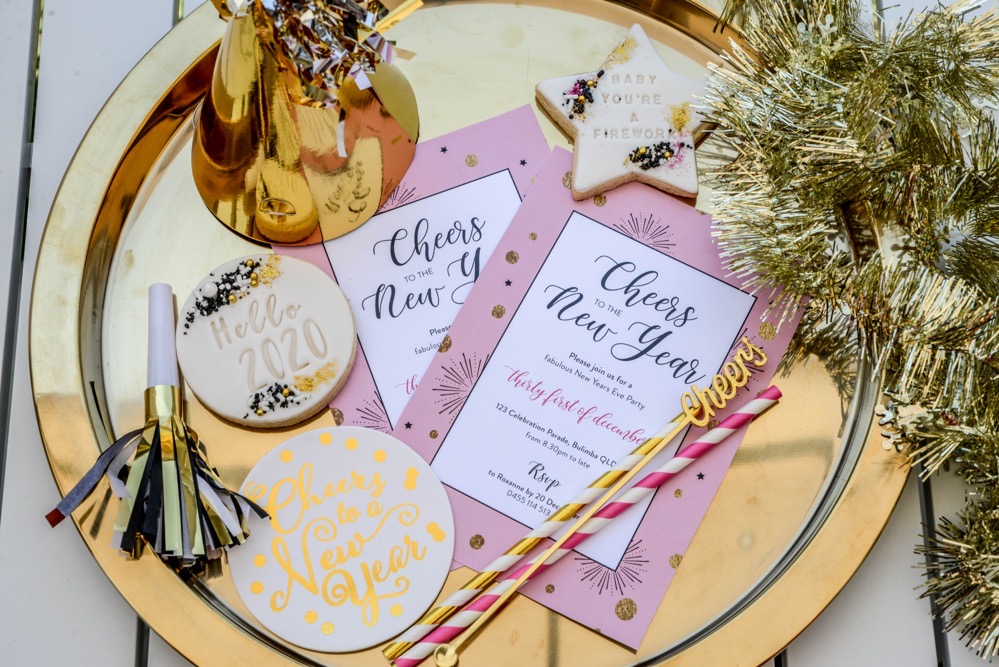 Our show stopper (because a party without cake is just a meeting right) was an amazing two-tiered cake covered in glittery sprinkles by The Sweet Society Co.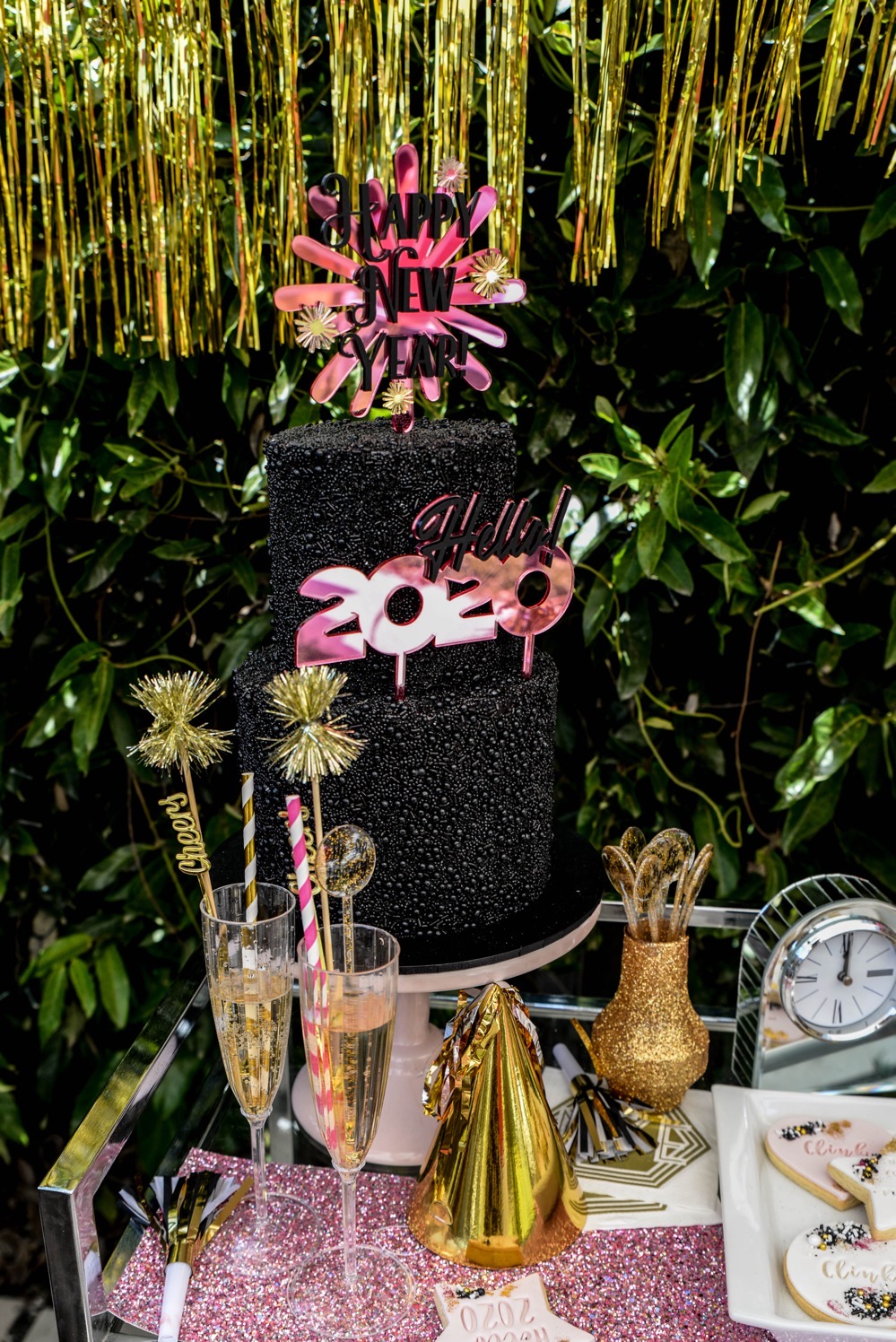 Step 2: Make It A Party
It's not a party without balloons right?!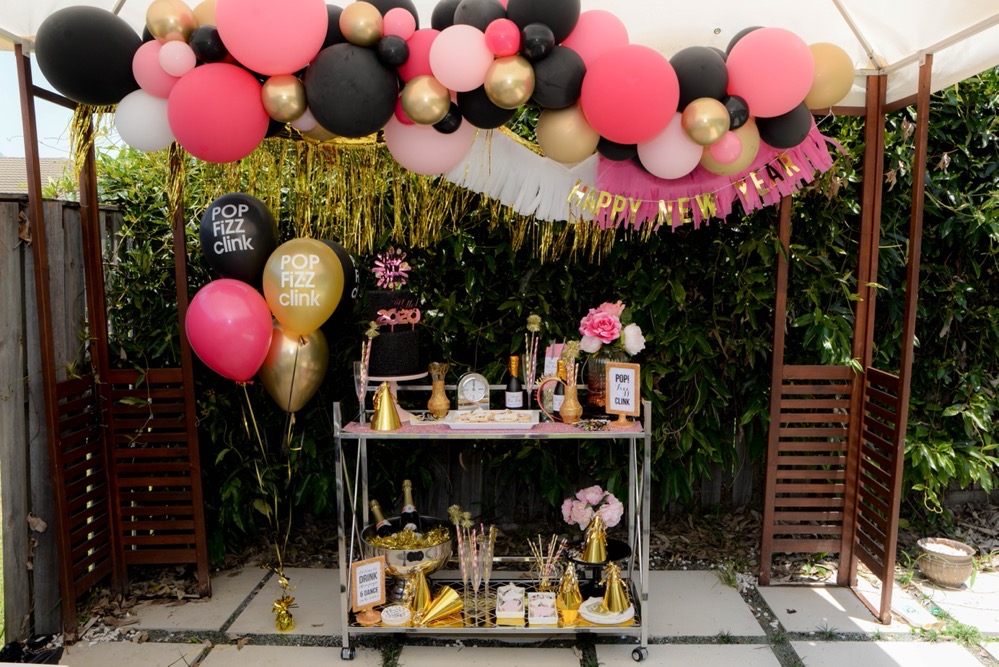 A DIY balloon garland kit was the perfect way to dress up our outdoor gazebo. Fully air-inflated (no helium required) these kits can be put together a day or two before the party, which will
save you a heap of time on the day. We dressed up the balloon garland by adding gold foil fringing, white and pink crepe fringe and a Happy New Year banner.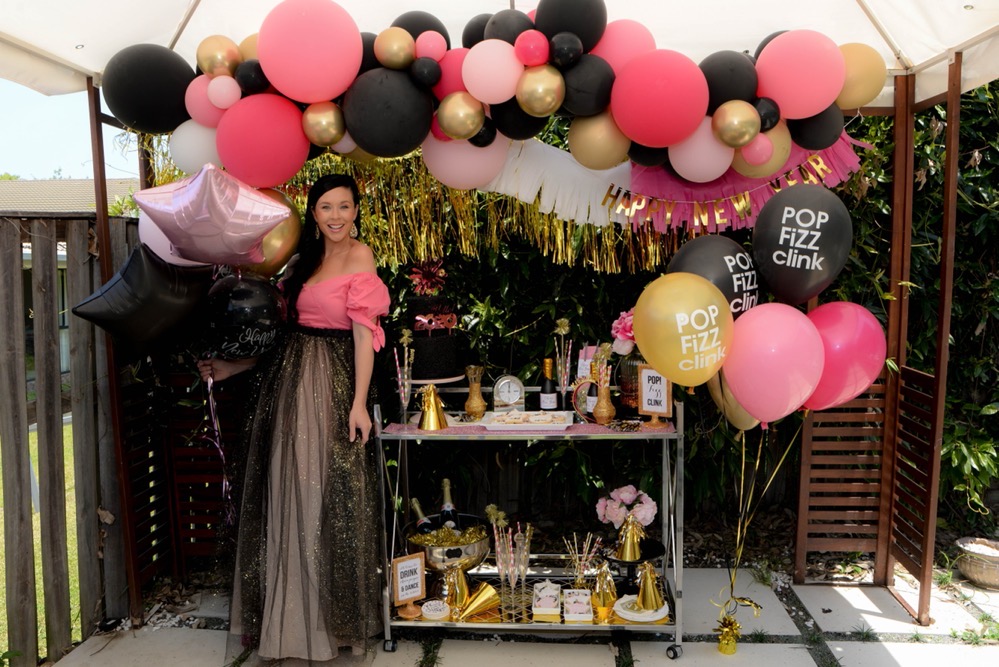 Adding a few fun 'Pop Fizz Clink" and "Happy New Year" printed balloons to either side of the bar cart completed the look and created a perfect backdrop for all the NYE photos.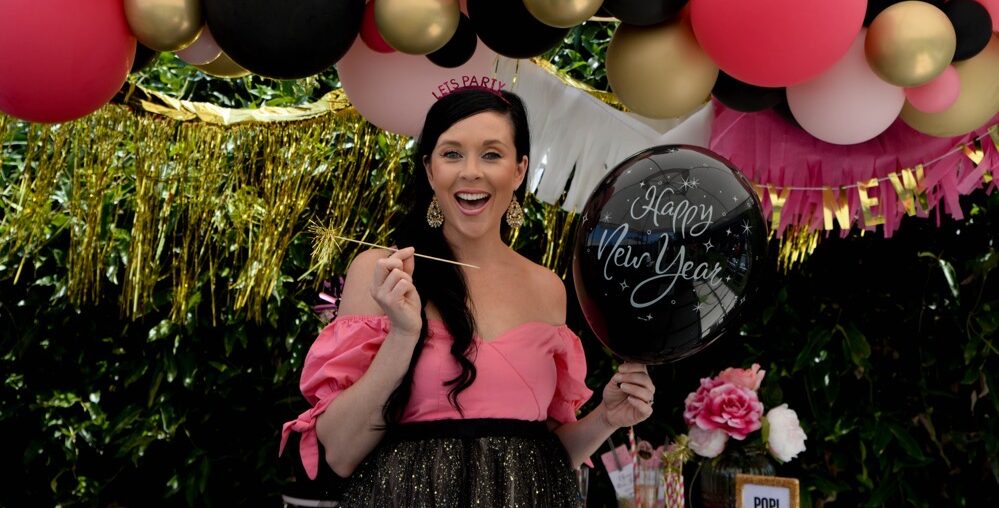 Step 3: Serve Up the Drinks
Let's face it – It doesn't matter what celebration or occasion is – Champagne is always a good idea!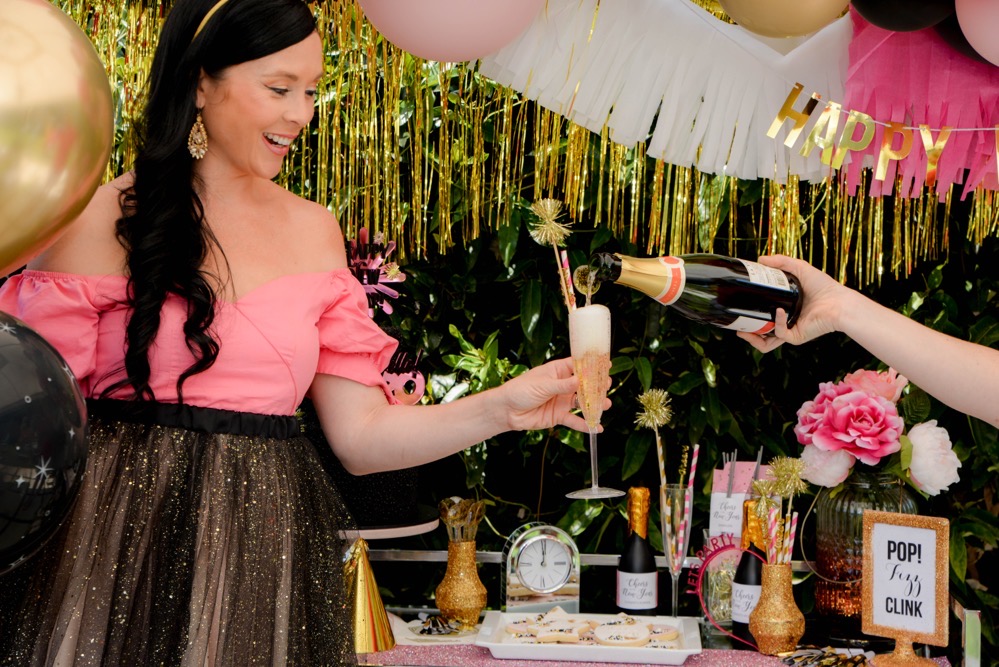 We opted for reusable plastic champagne flutes and paper cups to eliminate any chance of broken glass in the yard (or by the pool) and dressed up each one with gold 'Cheers' drink stirrers, hot pink paper straws and DIY faux-sparklers (made with leftover Christmas tinsel) and wooden skewers.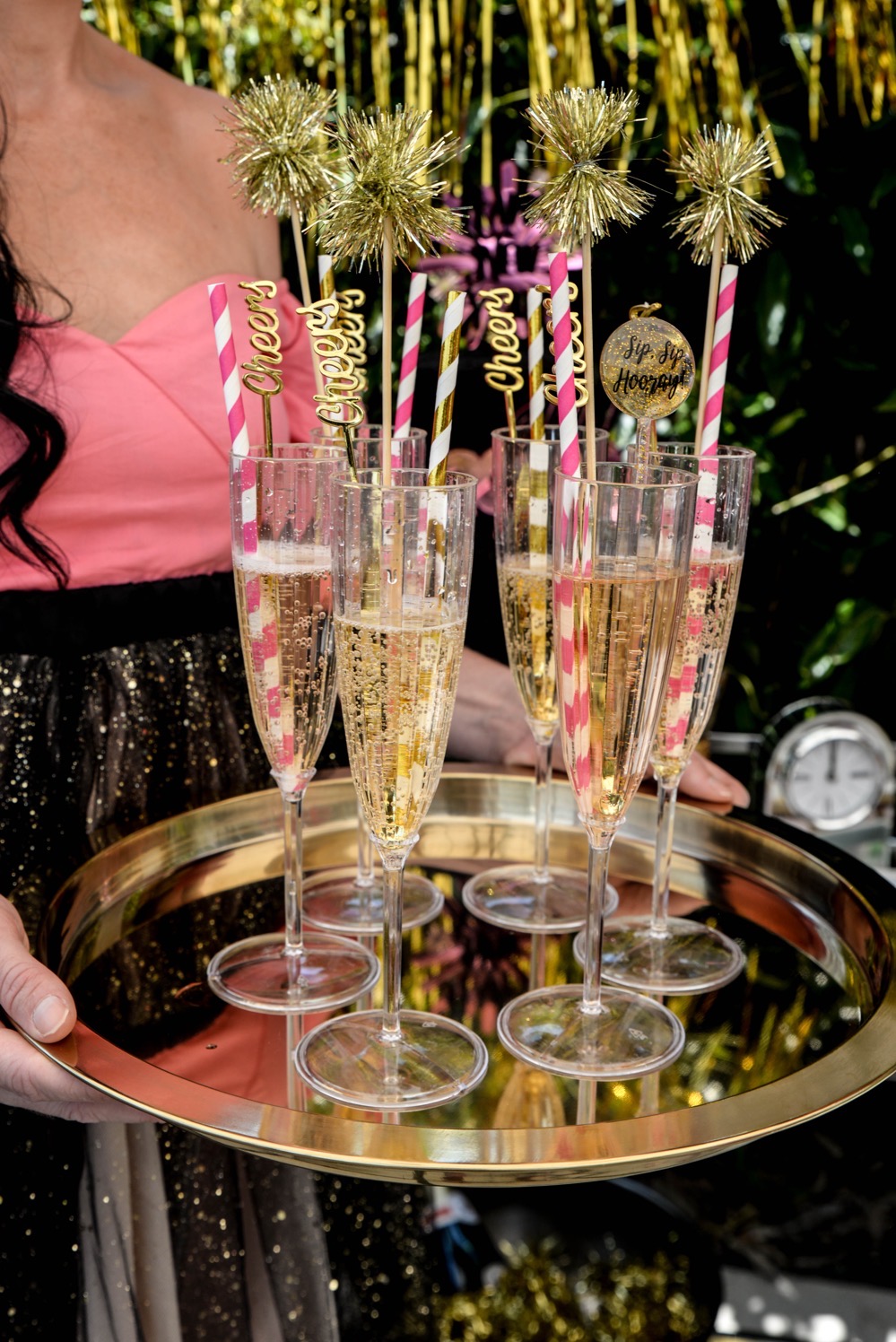 A few large tubs or eskies with ice placed around the party is also a great idea for keeping all the extra bottles, cans and soft drinks cold.
We added colour and sparkle with acrylic cake toppers from Studio T55 and fun custom cookies with cute phrases. It's important to have something tall on your bar cart to add height and dimension, if you aren't showing off a fabulous cake you could include a drink dispenser with sliced lemon or mint or a tall vase of florals. A cute table sign, sparkler cards, party horns and NYE coasters tied the whole look together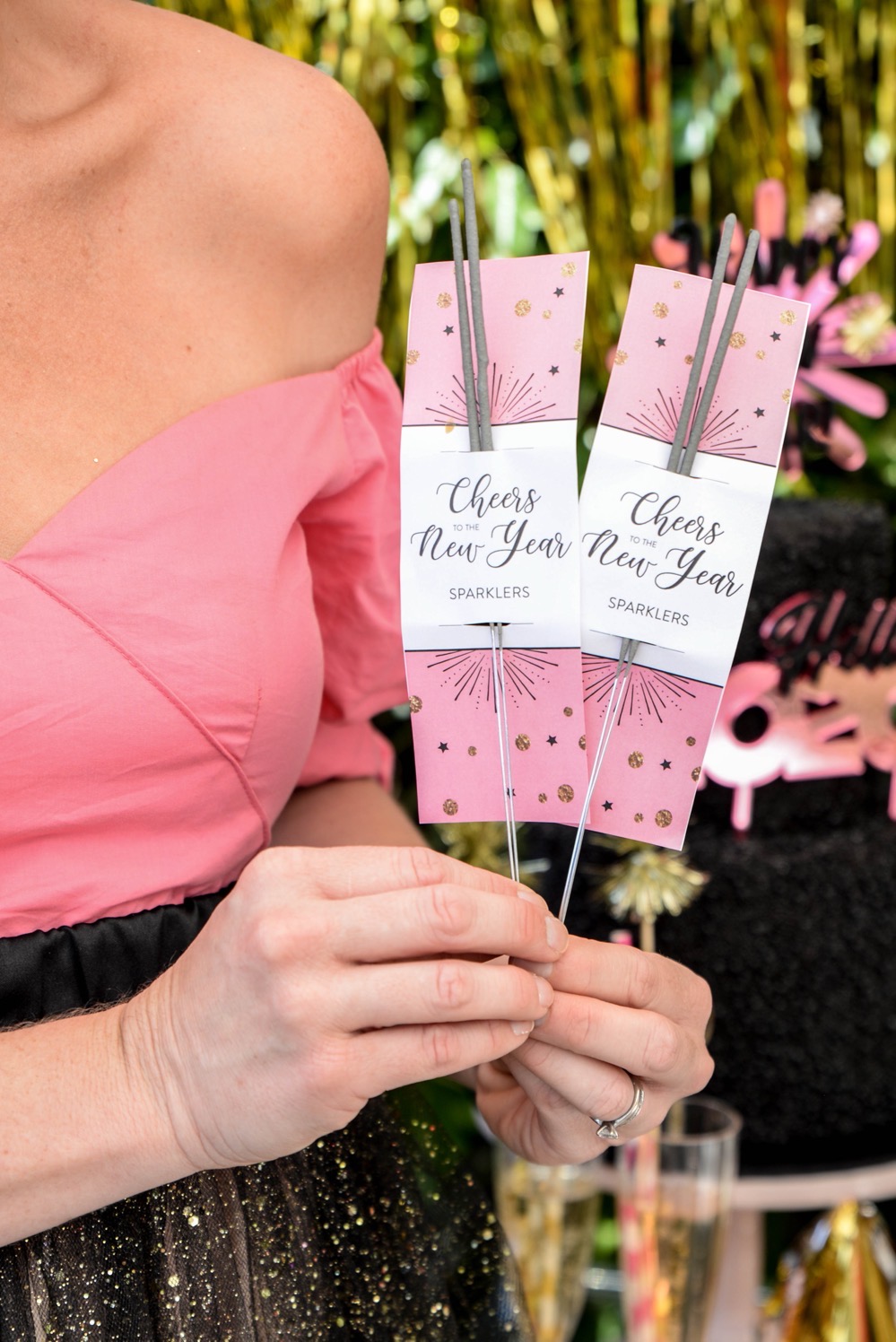 Step Four: Add The Fun
Keep your guests entertained on the countdown to midnight with a game or two – Drinking games like the popular Prosecco or G&T Pong (a fun new take on Beer pong for the ladies), or Pong Wars are always a winner for NYE but depending on your type of crowd you could also opt for family-friendly table games like Lucky Dips Dipsticks or Charades.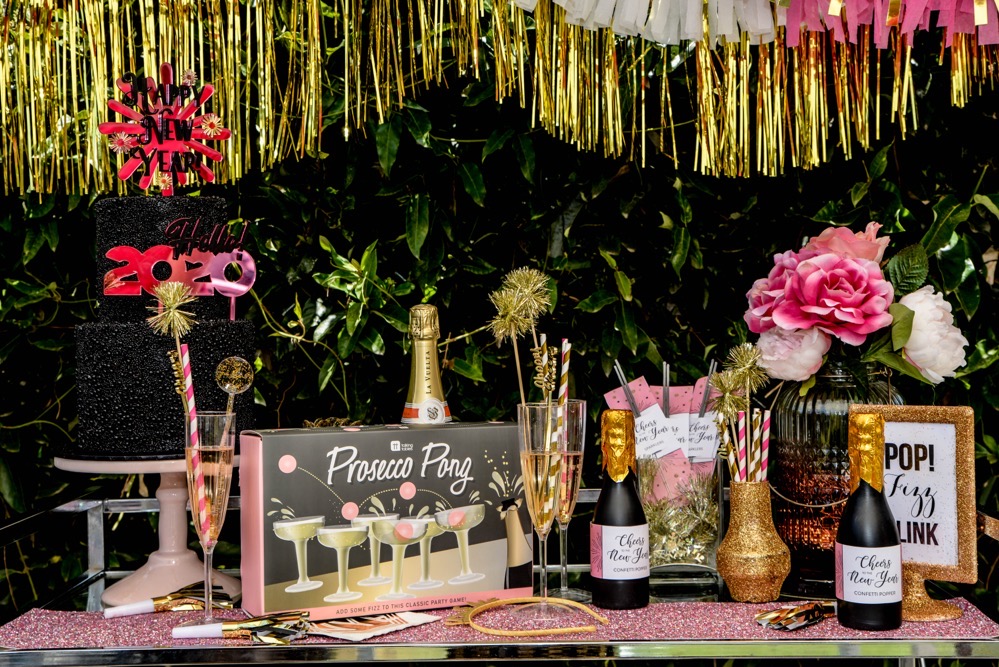 Lawn games such as Giant Jenga, Jumbo Naughts & Crosses, Quoits, Boules or Wooden Skittles will also please guests of all ages. Keep the kids entertained with a backyard treasure hunt, a
game of hide and seek or set up an outdoor movie.
A few flashlights and glow sticks will also be a huge hit. And of course music is a must! Create a play list on Spotify or tune in to your local radio station for the big count down!
Step 5: Create Sparkle and Backyard Fireworks
We all look forward to seeing some fireworks as the clock strikes midnight but instead of heading inside to watch them on TV, you can create a fun "fireworks" display in your backyard instead.
Give each of your guests a confetti balloon to pop at midnight and watch the colourful confetti fireworks explode in your backyard!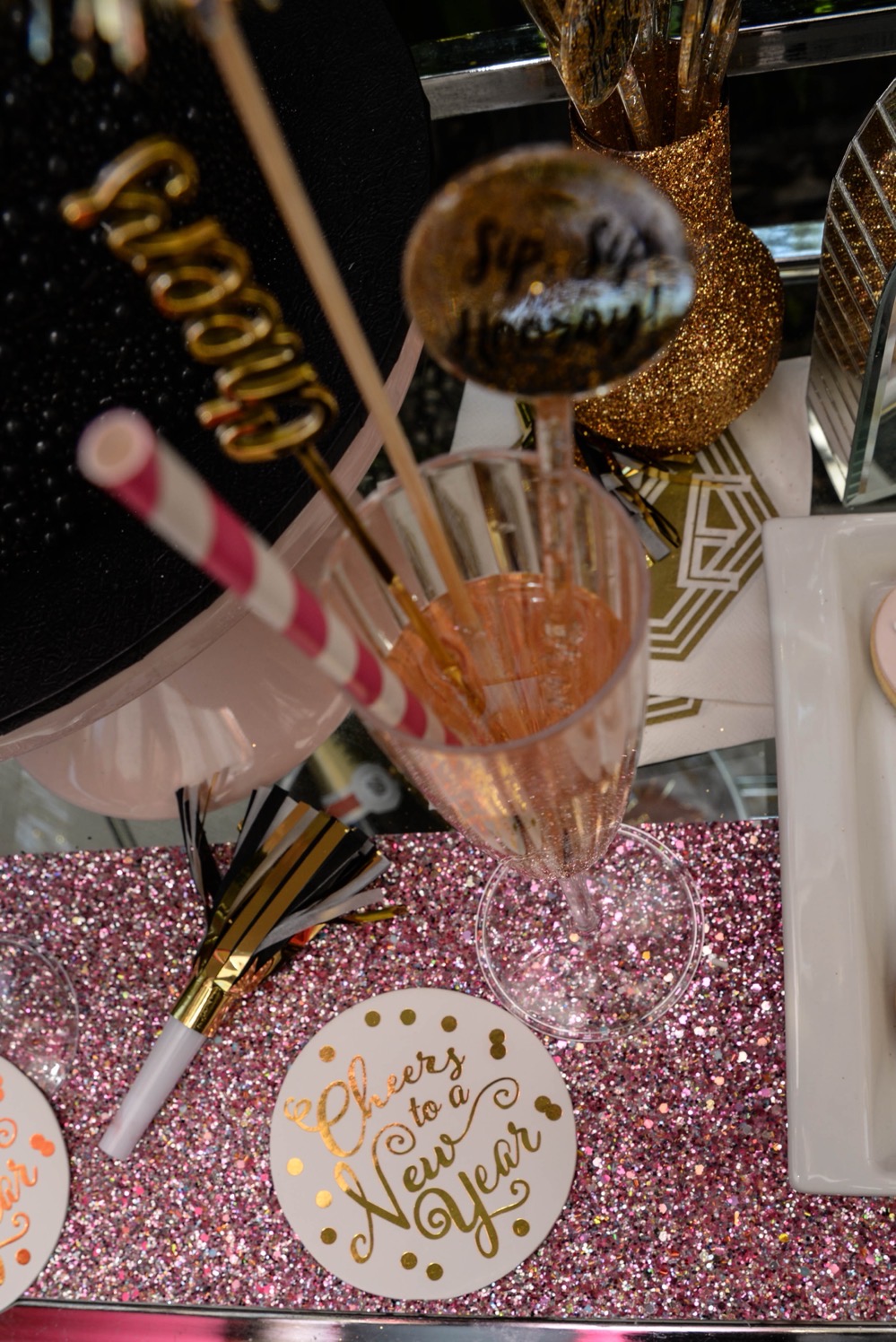 To ensure the ultimate surprise, we filled black "Happy New Year" printed balloons with colourful paper confetti so guests couldn't see what was inside. Each guest popped their own balloon which created a fun 'fireworks' display. The more confetti balloons you have the bigger the display so be sure to set up a camera to film it! Sparklers are also a NYE staple or try a confetti
cannon or party poppers to see the New Year in with a (backyard friendly) bang!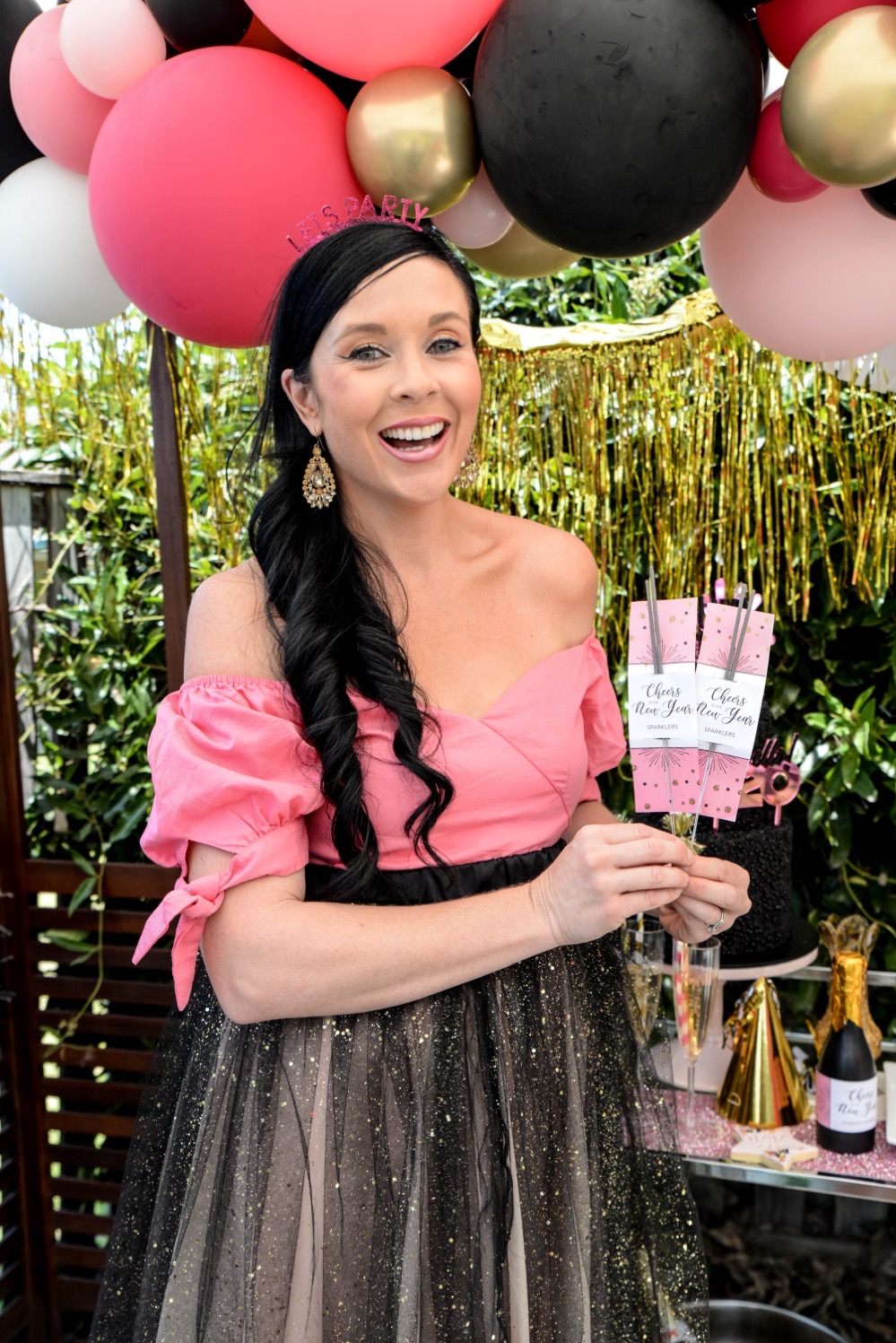 Following these 5 easy steps will ensure you throw the most fabulous DIY New Years Eve party that not only looks amazing, but ensures all of your family and friends will be suitably impressed and have the most fabulous time!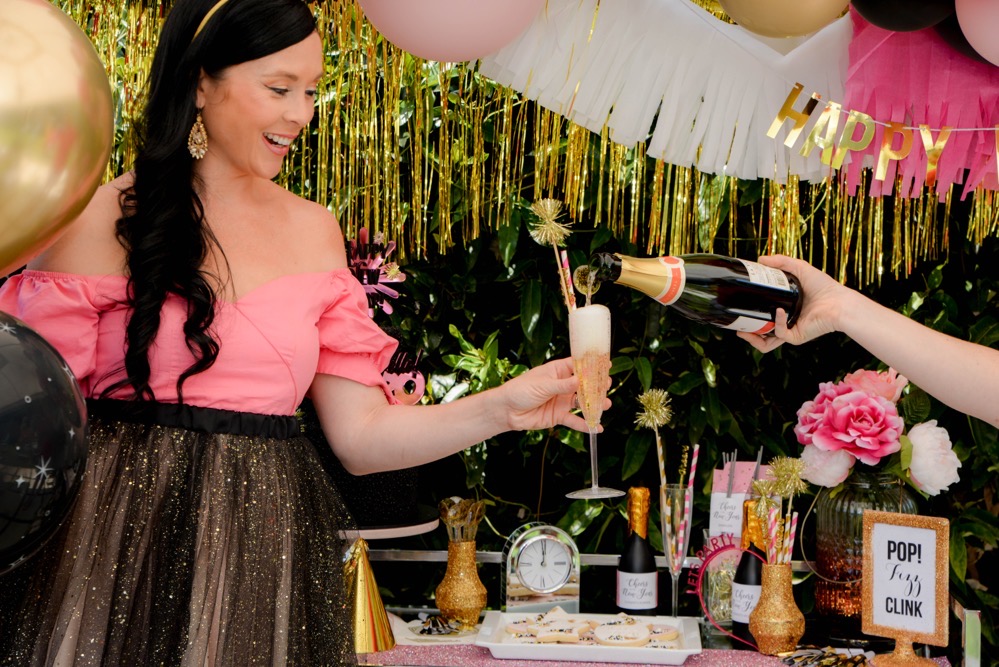 Get your NYE party started with a free invitation and sparkler card download, and find all of the fun partyware at Lovely Occasions Party Shop.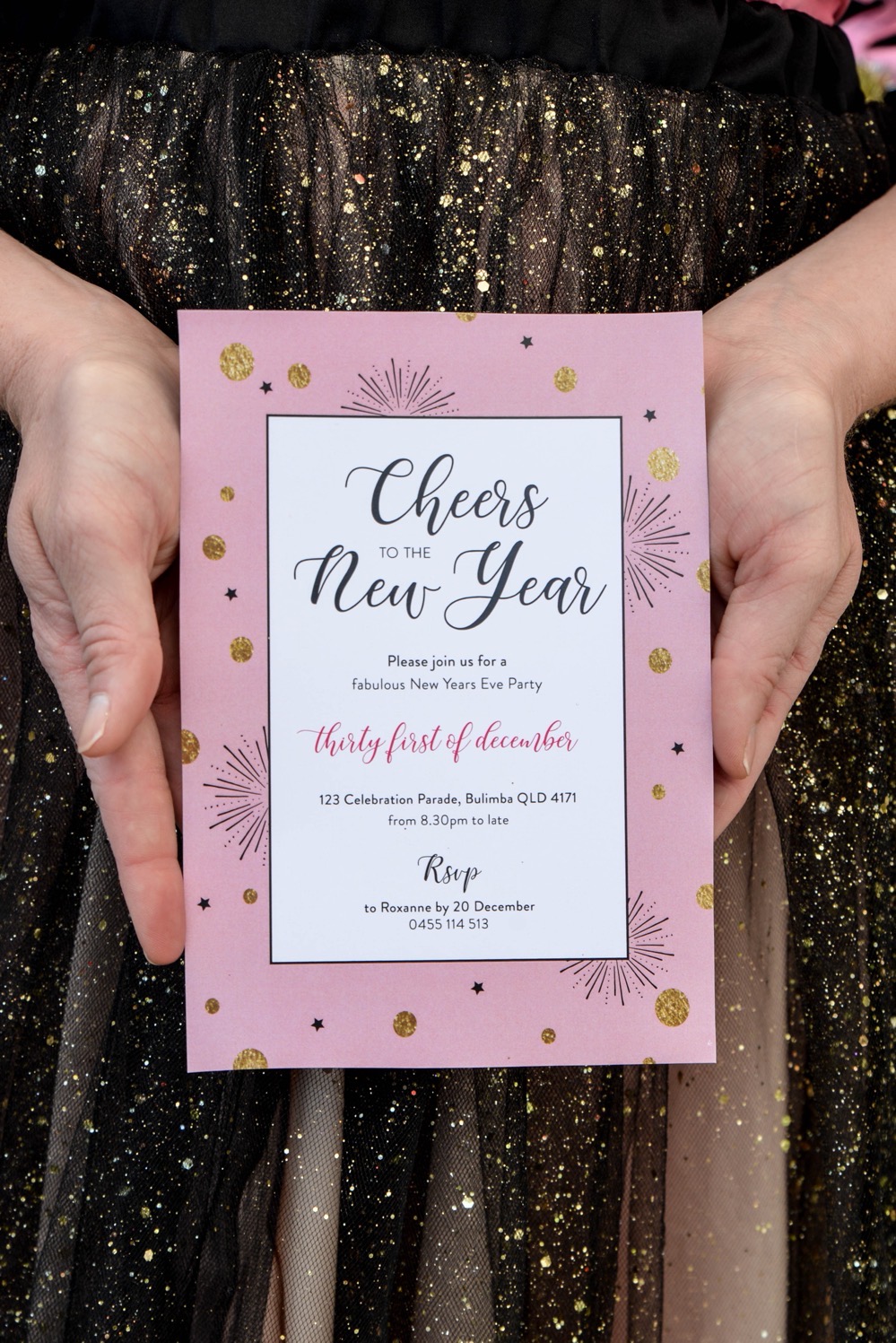 Cheers to an amazing New Years Eve!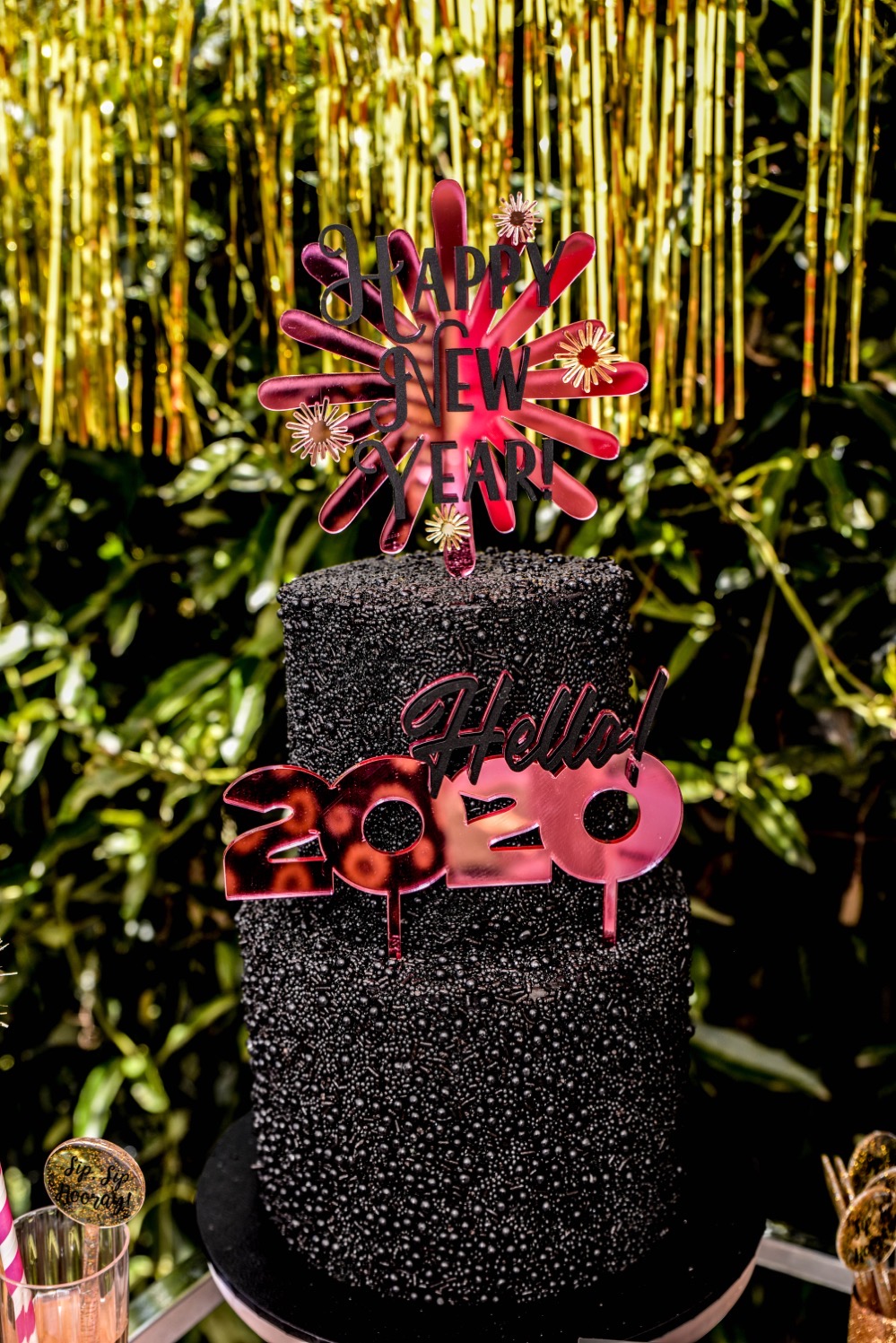 Concept, decor & partyware @lovelyoccasions ?: @kheavenerphotography Model @nattyfaulks Cake & cookies @thesweetsocietyco Toppers @studiot55 Printables One Eyed Designer