Here's a sweet and simple idea to celebrate a cute Valentine's Day at home with the kids. Read on to find a complete guide on how to style this sweet Valentine's breakfast!

Written by Roxanne Baldwin, Lovely Occasions
Did you know that this year Valentines Day falls on a Sunday? Sunday mornings are often treasured for being time to spend with family and loved ones so it is the perfect opportunity to create a sweet and special Valentine's breakfast at home for your family this year!
Here's our DIY Guide to creating a sweet Valentine's breakfast for your family PLUS find our FREE Be My Valentine Printable Placemat below!
How to create a sweet Valentine's breakfast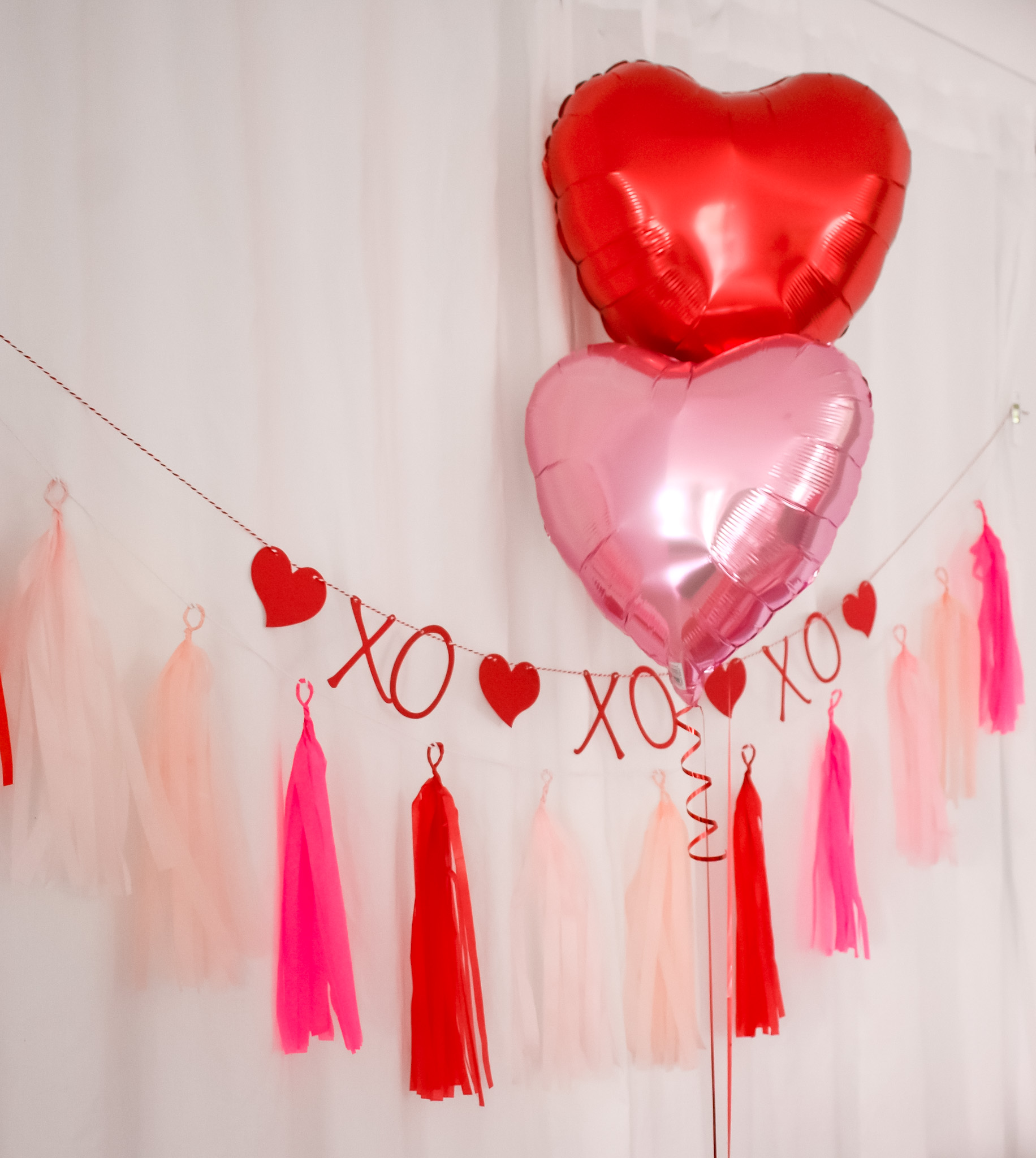 1. Set The Table
It's no ordinary breakfast so keep those everyday plates in the cupboard and make it extra special with heart-shaped party plates, napkins and paper straws. We used super cute Sweetheart Paper Plates (find them here) with coordinating napkins and paper straws in shades of red and pink. Not only does fun partyware make the table festive and colourful, but it creates the ultimate surprise for your little sleepyheads and helps create special memories for them to treasure.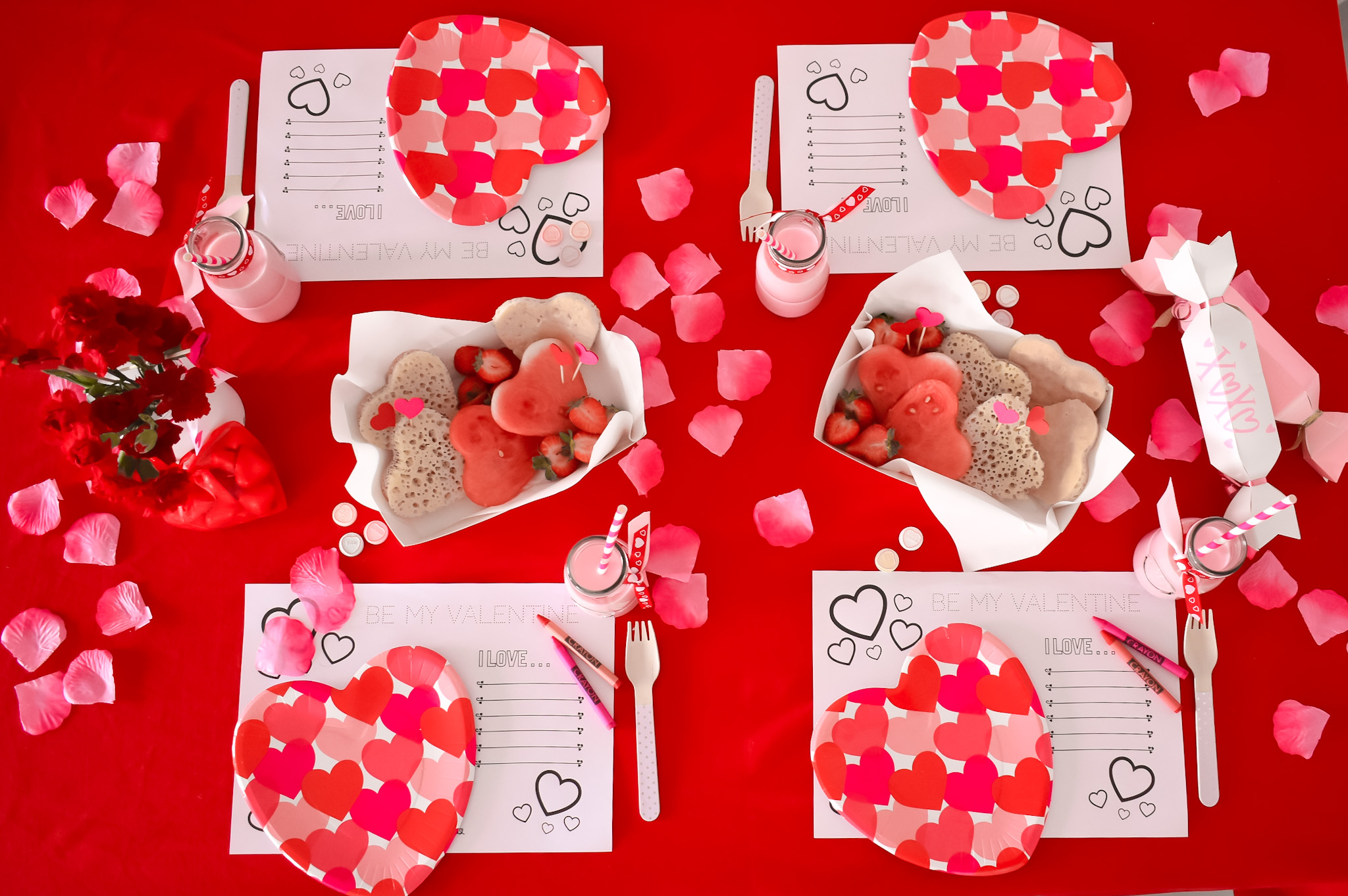 Featured products:
Sweetheart Heart Plates (8pack)
It's no secret we love adding a table activity wherever possible, and what could be more perfect for Valentine's breakfast than a themed placemat! We designed this sweet and simple BE MY VALENTINE printable placemat so that the kids can have fun colouring while you prepare the pancakes. And best of all our BE MY VALENTINE printable placemat is free for you to download and print at home! Get your free printable placemat here.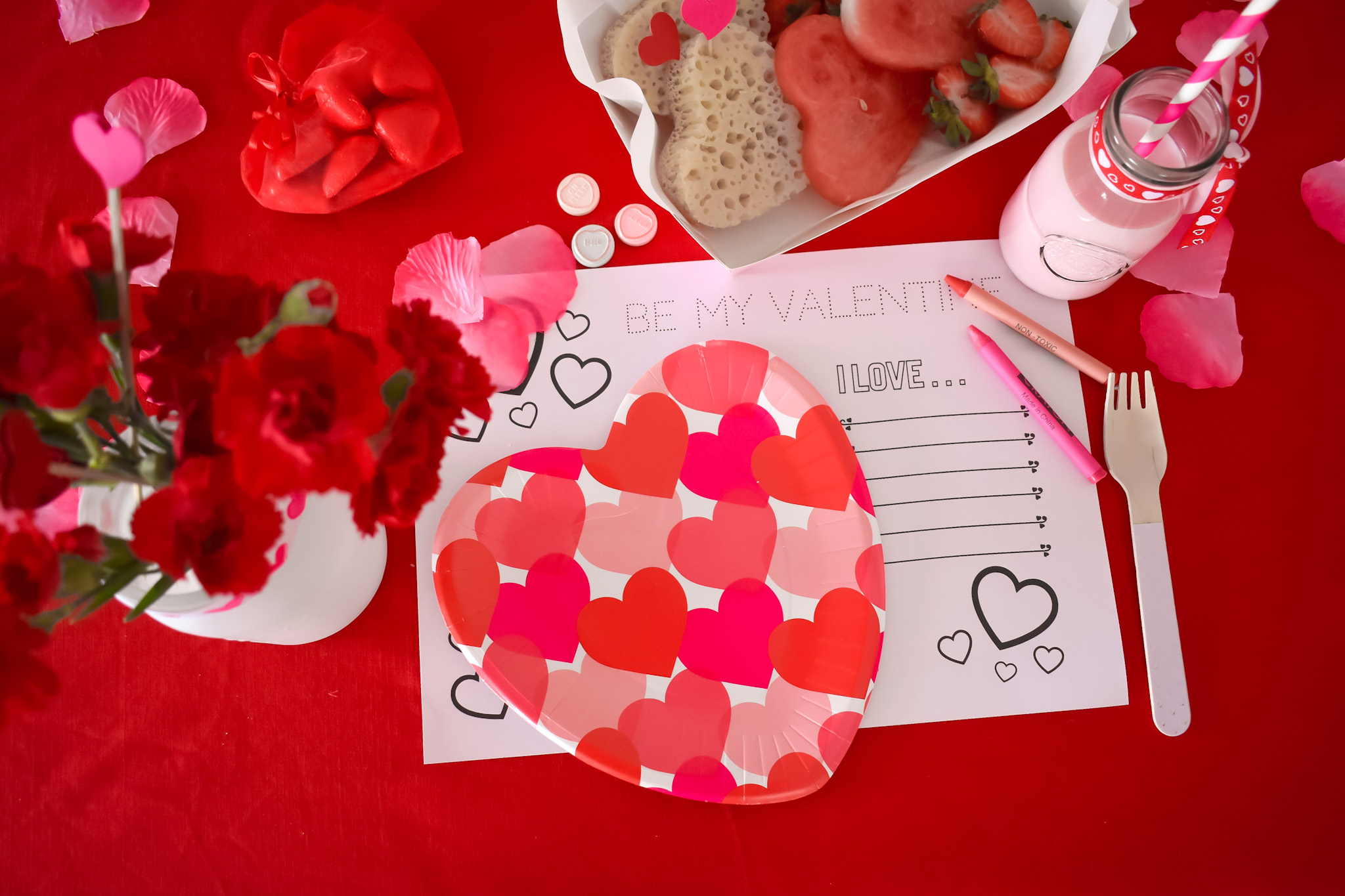 2. Serve It Up
There are so many fun options to serve up at your Valentine's breakfast! All you need is a good heart-shaped cookie cutter to jazz up even the plainest toast with jam breakfast. We created heart pancake hearts, crumpet hearts and watermelon hearts using a heart-shaped cookie cutter (find it here) and topped it off with fresh strawberries and pink strawberry flavoured milk.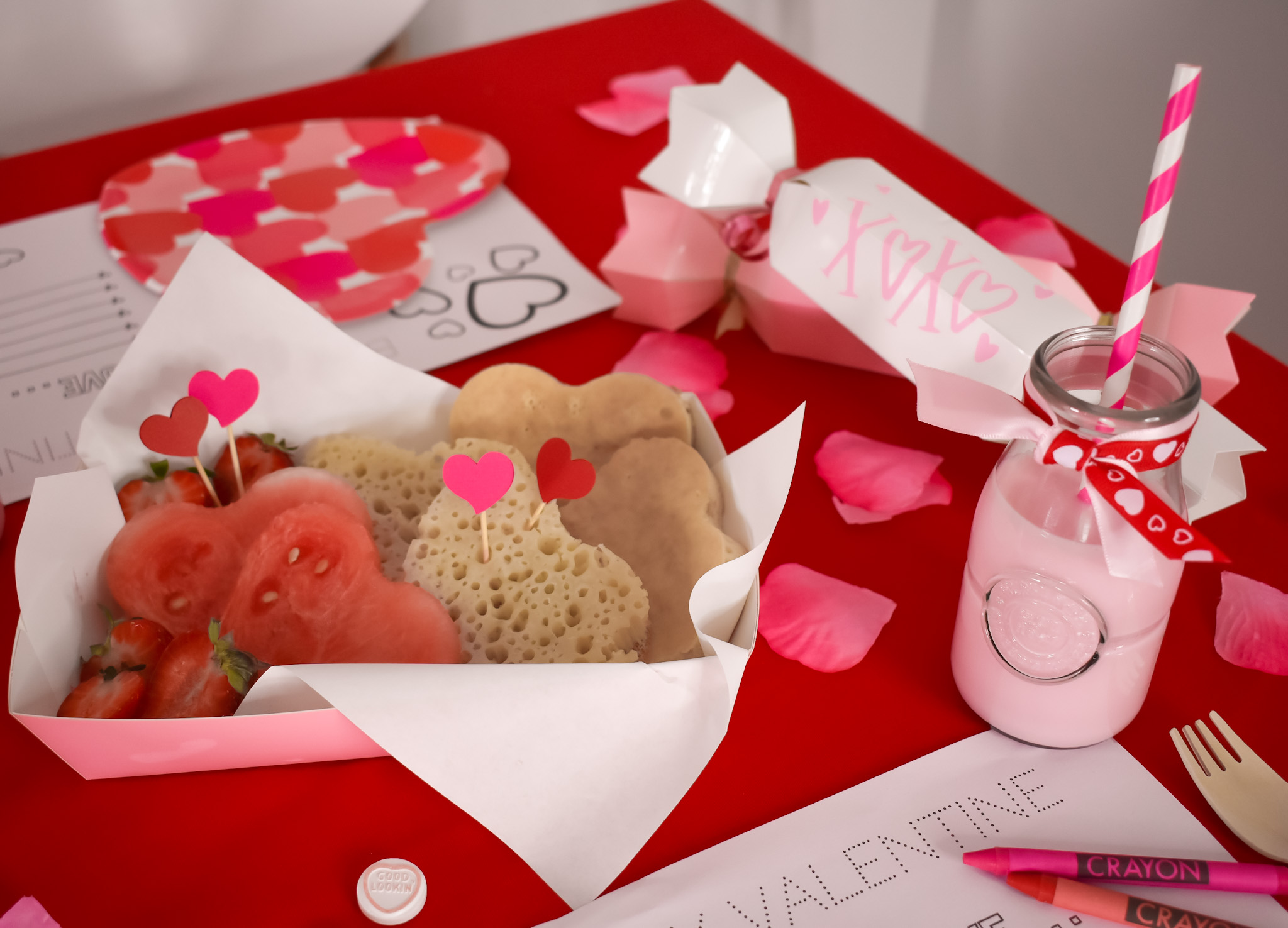 Featured – Heart Cookie Cutter
3. Top with Love
Lastly, we sprinkled the table with faux petals, added a few sweet treats, a small jar of flowers and tied a helium-filled heart balloon to each chair. Helium filled foils are great because they last so long the kids will have days of fun with them.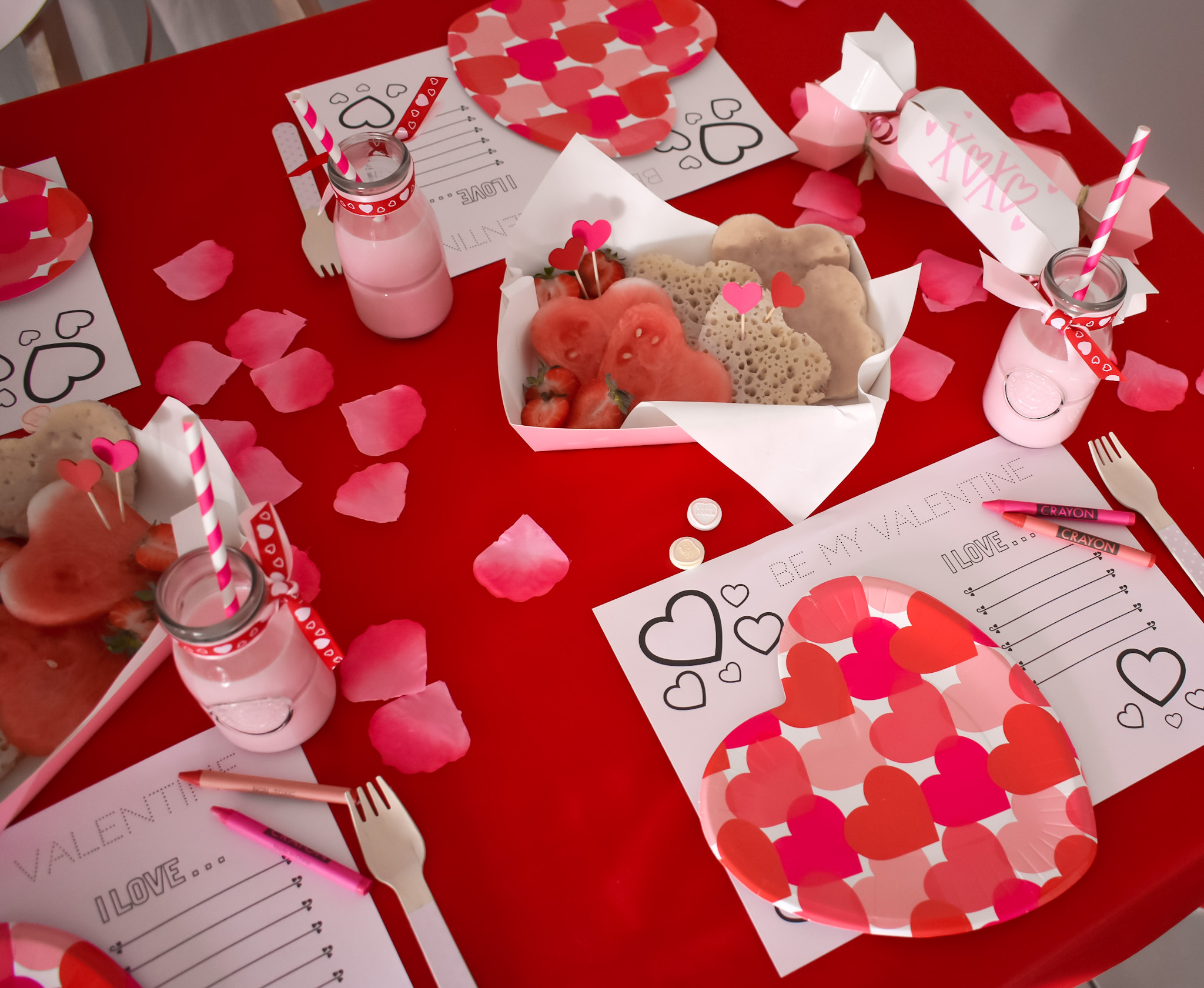 Featured products: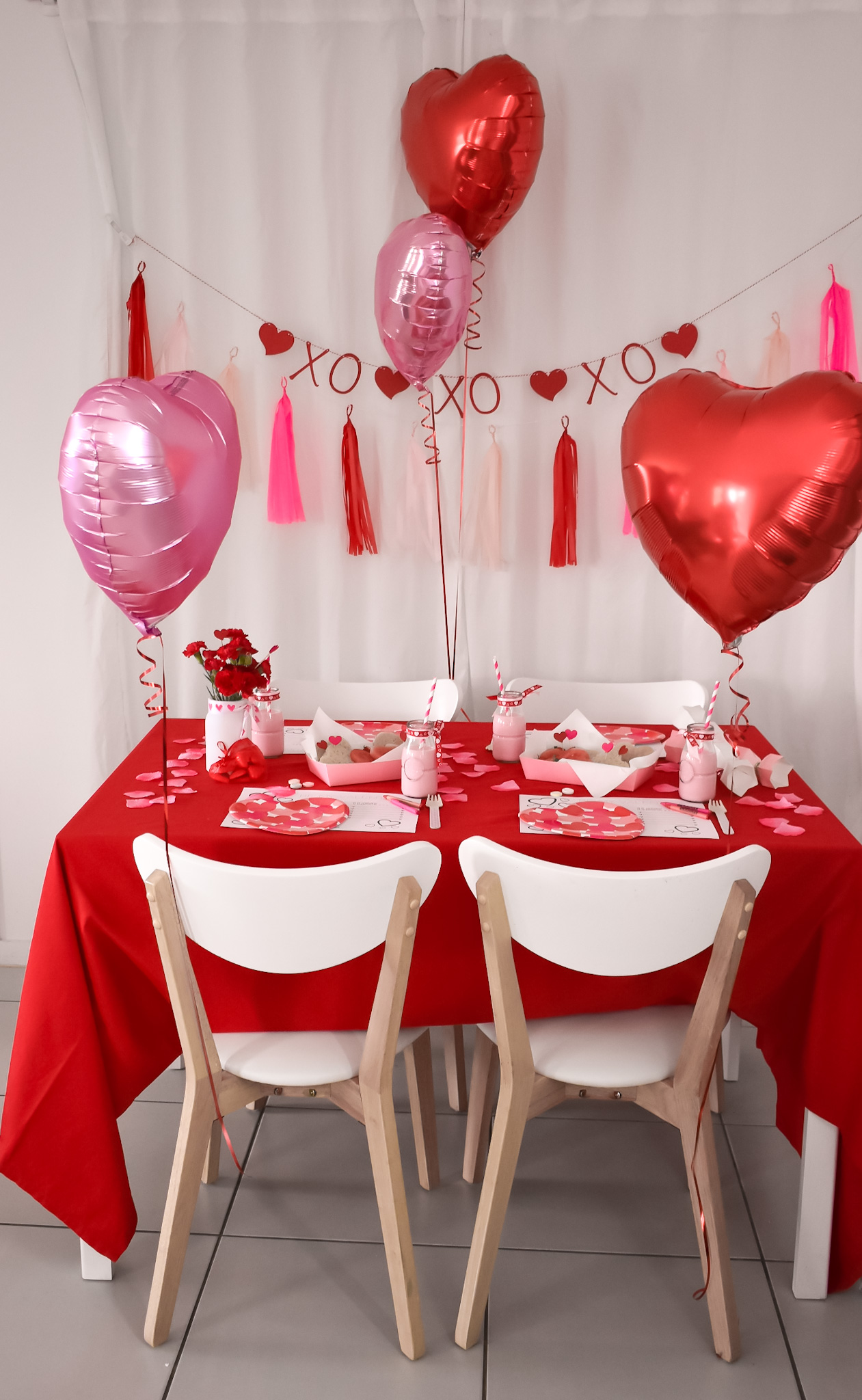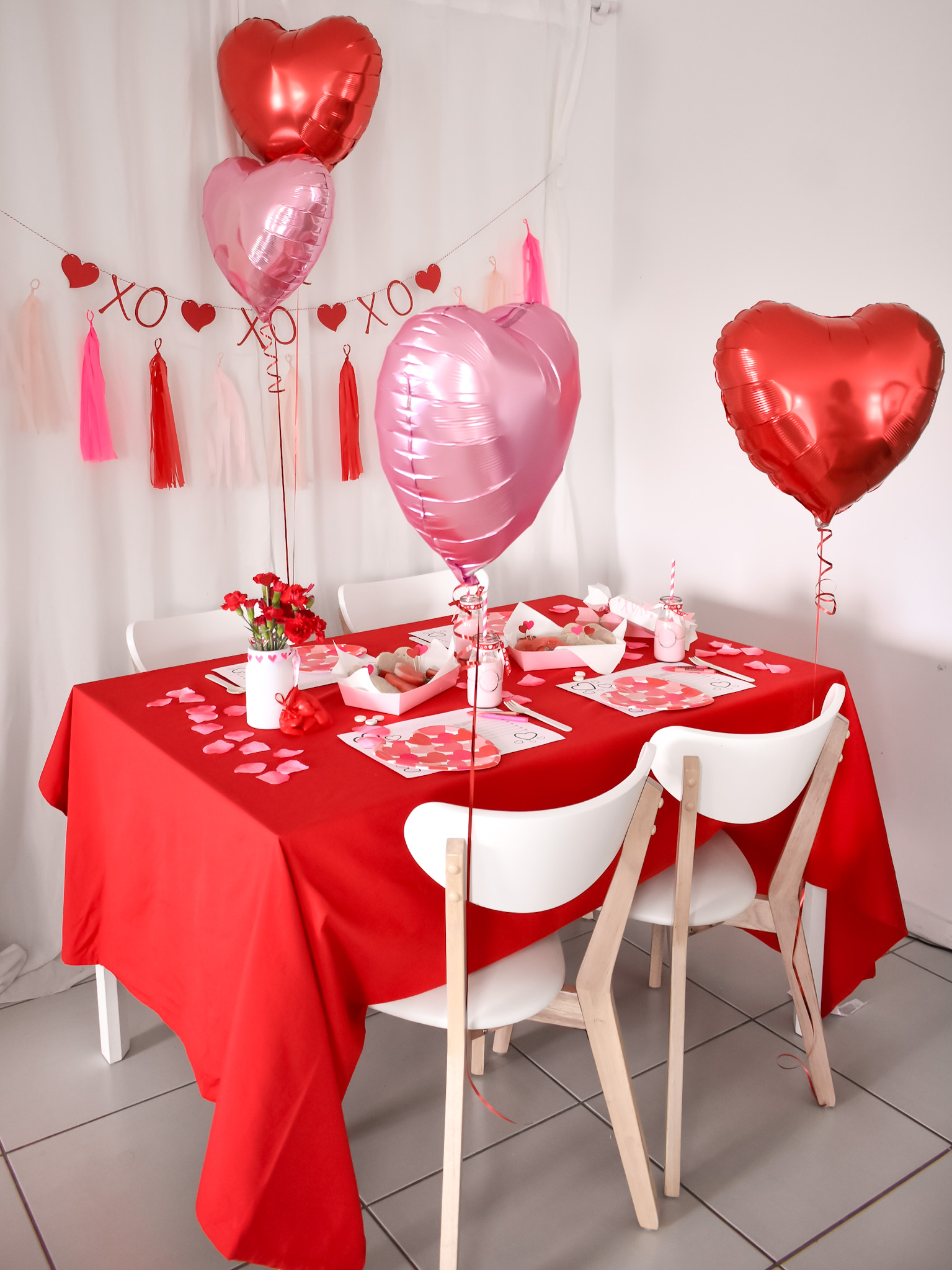 Extra tips
Set the table the night before after the kids have gone to bed so it's ready in the morning.
Save leftover paper plates and napkins – they are perfect for craft activities, a sweet lunch surprise, picnic in the garden or the park or maybe a fun teddy bear tea party.
Print extra FREE BE MY VALENTINE printable placemats and gift to friends or neighbours with crayons to share a little love and joy this Valentine's Day.
Find all the decorations, printable and balloons from this Sweet Valentines Breakfast at www.lovelyoccasions.com.au
Vendor Credits
Concept, styling, partyware & balloons | Lovely Occasions www.lovelyoccasions.com.au
@lovelyoccasions
Images captured by Strawberry Creative
IG @strawberrycreative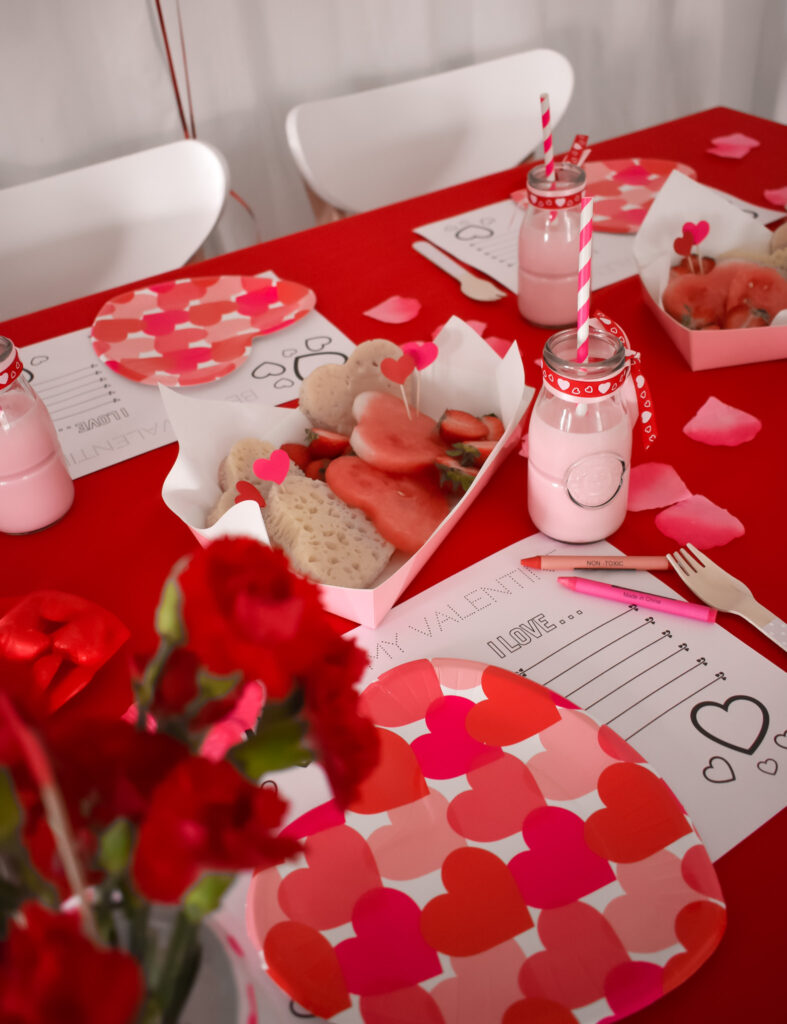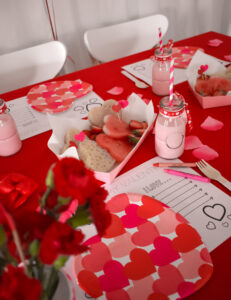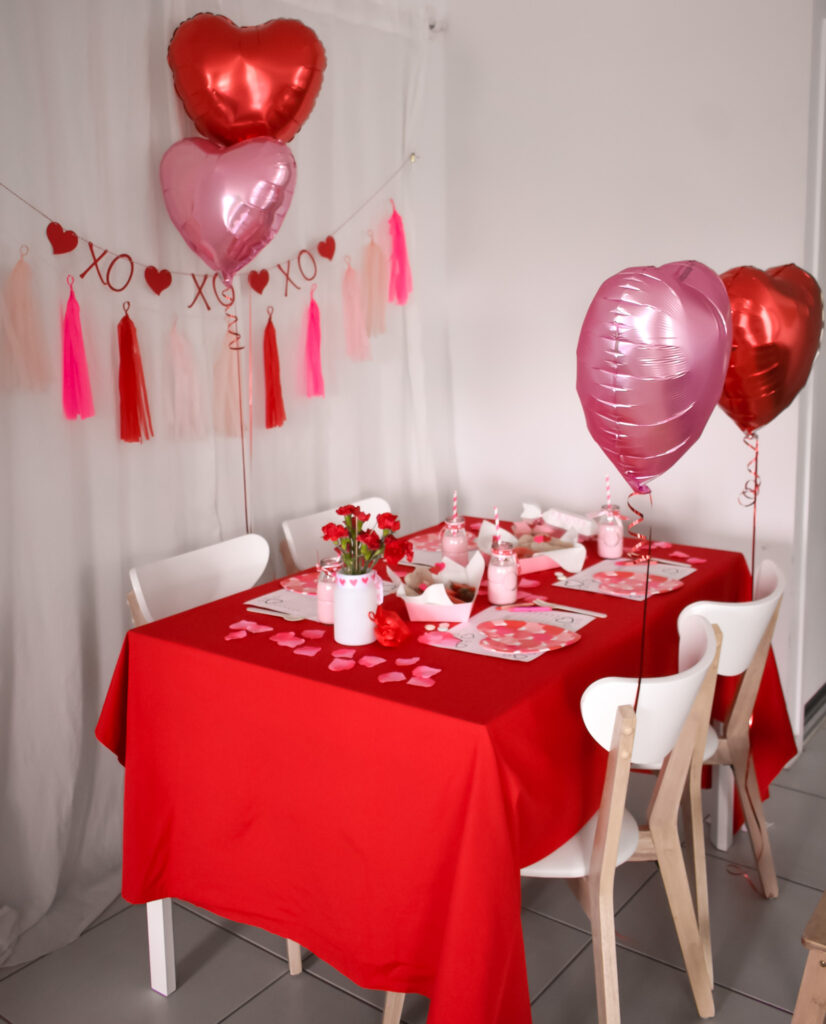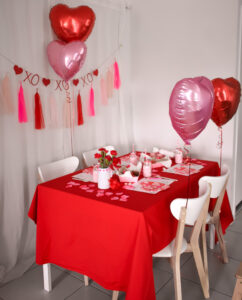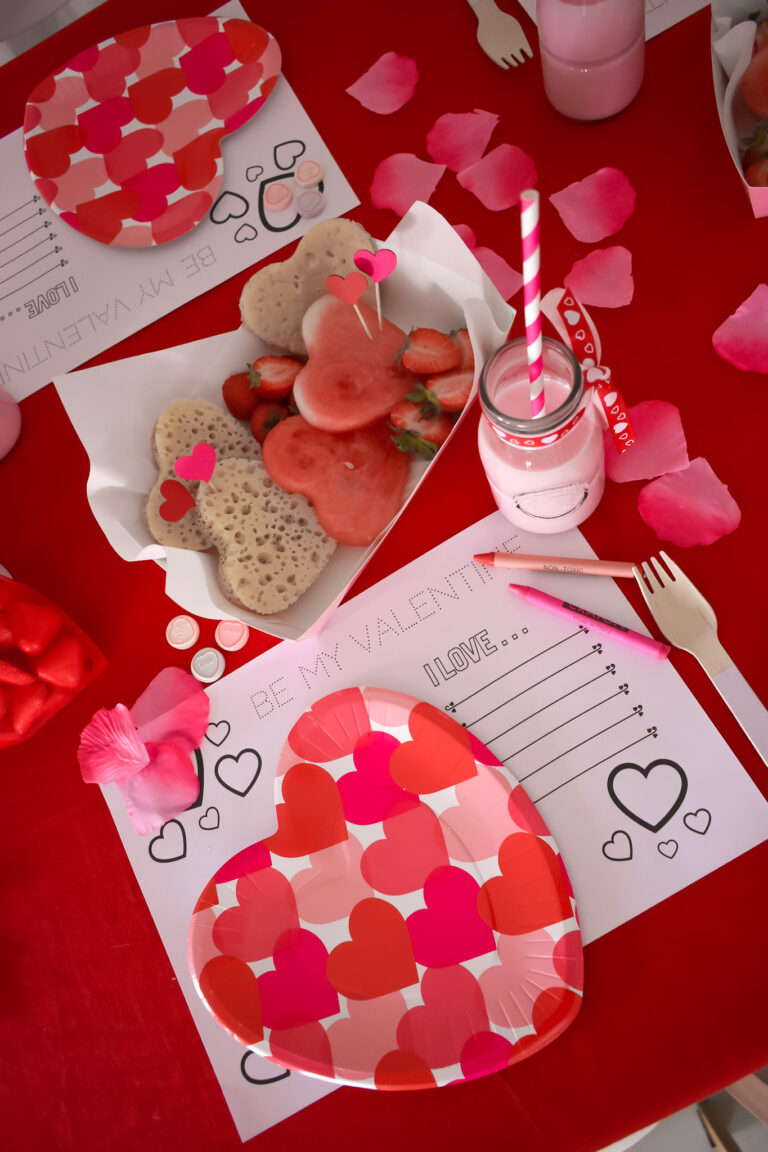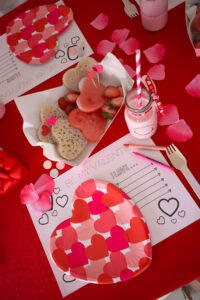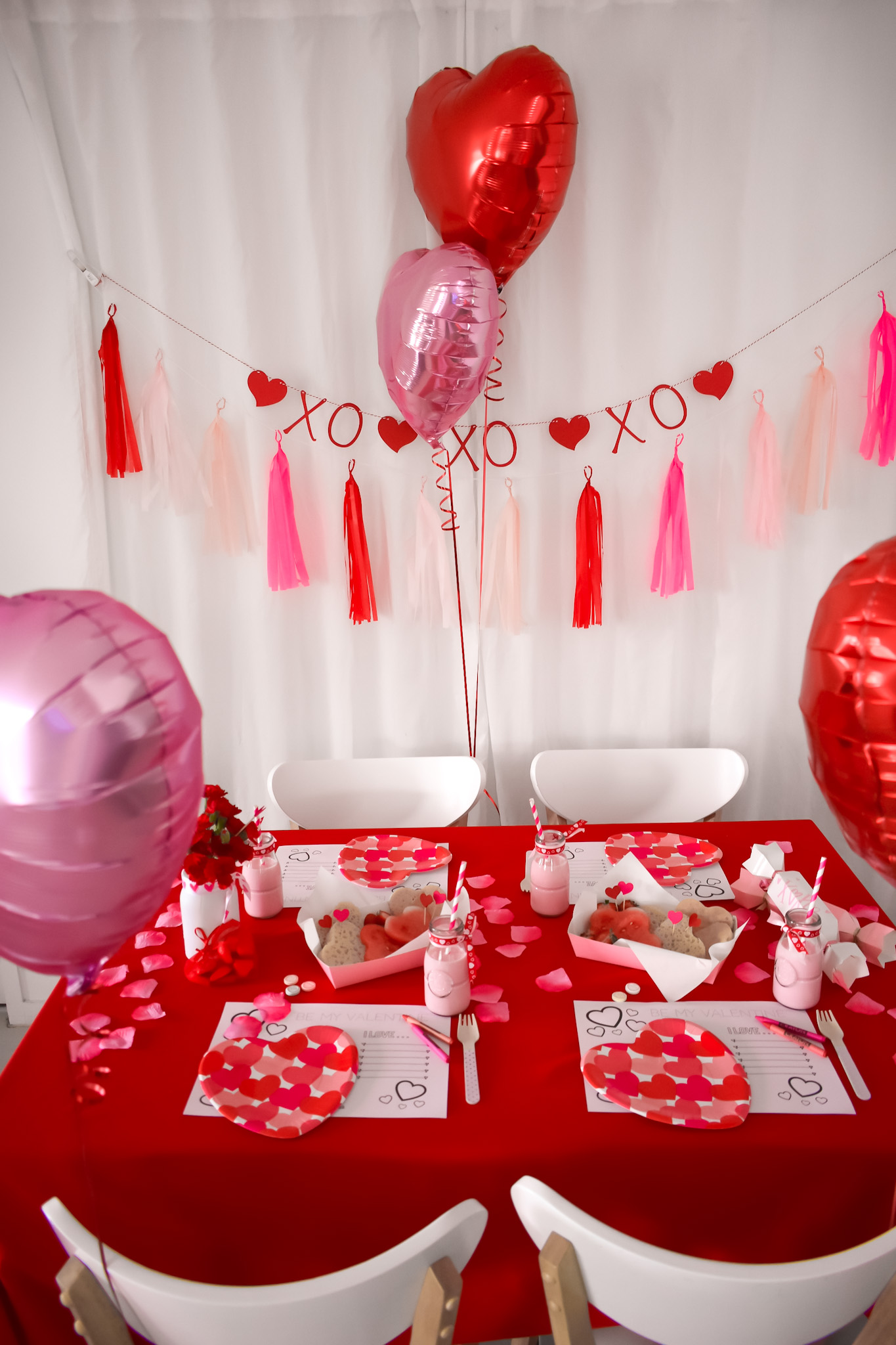 Product Links
BE MY VALENTINE Printable
https://www.lovelyoccasions.com.au/products/free-be-my-valentine-printable-placemat
Sweetheart Plates
https://www.lovelyoccasions.com.au/collections/love-heart/products/sweetheart-heart-plates-8pack
Heart Cookie Cutter
https://www.lovelyoccasions.com.au/products/heart-cookie-cutter
Pink Lunch Tray
https://www.lovelyoccasions.com.au/collections/love-heart/products/pastel-pink-lunch-tray-10pk
Hot pink paper straws
https://www.lovelyoccasions.com.au/collections/love-heart/products/bright-pink-paper-straws-24pack
Faux Rose petals
https://www.lovelyoccasions.com.au/collections/love-heart/products/rose-petals
Wooden forks
https://www.lovelyoccasions.com.au/products/wooden-silver-forksmall_pos=1&_sid=e0f299240&_ss=r
Red Heart Foil Balloon
https://www.lovelyoccasions.com.au/collections/love-heart/products/satin-luxe-red-heart-foil-balloon-43cm
Pink Heart Foil Balloon
https://www.lovelyoccasions.com.au/collections/love-heart/products/pastel-pink-heart-foil-balloon-43cm