I'm giving the reins over to Emily of Arnold Event Styling today. I love how her passion just shows through when talking about her events. She will be telling us about the best kind of celebration… celebrating being cancer free! –Esther

Fiona is officially cured of breast cancer –woohoo!
I had such an amazing time on this event; planning, styling, crafting, setting up on the hottest possible day, and enjoying it with Fiona's lovely friends and family!

Her brief was for a 'feminine dinner party, full of bright colours, fun details, and classy enough for everyone to frock up for the night.'
Fiona was celebrating five years breast cancer free, meaning she was officially cured of breast cancer! What better reason to have a celebration? The party venue had its own story too. It was held at QLD Maritime Museum, a long-running museum that receives no government assistance and is run purely by volunteers. The people there were all so lovely, it was a joy working with them.
I brought this entire event together, from concept, planning, set-up and management. There were also a bunch of handmade details, discussed in detail below.
The details
Being at QLD Maritime Museum, the idea was to hold the event on one of their massive ships. But that quickly became unachievable as the guest list grew. So instead, we opted to set up in an outdoor undercover area. We also decided to hire a marquee, as being in Brisbane we weren't confident that it wouldn't storm. However, this marquee idea turned out for the best. Rob from Events in Tents helped us out with a big clear marquee, full of fairy lights (one of my obsessions is fairy lights, so I was very happy about this)! I instantly knew I wanted to have flowers hanging from the roof of the marquee – and it looked absolutely amazing!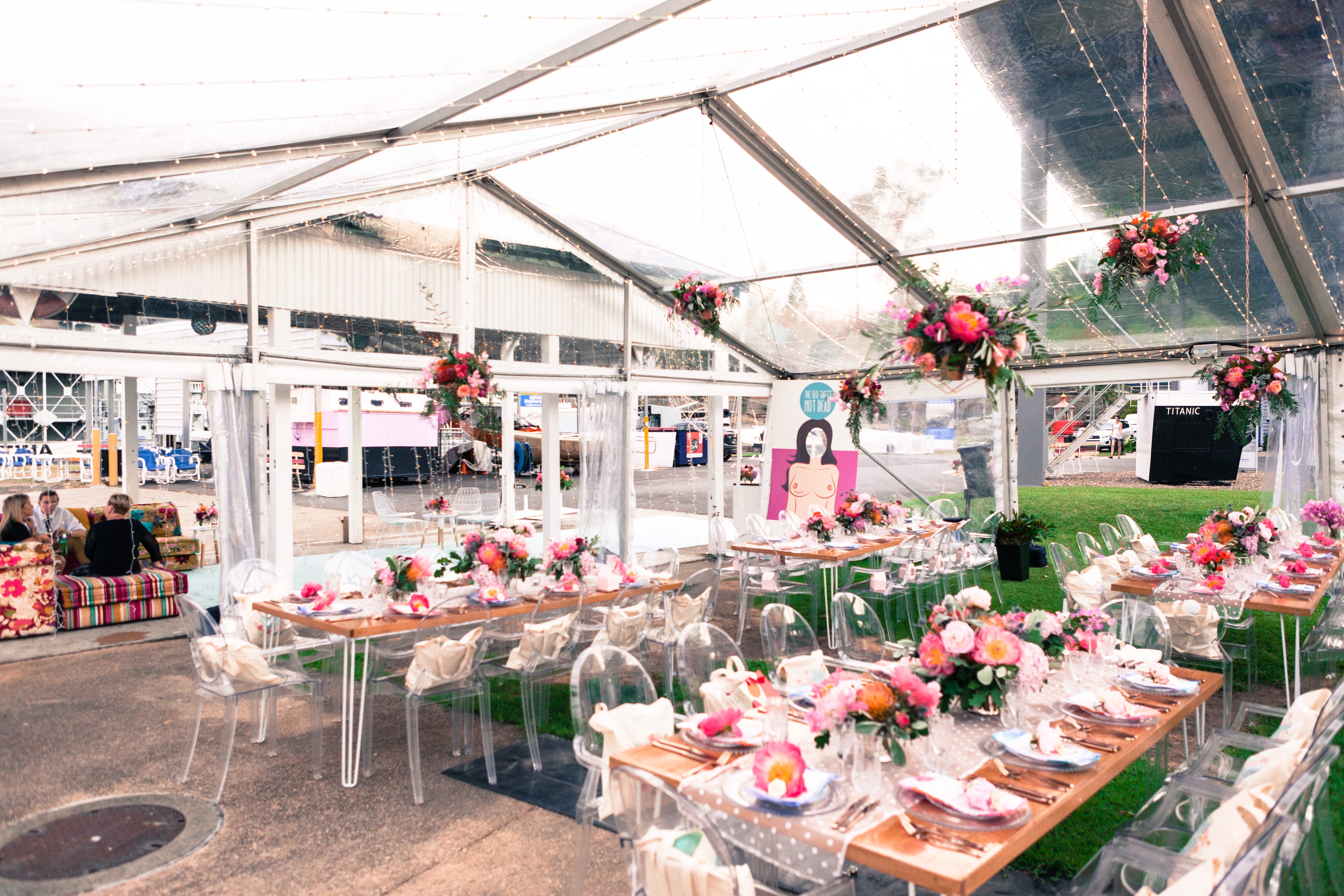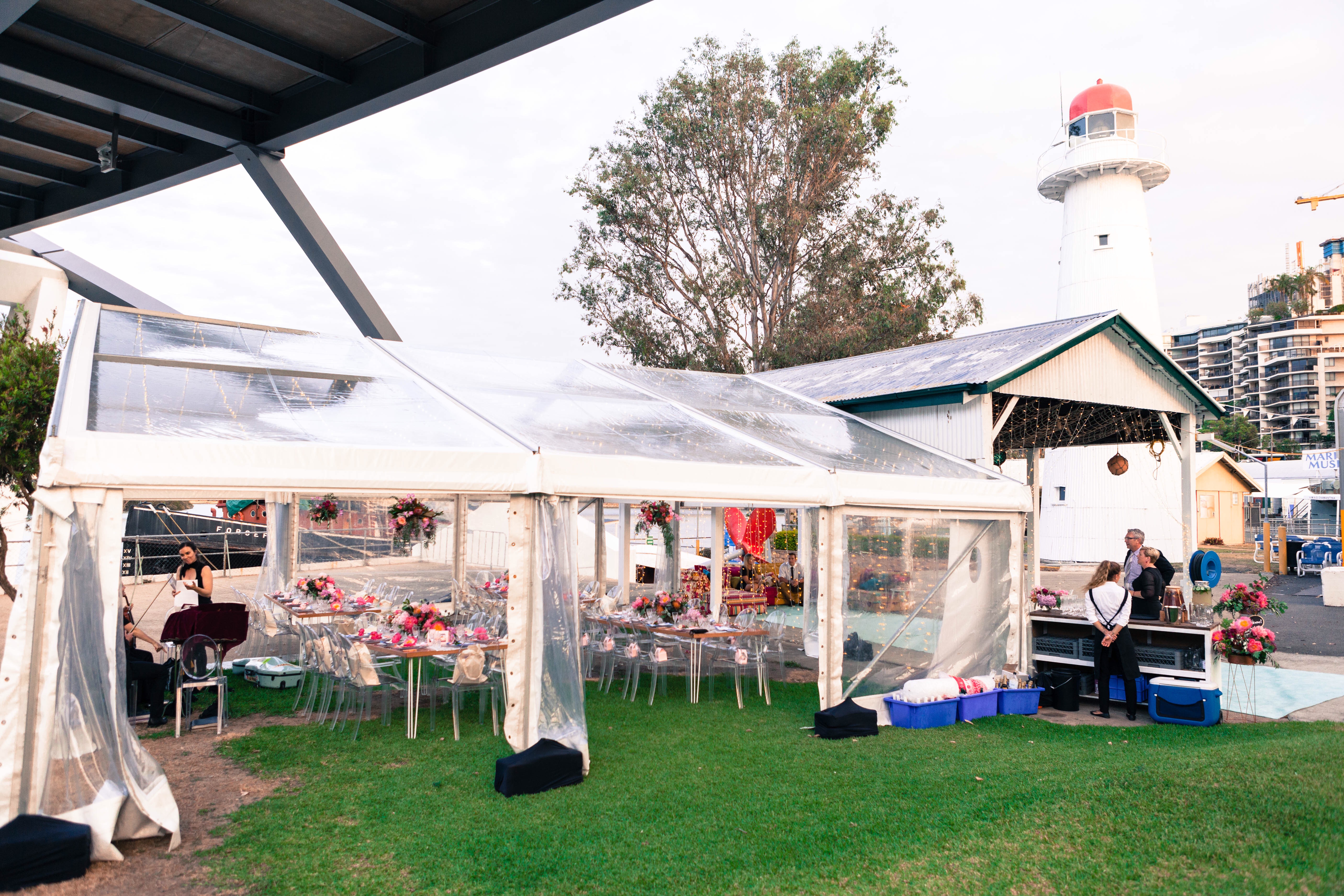 I had previously worked with Kelly from Bella Bloom Floral Designs, so we engaged her service for flowers. I worked with her on the colours, and she recommended a bunch of flowers and greenery that would suit. Kel was going overseas the day of the event, and was working on the floral arrangements to all hours the night before…what amazing dedication! I picked them up the morning of, and had two car loads full of flowers. I was in heaven! We had bunches for the entrance, for around a welcome sign, for the bar area, a lounge area, across all the dining tables plus hanging from the marquee roof. They were gorgeous, Kel did such a beautiful job as always.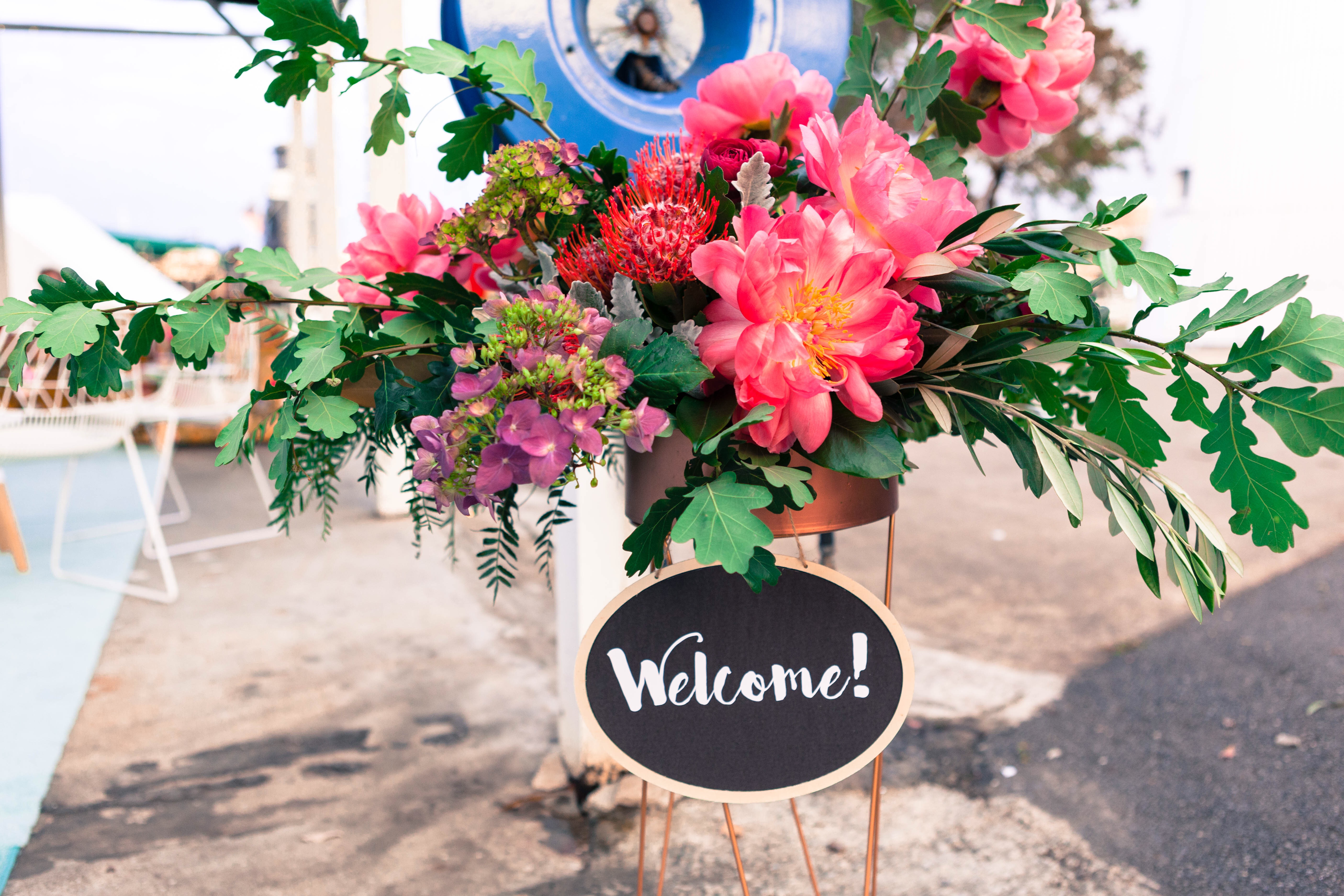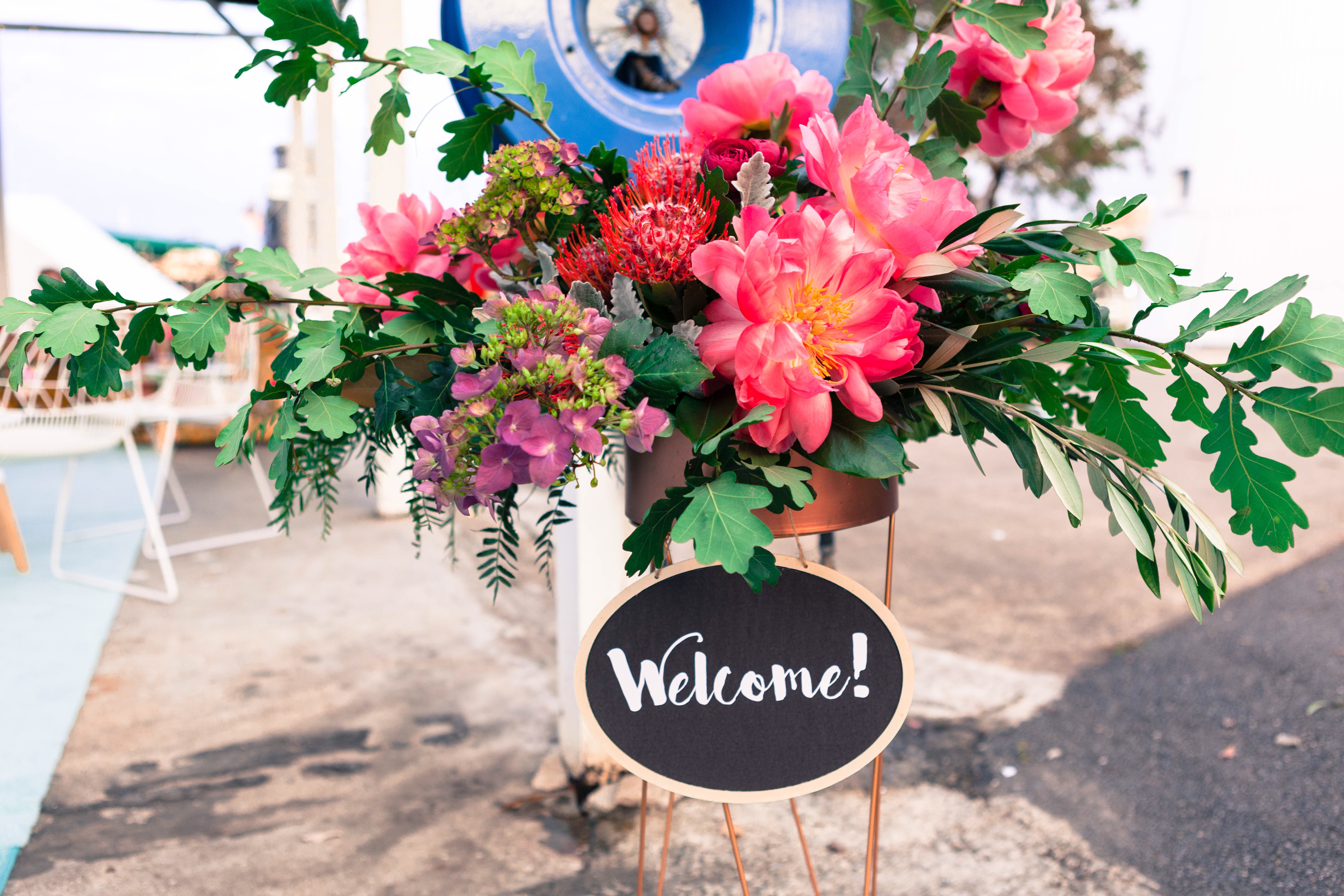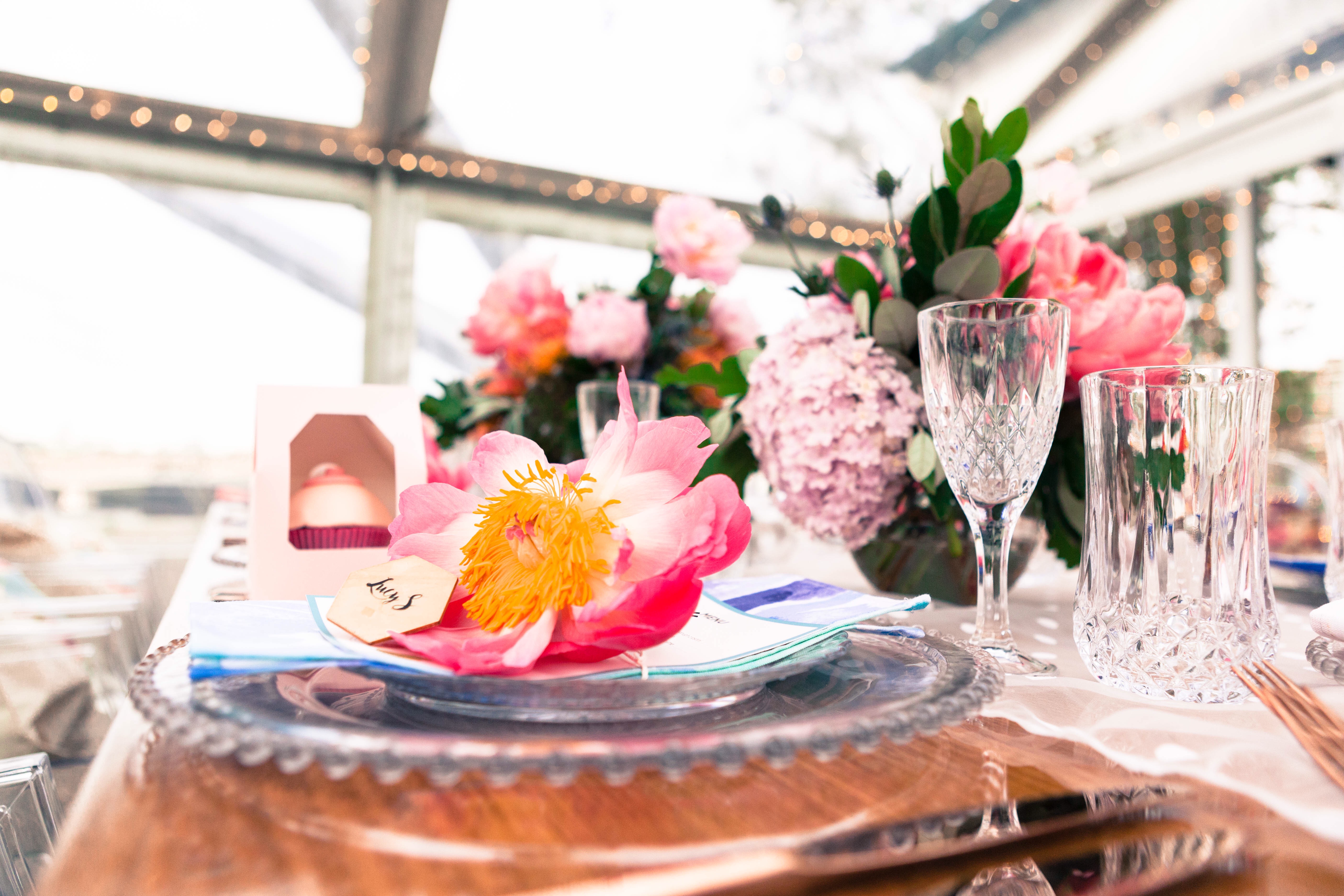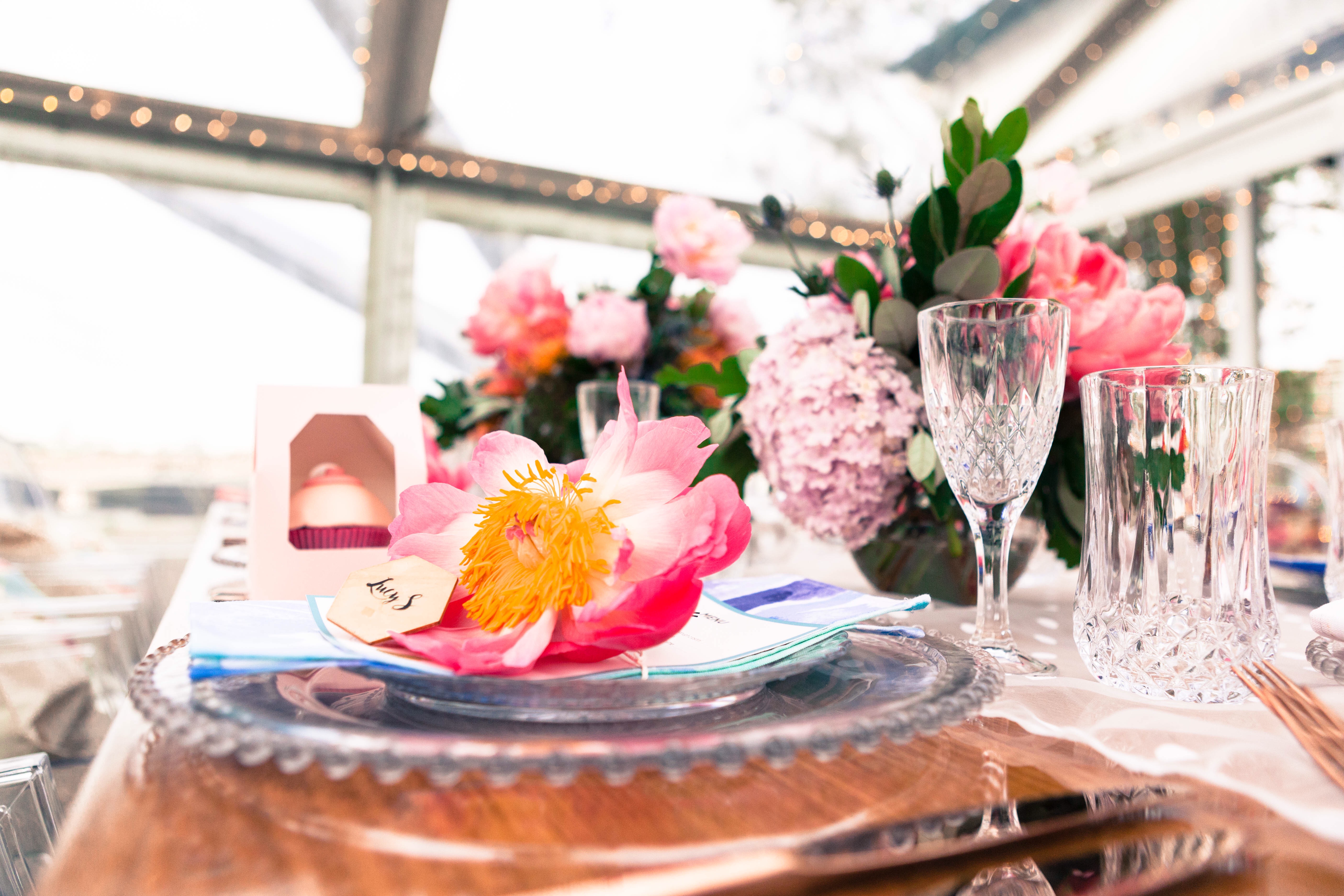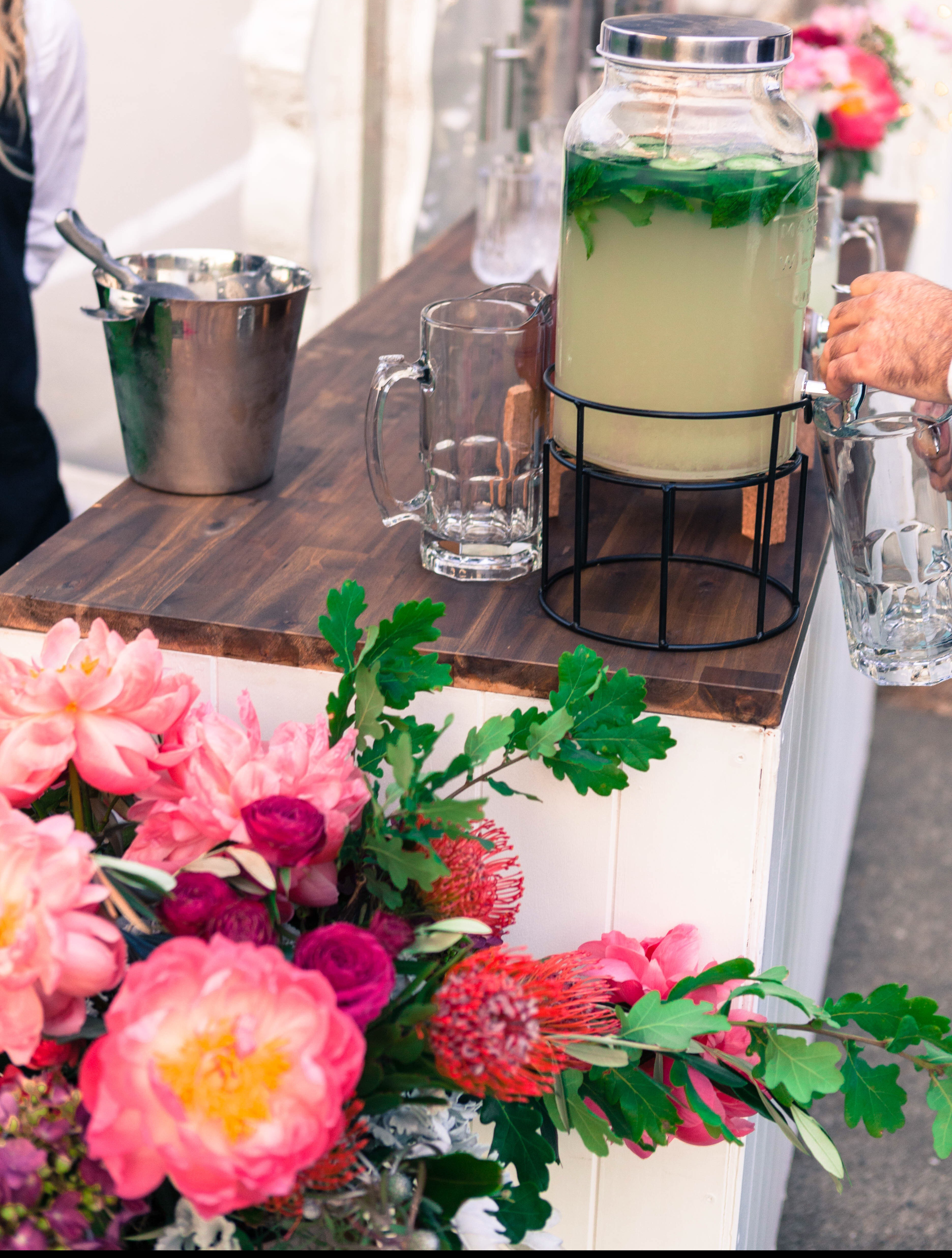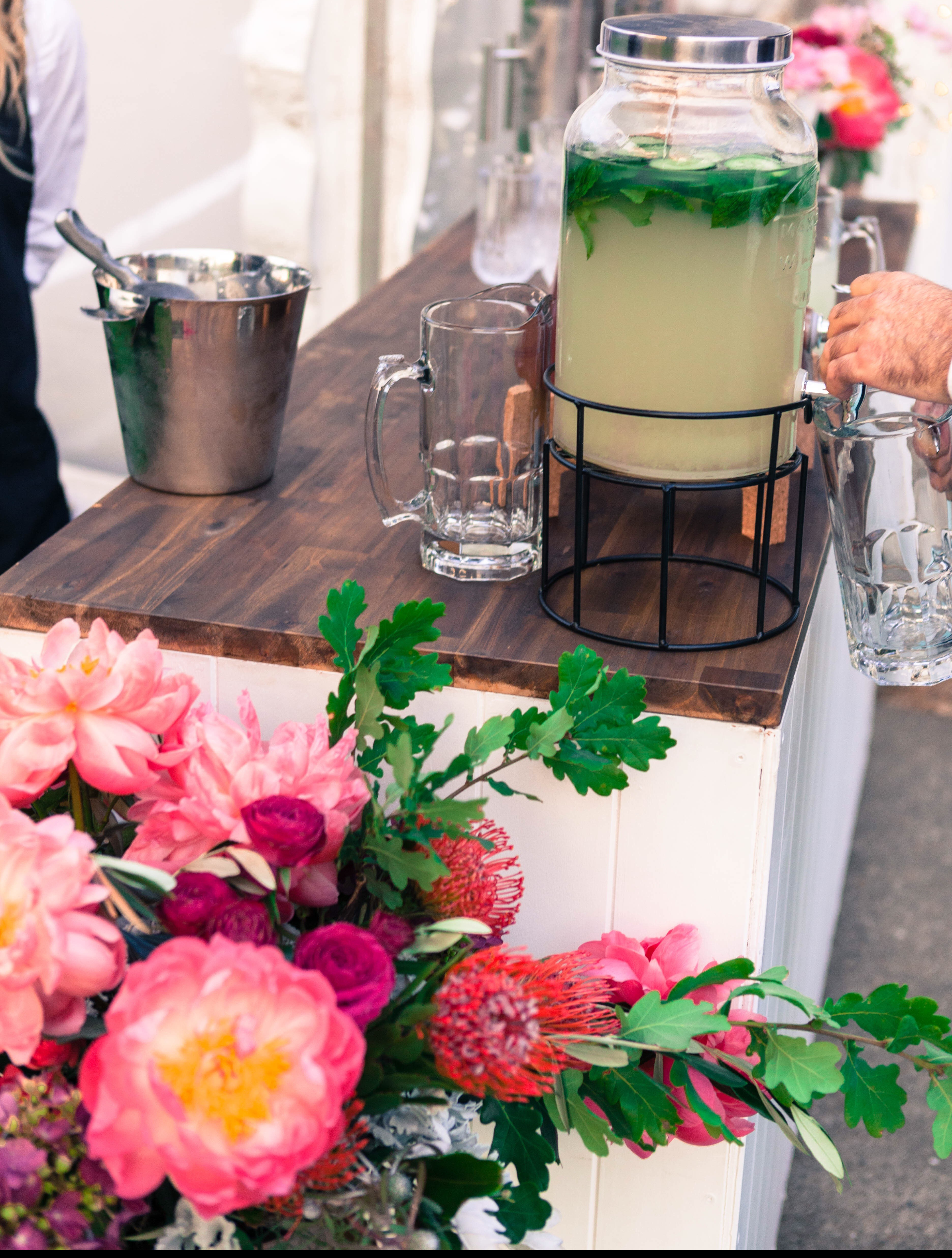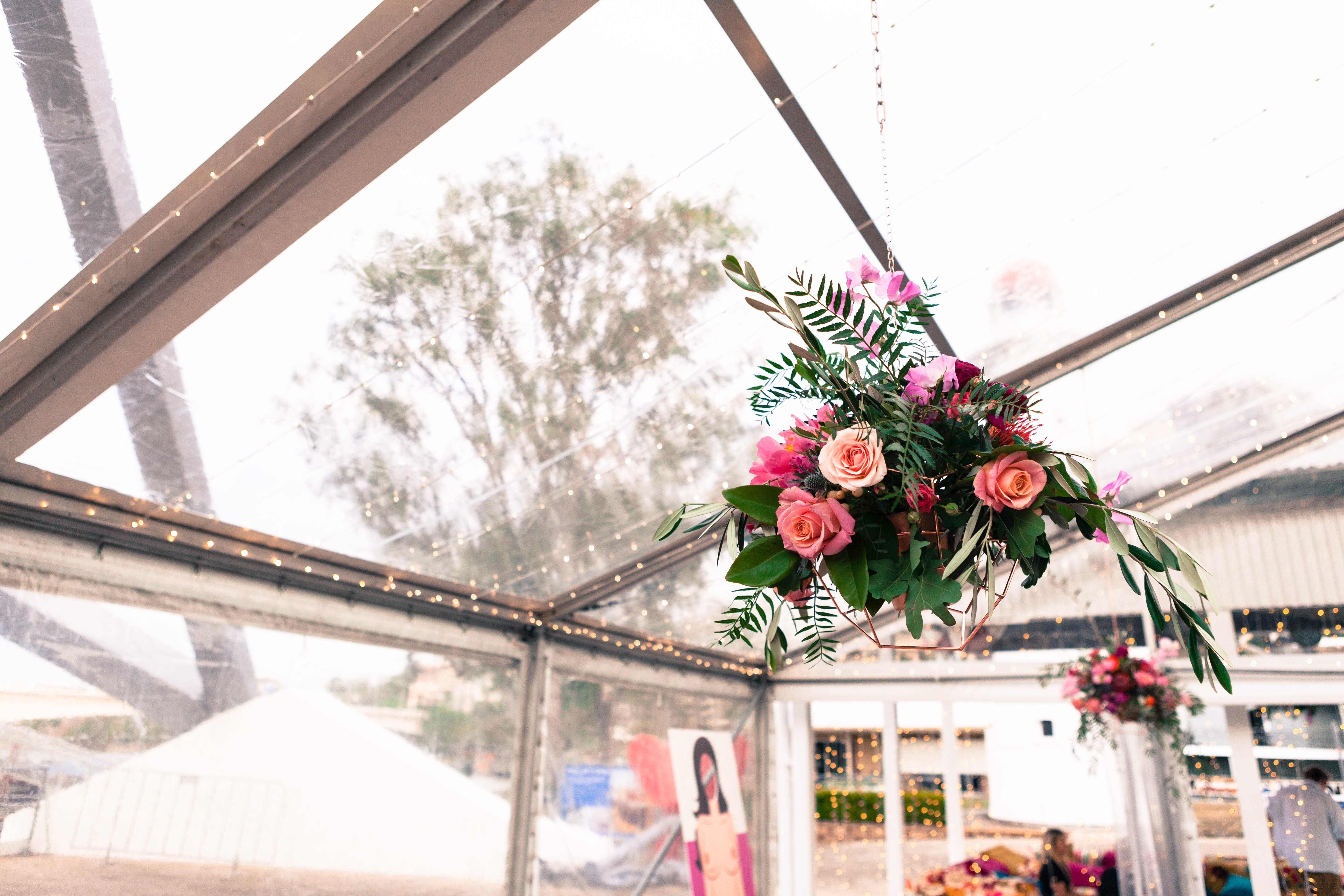 Fiona wanted to give her guests a gift bag, and did she have fun with this! The gift bag included beautiful succulents from Fat Cat Pots, "f*** cancer" colour-in books, a "boob cupcake" from Sugar Bomb Cake, plus lots of other goodies including a mini balloon with my Arnold Events business cards.
The menu itself was simply inspired by what Fiona liked – she had worked with Alfreshco before so trusted in their delicious options! We had the special appearance of their celebrity head chef –Alastair McLeod.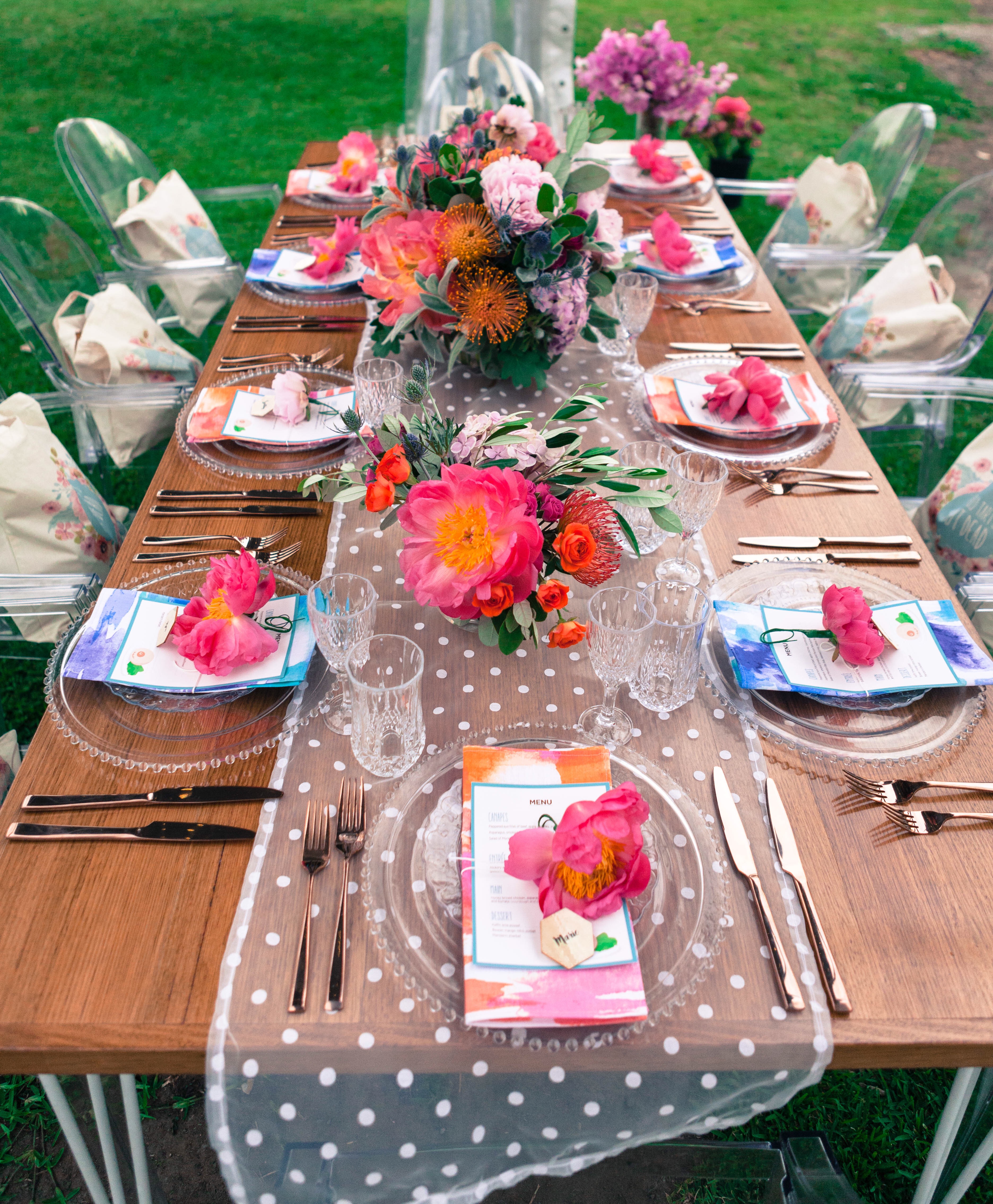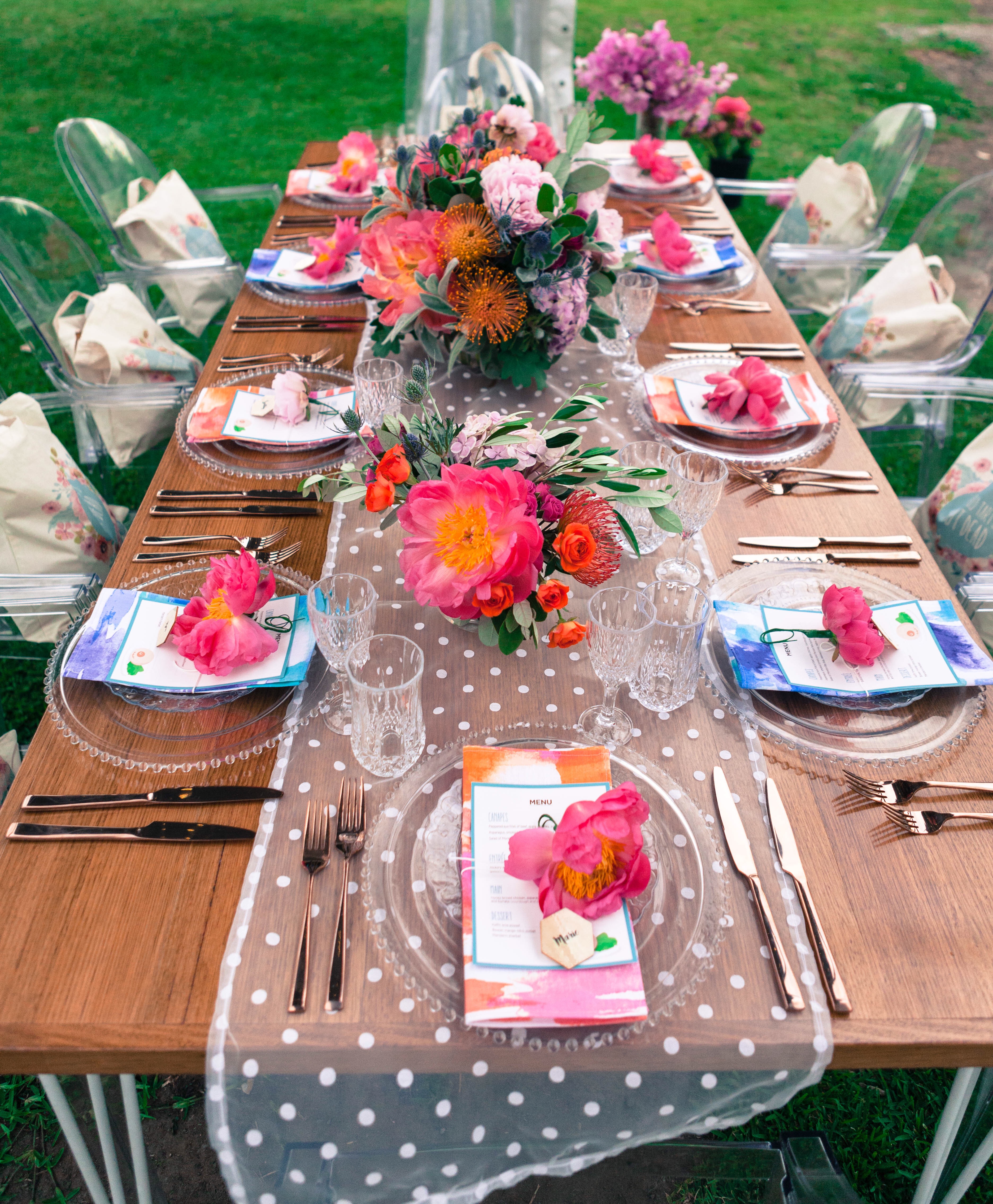 Adding the personal handmade touches
Fiona wanted some bright napkins, and I just couldn't source any to my liking. So, I handmade them! I found some bright coloured blues and pinks in a nice linen, and got on the sewing machine! Invitations, menus, name place cards and Thank you cards were also designed and created by me. Oh, and the photobooth board cut-out!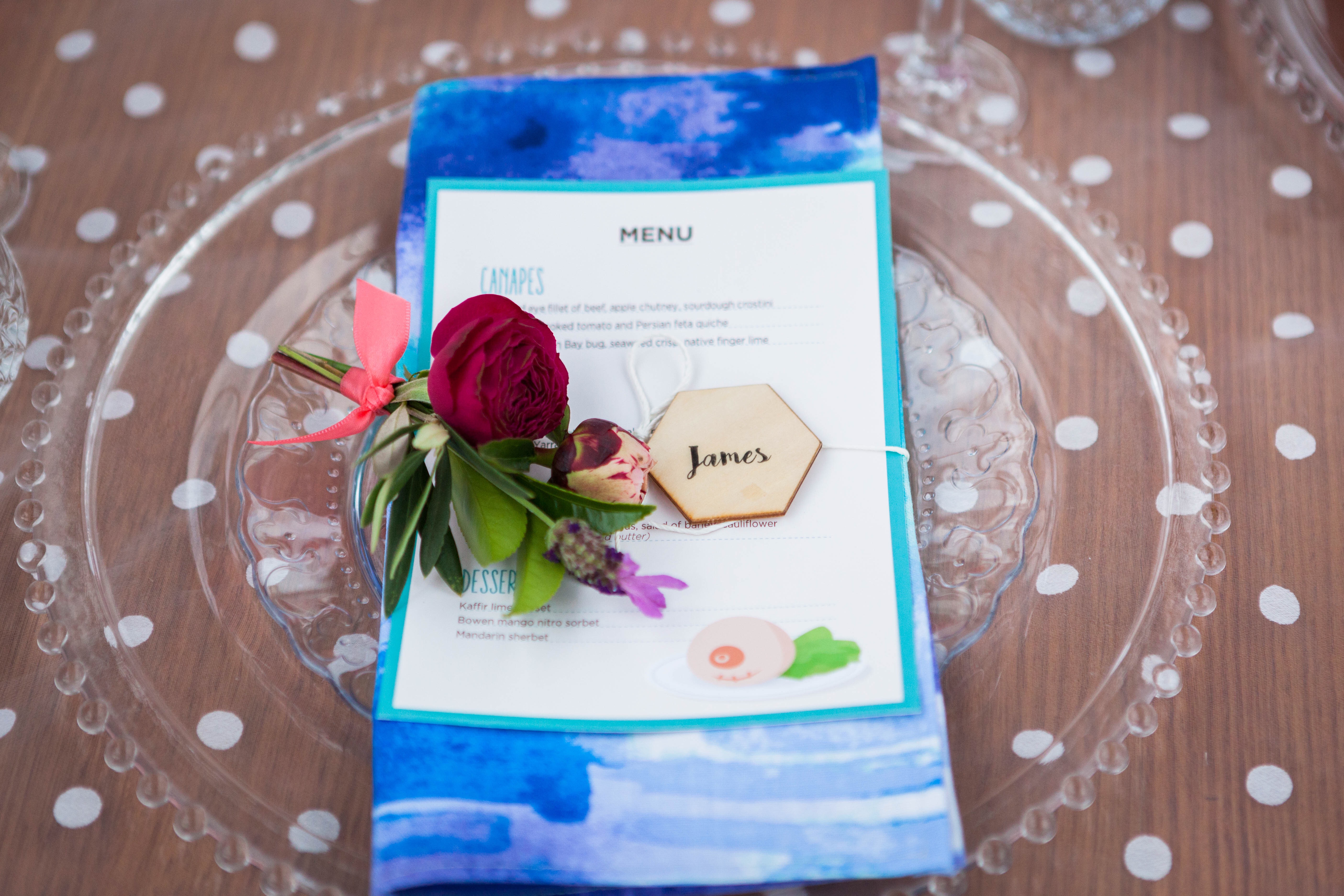 It's all about the hue
The colour scheme was coral, hot pink and teal. I felt these were feminine and playful, suiting the overall theme perfectly. I also knew that I could get some beautiful florals in these colours, of which I wanted to be big 'wow' factors.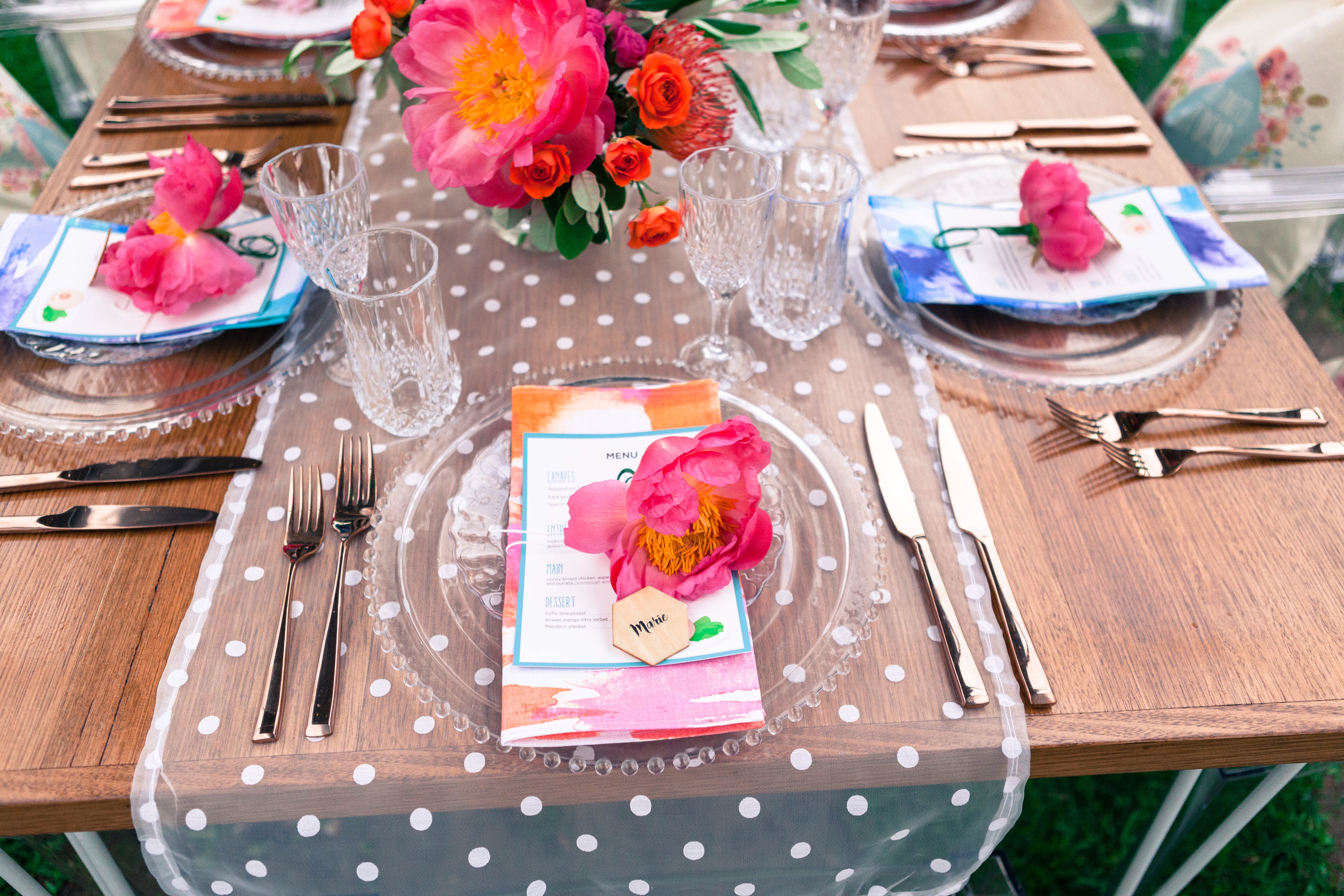 A little something else…
Fiona first found me by searching online, and was impressed with my website and write-up. She says that she liked that I was just me and doing something I'm passionate about. So that's how we first met, back when I styled another party for her. And it really has been meant to be! We are constantly emailing or texting, mainly with dog videos or photos of pretty event details, naturally. So, by this event, we were already becoming close friends and, to me, it made this event even more special. So much love goes out to Fiona, such an amazing client and now friend. Looking forward to celebrating many more of life's achievements with you!
Vendor Credits
Styling, Planning & Photography Arnold Events
Florals Bella Bloom Floral Designs
Catering Alfreshco
Cupcakes Sugar Bomb Cakes
Succulent Favours Fat Cat Pots
Marquee Events in Tents
Furniture Innovative Hiring, Valiant Hire
Crockery & Cutlery Innovative Hiring, Hampton Event Hire, Prop it Pretty
Drinks Bar & Glassware Hampton Event Hire
Table Runners Prop it Pretty
String Quartet Angel Strings