You go about dreaming of your perfect wedding day, and as you've gone about planning the special occasion, you've arranged everything from the flowers to the catering to the photographer for the stunning pictures and memories you want to capture so that you can treasure them for years to come.
The one thing you've often thought about is where to host the event, and you've often dreamed about having it as an outdoor wedding.
Hence, when deciding on an outside event, you may ask yourself what are some of the reasons to do so and what may hinder the idea.
From open-air and cost-effective savings to that of council planning and exposure to unknown events.
Therefore, let me guide you on what you need to know if and when you choose to have an outdoor wedding, whether it is in a public space or that of a more personal and intimate occasion.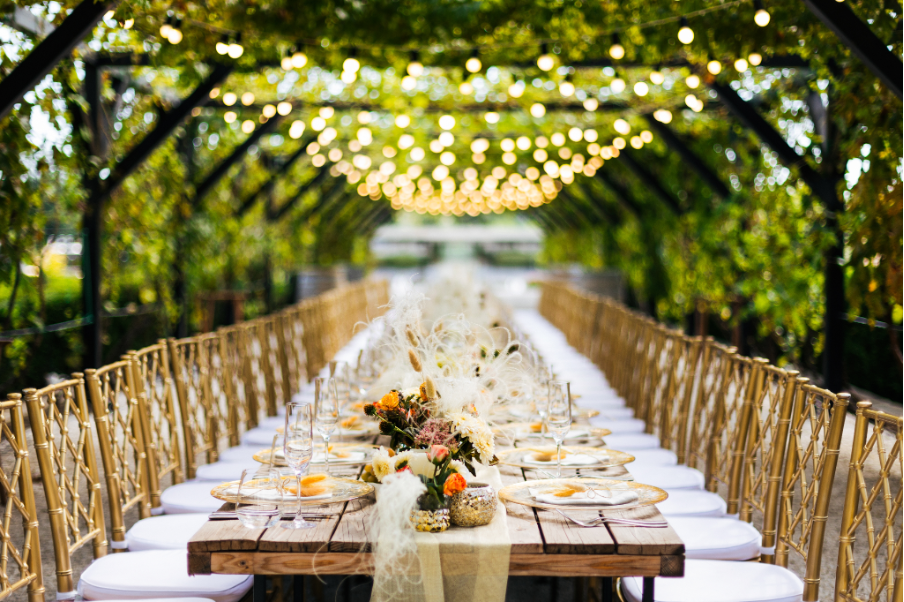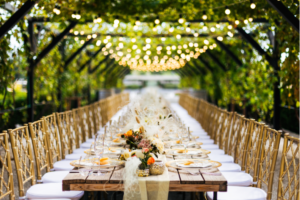 Pro: Choice of Venue
One of the benefits of having an outdoor wedding is you can be a bit more versatile with your choice of venue. From that of the ceremony to the reception.
A way to make this a bit more relaxed yet functional is to use a white marquee for hire or clear span tent. These can be cost-effective and adaptable to a variety of locations, which can be made comfortable for a large number of guests.
However, having your wedding outdoors does expose you to the elements and this can include your guests as well. Therefore, when using a marquee, be sure to secure it in place well so as to guard everyone and your event against the weather conditions. This way, both you and your guests can have a great setup venue, no matter where your location is or what the weather may have in store for you.
Con: Weather Can Be Unpredictable
While in a perfect world, every couple would have a wedding day full of blue skies and sunshine, the truth is that an outdoor wedding leaves certain factors out of your control, and that includes the weather that is predicted for the day.
Be sure to check the weather forecast, but even so, don't tie things down until 2-3 days before, even if you have to look outside on the wedding morning.
Whether it's wind, rain or snow, there is no true way to force perfection. However, you should know how certain seasonal elements can affect the day. Nevertheless, whether blustery or wet, there is the important thing to remember – the marriage. The true reason you are doing it all in the first place. You love the person, that's what matters. Plus, there's the old belief that rain on one's wedding day predicts longevity and prosperity, as a sign of weathering any trial and tribulation.
Pro: The Beauty of Nature on Public View:
Embracing the setting of an outdoor wedding provides an incomparable advantage, immersing yourself and your guests in the awe-inspiring beauty of nature. Whether it's in verdant parks adorned with old, character-filled trees, meticulously manicured gardens bursting with a spectrum of colourful blooms, or even a beach with its sprawling expanse of azure waters and golden sand, these locales offer a feast for the eyes and the soul.
The resulting professional wedding photography can be truly stunning, with the natural landscape providing a vibrant, dynamic canvas that no indoor venue could replicate. Moreover, imagine the exquisite tableau created at the reception with tables lovingly set against a backdrop of blooming flowers or beneath a canopy of twinkling stars.
Indeed, this use of nature's artistry in crafting a deeply memorable atmosphere, filled with fresh air, sunshine or starlight, and the soft sounds of nature's orchestra, truly underscores the natural beauty of outdoor weddings. It's not just a pro; it's a compelling argument for choosing an outdoor wedding to celebrate your love.
Con: Allergies And Insects
Depending on the season and location of your wedding, different types of bugs could come into play, potentially disturbing the ambience of the occasion. For instance, you might find mosquitos buzzing around dusk events, or bees attracted to floral arrangements during the day. Unwanted insect guests can not only be a nuisance but can also lead to uncomfortable bites and stings. Therefore, you may need to incorporate bug repellants or citronella candles into your planning, which could subtly alter the aesthetic and atmosphere of your wedding.
Additionally, the great outdoors can pose issues for guests with allergies. Many people suffer from sensitivities to pollen, grass, or other plant-based allergens commonly found in outdoor settings. During peak allergy seasons, symptoms can range from mild discomfort, like sneezing or itchy eyes, to more severe reactions that could significantly impact a guest's ability to enjoy the festivities. This is especially important if either the couple or close family members have known allergies. To mitigate these issues, consider the season, specific flora at the location, and potentially having allergy medication available.
Pro: Can Support a Large Guest List
Another benefit of using an outdoor venue for your wedding day is that there is less of a limit to how many guests you can have at the special occasion. If you have the budget for a grand scale event, then this is where an outdoor wedding venue can allow you to really host a large group of family and friends.
However, with that being said, don't forget to acknowledge how much you can afford or are willing to spend on everything. Just remember that, if you do a public space and catering, there is usually a per-head price, and the more guests you invite, the more expensive it is likely to be for you, so choose wisely.
Conclusion:
In conclusion, there are several key aspects to contemplate when planning an outdoor wedding. You might opt for a small, intimate gathering under a hired marquee or, alternatively, a larger event in a public space. If you decide on a public venue, it's crucial to plan ahead and apply for necessary permits well in advance. Weather is an important factor to consider, although it's essential not to over-prepare and cause undue stress. An outdoor wedding provides the flexibility to invite a substantial number of guests, but keep in mind that a larger guest list could potentially escalate costs. Balancing these factors will aid you in planning a memorable and well-organised outdoor wedding.
All the best for your future plans!