When music is life, this is how you party! We are excited to share this party by Debbie of One Pretty Day all the way in South Africa! We absolutely love the colour and fun behind this very cool party for a music loving seven year old!
This party was themed 'Disco vibes…Rollin' with my Homies', and featured a stunning colour scheme of turquoise, silver, lilac, pink and a touch of neon.
Read on as Debbie gives us the details of the day below.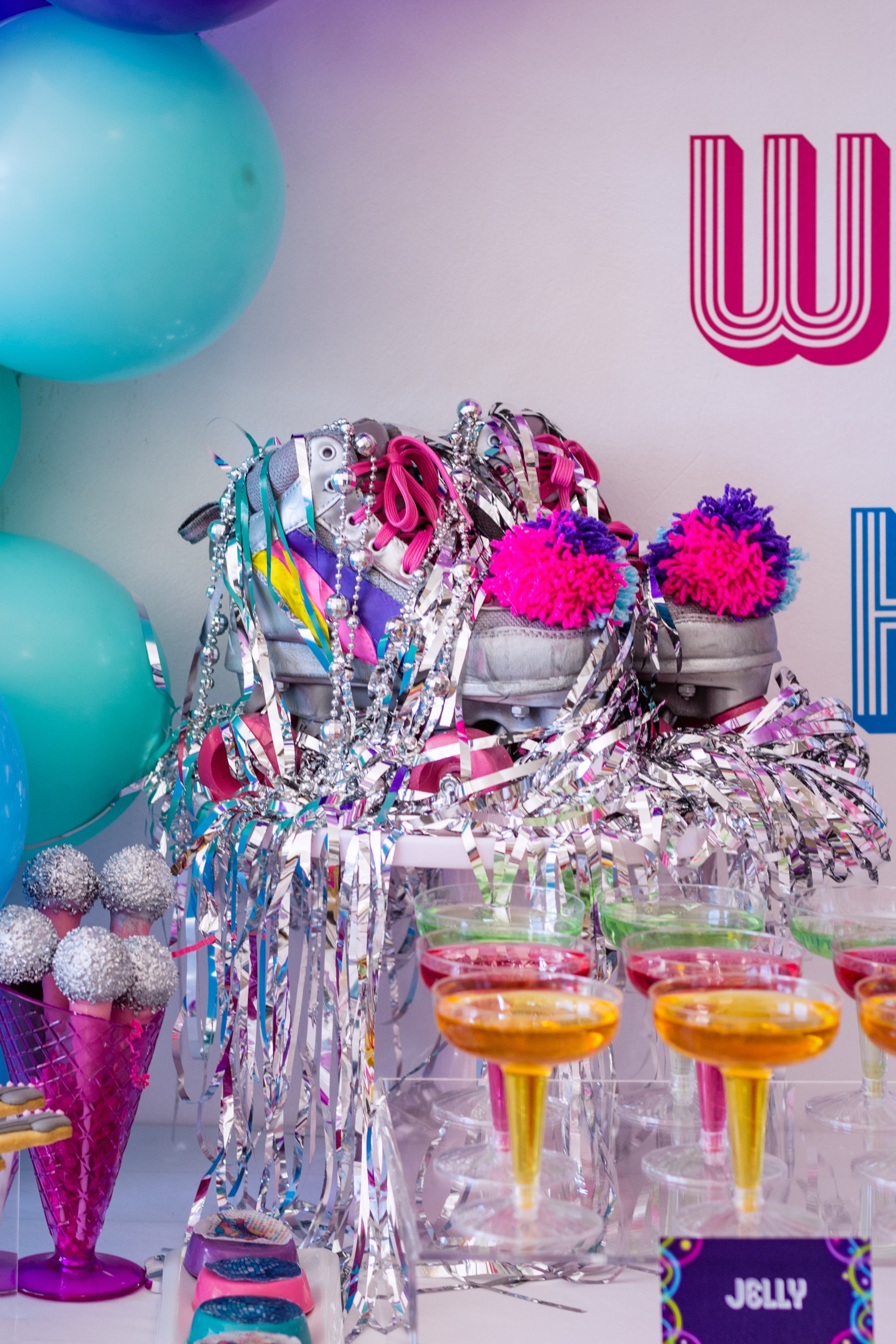 Details from Rollin' with my homies – a disco birthday party
Emma is beautiful, now seven, full of spunk, intelligent and a little musical prodigy, learning to play piano and drums! You should see this cutie pie ROCK the drums, oh my goodness, my jaw dropped! It was only natural she would choose a disco party for her seventh birthday celebration!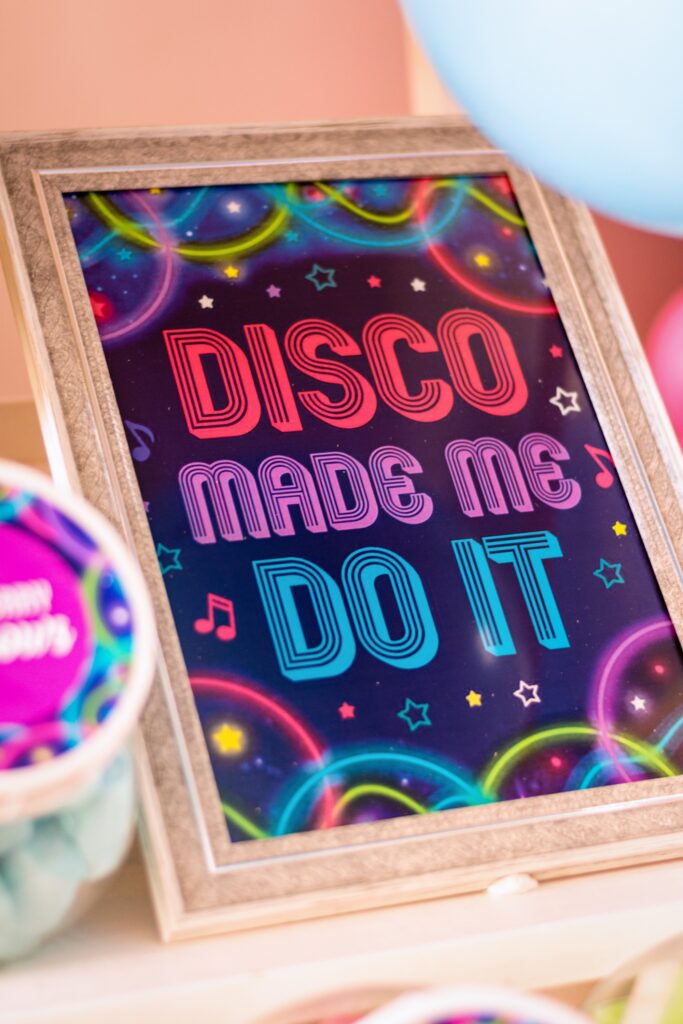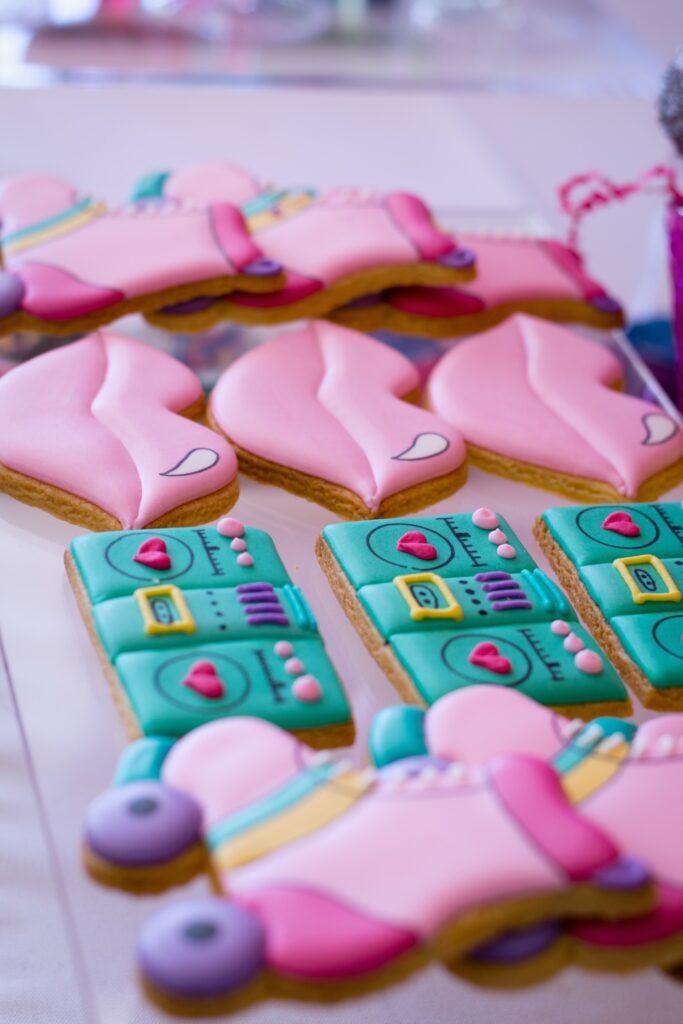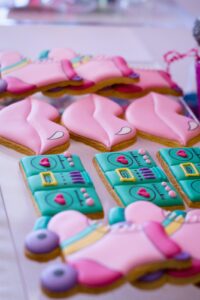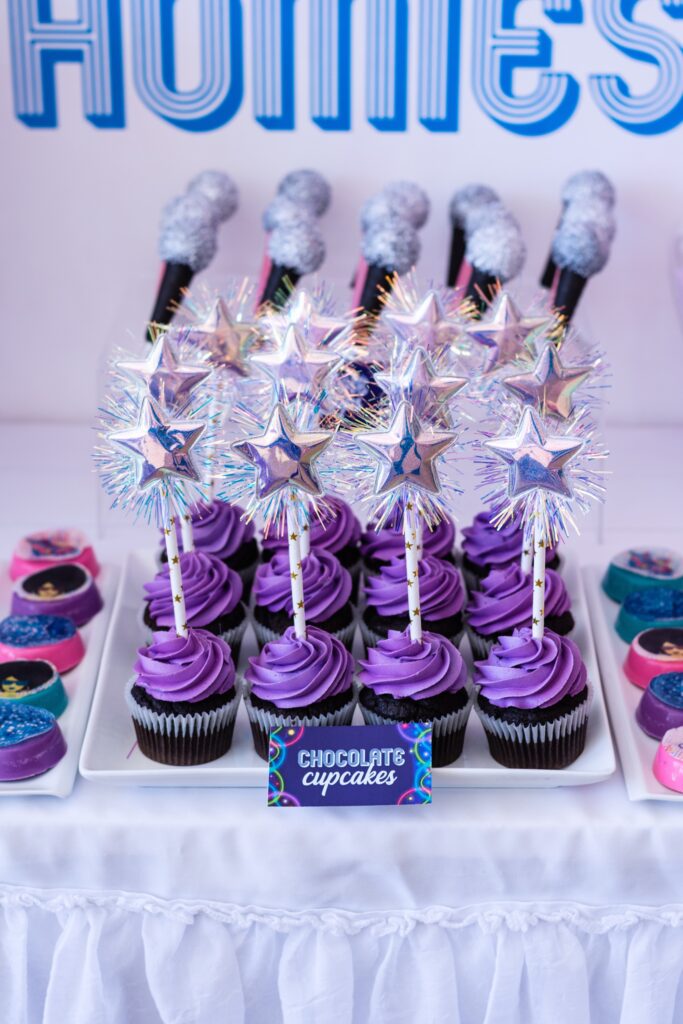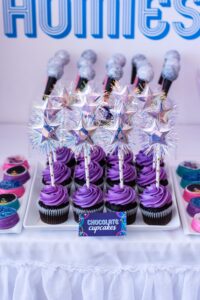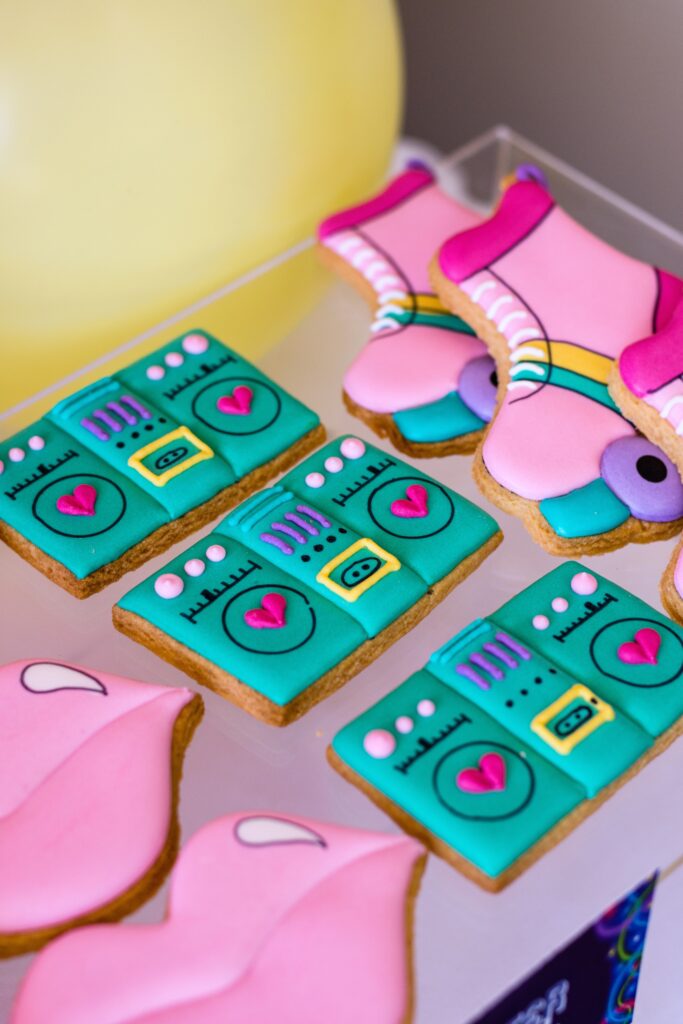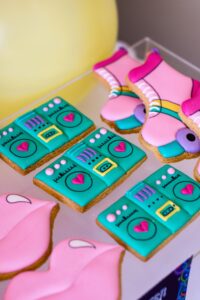 It was held at the beautiful new premises of the M&M Music Academy, where she receives her drumming and piano lessons. Mom, the lovely Sandy, contacted me and we had just short of two weeks to pull off this monumentally cute, vibey, colourful and FUN FUN FUN party!!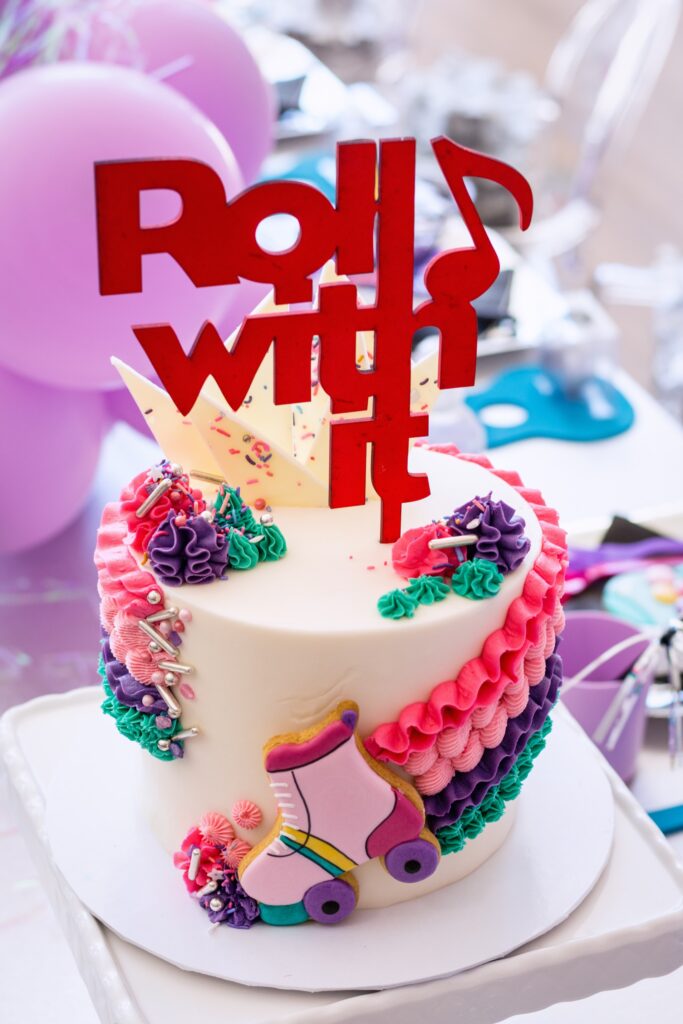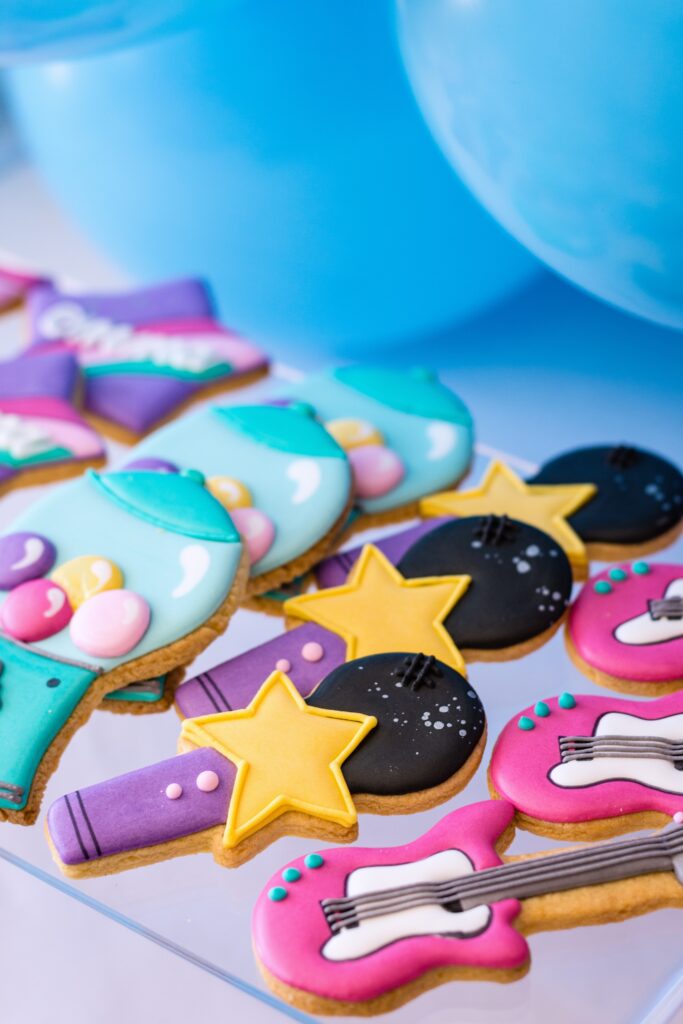 I decided while creating the whole concept, to put a strong emphasis on an almost retro rollerskate derby disco, so the inclusion of boomboxes, cassette tapes, rollerskate, gumballs, slinkies and of course disco balls, formed a large chunk of the party.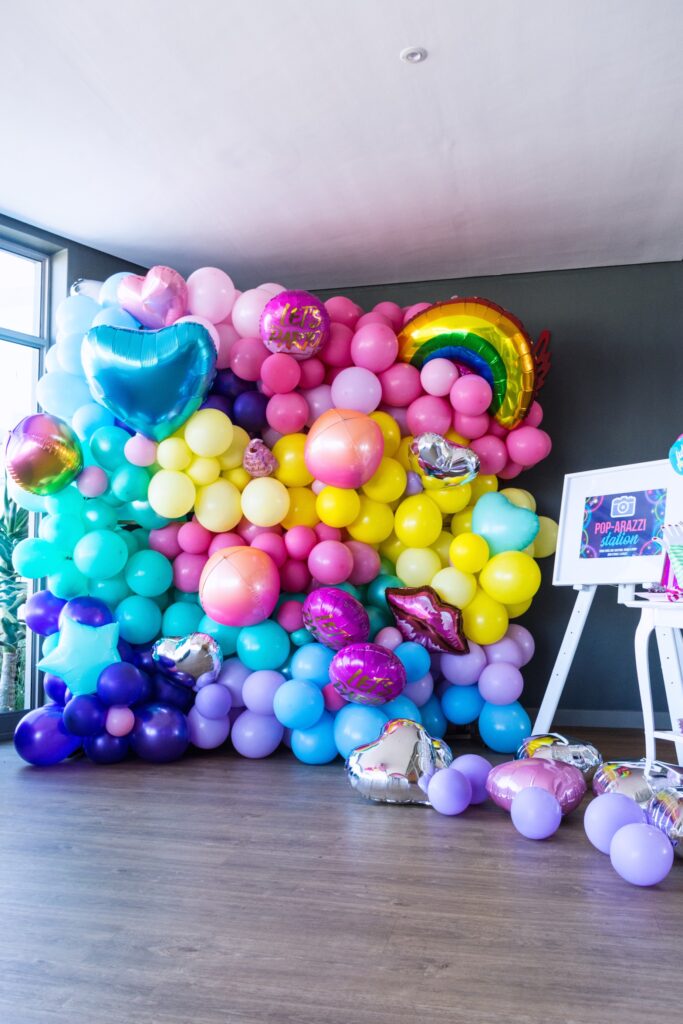 The venue was completely transformed from the front door, where there was the most striking photo booth backdrop and a sign "POP-arazzi station- your fans are waiting. Grab a prop and strike a pose".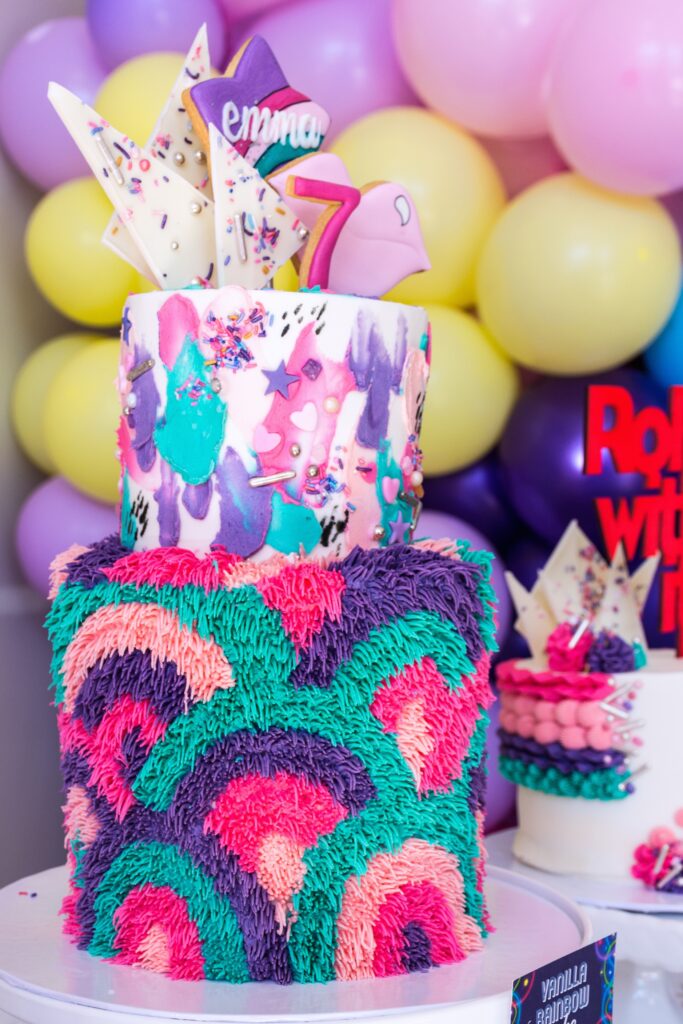 Then the kiddos had to walk through the main door, got checked in by two "bouncers", who had a check list and issues the VIP guests with personalized lanyards, and funky "GOOD VIBES ONLY' tote bags to fill with all the goodies that awaited them! Two tables had been set up, the adult table and the kiddies table, alongside one another.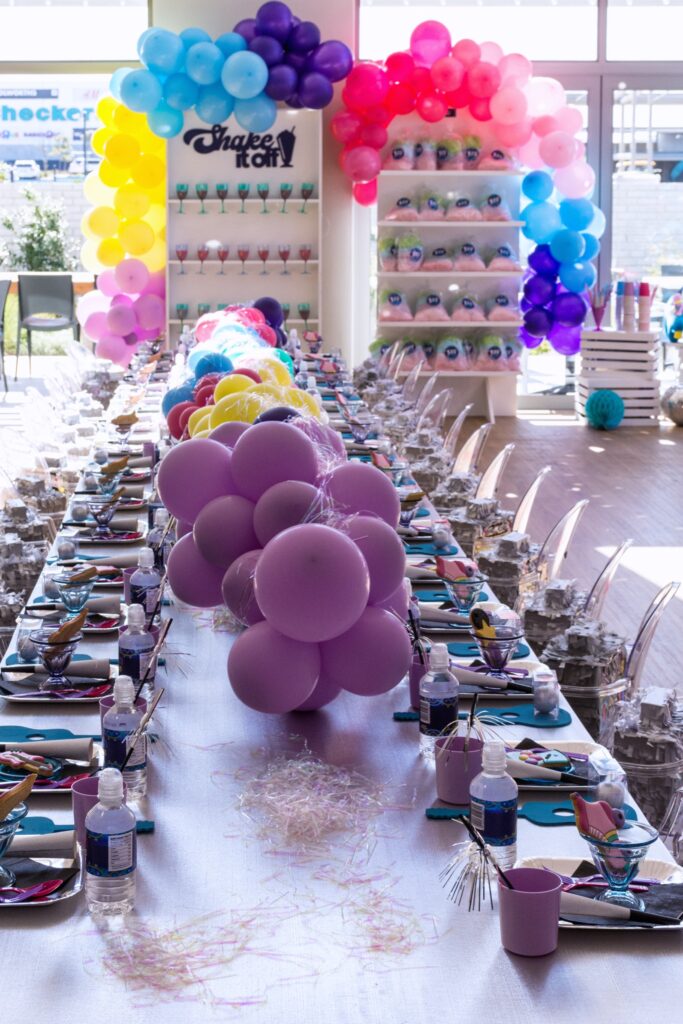 The adult table decorated with a 'runner' of disco balls, slinkies, flowers and jumbo balloons! The the kiddie table! Oh my goodness: designed at kiddie height, with ghost chairs and personalized pink vinyl names on the back of each, with a balloon runner down the centre, and their Oh SO FUNKY boom box party boxes awaiting on each chair!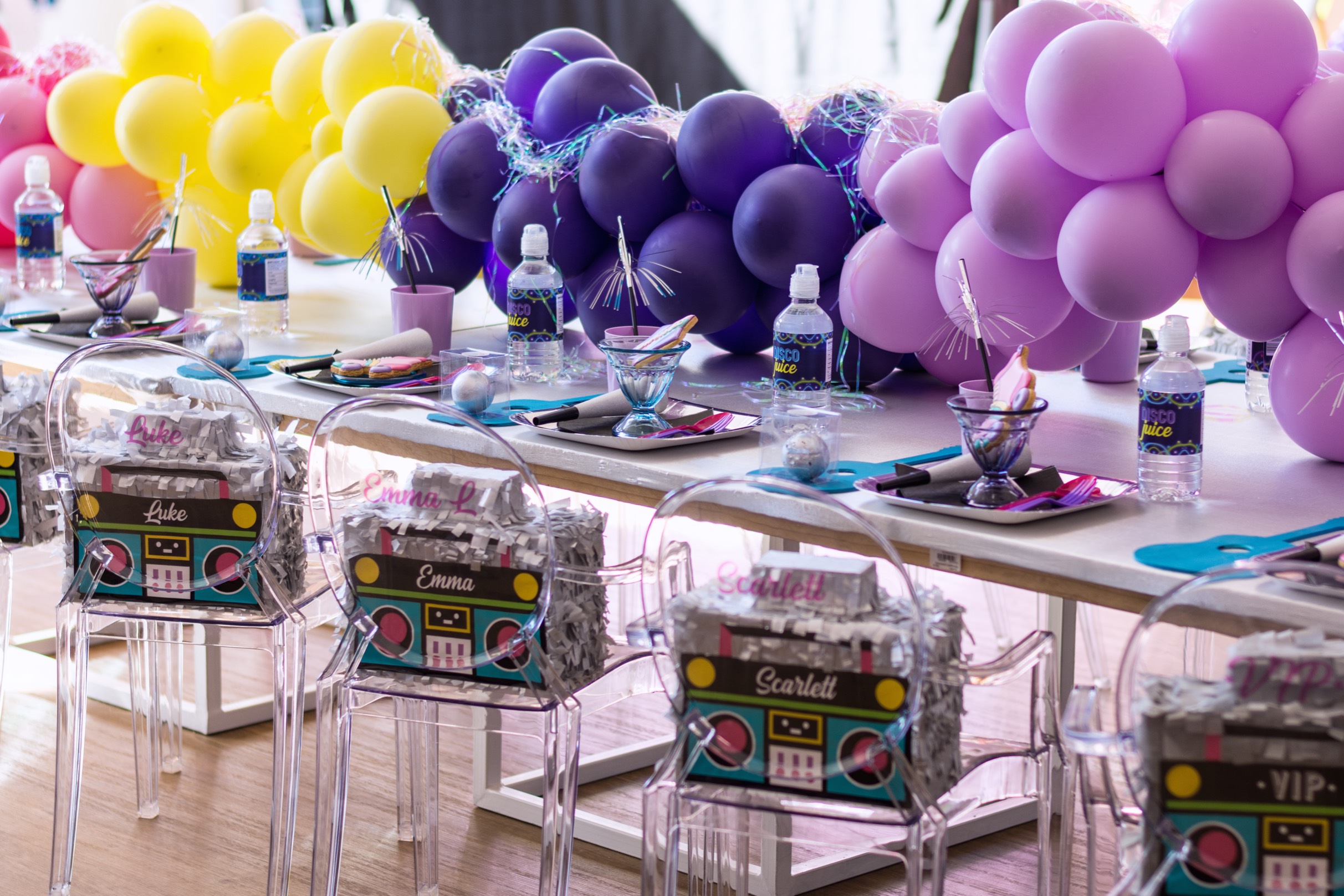 Main dessert table, with a backdrop of "ROLLIN WITH THE HOMIES" consisted of jellies,cakesicles, butter biscuits, choc-covered oreos and microphone cakepops. A beautiful cake trolley had been specially designed to carry Emma's three exquisite cakes. There was popcorn cups: POP IT LIKE IT'S HOT, a candy floss wall: CAN YOU DO THE FLOSS? And a milkshake wall: SHAKE IT OFF! And a donut wall: DONUT KILL MY VIBE!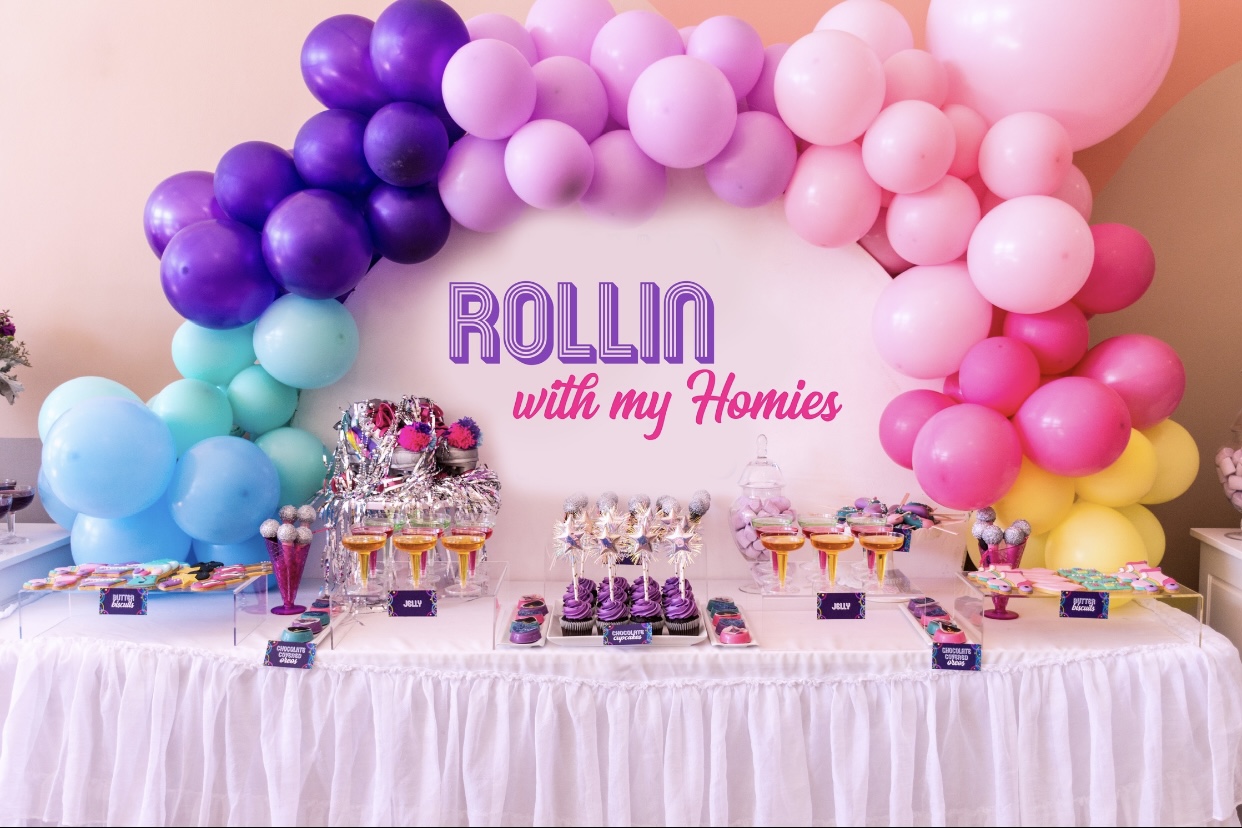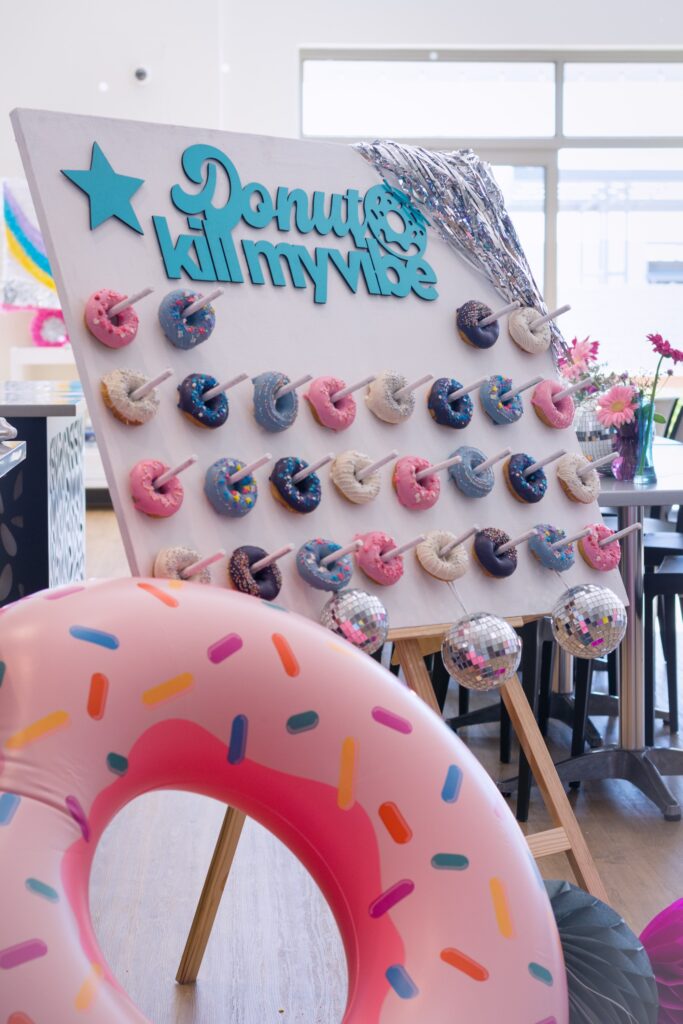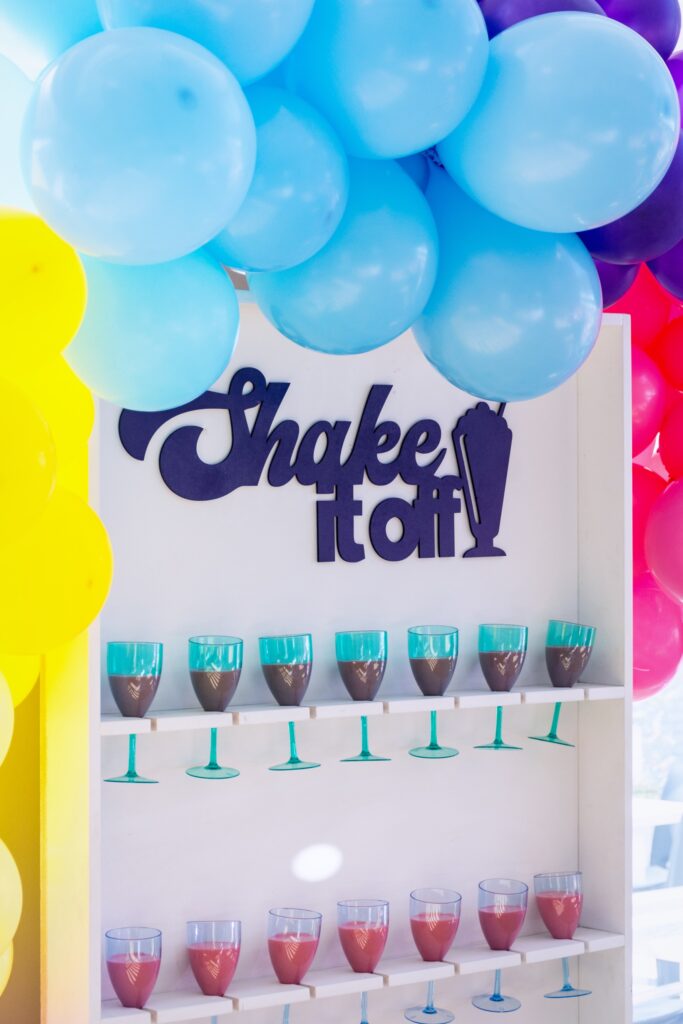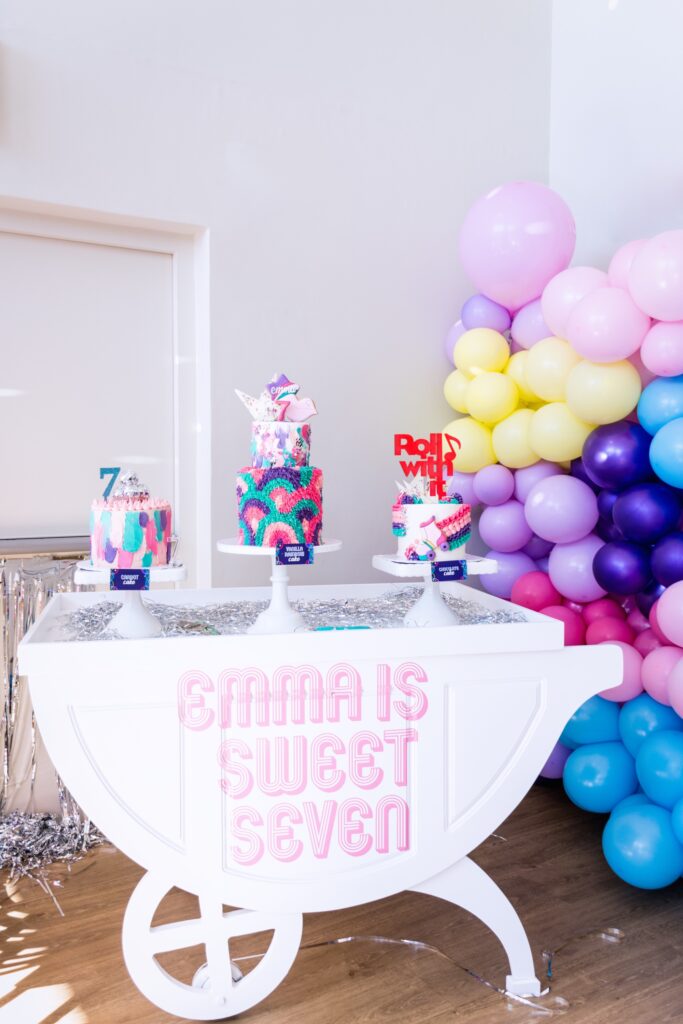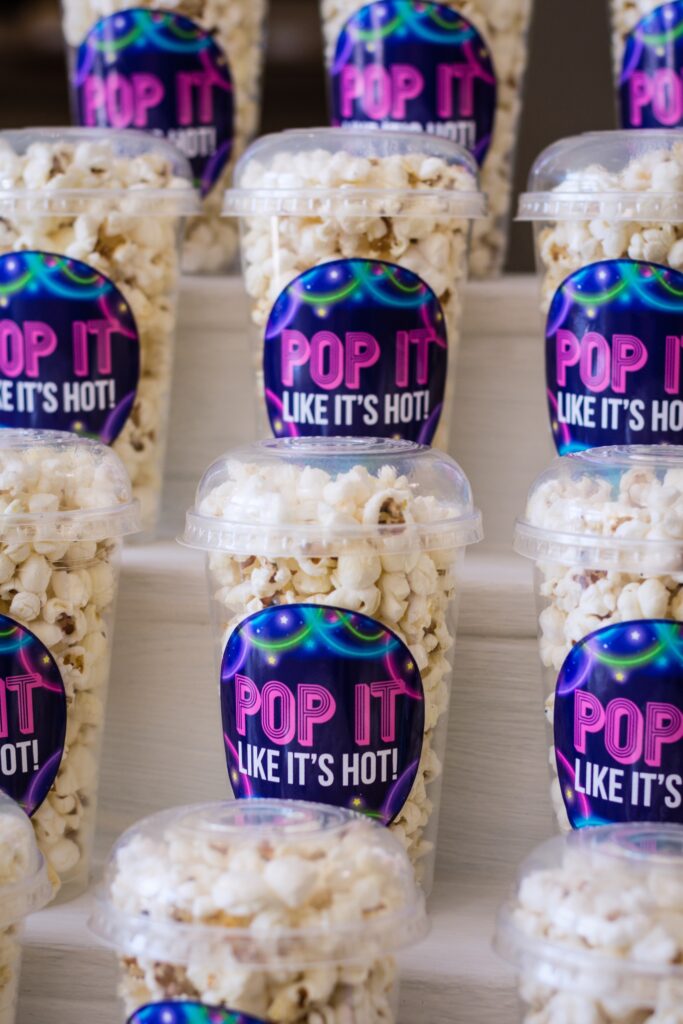 The favor table was a plethora of funky gifts for the kiddos: glo sticks, glo-in-the-dark frisbees, water bottles, glitter pens, rubik cubes, microphone bubbles, slinkies, sunglasses, hoola hoops, pop rocks, 3D tape cassette boxes containing skittles, 3D microphone boxes filled with mini marshmallows, musical stickers, YO-YOS, pots of glitter slime, also specially designed for them aswell as guitar cut-outs that had been painted with chalkboard paint and had a specially designed ball of silver chalk, that had been made to look like a disco ball, attached to it! One of my favourite features were the rollerskate pillows that I had made for each child.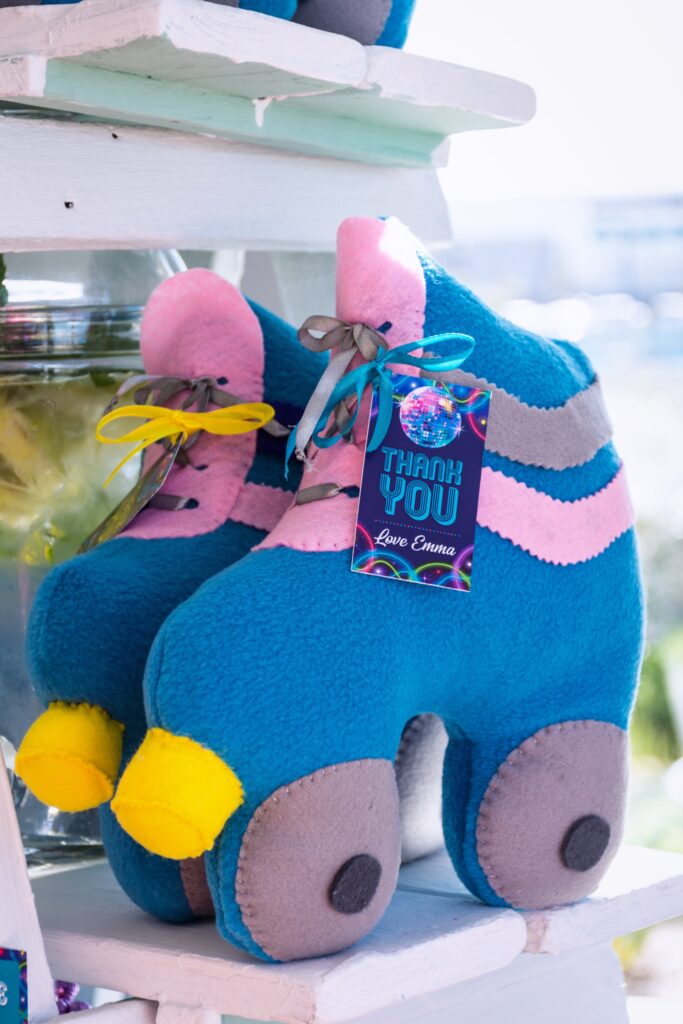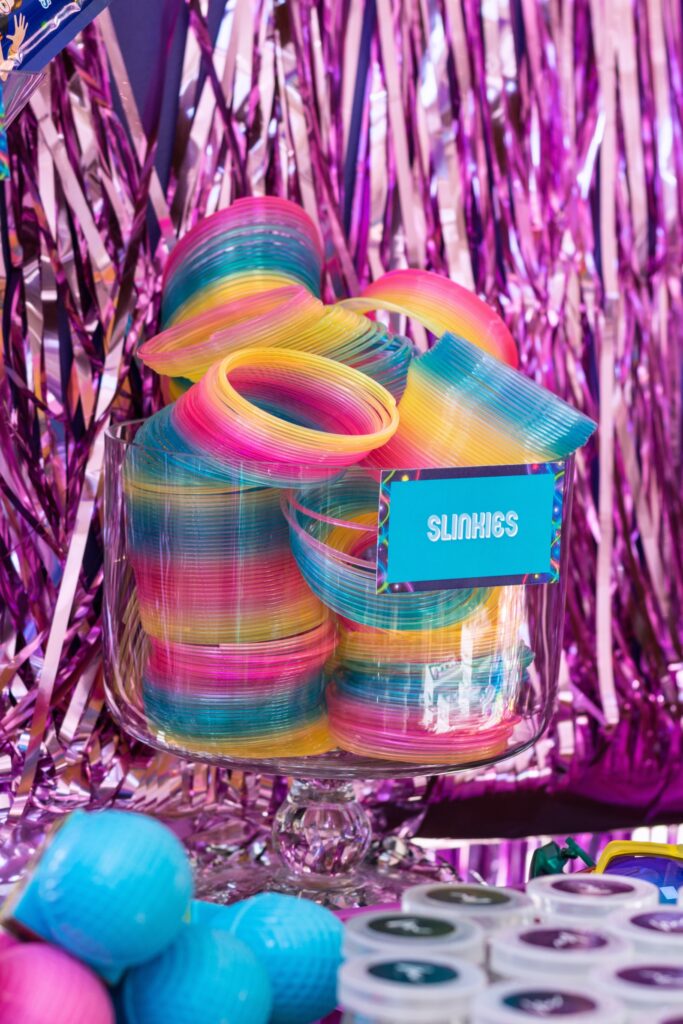 A lounge area had been designed to 'hang out' with a bubblegum pink couch, purple and pink bean bags and two ginormous bowls of strawberry popcorn. Next to this I designed DIVA EMMA'S CANDY CART where the kiddies could fill their bags at any time or after the party with a selection of sweeties.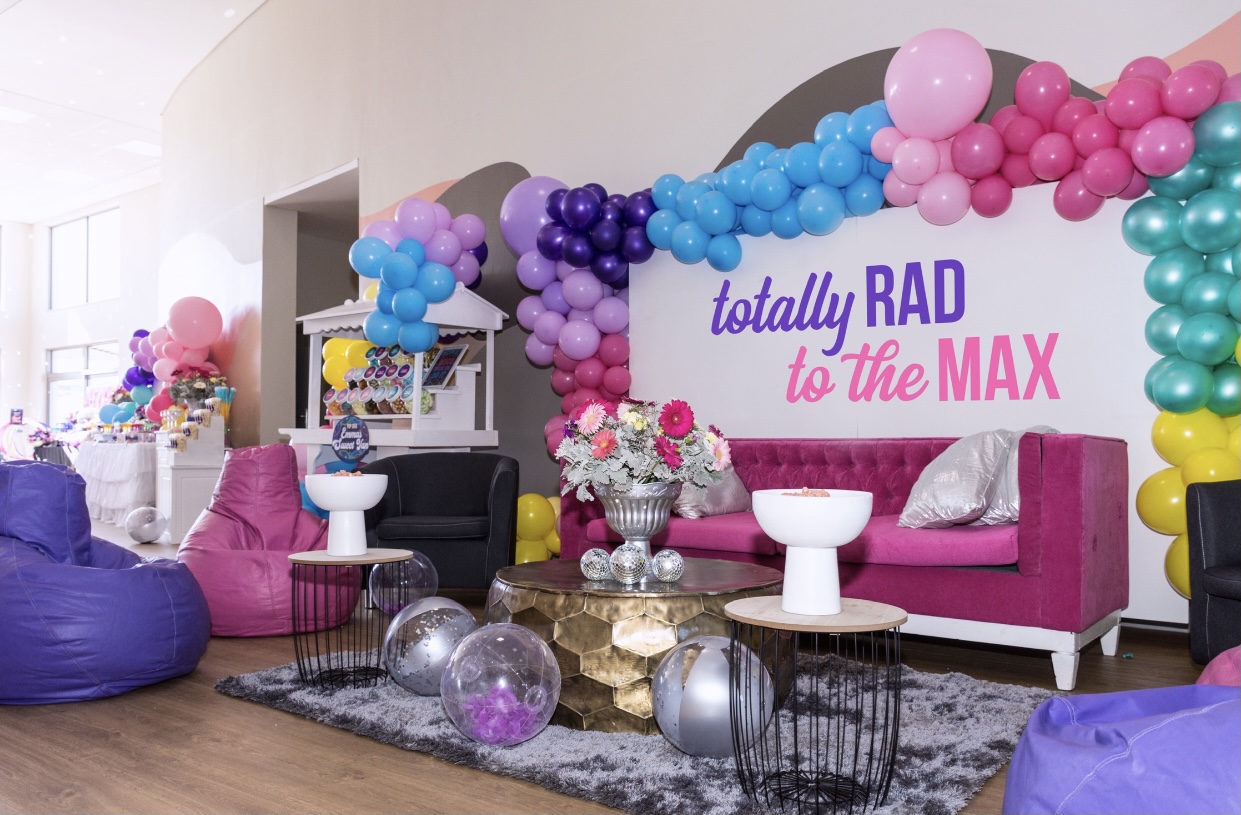 A ginormous rollerskate pinata had been designed which the kids bashed at the end of the party, to release SOME of the sugar load! In the studio, glittery foil curtains, balloon arches and glitter balls scattered on the floor made the ideal area for the kids to disco dance with DJ MAC! Another sugar-high-release! As 5pm drew close, Emma did a special drum solo with her drumming teacher, aswell as getting kids and adults involved in a clap-to-match-drum beat activity.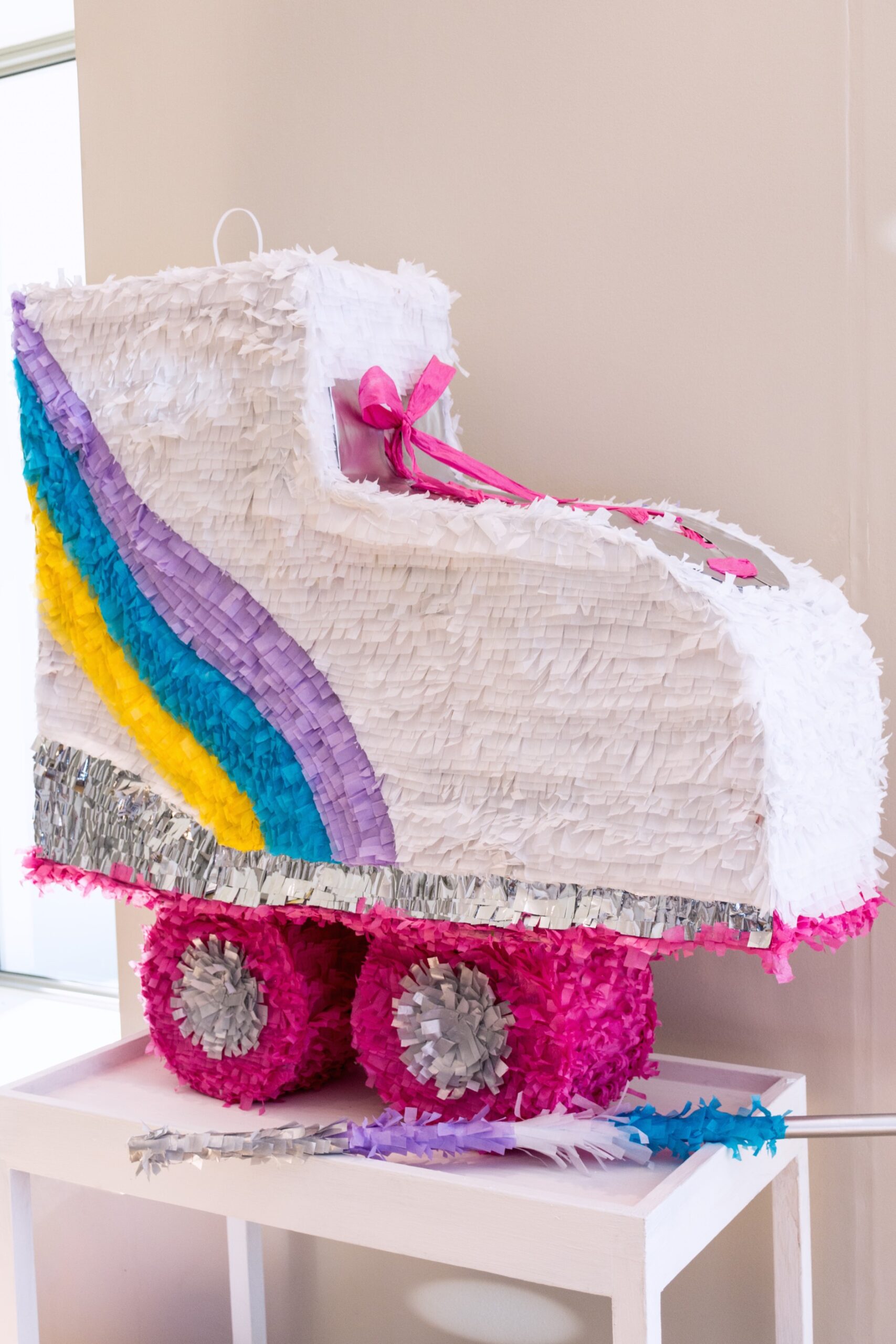 Emma is a Rockstar, her party was fit for a diva, she is the queen of spunk and I KNOW she had the best party EVER, just ROLLIN WITH HER HOMIES!!
Vendor Credits
Event concept, planning + styling | @opdparty
Graphic design + all printables | @babazooparties
Furniture rental, disco balls, perspex cake platters | @xleventscapetown/
Main cakes, butter biscuits, cupcakes | @nectarspice
Cakepops, cakesicles + choc-oreos | @popkinscakepops
Floristry | @vidaloublooms
Donuts | @thedairyden
Giant rollerskate + boombox piñata party boxes | @the_pinataplace
Glass glitter slime pot favours + 'disco ball' calk favours | molly_mae_insta
Lasercut guitar chalkboards, 'Roll with It' cake topper; 'Shake it up' signage; 'Donut kill my vibe' sign | @monkeythorn
Rollerskate pillow favours | @darlingditjies
Candy cart, white plinths, milkshake wall, donut wall + cake trolley | @kitchenemporium_sa
Popcorn cups + cotton candy | Candyfloss Queen
Photography | @kaleekarsten