Here at Confetti Fair, we love to talk parties. But it's not just the decor and the desserts that we always want to focus on. Sometimes, a party is a celebration of love. Other times, it can be symbolic of closing one door and opening the next chapter of one's life. This was definitely the case with at this gorgeous party with a stunning location, titled Here She Comes, a long awaited IVF baby shower.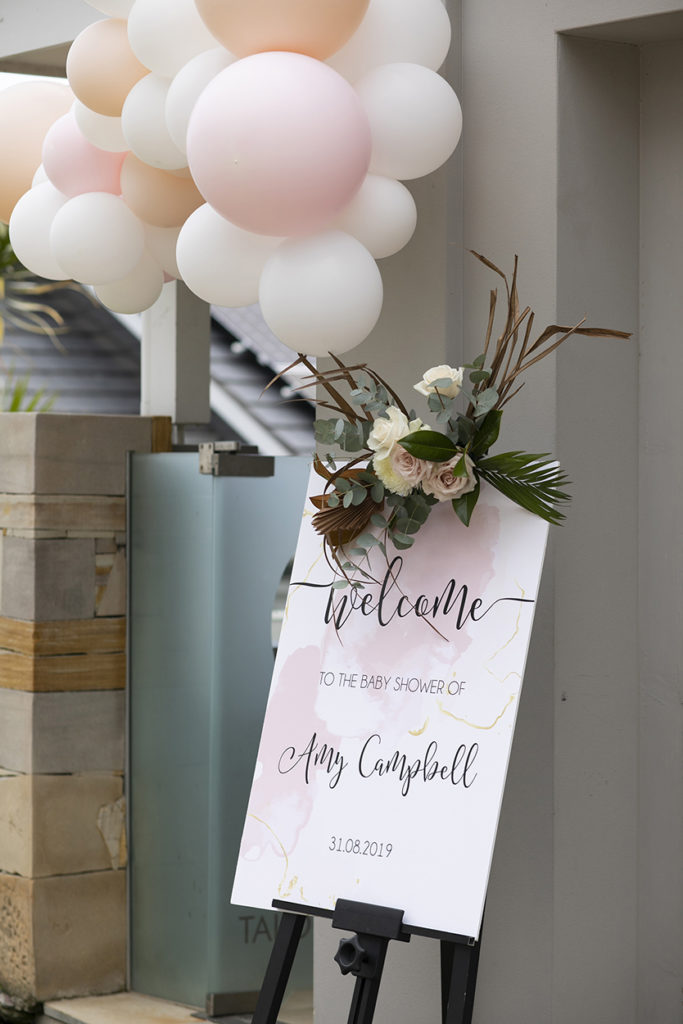 Amy was kind enough to tell us about her journey which led to this joyous celebration, and we have decided to share Amy's story here with her permission. It's a story of sorrow and joy, so tied in to the rites of passage we celebrate with parties, yet so little told.
She tells us:
After a long 5 year IVF journey, with plenty of heartache (6 stimulated cycles, 8 IVF transfers, ectopic pregnancy, double fallopian tube removal, and miscarriage and surgery), we finally fell pregnant. We did our final cycle in January 2019 and fell pregnant with our rainbow baby due October 2019, a little girl!

Amy's story
Amy was unofficially diagnosed with Endometriosis at 15. She had her first laparoscopy surgery at 19, and was advised that severe endometriosis had permanently damaged her fallopian tubes and parts of her reproductive system. It was then she was told that IVF would be her only option to concieve, to reduce the risk of an ectopic pregnancy.
In 2014, after being married for 2 years, Amy began her IVF journey. Ever optimistic, Amy assumed it would be a simple process, but it was anything but. At age 33, she went for her first round of IVF. Unfortunately, both the first and second rounds with this clinic failed, thus Amy and her husband decided to take a break.
Financial reasons led the couple to change clinics in 2017 and move to a bulk billing clinic. Despite the disappointment of only collecting one egg, Amy did fall pregnant. Elation soon turned to sadness as their healthy baby was found to be growing in the fallopian tubes ( ectopic pregnancy, the very thing the couple were trying to avoid).
Amy was rushed into emergency surgery as this was a life-threatening situation. The couple decided to have a double fallopian tube removal, as well as a devastating medical termination of the pregnanacy. This was necessary to save her life.
Again, the couple took an eight month break, and completed a third cycle in October 2017. This failed but resulted in two frozen embryos. In January 2018 they undertook a frozen transfer with both frozen embryos, but sadly only one survived. This embryo did result in a second pregnancy, but the happiness was once again short lived. Sadly in May 2018, at 8 weeks pregnant and after multiple scans, Amy had a natural miscarriage in the emergency room at the hospital.
After another break, and another empty attempt, Amy opted for a long cycle (which also puts one's body in a pre-menopausal state). This was her fifth attempt at IVF. Yet again, it resulted in failure.
The moment it turns around
Fed up and tired, Amy was advised to have a laparoscopy and hysteroscopy (a procedure which has helped others fall pregnant). Despite the sad news that Amy's endometriosis had grown back quite severe, the surgeon did inform her that if she did another round of IVF within the next 6 weeks, she could get pregnant.
In January this year, the couple completed their 6th round of IVF, and much to everyone's joy, are now expecting their baby girl on 30th October! Congratulations, Amy! Read on for the chic baby shower details.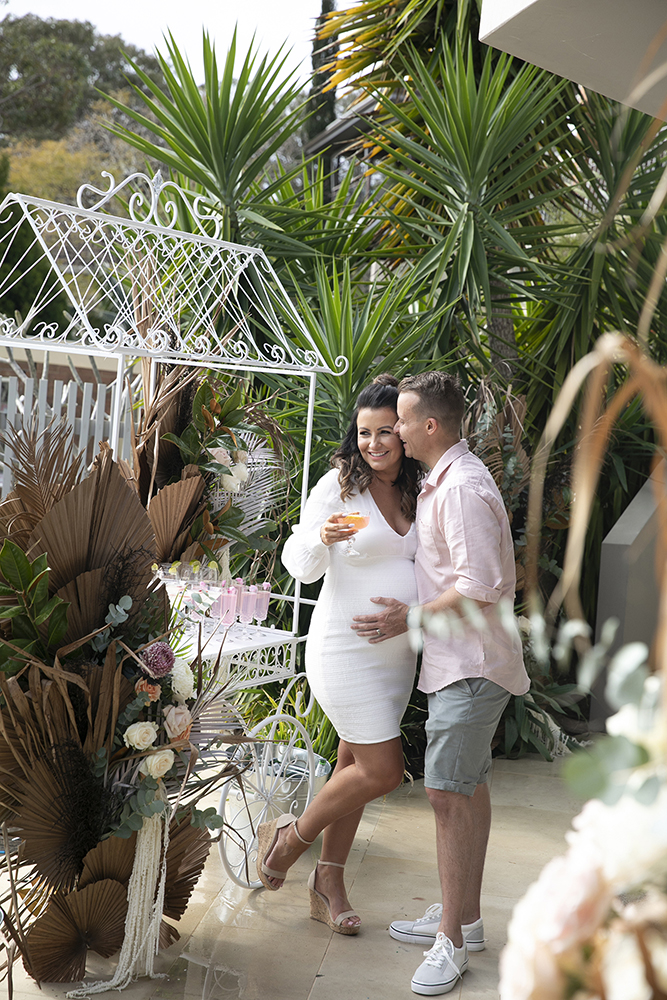 Details from Amy's IVF baby shower
The colour scheme chosen for the baby shower was soft peach and blush with greenery, a scheme which greeted guests at the door.
The shower was held in a stunning residential location on the beach, a friend's house, who kindly hosted the event.
Amy told us "after such a long wait to get to this point, we decided to throw our baby girl a fun filled party, not like your typical baby shower. We wanted it to be really special and sophisticated just like her. We chose the theme Here She Comes and invited everyone who had been there for us through this long journey as a thank you". They definately nailed it!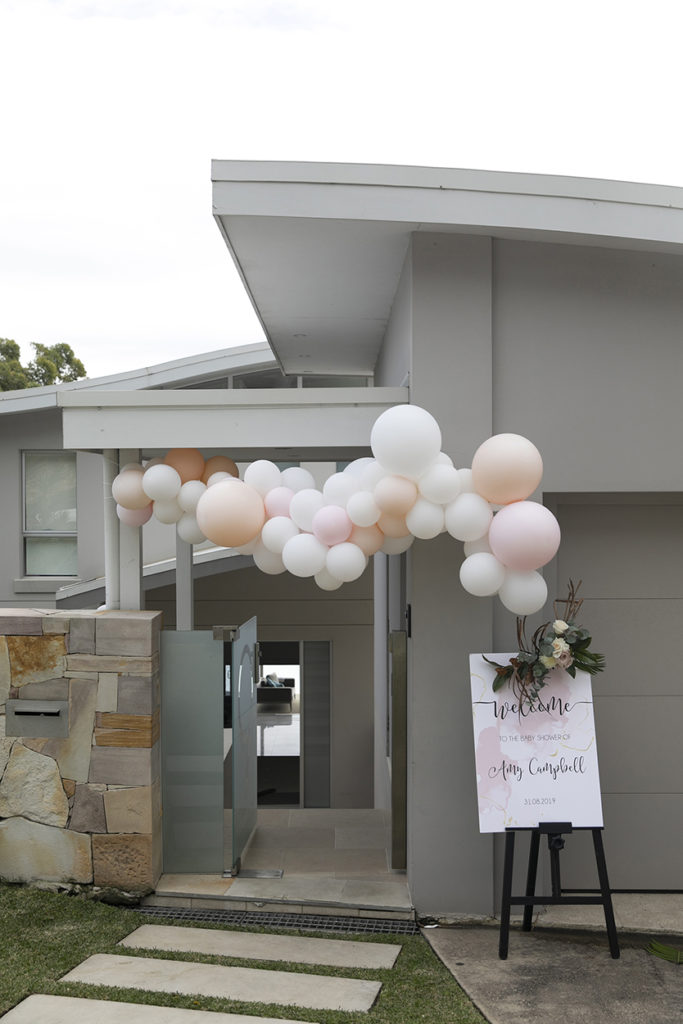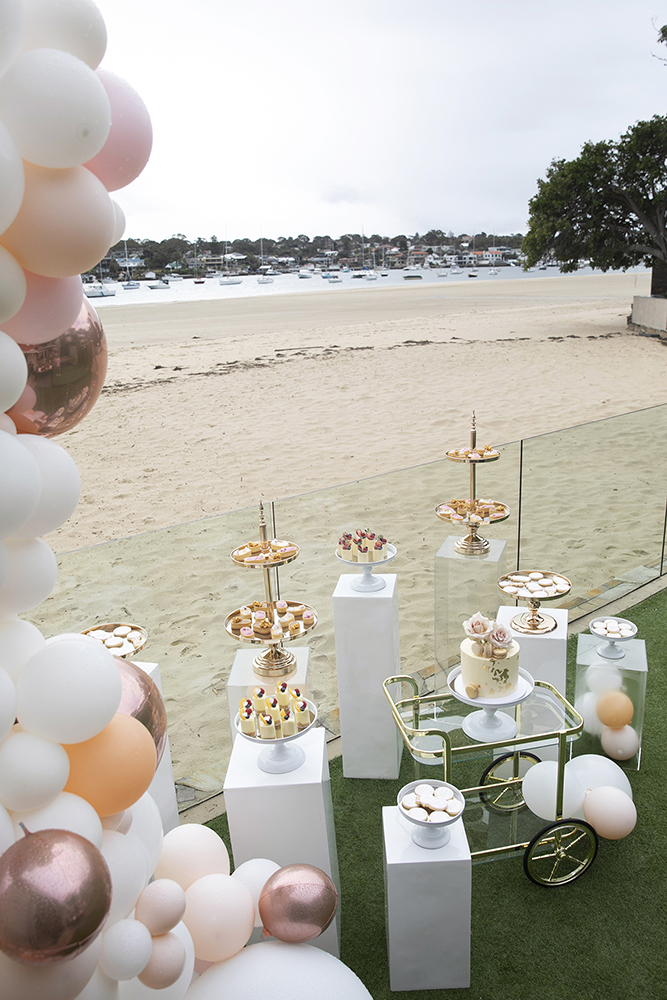 The incredible team of suppliers brainstormed a beautiful colour scheme and theme that would be chic and classic.
There were drink carts, grazing tables and a cute photo booth backdrop. "We wanted our guests to enjoy a gorgeous afternoon beachside, with good food, great conversation and amazing company", Amy added.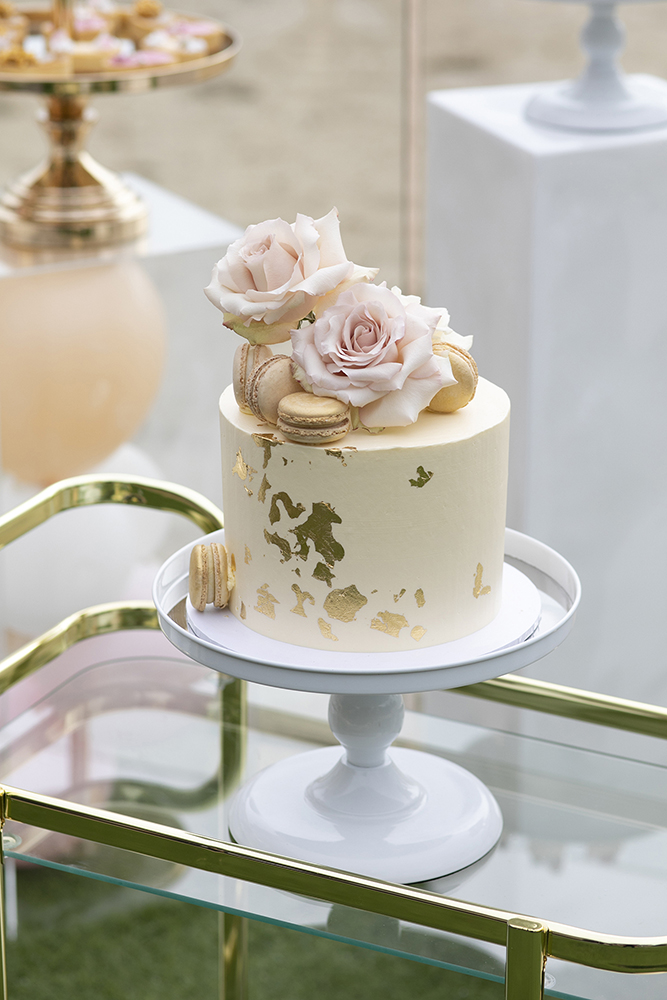 Stunning on-trend floral work by Floral Fix and Nunu Designs, and close up of the perfect grazing table by A Plated Affair!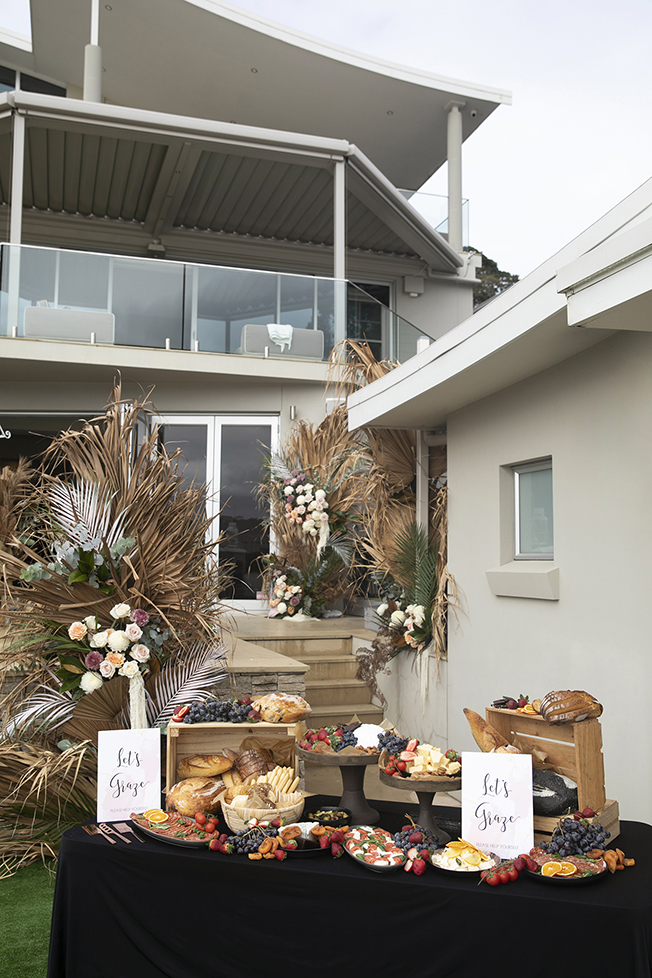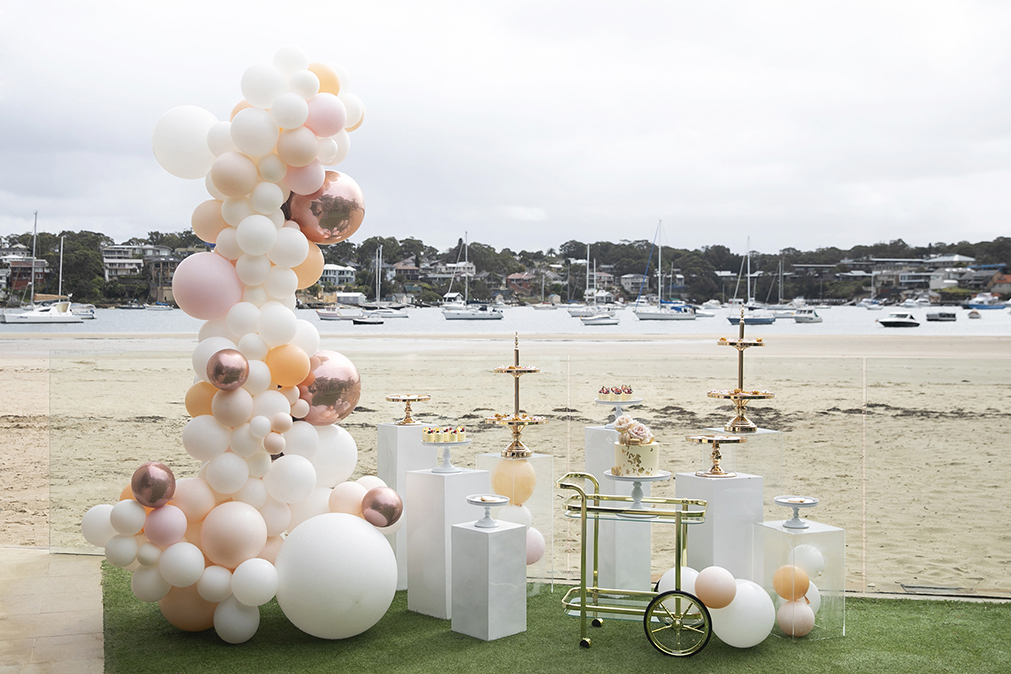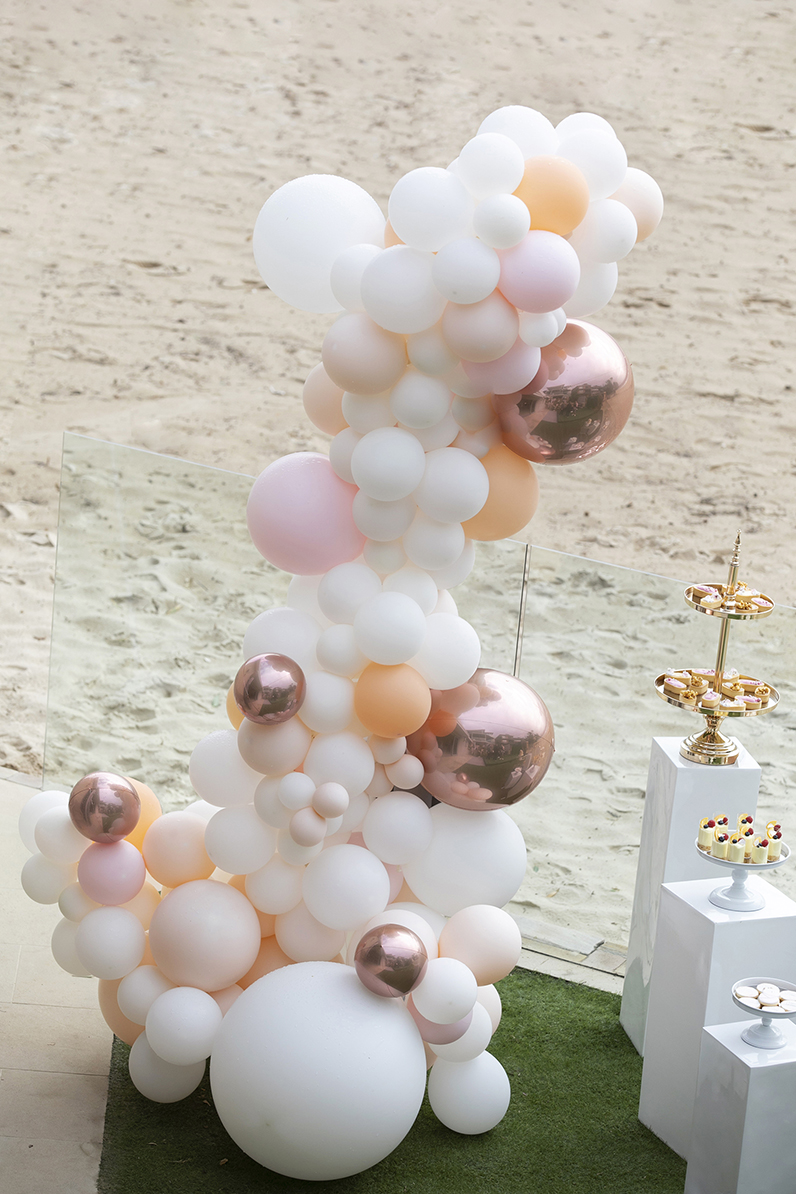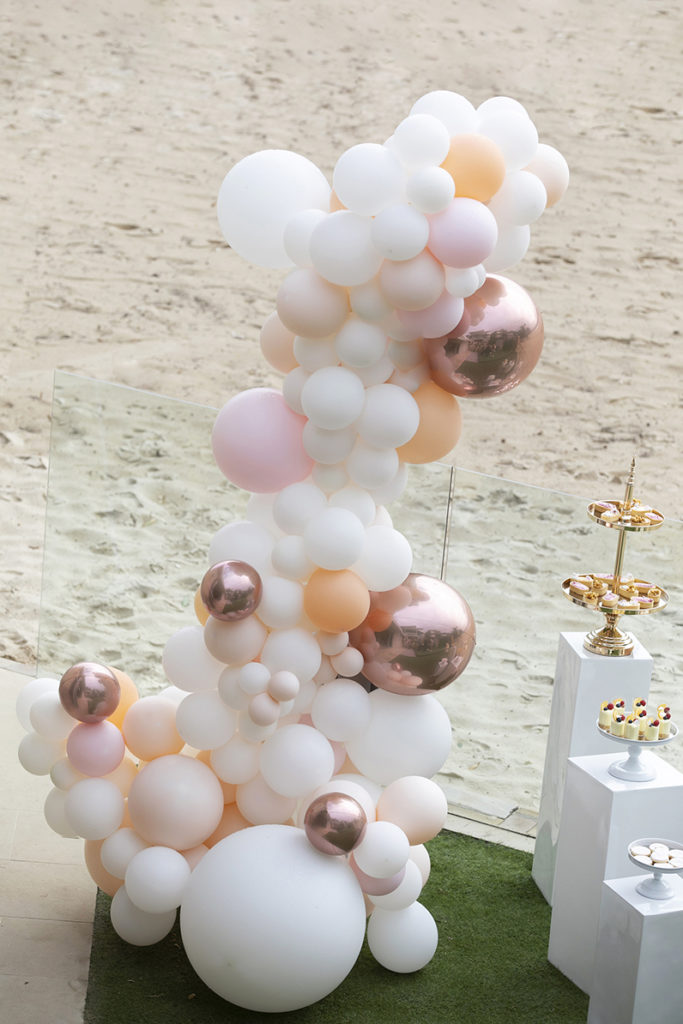 Amy concludes "we couldn't have had a more perfect afternoon! I'm overwhelmed with the support. I have a group of event suppliers that I have worked with over the years (who watched me go through everything) and for this special day we decided to collaborate put together a BEAUTIFUL baby shower for our little girl!"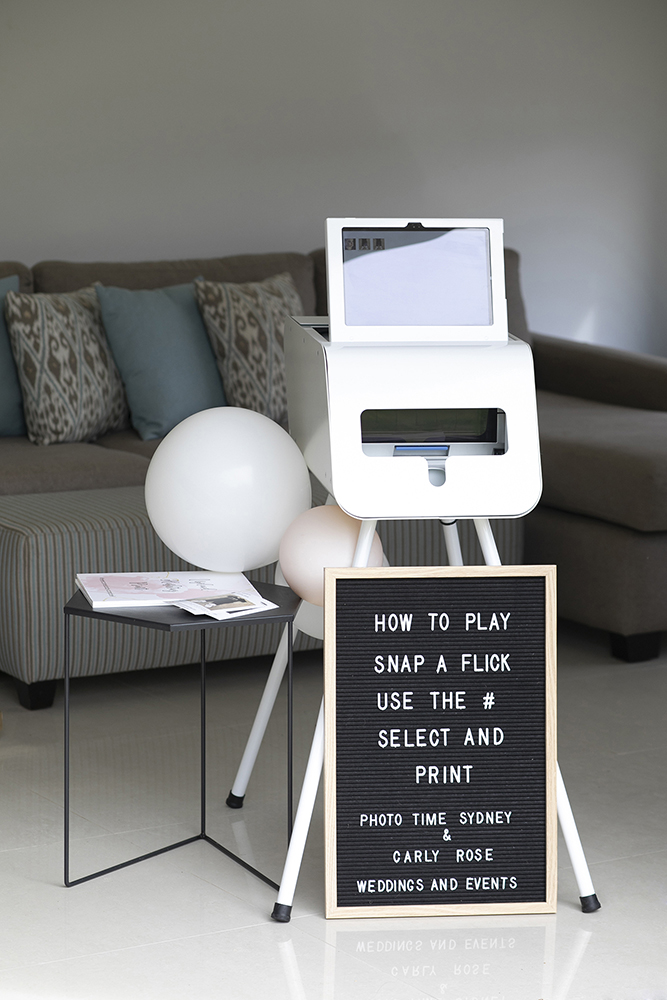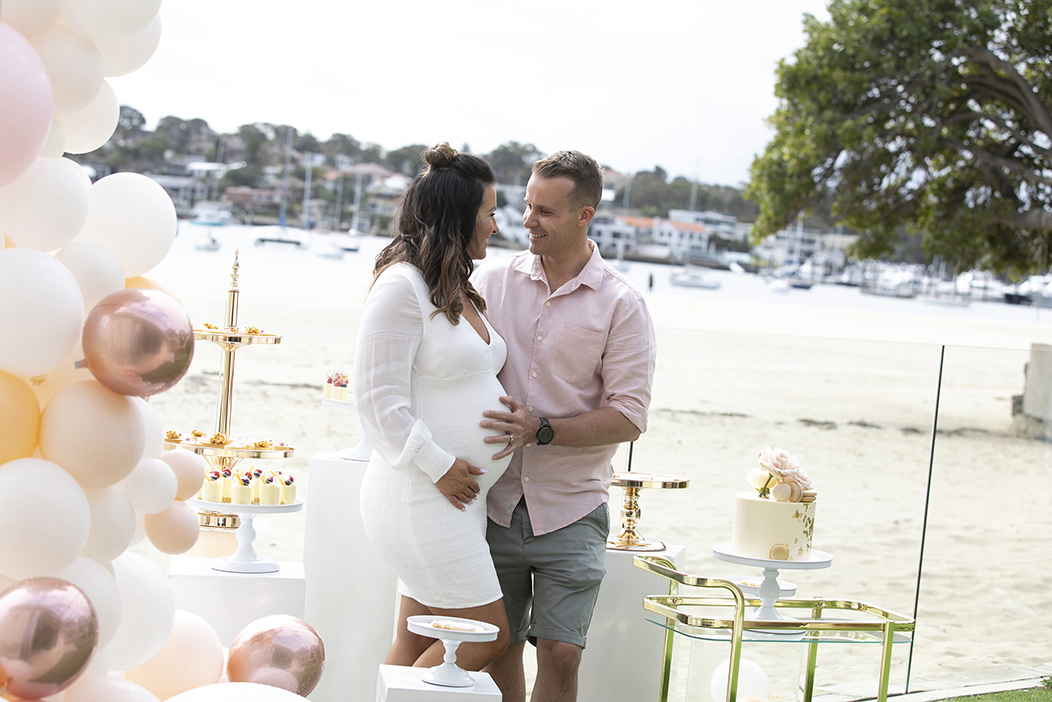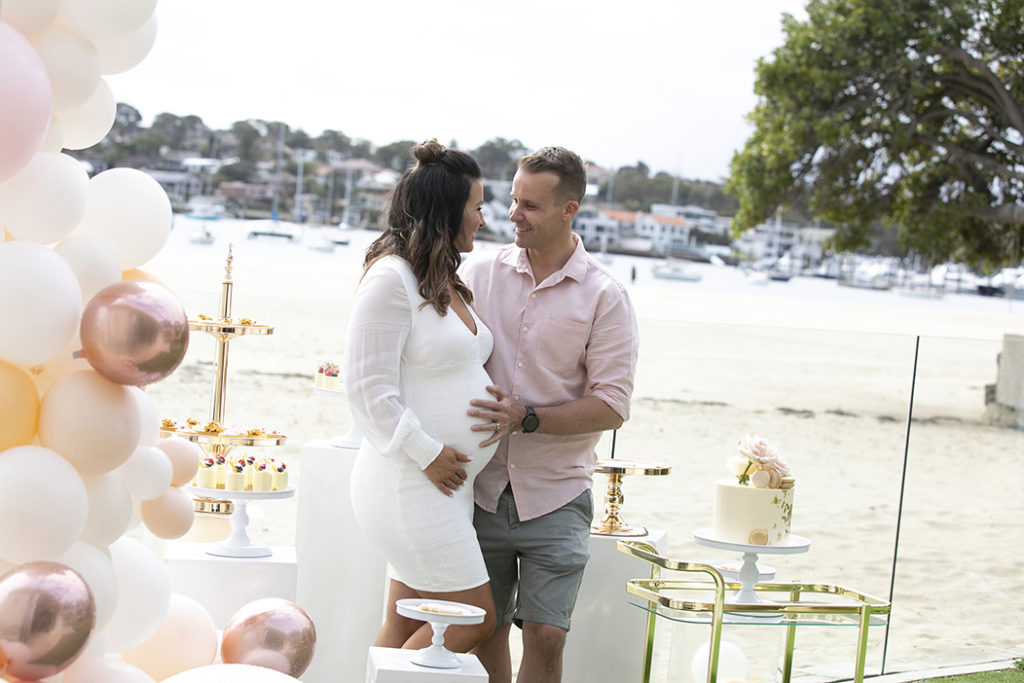 Vendor Credits
Photography | @bedfordphotography
BTS Videography | @suewhitephotography
Floristry | @nunuau @floral_fix
Props & backdrop | @carly_rose_weddings_and_events
Cake | @_cakes_by_emily_
Desserts & cookies | @threedesserts
Balloons | @balloonartique
Signage | @wildefoxdesigns
Grazing Table | @aplatedaffair
Wines | @millonwines
Photobooth | @photo_time_sydney
Amy's hair and makeup | @bridalbarau
Amy owns The Bridal Bar in Sydney's Caringbah, a beauty salon that treats EVERYONE like a bride no matter what the occasion. She also runs @amymaree_askamy , a platform for where she shares her story.