Viva Hyde of Sweet-T Parties recently styled this bright 'Shimmer and Shine, Birthday Divine!' party for Jasmine's 5th birthday. The celebration was inspired by the bright, bold jewel colours of Bollywood with lots of shining gems and genie wishes! The colour scheme was a 'Bollywood Jewel' colour palette of purple, fuschia, blue and teal with gold'. Read on for the details of the Shimmer & Shine party for Jasmine's 5th birthday, as told to us by Viva!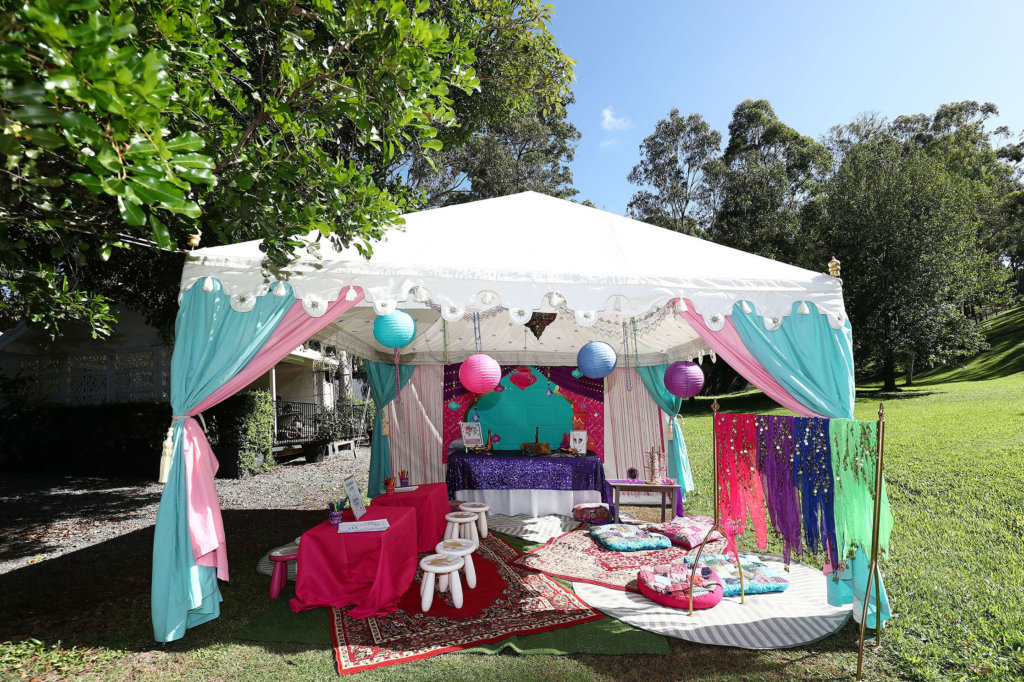 Shimmer & Shine party for Jasmine's 5th birthday
The party was held across two outdoor marquee spaces at Teavine House on the Gold Coast, with a colourful low picnic setting for the children surrounded by Arabian rugs and sequinned cushions. The ceiling was draped in swathes of pink and purple fabric, hanging lanterns and crystals, and a gorgeous balloon chandelier centrepiece by Sammi from Love and Wishes Styled Events.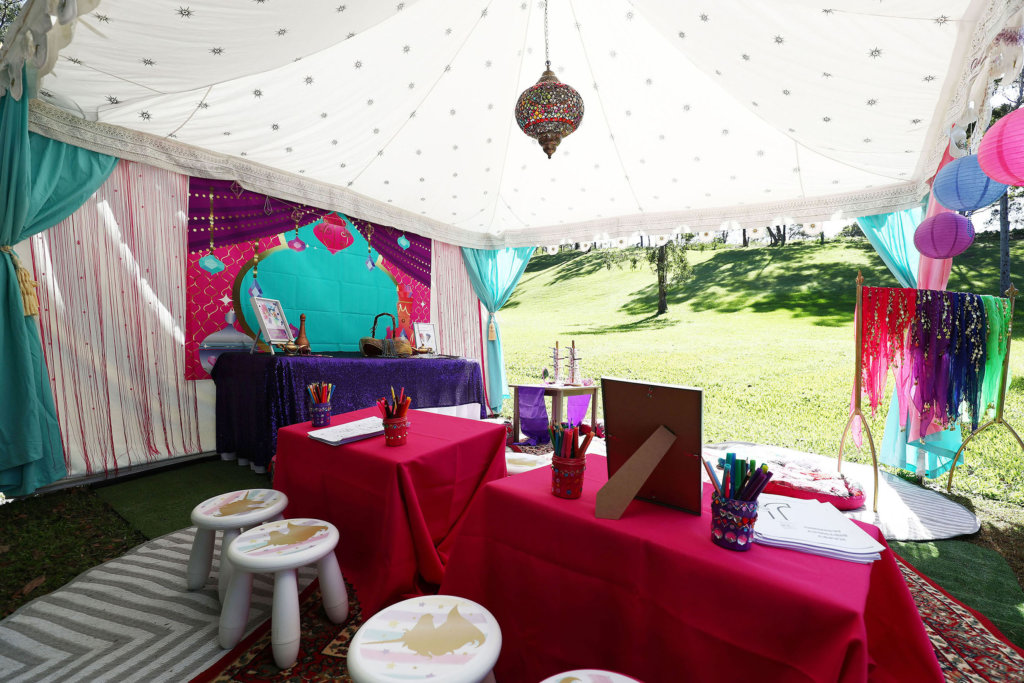 The dessert table was dressed in opulent purple sequins, with scattered gold coins, colourful strands of jewels and beautiful genie lamps between platters of delicious treats made to match the theme, including doughnuts, cookies, personalised chocolate bars, a mini lolly buffet, and finally, a show-stopping pastel watercolour cake made with lots of love by the birthday girl's Auntie Martine.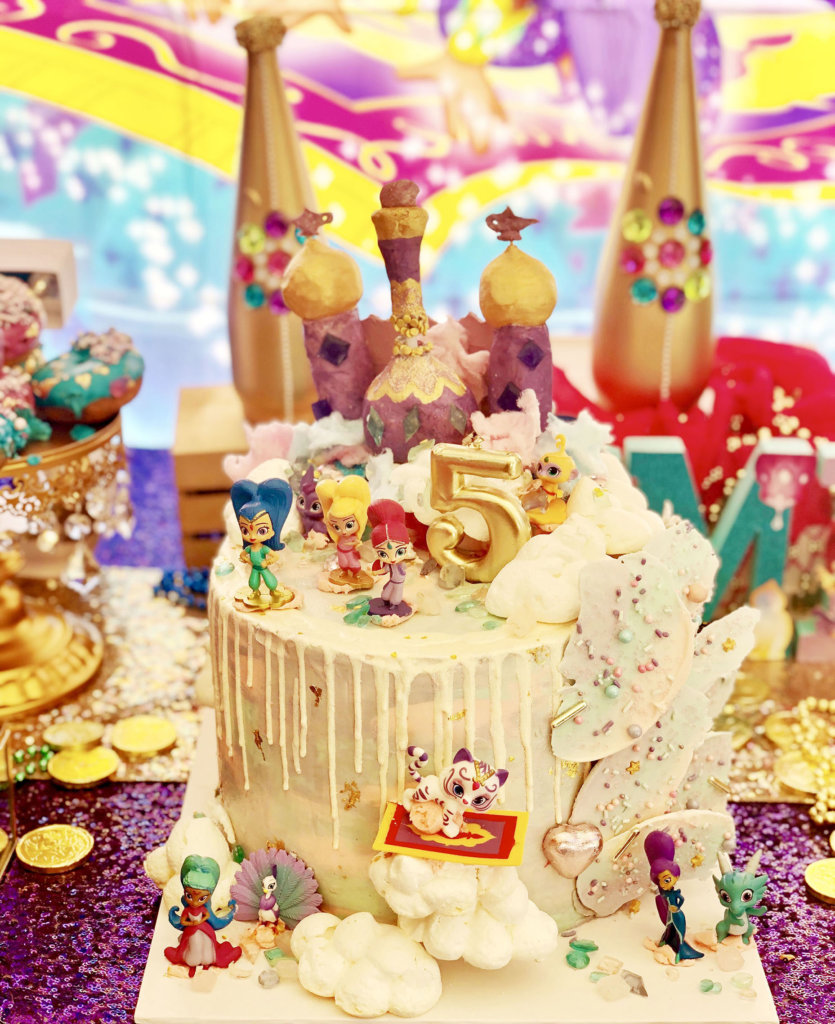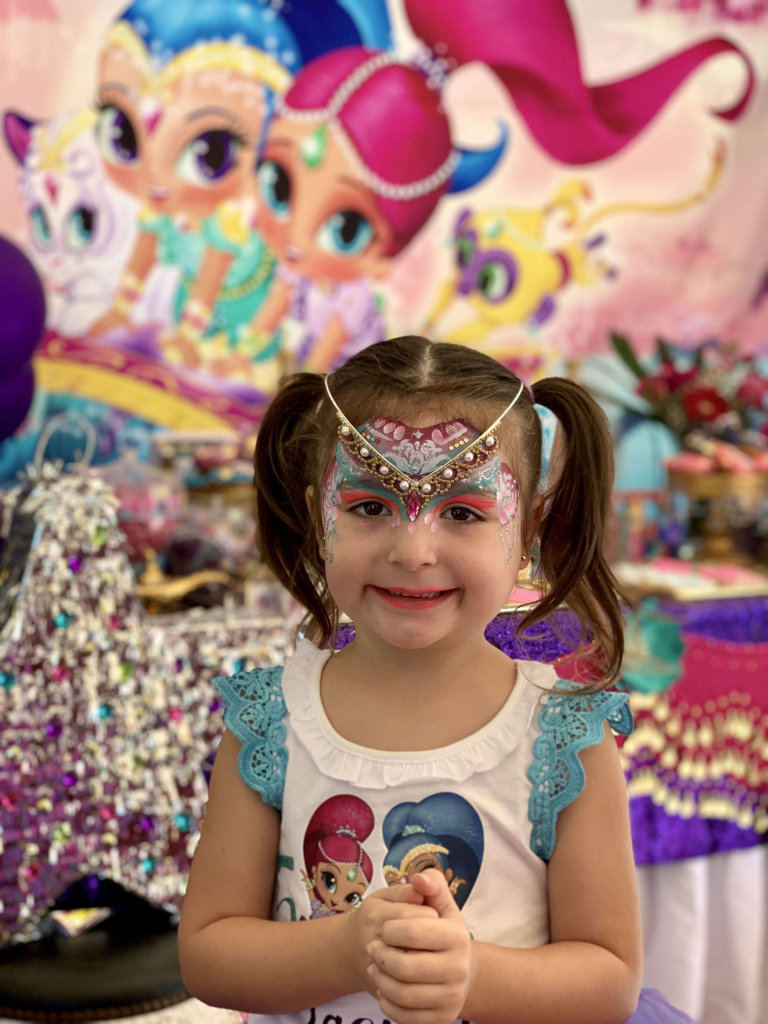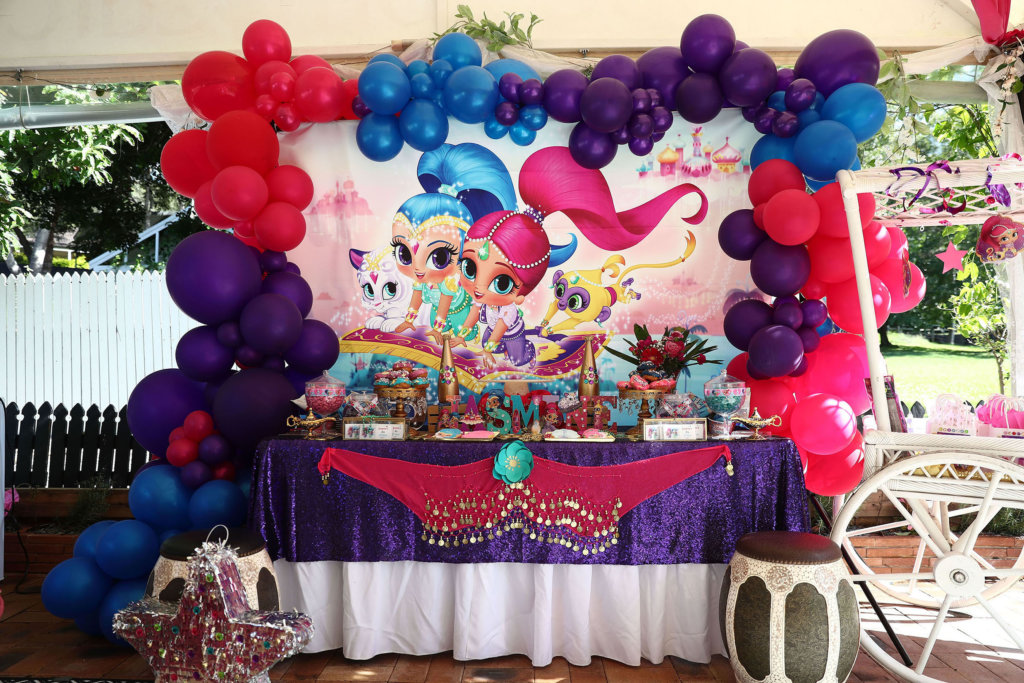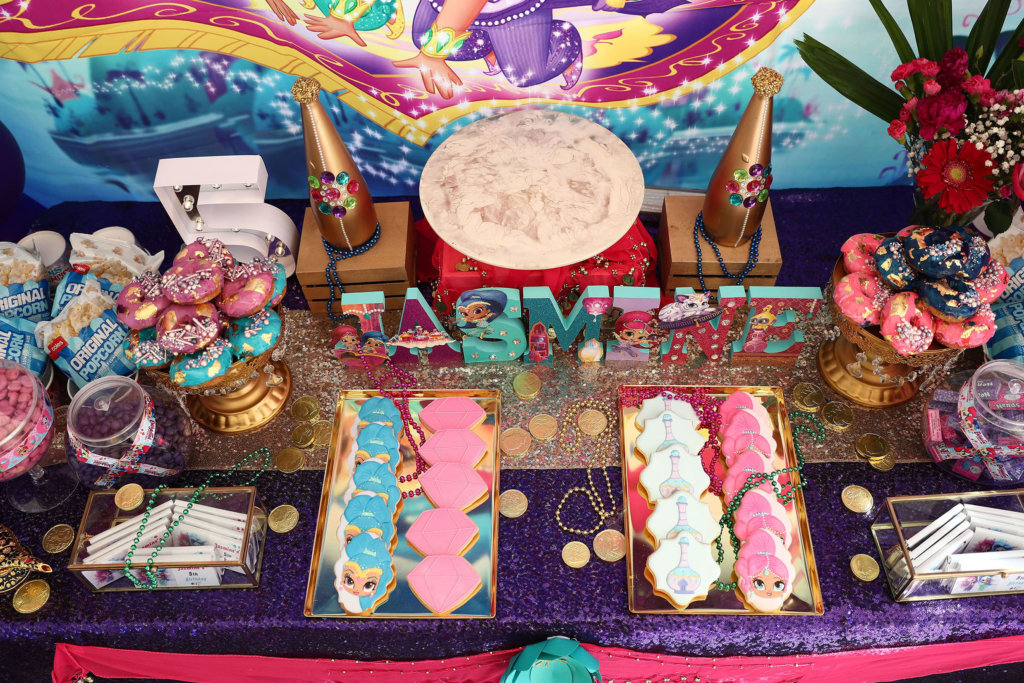 A beautiful luxury marquee from Exotic Soirees with turquoise and pink drapes, its ceiling lined with tiny shining stars, served as the Genie Gem Lounge. Inside, young guests played dress-up with a rainbow of chiffon hip scarves edged in gold coins, along with racks of beaded necklaces, bangles and bright tiaras.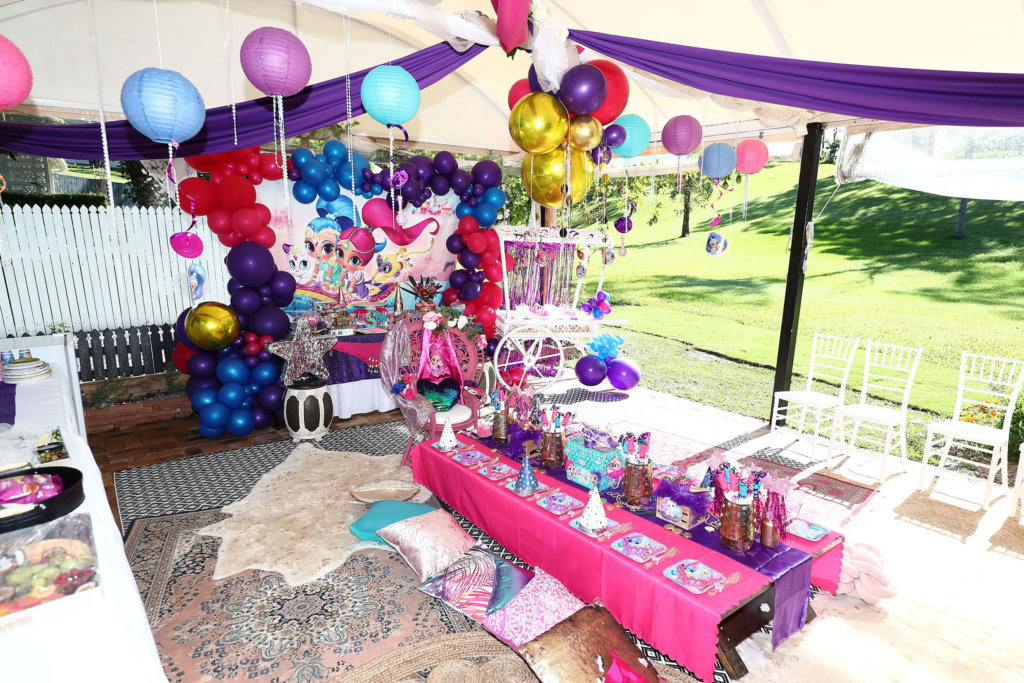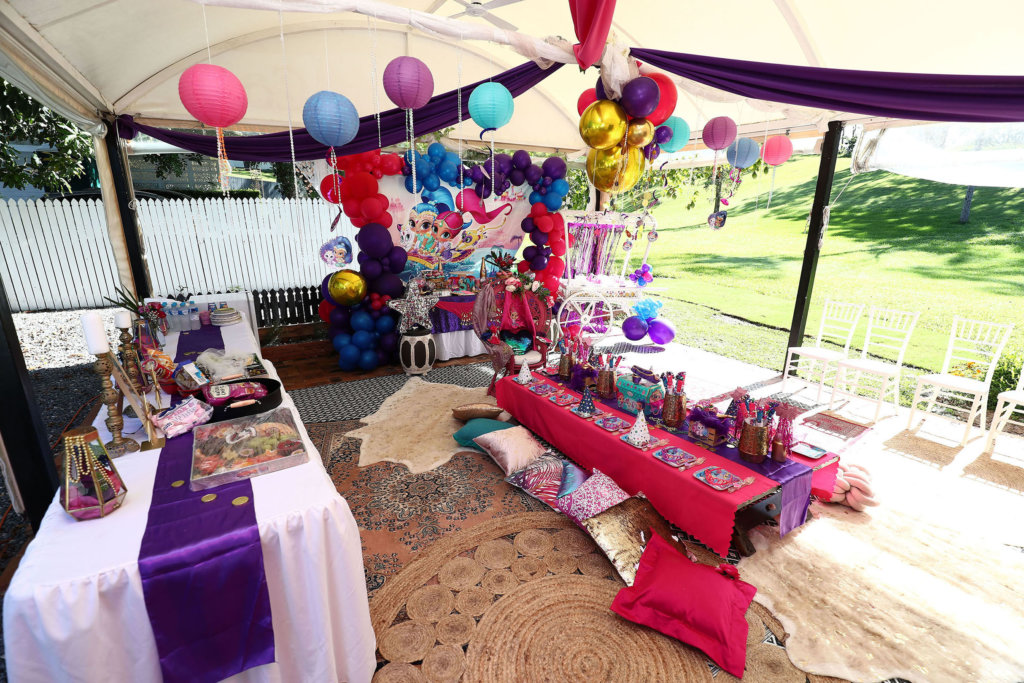 The children were thrilled when a real genie princess from Ring Around the Rosie made her entrance, revealing her talents as a face painter who created Bollywood-inspired designs with gorgeous lace detail. The kids also enjoyed craft activities including DIY golden genie cuff bracelets plus a colouring-in station. Other entertainment included a jumping castle and soft play zone on the lawns, supplied by Jem's Jumpers.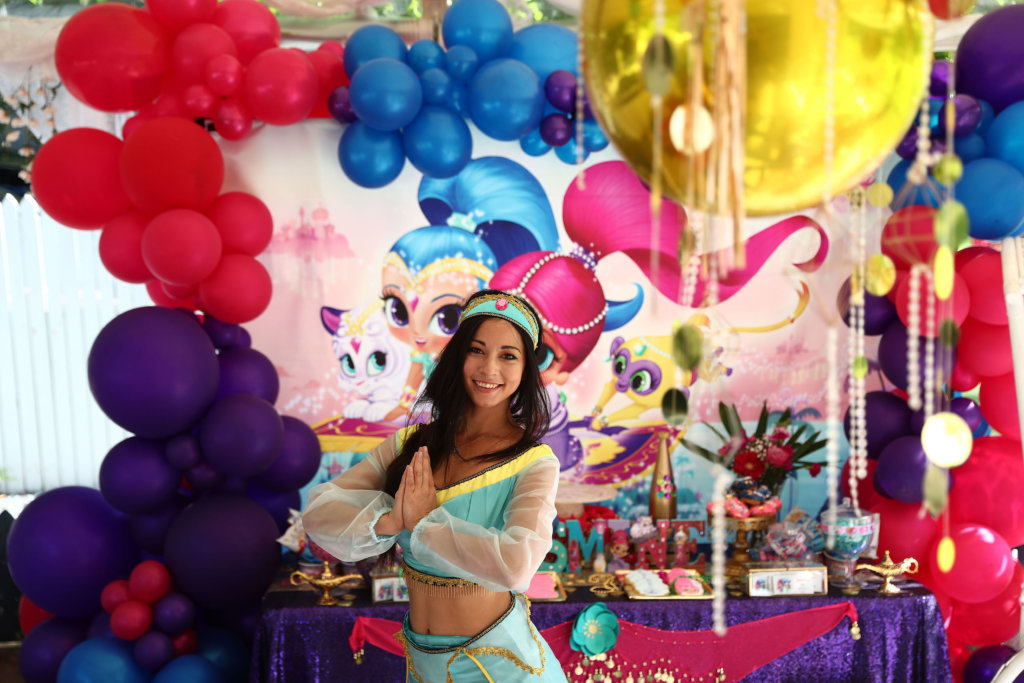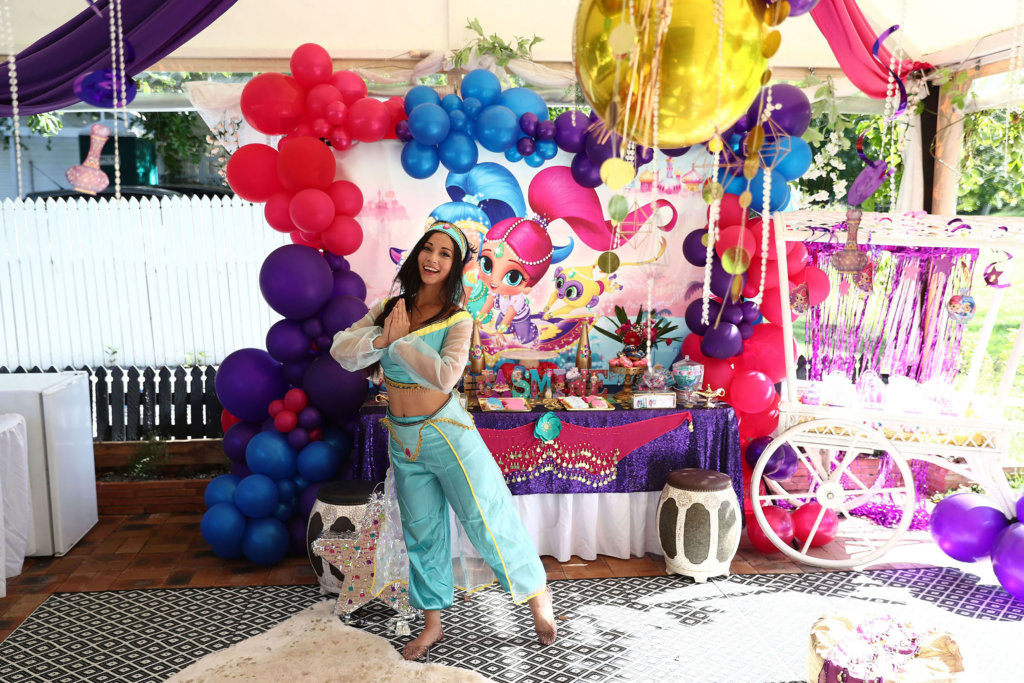 Teavine House provided high tea catering, including a delicious selection of ribbon sandwiches, hot canapes such an arancini balls and savoury tarts, decadent petite cakes and slices, and their signature scones with jam and cream. Beverages included sweet rose tea for the children, and tea or coffee for the adults.
How magical!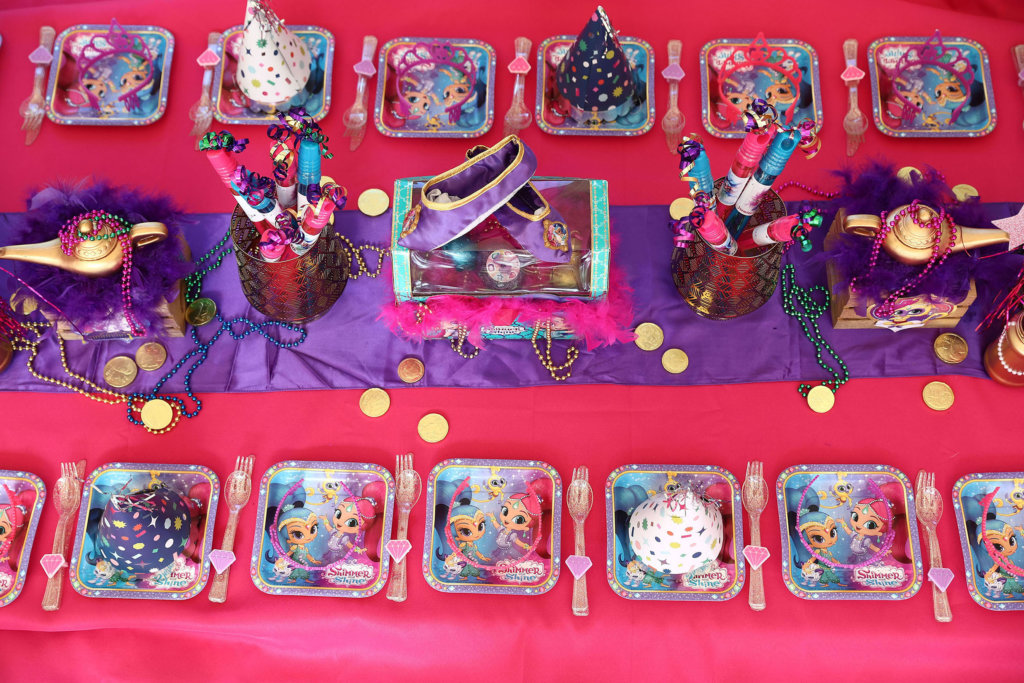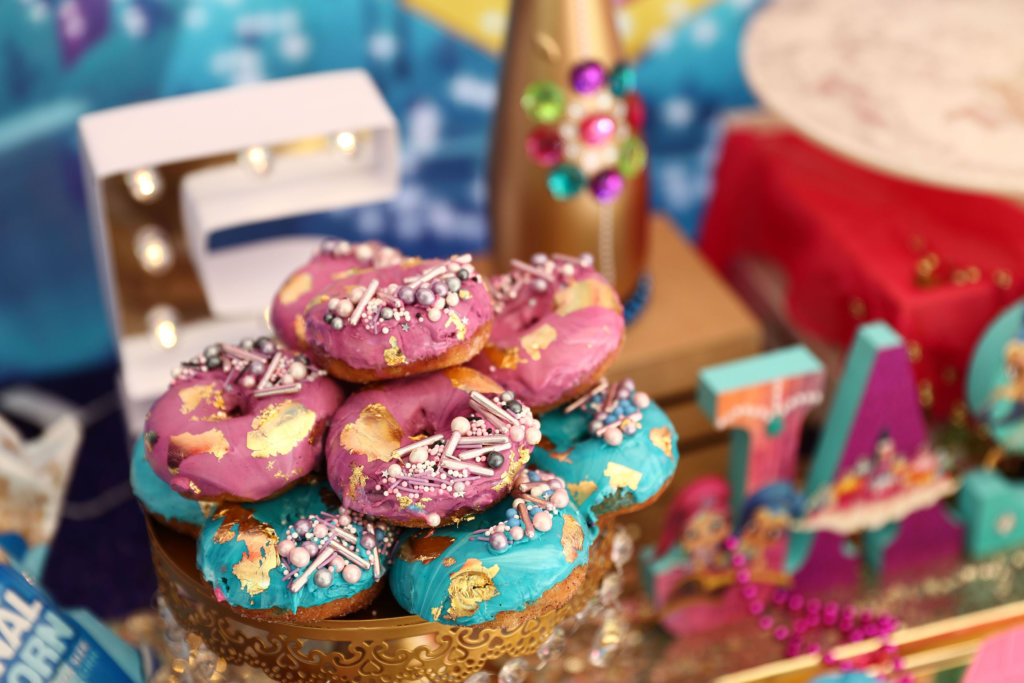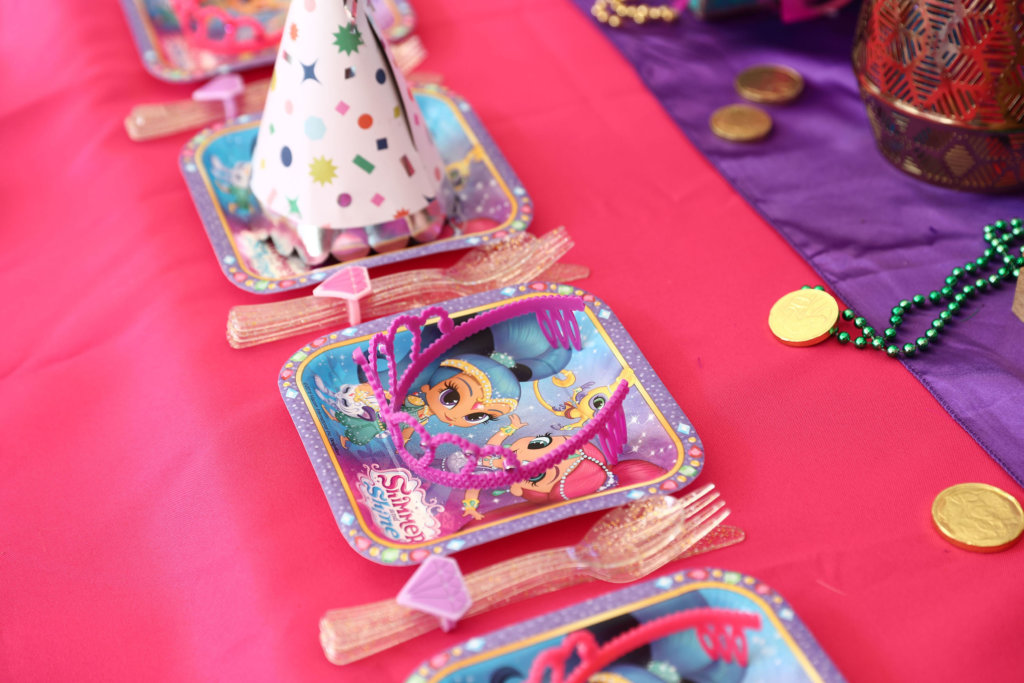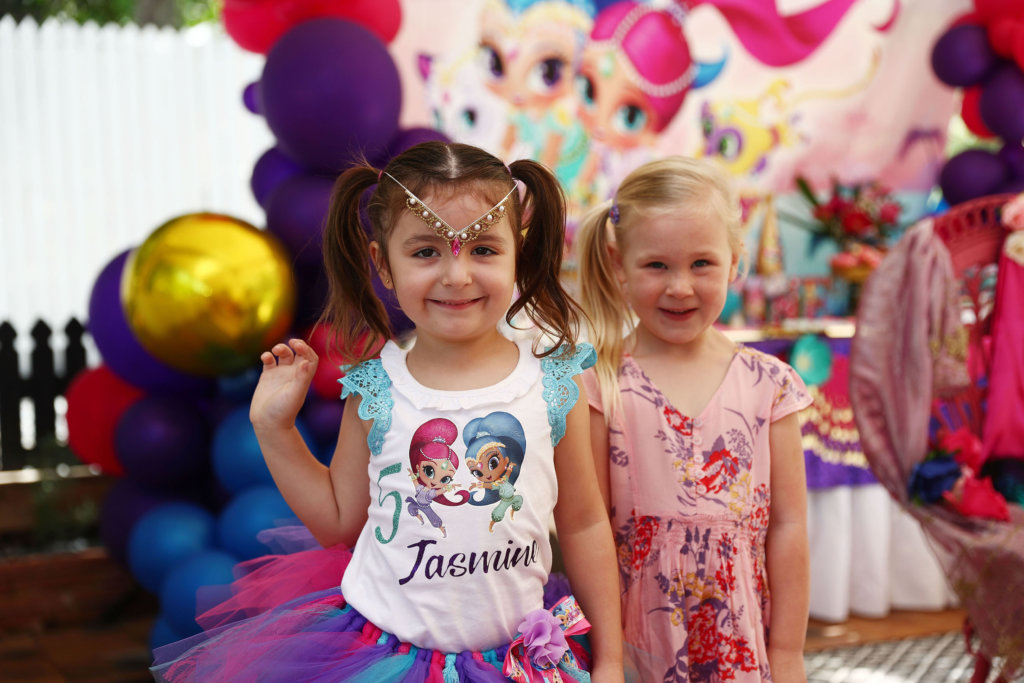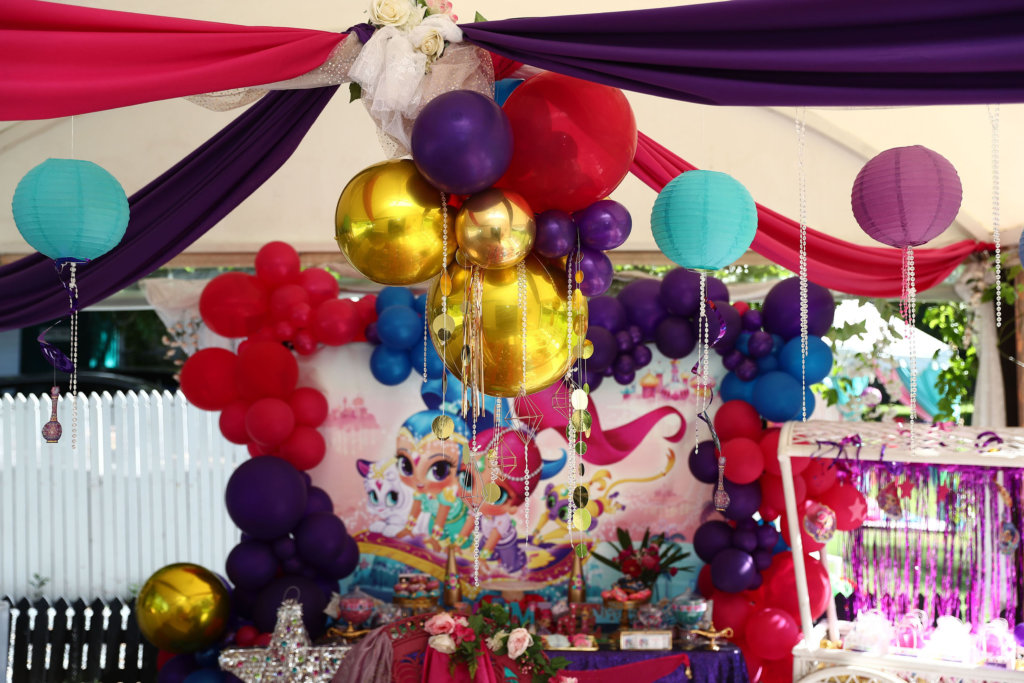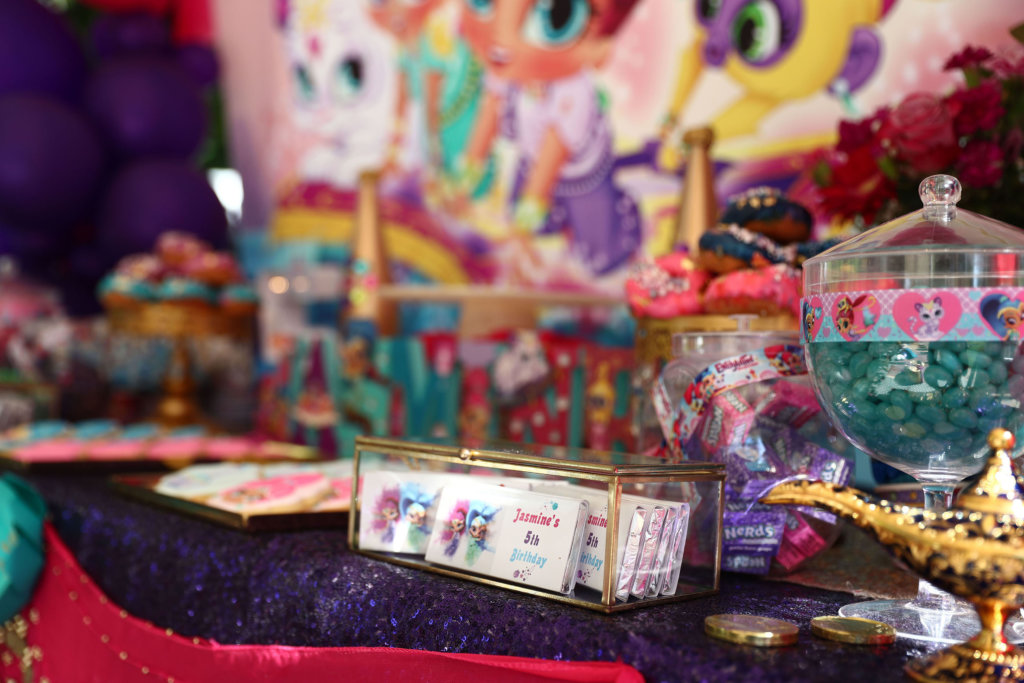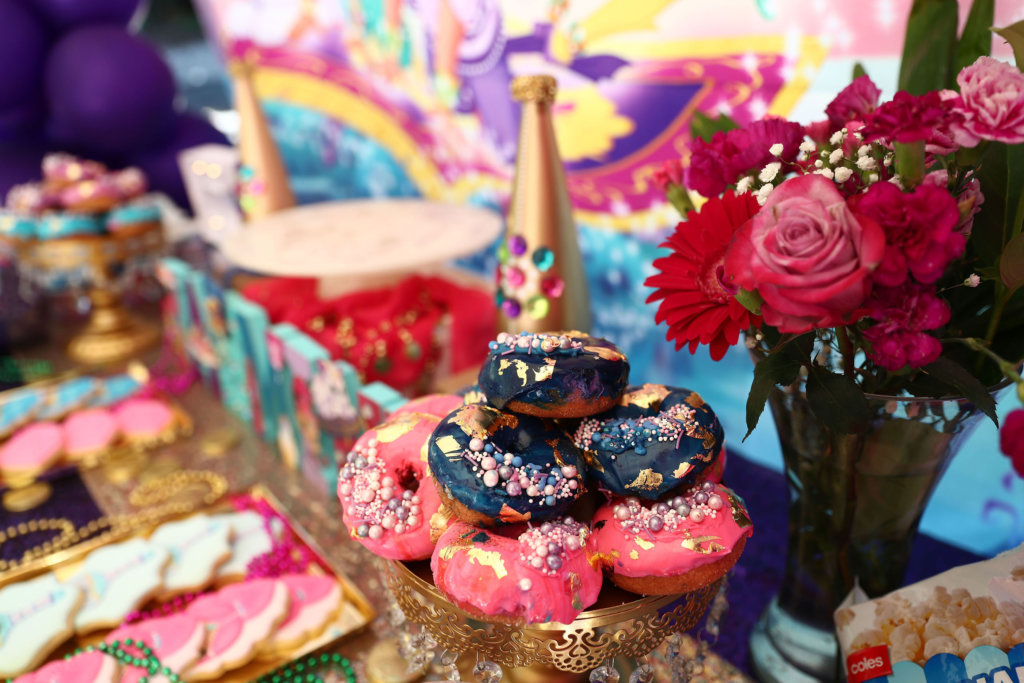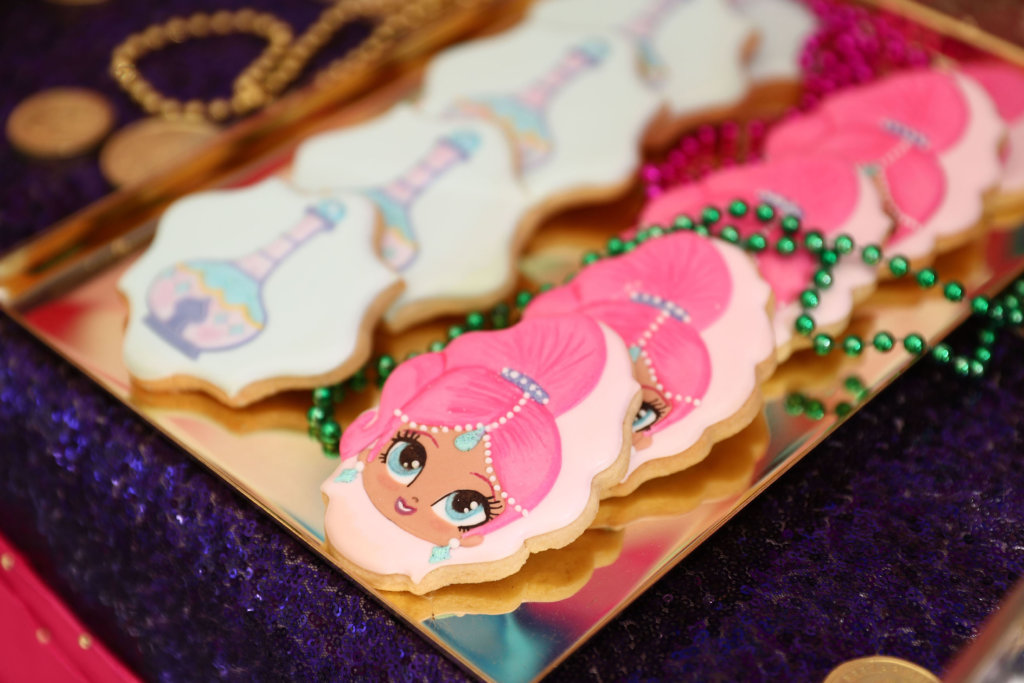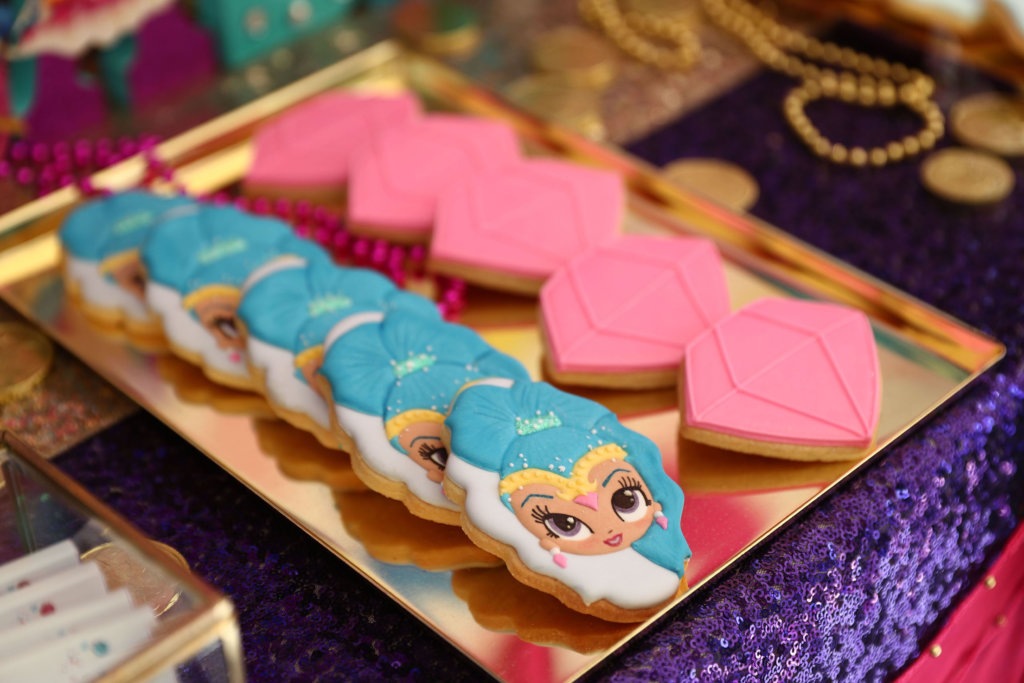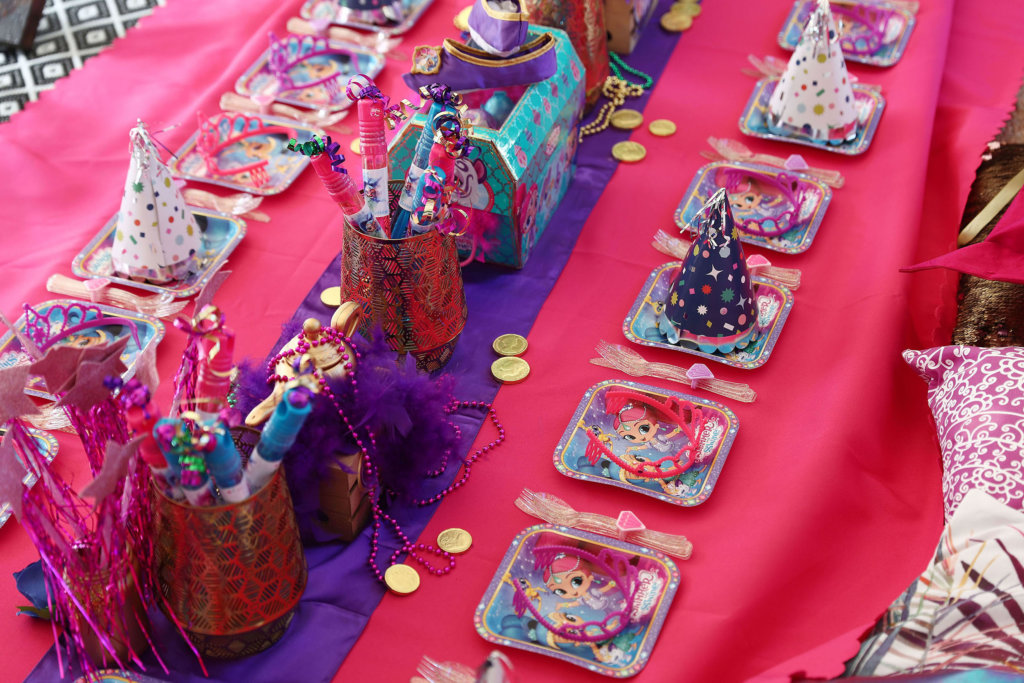 Photography Chris Hyde Photography | @chrishydephoto
Styling + planning Sweet-T Parties | @sweet_tparties
Venue + catering Teavine House | @teavine_house
Luxury marquee Exotic Soirees | @exoticsoirees
Balloons Love and Wishes Styled Events | @lovenwishesstyledevents
Entertainment Ring Around the Rosie | @ring_aroundtherosie
Jumping Castle Jem's Jumpers | @jems_jumpers
Custom party favours Kenzie + Clover
Cookies Flyaway Pineapple | @flyawaypineapple
Doughnuts Life is What You Bake It | @lyfeiswhatyoubakeit93
Wooden name art and paper flowers MT Creations | @mtcreations2
Birthday girl's outfit Tutu-Lee Cute | @tutuleecuteboutique