Welcome to Sienna's Hot Pink Magnolia 7th birthday party!
Taking cues from the space around her, coupled with Insta party inspiration, Sophie Lozanoski of Sweet Sienna Event Styling set out to create something perfect for her daughter Sienna's 7th birthday party (also the namesake of her styling biz)! At the kid's spa where Sienna's birthday was scheduled to be held, was a fantastic feature wall that sealed the deal. "What can I say? I fell in love with it the moment I saw it", she says.
Sophie went on a mission to search for an amazing pamper party venue in her local area. Nothing had really jumped out until she discovered Spoil Me Kids Day Spa in Sutherland (Sydney). In addition to the feature wall, she was also drawn to its girly, pink decor. The colour scheme was hot pink, white, gold and shades of pink. She tells us the full story below.
Being an event stylist, of course, I automatically dream of the theme and set up before anything else is decided. My one and only sweet Sienna wanted to celebrate this year with a pamper party for her and some of her closest friends and family. I knew I had to make it special. These are the times I cherish the most, and we love to celebrate our children with a big celebration. I love looking back on all the photos and happy smiles and making some great memories.
When I saw the space and the feature wall, my brain started ticking at a million miles an hour. I grabbed a paper and pencil (all great ideas start with a sketch on a blank piece of paper for me).
I knew wanted to draw inspiration from the flower in the girl's hair (from the image of the logo on the wall). Recently, there was a stunning party created by the talented Noel Nassar, for a Sweet 16, with an amazing balloon structure and a gorgeous flower, a hot pink magnolia, just like in the girl's hair. I drew inspiration from this stunning set up to transform it into a little girl's version.
The only problem I had now, was trying to convince the owner, Sarah, to allow me to rearrange her store to accommodate my display. I gave her a call and asked her if she could possibly move the large drawers that lived in front of the feature wall. She was hesitant at first, but I knew if I showed her my vision, she too would fall in love with it too and agree. Phew! I was so happy she did, as you can see the finished result is amazing.
I contacted several vendors to help me bring my vision to life. First up, the talented Michelle from Party Splendour for the balloon piece. I knew she could create something amazing. The props I sourced from The Treasure Room. So simple and elegant to really make the hot pink wall pop. Liana and Zena are a great team and delivered effortlessly. For the cake and desserts, I chose Nelle from Sassy Sprinkles Cakery. Her creative nature and work on her Instagram page looked perfect. The delicious donuts were ordered from Doughnutz and Co to add to the Donut Wall display.
Below: Loving the cup desserts by Sassy Sprinkles Cakery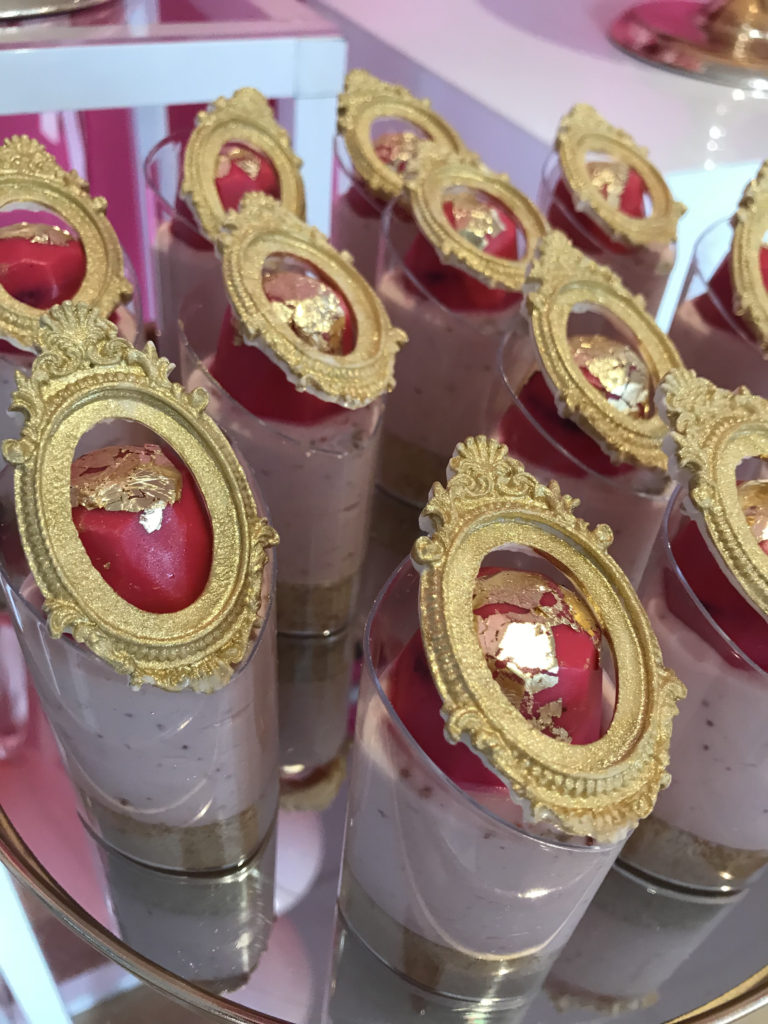 Below: The gorgeous styled setup.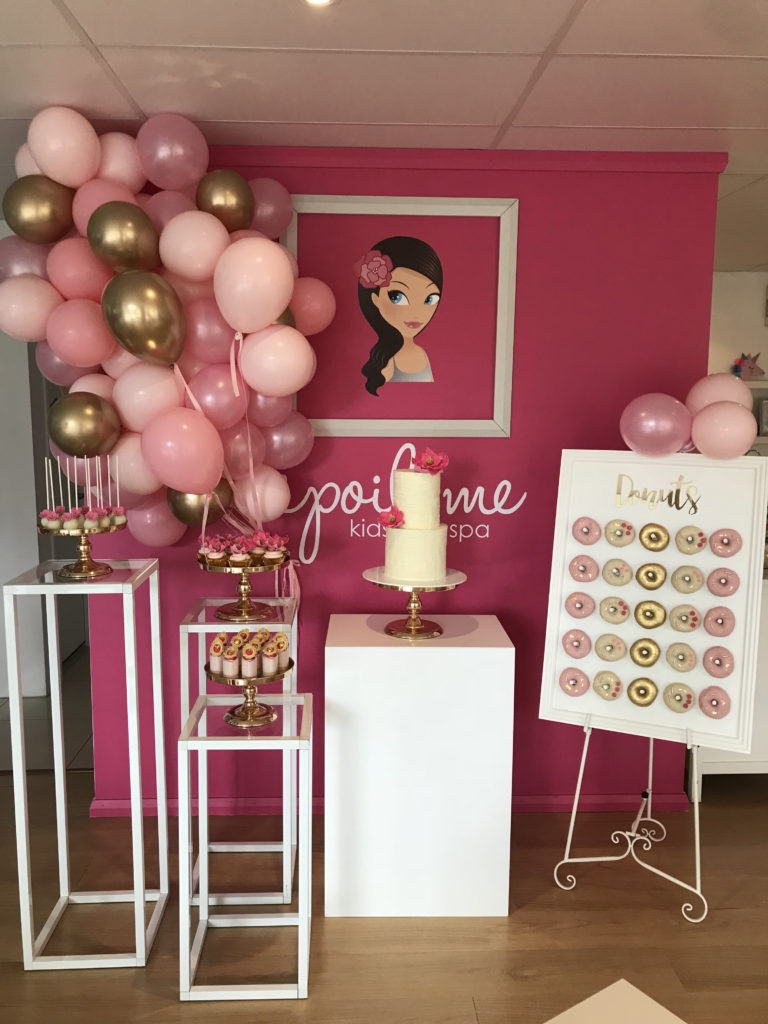 Talk about satisfying party feels… everything matched perfectly, with the magnolias taking centre stage.
Below: Cute little Sienna with her cake and styled dessert area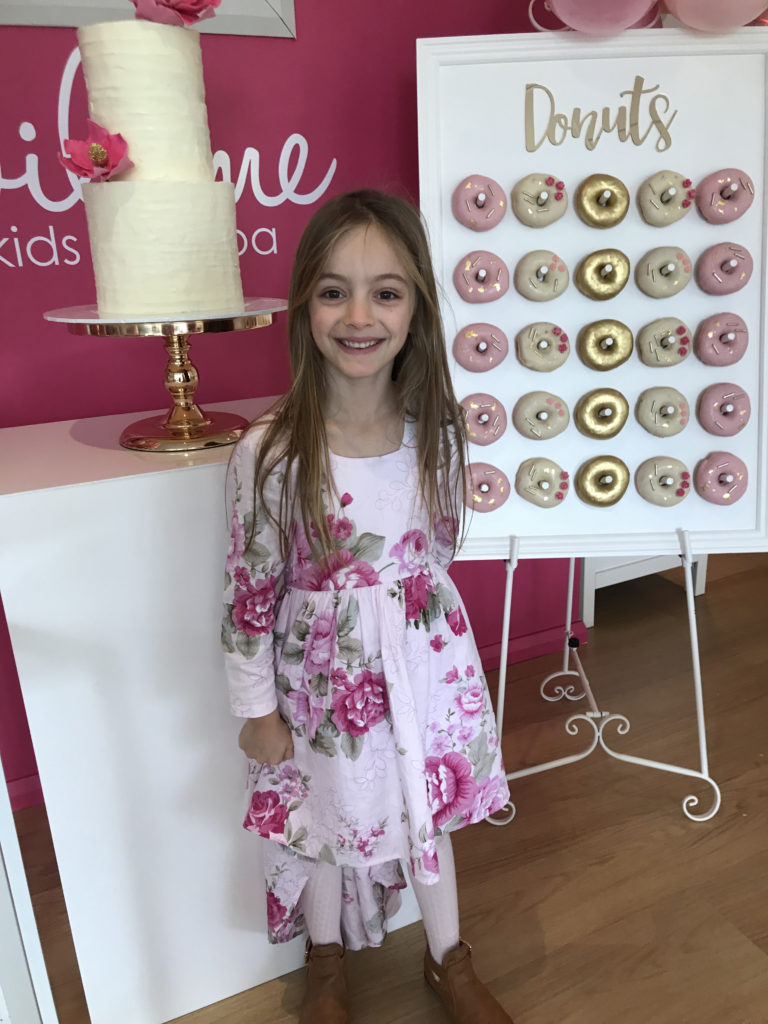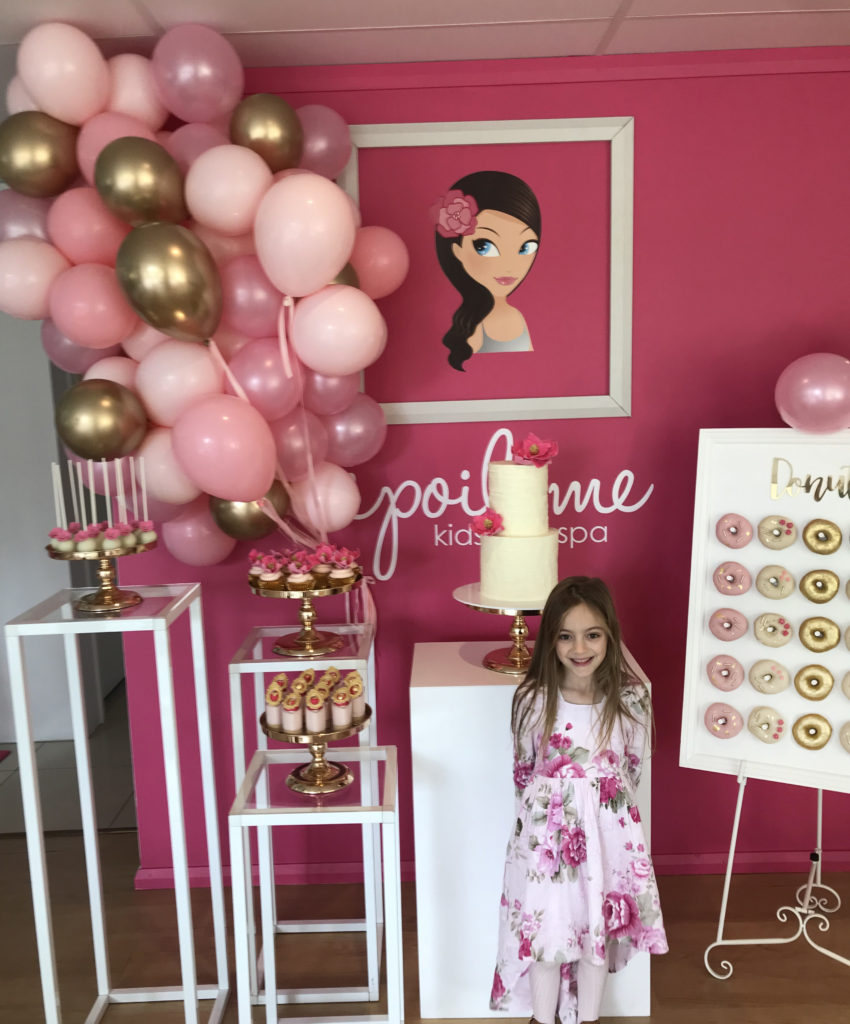 On the day of Sienna's party, the team at Spoil Me Kids Day Spa Sutherland were fantastic. The day begins with each guest being whisked away to put on a special bathrobe and handed a glass of pink lemonade in a beautiful champagne glass. So fancy. I chose the Glitz and Glam package, which included foot spas and foot massage machines, all while reading the latest kids magazine, and sipping on pink lemonade of course. There' s a station for bracelet making and colouring. Each guest gets their hair braided and a manicure. There's even a bath salt making station, which I added onto the package. The girls get to take home their bath salts in a little mason jar.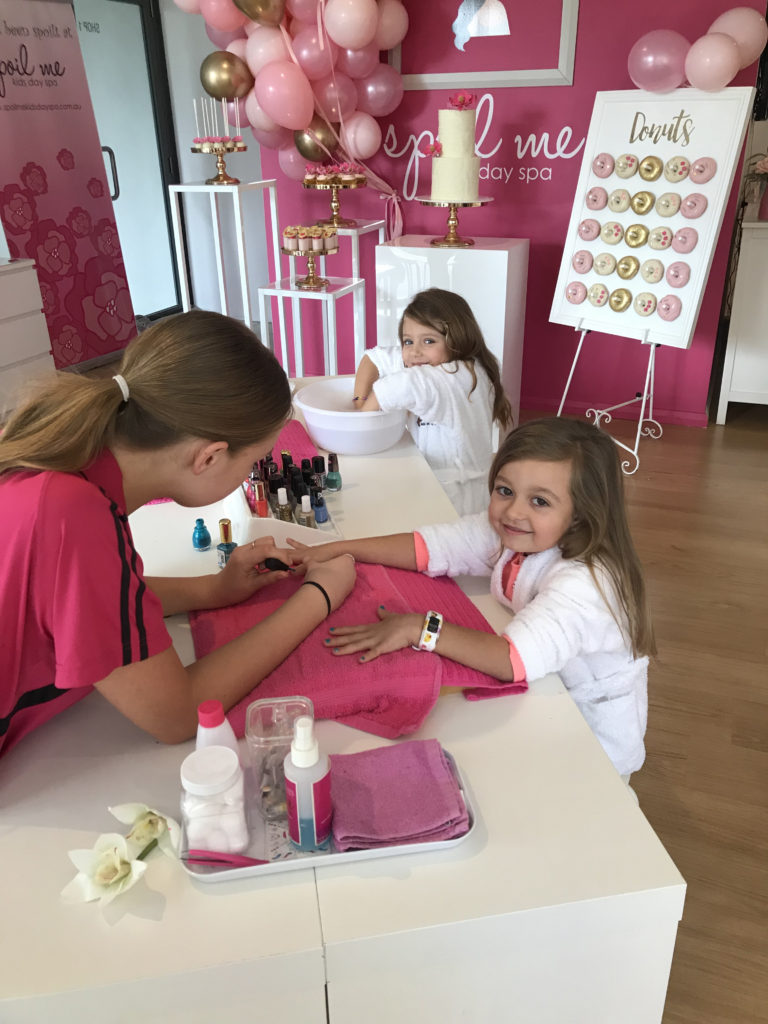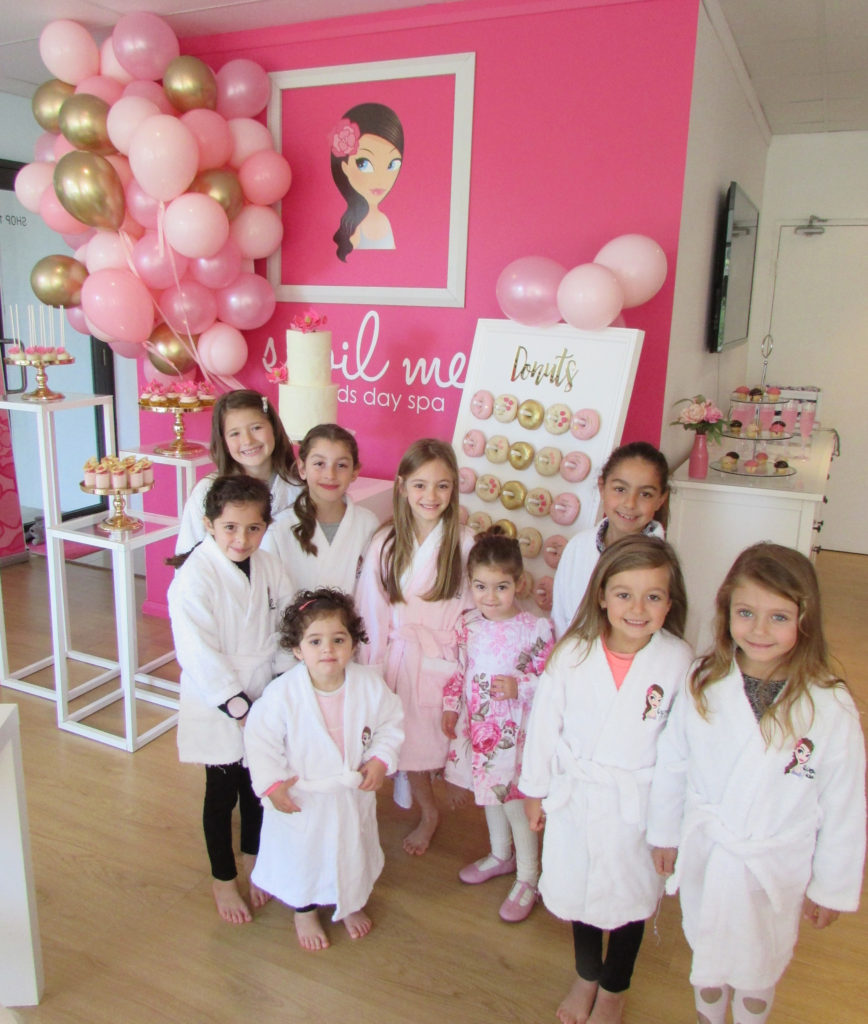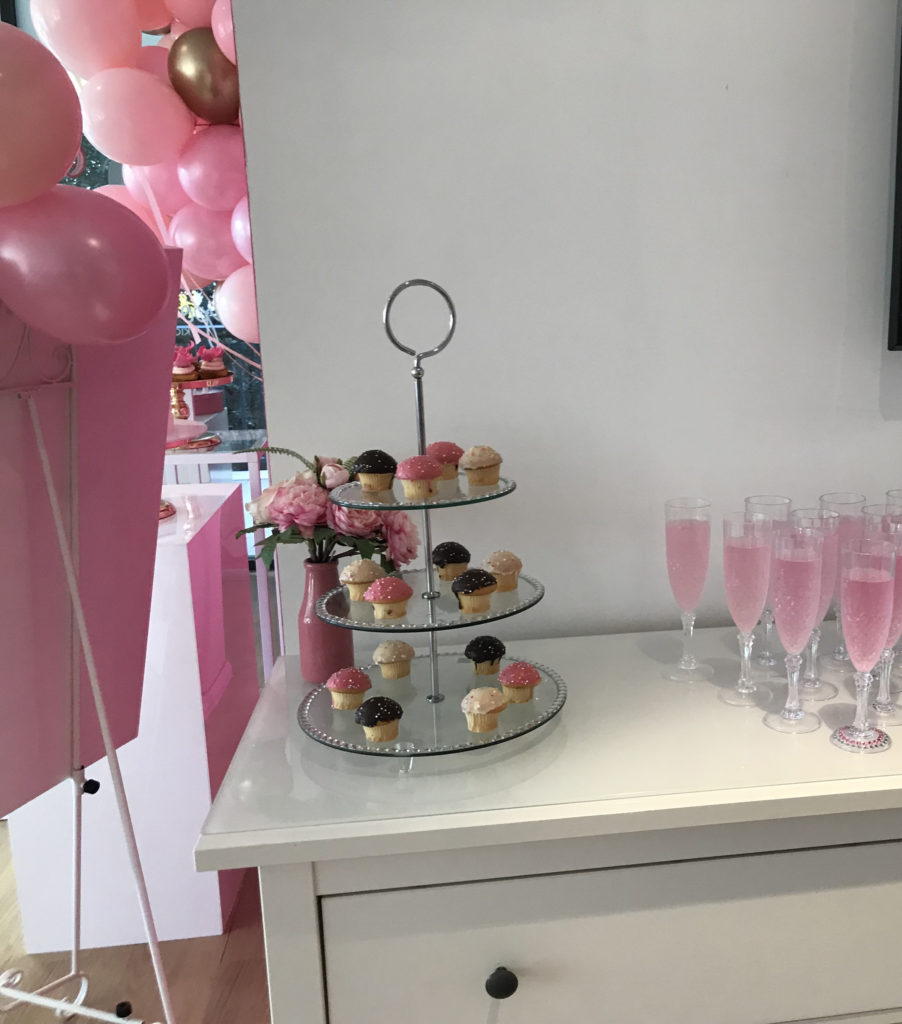 You can get in touch with Sweet Sienna Event Styling via email or call on 0412 158 551. You can also reach out via Facebook.