Come on Barbie, let's go party! Throw your Barbie girl a Barbie theme birthday party that will create a lasting memory for her, and her friends. 
Let's face it, everyone loves Barbie! That's why it's no surprise Barbie has and always will be an inspiration. Barbie shows us that diversity is beautiful, and it teaches girls that they can be anything.
There's no better way to honour your little angel's love for Barbie than hosting a Barbie theme birthday party to give her a real glimpse into 'Barbie's wonderland'. 
Here are some Barbie party ideas to help you plan!
Barbie themed personalised custom invitations
A Barbie party isn't complete without friends so you need to gather them. Why not use bright pink cardstock die-cut dress shapes to make the invitations? Or better still, you can use a picture of your child with her favourite Barbie doll. Or, order a digital invitation from your favourite supplier.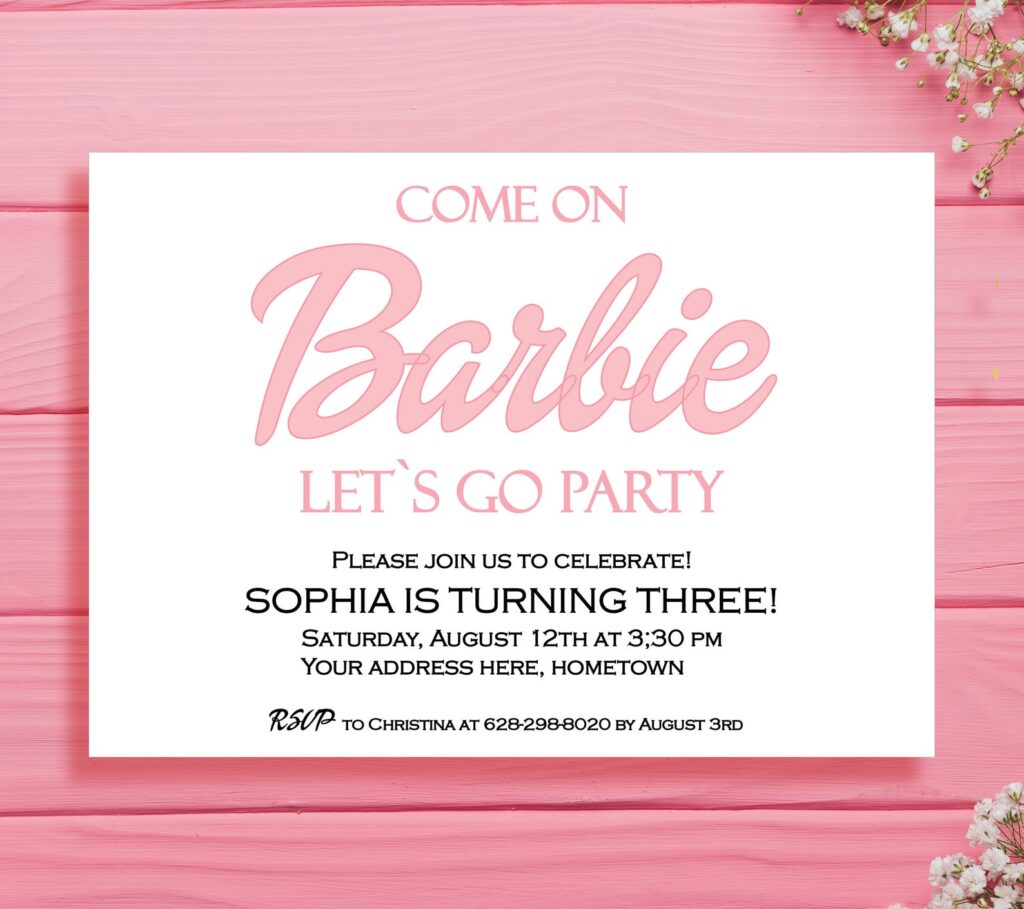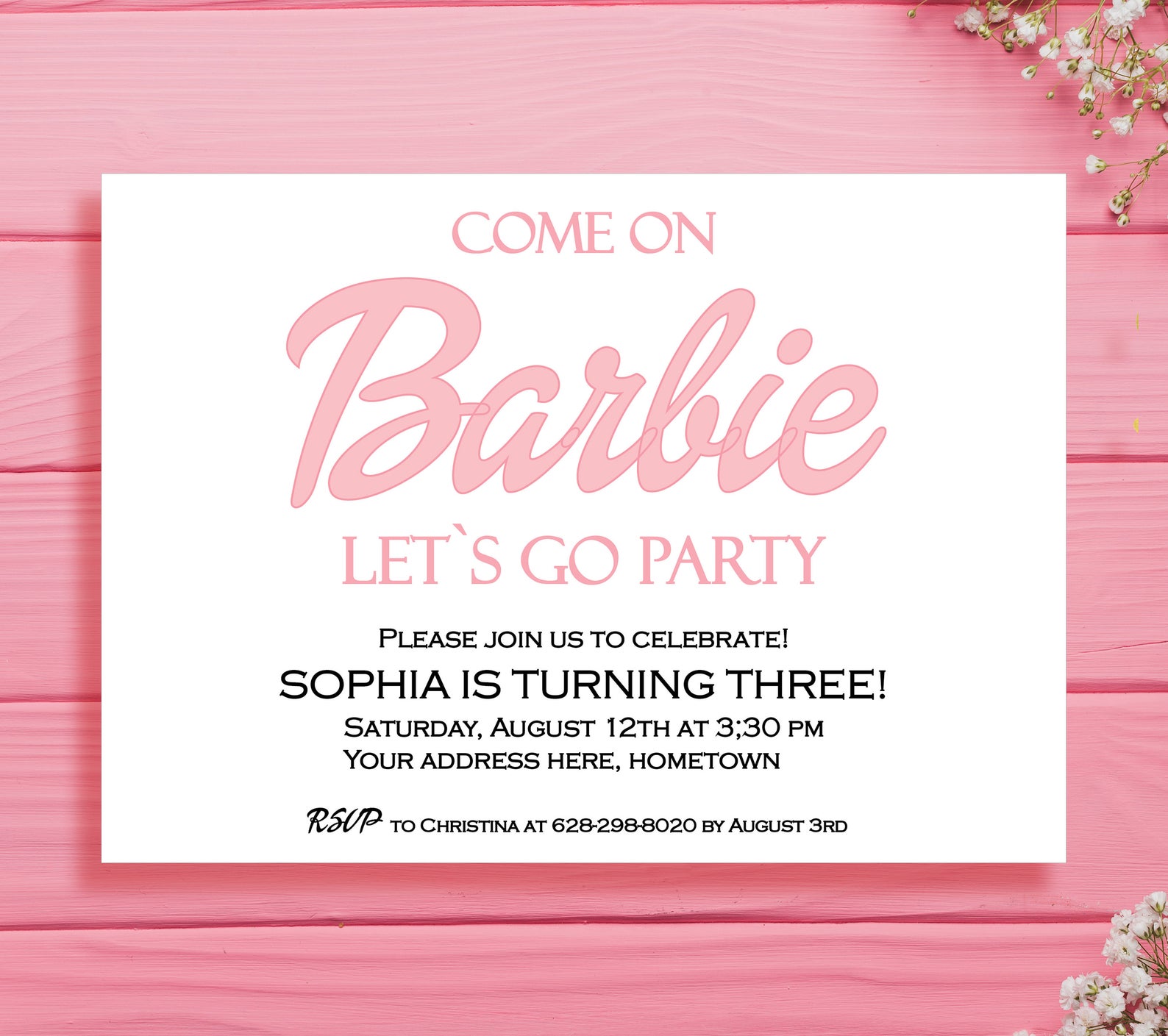 Above; Barbie party invitation from Creative Little Cloud
IDEA! It's a little dearer, but why not hand out a Barbie with a tag attached as an invite? Basic Barbie models cost $5. 
Nailing the Barbie party outfit
Let your cute princess rock her confidence with a special Barbie birthday outfit. If Barbie is anything, she is on-trend! Phedonix Denim Art can create a funky custom denim jacket for your loved one to match any party theme! Add a tutu and matching pink headband and she's ready to rock her party!
Barbie party decorations
The party needs to be decorated based on Barbie's world. This means bursting colours of bright pink and lavender. Here are some specific tips:
Install a personalized banner to the home entrance that reads 'Welcome to Barbie's Dream House".
Use lots of balloons and streamers for the decoration
Tie pink ribbons around vases and items.
Place Barbie dolls, chairs, and other accessories around the party area. 
Have a table cover, centrepiece, and swirl decorations. 
Classic Barbie party cake ideas
Well, what would a Barbie birthday party be without a classic Barbie cake? Grab her favourite Barbie and build a cake around her skirt with buttercream. Or, get something in pink or purple, topped with a Barbie silhouette cake topper.
Food ideas fit for a Barbie party
Barbie party food needs to be bright and pink, just like her world! Here are some food ideas
Strawberry mousse
Pink mini doughnuts
Individual fruit salad
Pink and white marshmallows
Pink fairy bread
Pink cupcakes with Barbie toppers
Host a Fashion Show!
Barbie is fashionable! Why not host a fashion where your girl and her friends can catwalk, take some pictures, and strut their confidence in style, with giant sunglasses, head boppers, beads, and bow clips. Not only will you get adorable pics but you'll get the girls thinking they're in a real fashion contest. 
Capture The Moments
It's time for each lady to show off her confidence in cheek and fearless fun. Have the girls take pictures together. Thereafter, siblings, dad, and mom can join in the fun! The pictures will create precious memories your angel will cherish for years to come. 
Hire a Barbie Photo Booth to complete the look!
Barbie Party Favours
Well, you would want to thank the kids that made your girl's day by sending them home with Barbie favours. You can fill out small purses or pink boxes with favours like:
Barbie stickers
Pink bubble gum
Temporary tattoos
Pencils
Barbie tiaras
Sunglasses
Barbie clothes and accessories
Makeup and nail polish…..   
Want to see an epic Barbie x Ice Cream party? Click here.