For those of the Orthodox religion, Easter comes anywhere between one week to one month after the Easter holidays in Australia (the date of Easter Sunday is usually the first Sunday after the first Full Moon occurring on or after the March equinox, as per the Gregorian calendar. Eastern churches, including Orthodox, use the Julian calendar).
So we get to celebrate twice! Easter number one is generally filled with quick getaways, chocolate, bunnies and parades. Easter number two is all about family, traditions, church, lamb, red dyed eggs and more!
We were inspired by the styling of this beautiful Greek Island wedding featured on 100 Layer Cake to create this blue, red, purple and white Easter celebration and we included lots of DIY's incorporating a pattern we designed. Keep reading to find out more!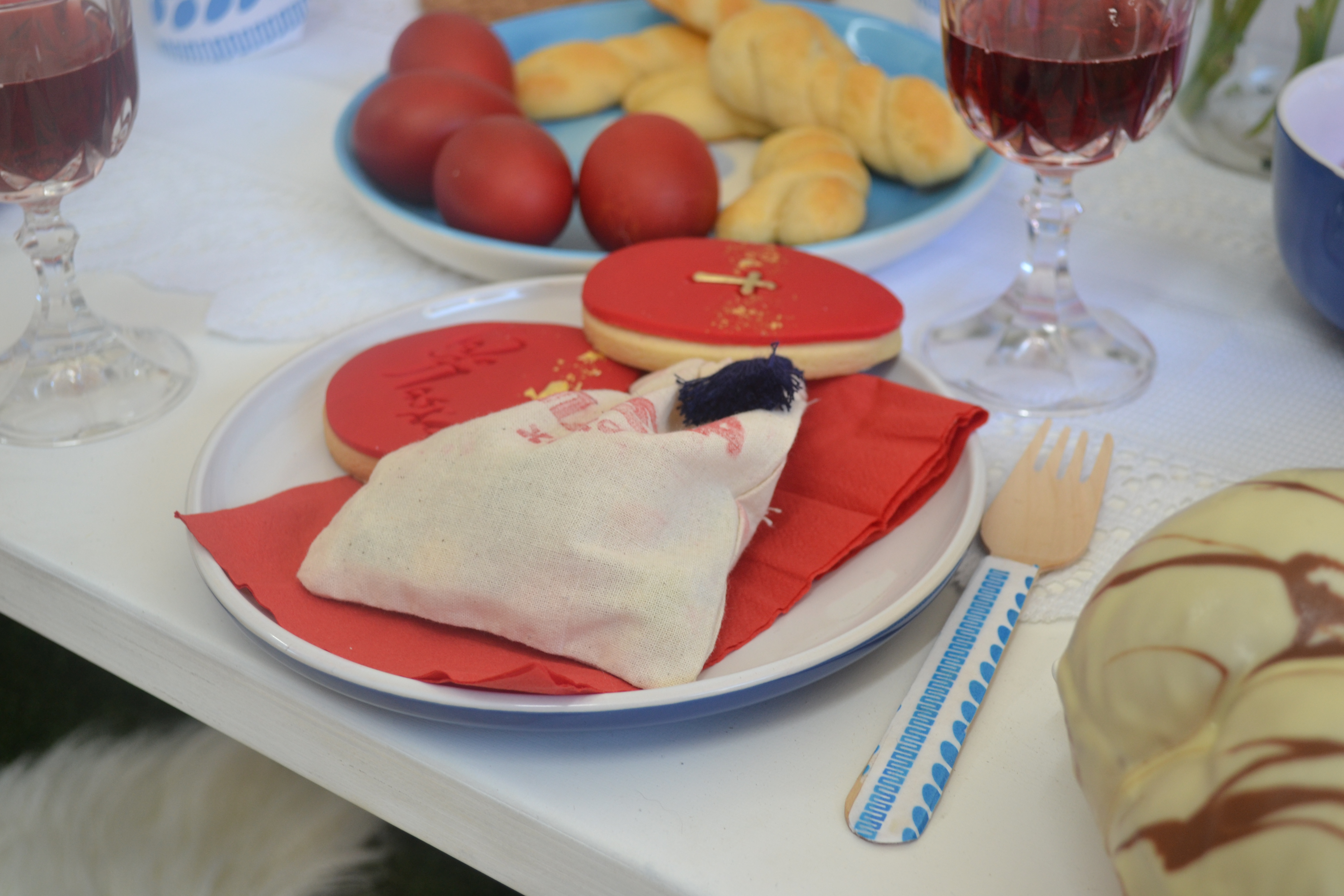 The use of palms is reminiscent of Palm Sunday, a very important day in the Easter Calendar. They are also very suitable to our (still) warm Autumn weather!
The flowers are purple, red and white, to reflect the symbolic tomb of Jesus that is decorated in churches during the season.
We printed out a pattern that we designed into paper, cut them according to a template and stuck them down onto cups and forks to create matching tableware. See the DIY further down.
For the backdrop, we decided to try something we've been seeing around Instagram lately. With some flowers and washing tape, you can get an instant backdrop in seconds!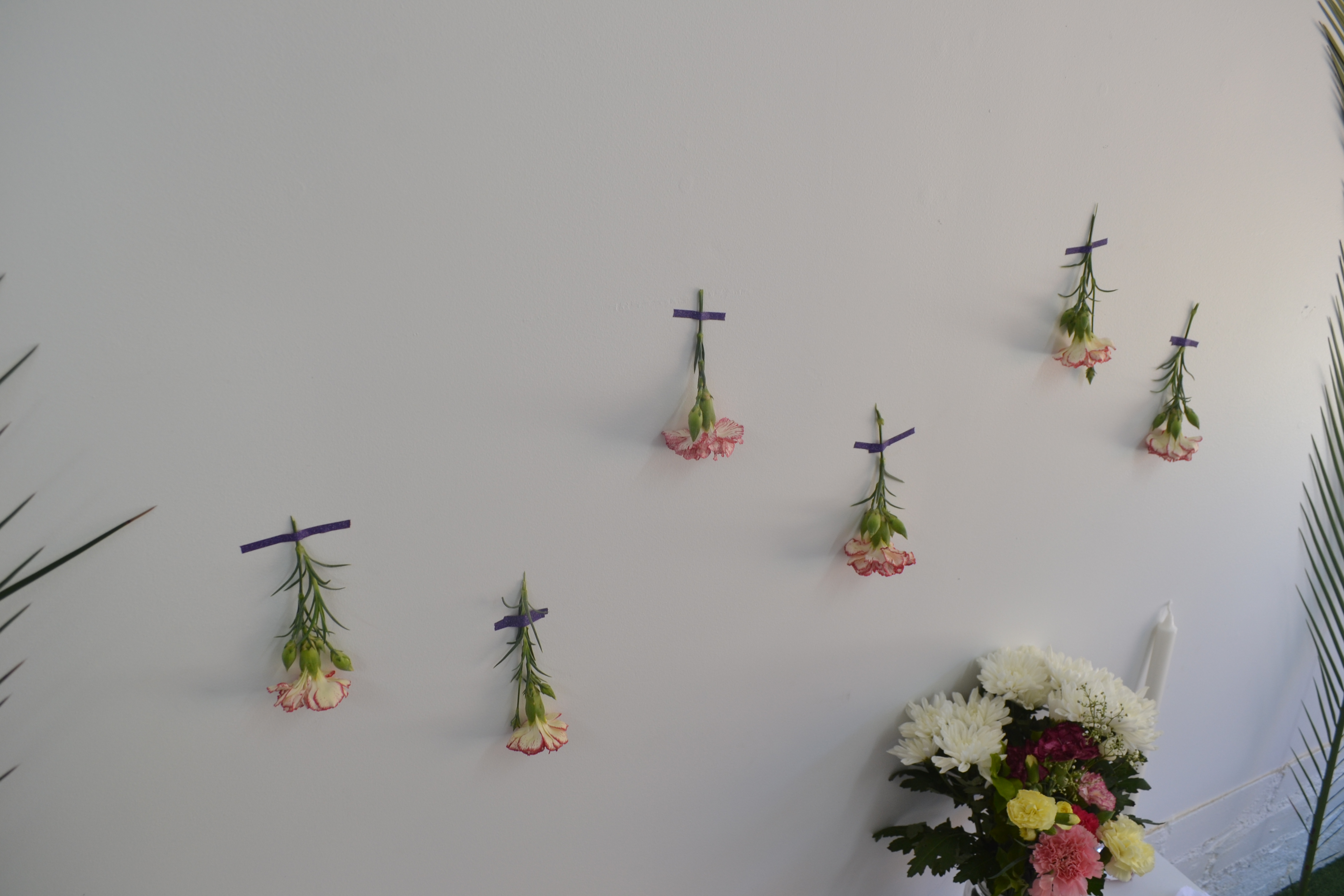 We wanted to customise some muslin bags. We were inspired by the bag DIY from Adele in our Easter Mini Mag. I actually realised that you work wonders with a muslin bag. You can customize them with foam, studs, Pom poms, pen and more! I love to embellish them with stamps and tassels. When I run out of my supplies for my Silhouette Mint (a custom stamp maker) and I want to stamp some fabric, I resort to a method I have called 'stencil stamping'. This consists of creating a stencil, glueing the stencil to the fabric and stamping with the ink pad until you have 'coloured' inthe exposes area. This time, it didn't work. Why? Because my stencil was tiny, and the ink stamp was very full, meaning colour kept seeping under the stencil. So I resorted to plain old regular stamping and filled in the blanks with red pen.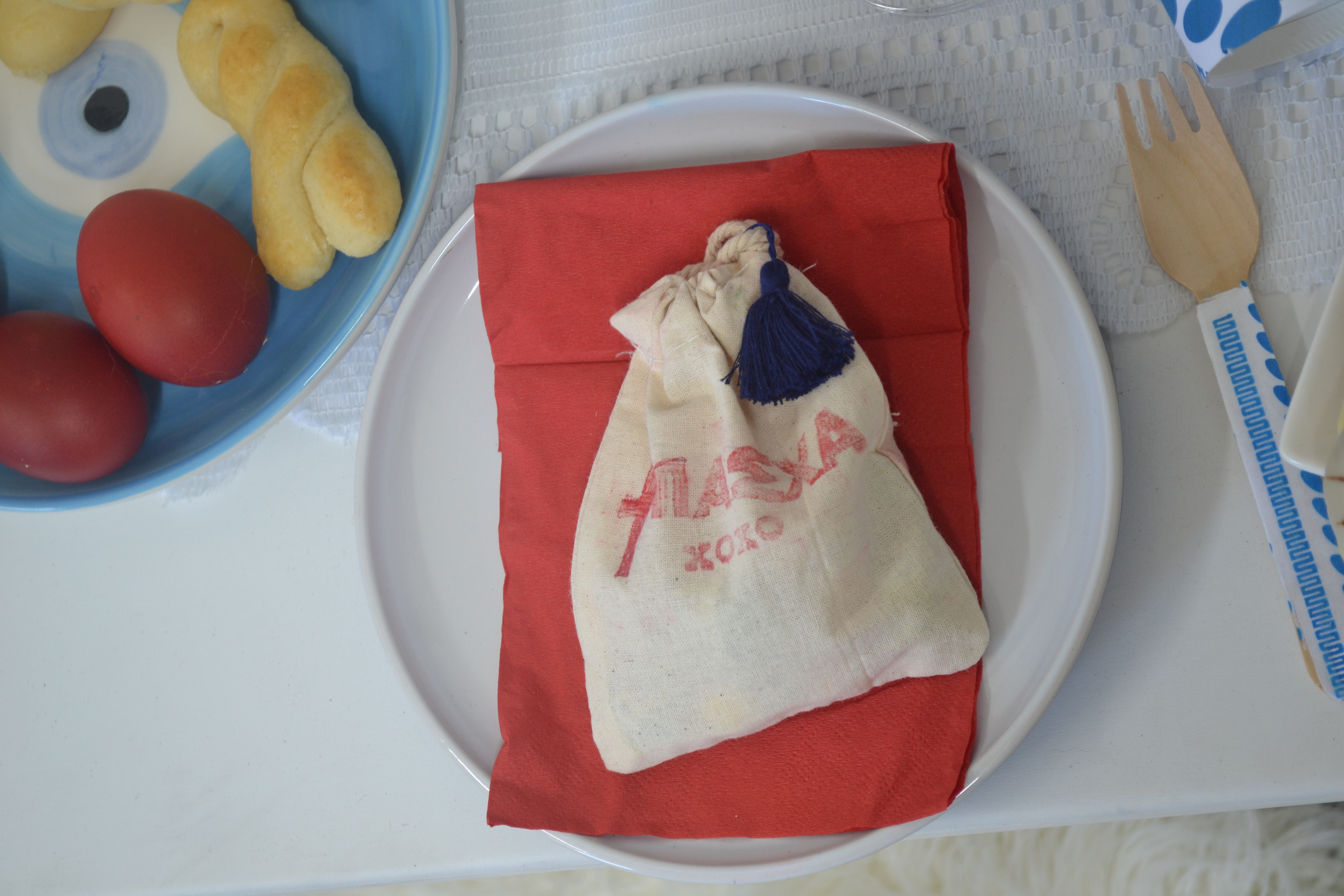 I also wanted to make a tassel. But it was 10pm the night before we wanted to shoot this, and (shock, horror) both Kmart and Officeworks failed to deliver ( I wanted some nice thin yarn, the type you use for embroidery, in royal blue). Kmart had some tassels on special for 70c so I nabbed them!
Anyway, I hope you like our little celebration!
By Maria Andriopoulos, Confetti Fair Contributor & creator of Handmade Party blog.