I really love hearts and red, but as I am not one who is a very big fan of Valentine's Day, it's always tough to come up with a styled shoot for this celebration. But when you take something you love such as cheeseburgers, fries, sequins and neon and bring it all together, then well you create magic and accept that Valentines Day may not be such a bad thing! Welcome to the glam burger shop dinner date!
This year for Valentine's Day we decided to create what my perfect date would look like! I really am a simple person and don't need flowers, gifts or the expensive night out.
I need balloons, desserts, McDonald's and just a touch of glam! The result… our Valentine's Day Lovefest Dinner Date!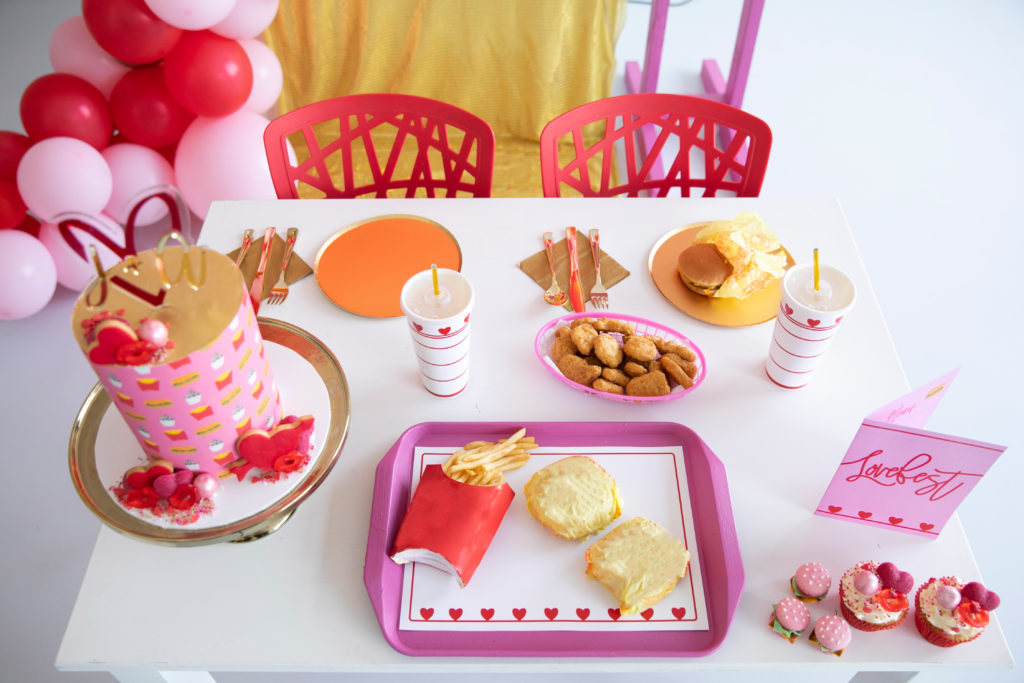 Our primary colours for this story were gold, pink and red. Does anything scream fast food more than red? No! A match made in heaven when paired with Valentine's Day!
We also wanted to incorporate DIY's and a bunch of party trends that we've been seeing around Instagram! The party trends we've been loving recently are of course neon, balloon garlands, red and pink edible print wrap cakes and layered floating toppers!
Our loved-up couple Nelle and AJ were perfectly at home amongst the yummy treats and definitely enjoyed their dinner date.
Adding to the glam factor, Nelle looked stunning in a gold lame dress, finished off with hair and makeup by Tina Matti Artistry.
Read on for all the details!
BACKDROP
The focal points were the neon 'Lovefest' sign from Sammy & Lola, and a stunning balloon garland by our resident balloon pro, Meredith of Belle's Decorations by Design. The neon was used as a nod to the old school fast food joints with their prominent neon signage.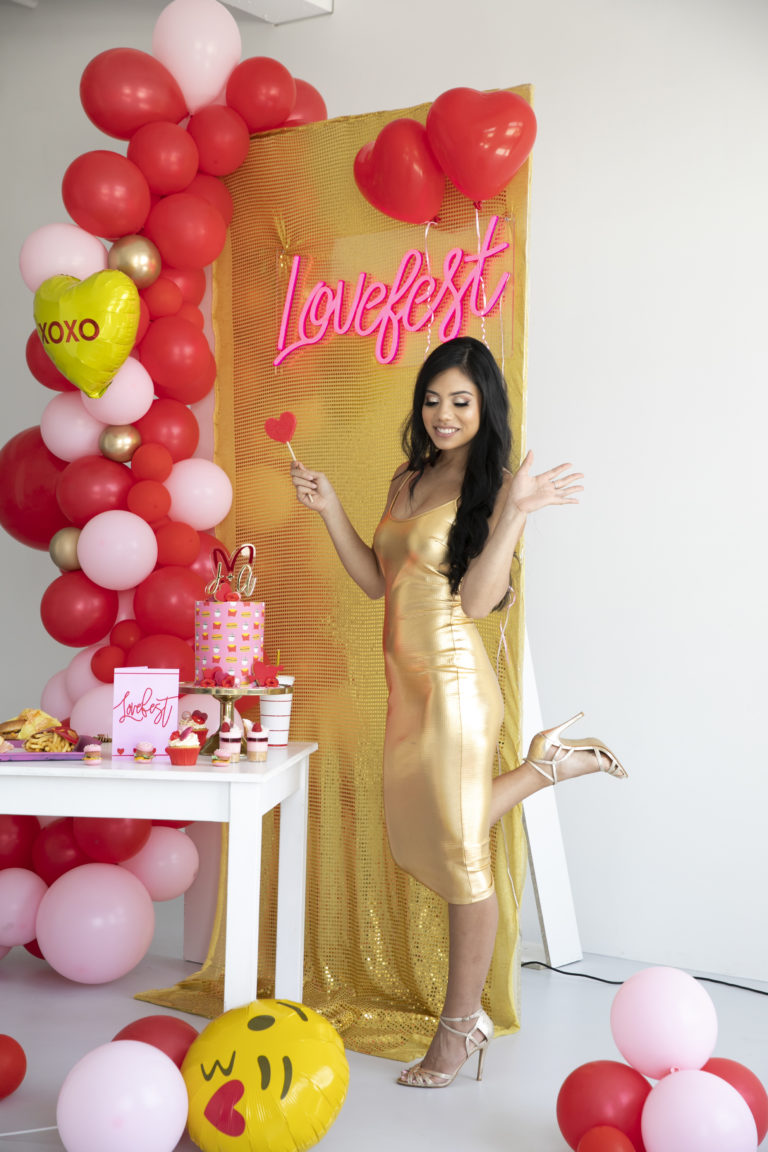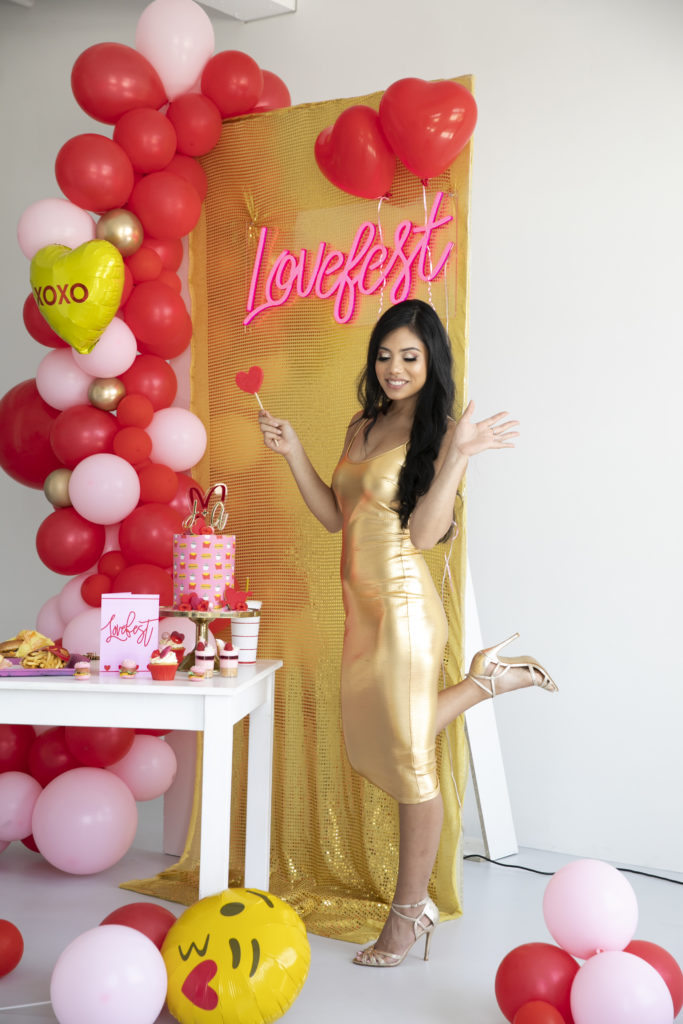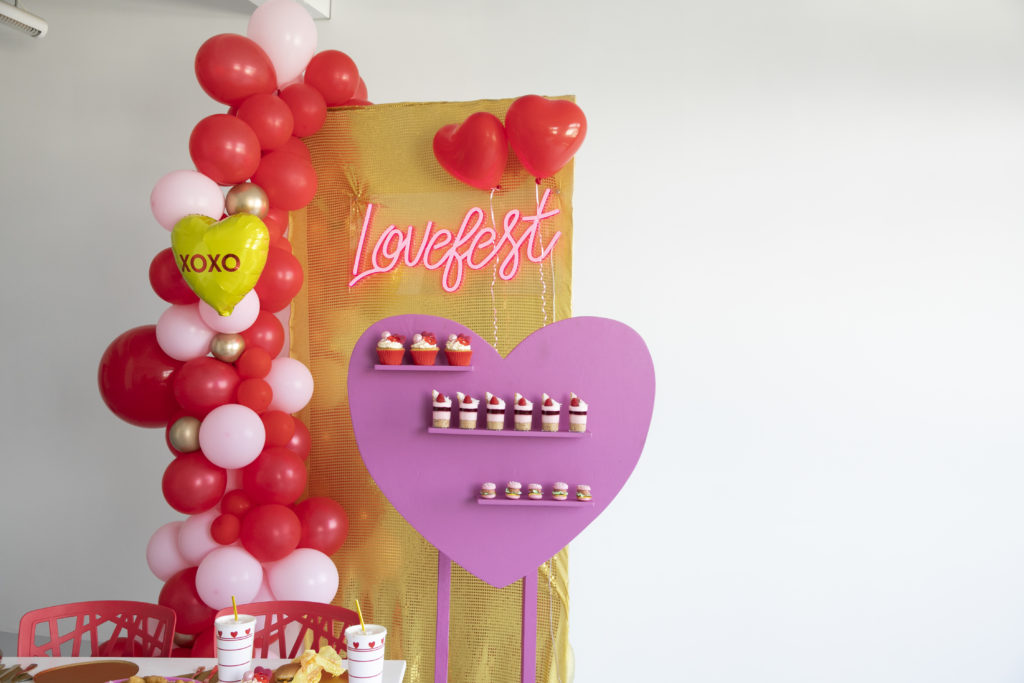 DIY ELEMENTS
For our backdrop, we used a pre-cut board and our trusty Makita staple gun to staple down our piece of sequin fabric.
To add a little kitschy factor, we used some heart and emoji balloons from our friends at Favor Lane Party Boutique and Lovely Occasions, as well as two hearts on top of the neon – which I loved!
All illustration and stationery was also done by Confetti Fair. We created our own cup wraps to match our stationery, too. Here is a previous one we did if you are interested to see how.
Finally, we also grabbed an old tray and spray painted it.
The heart dessert wall was custom made by Confetti Fair dad! Bless 'im.
DESSERTS
The super cool McDonalds inspired loaded cake, along with the gorgeous loaded (and delicious) cupcakes were by Sassy Sprinkles Cakery. The custom topper featuring our couple's initials was from Alison Caroline Designs.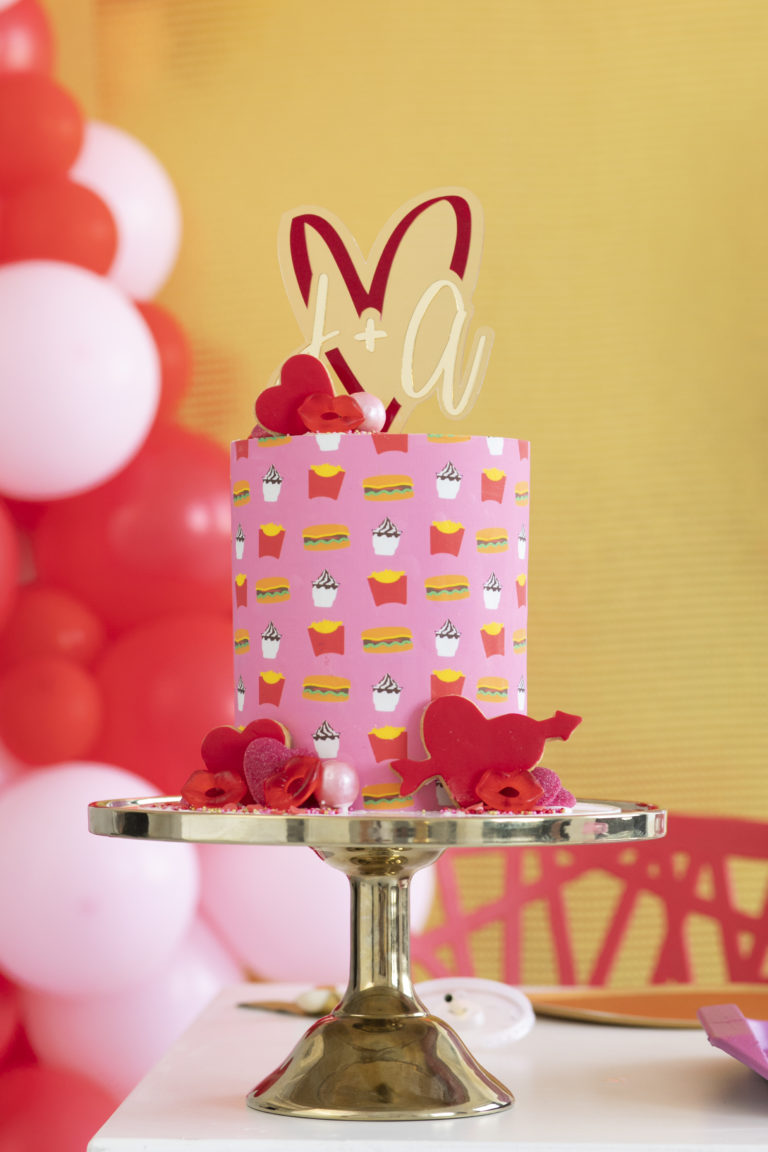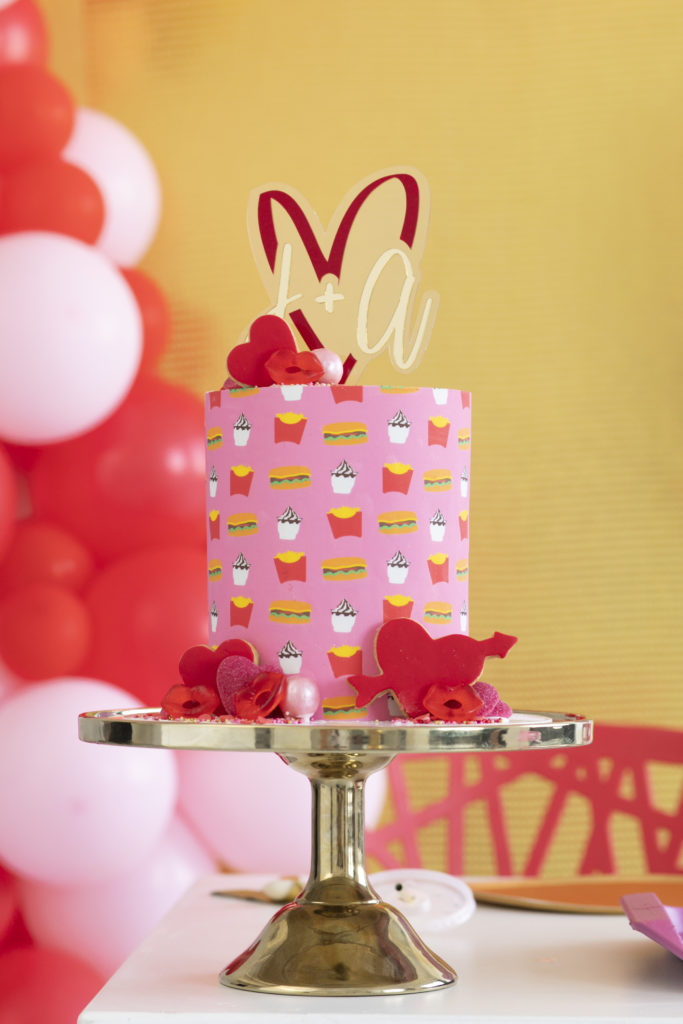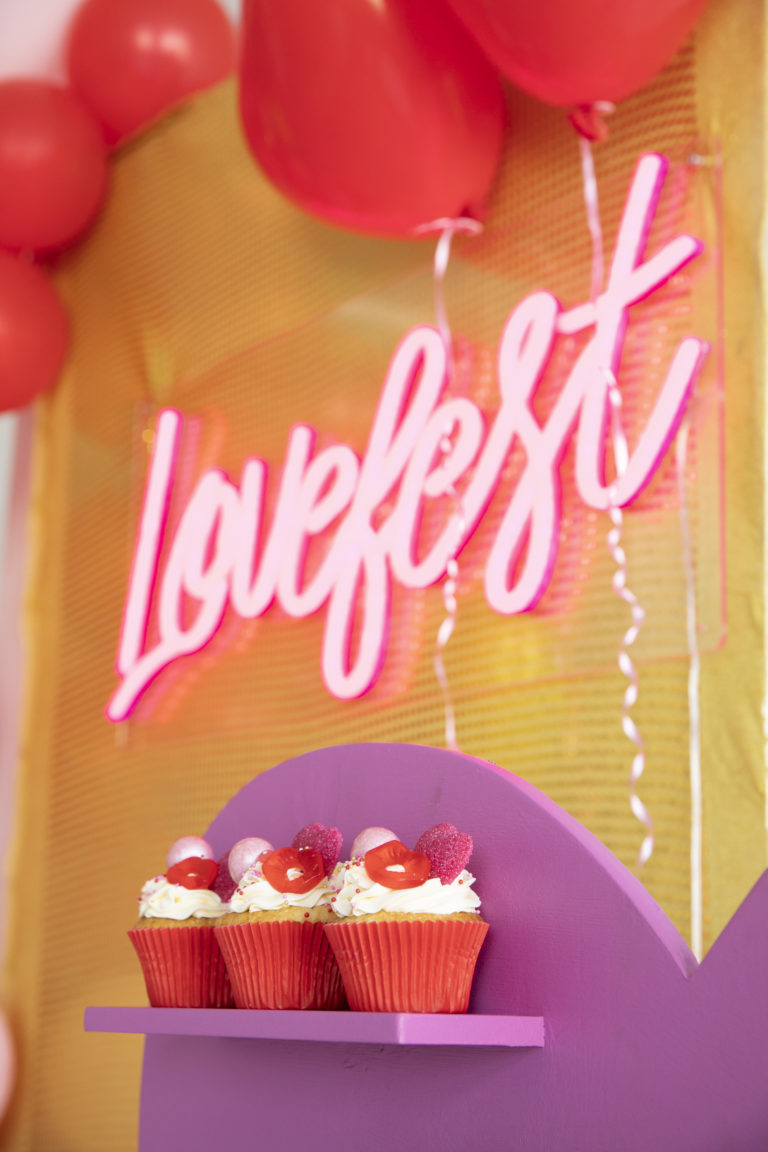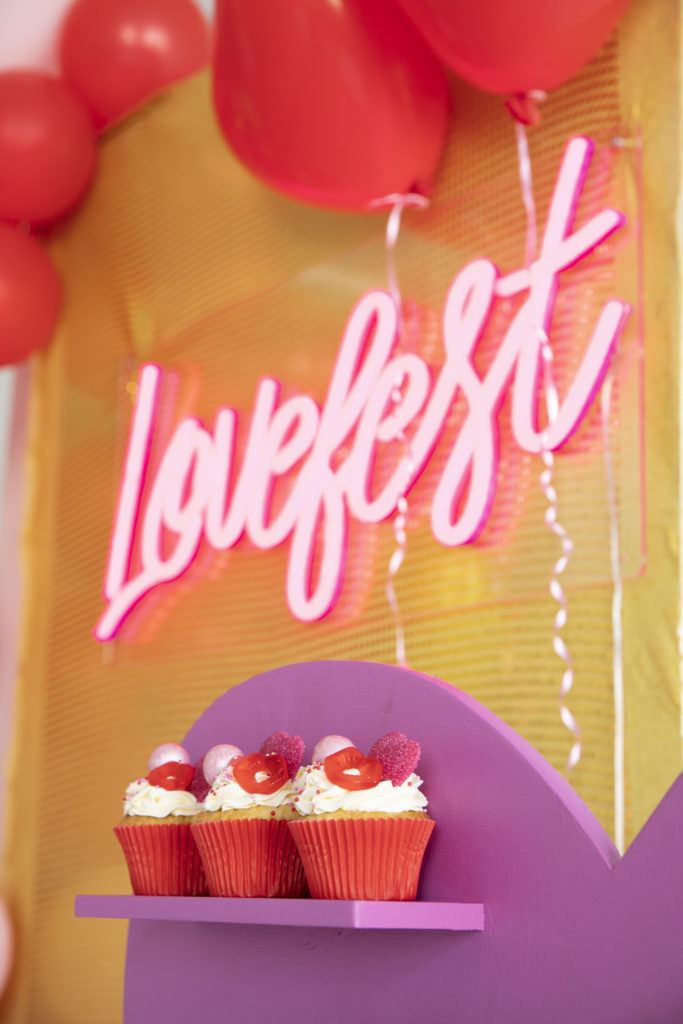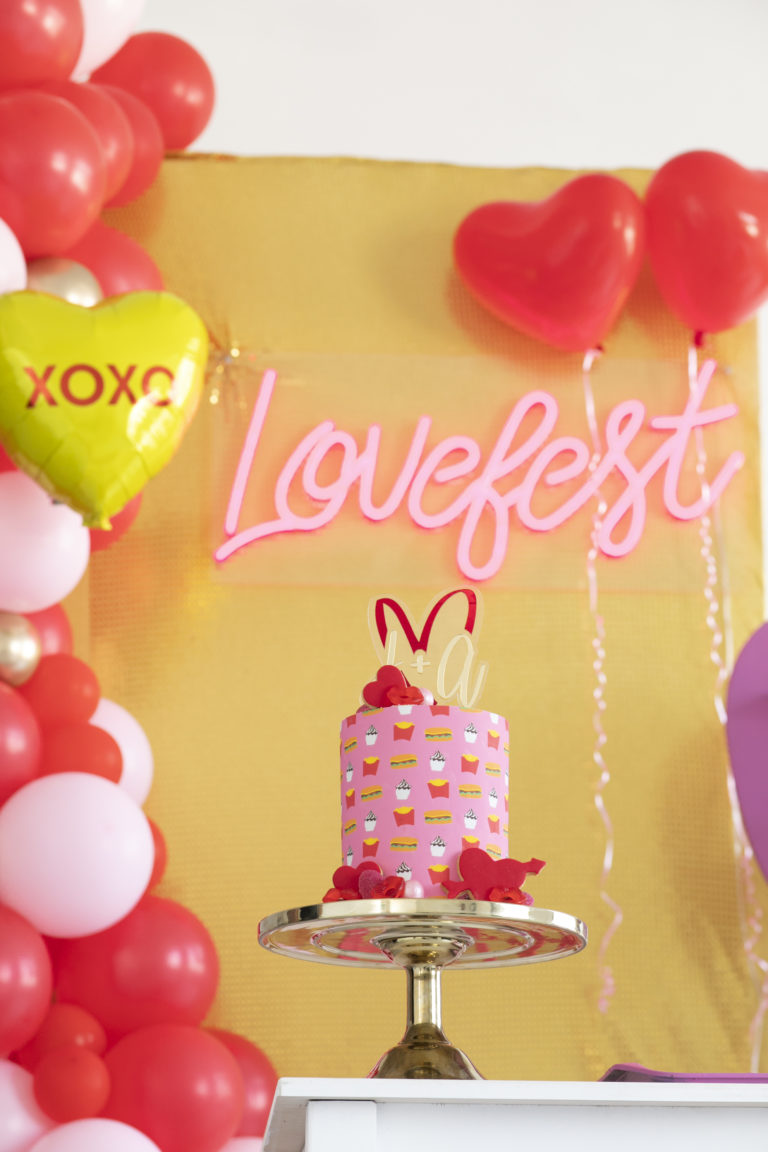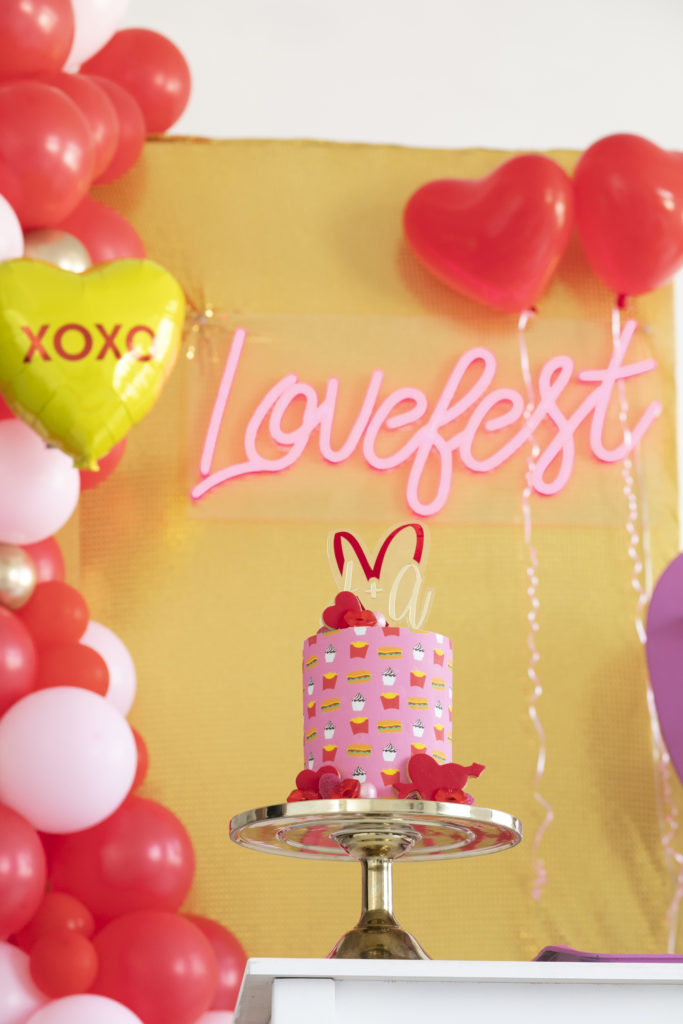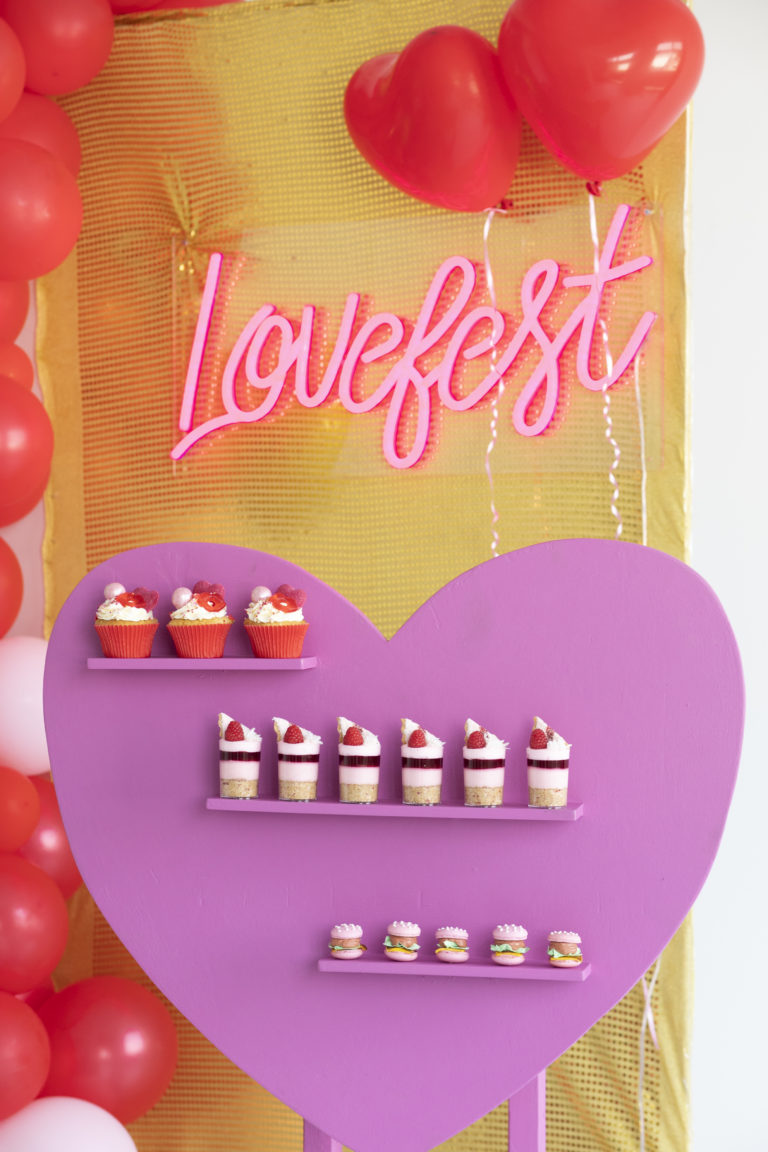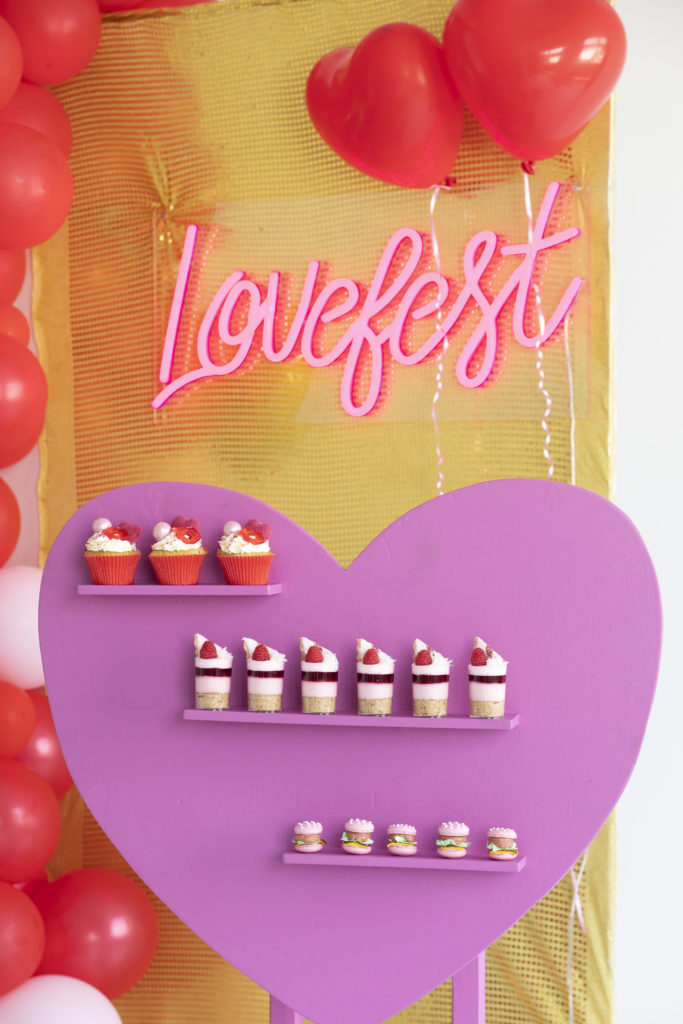 Bella Noir made the Iced Vovo dessert cups, which were made with the nicest marshmallow cream and really truly tasted like an Iced Vovo!
And how cute are these little burger macarons! The detail on these! They're by Cupcamyia. Look closely. Even the cheese has that seared look. The gold partyware from Favor Lane Party Boutique finished the look off perfectly!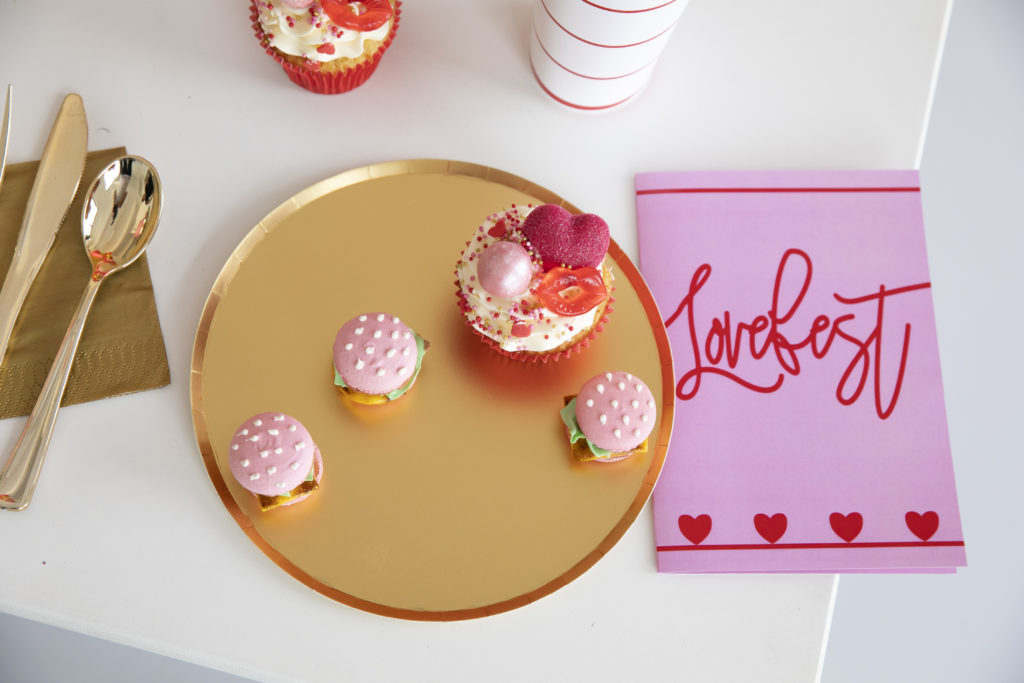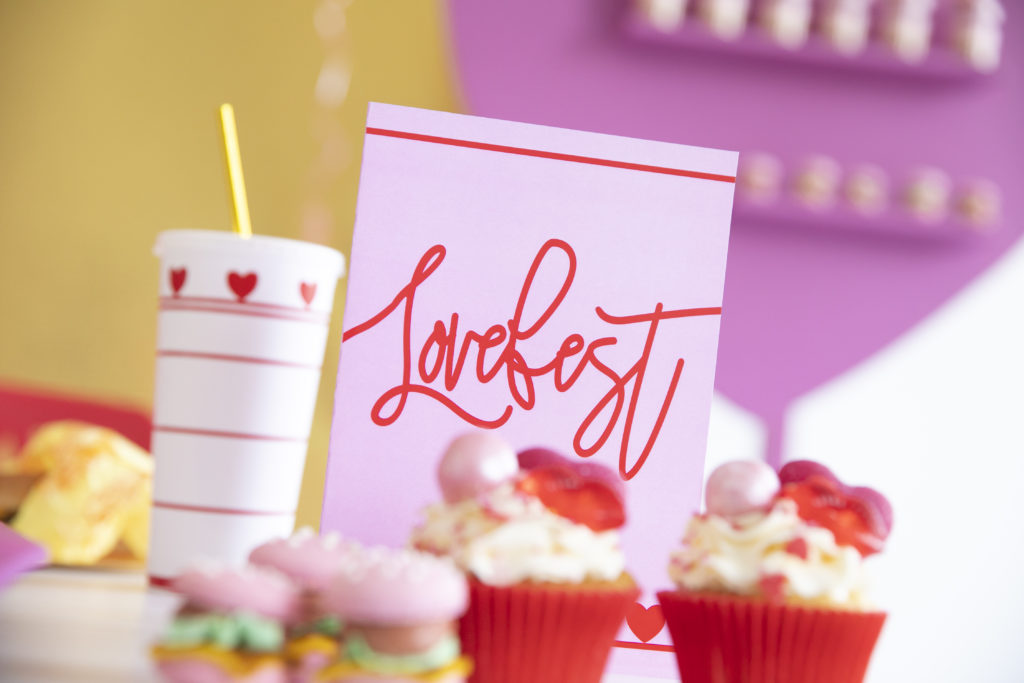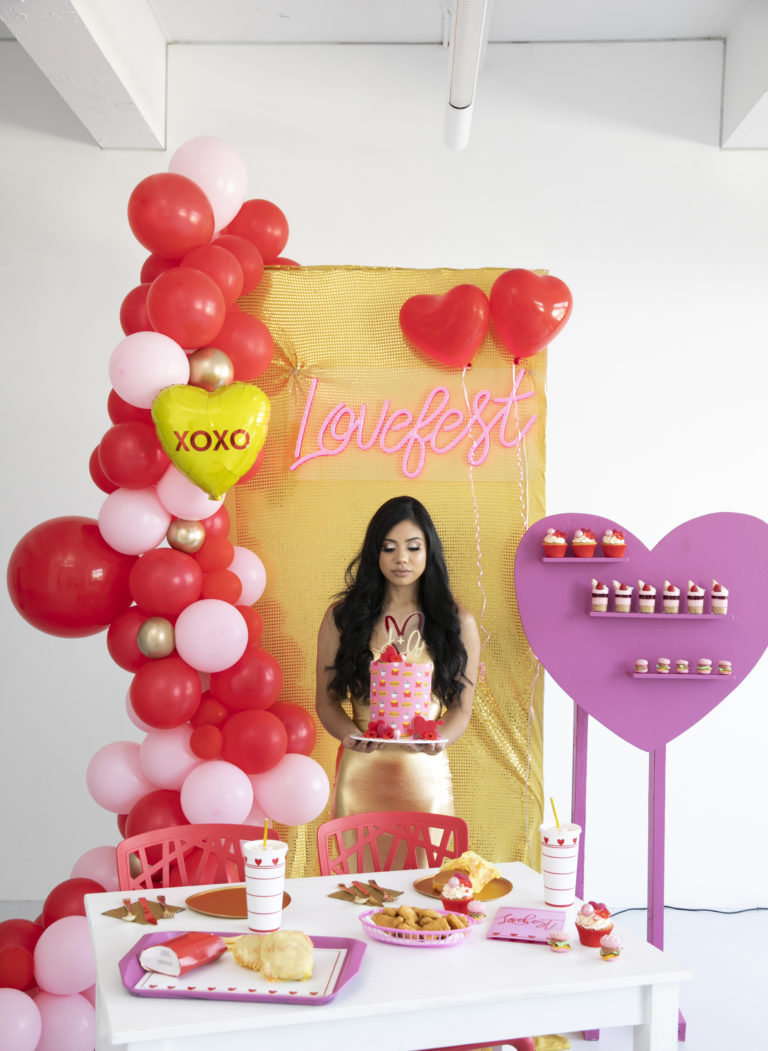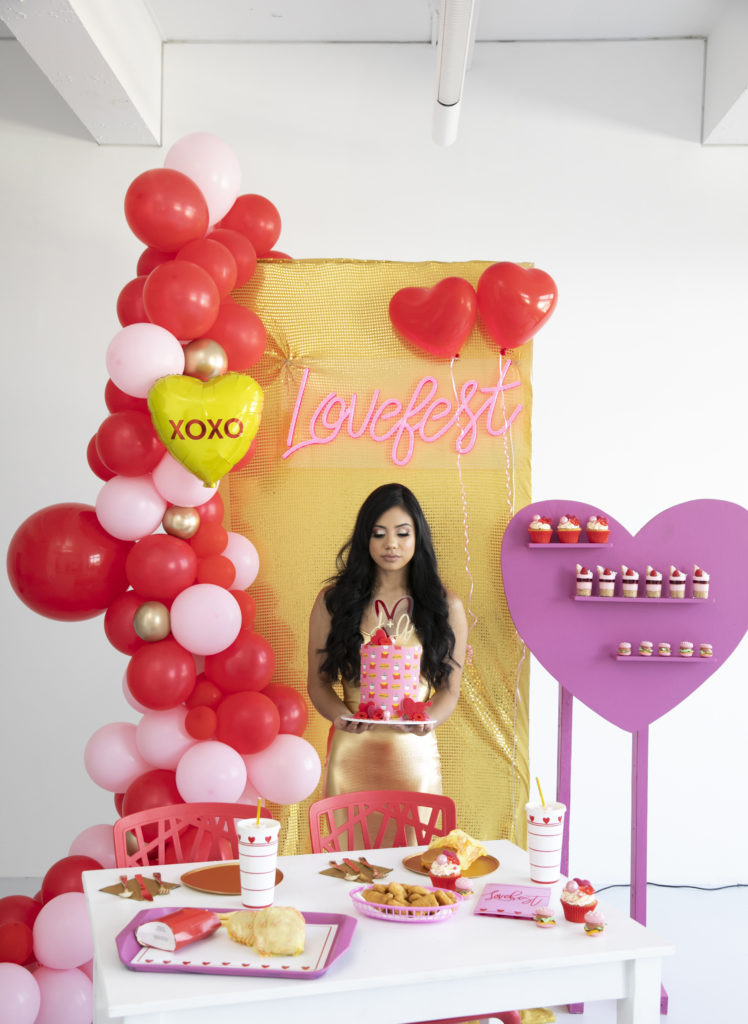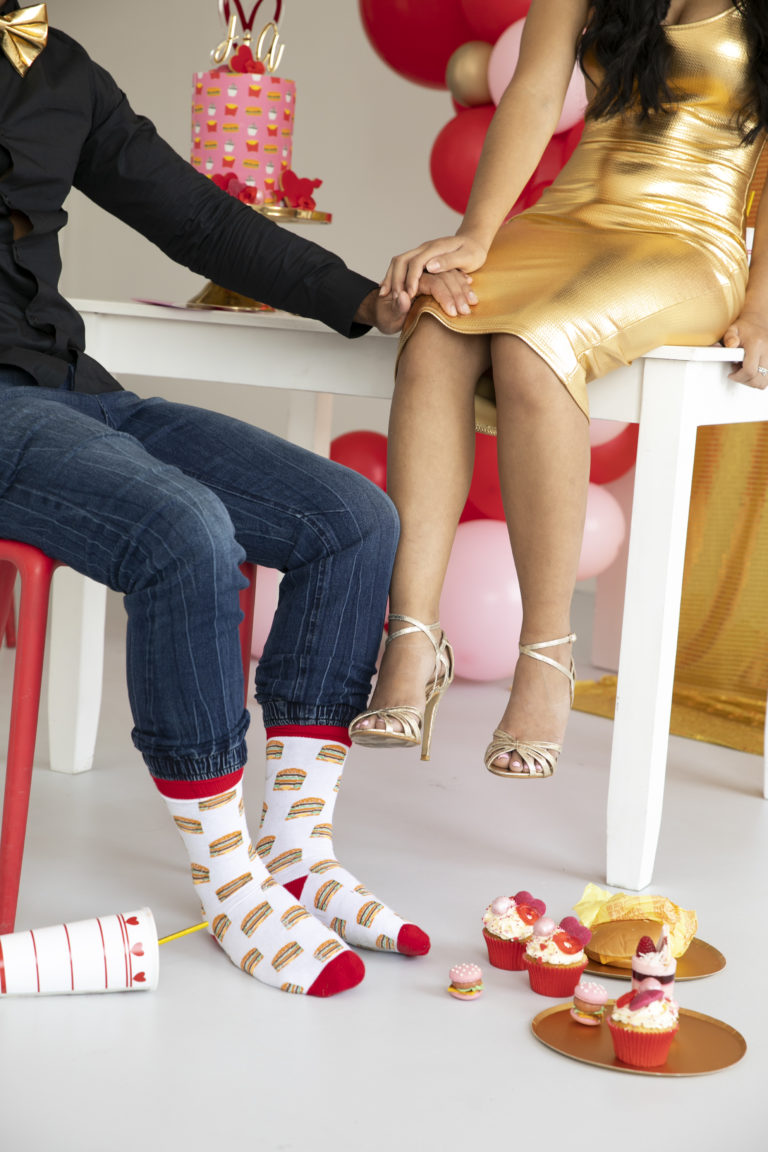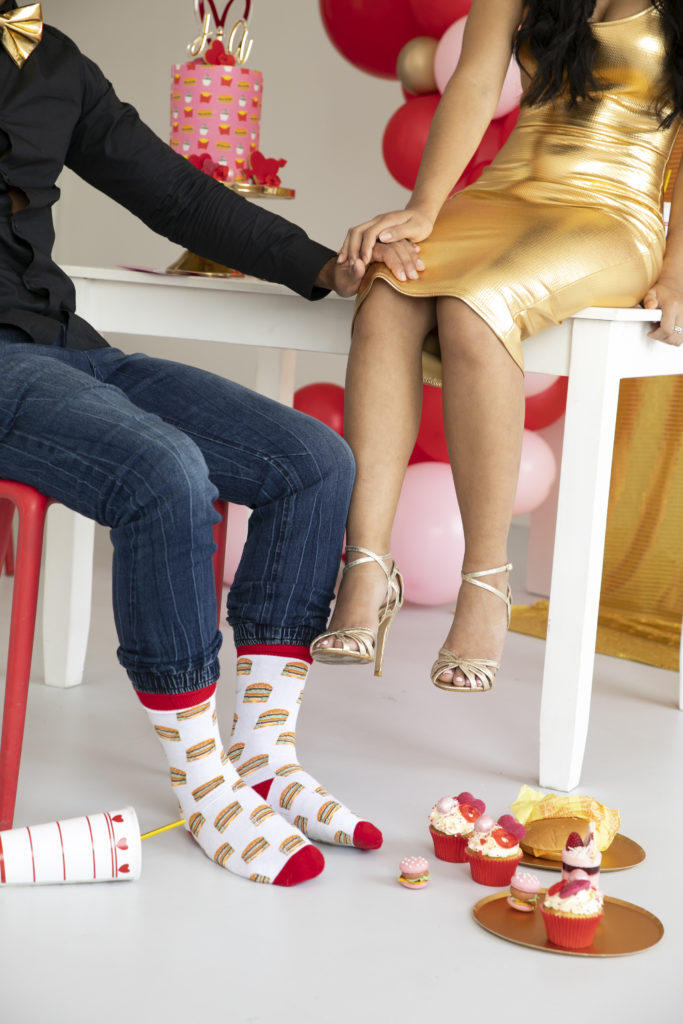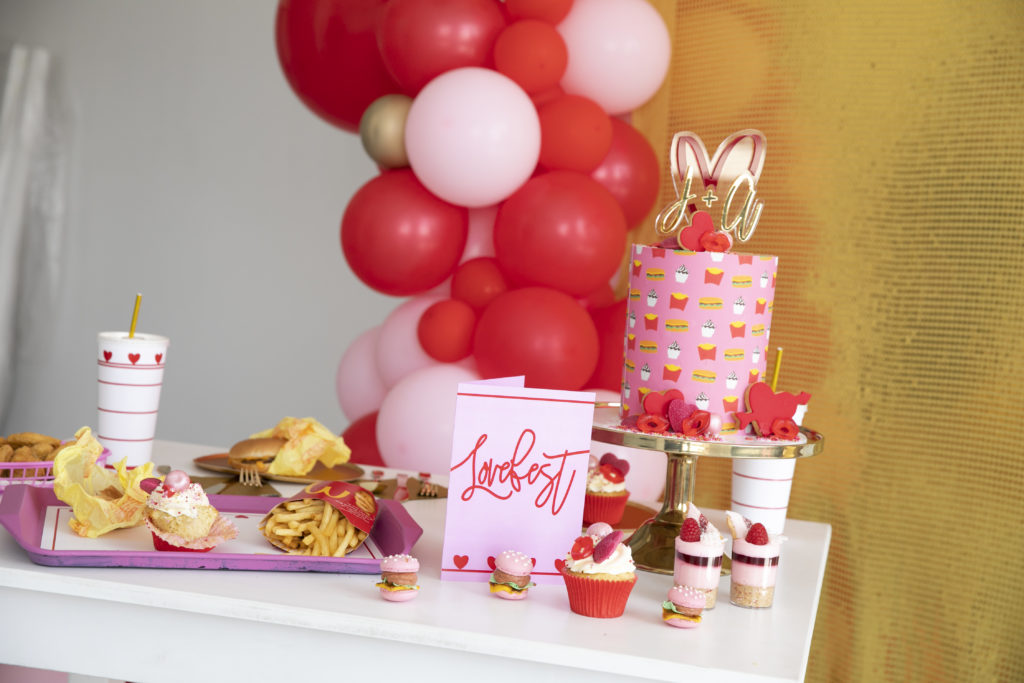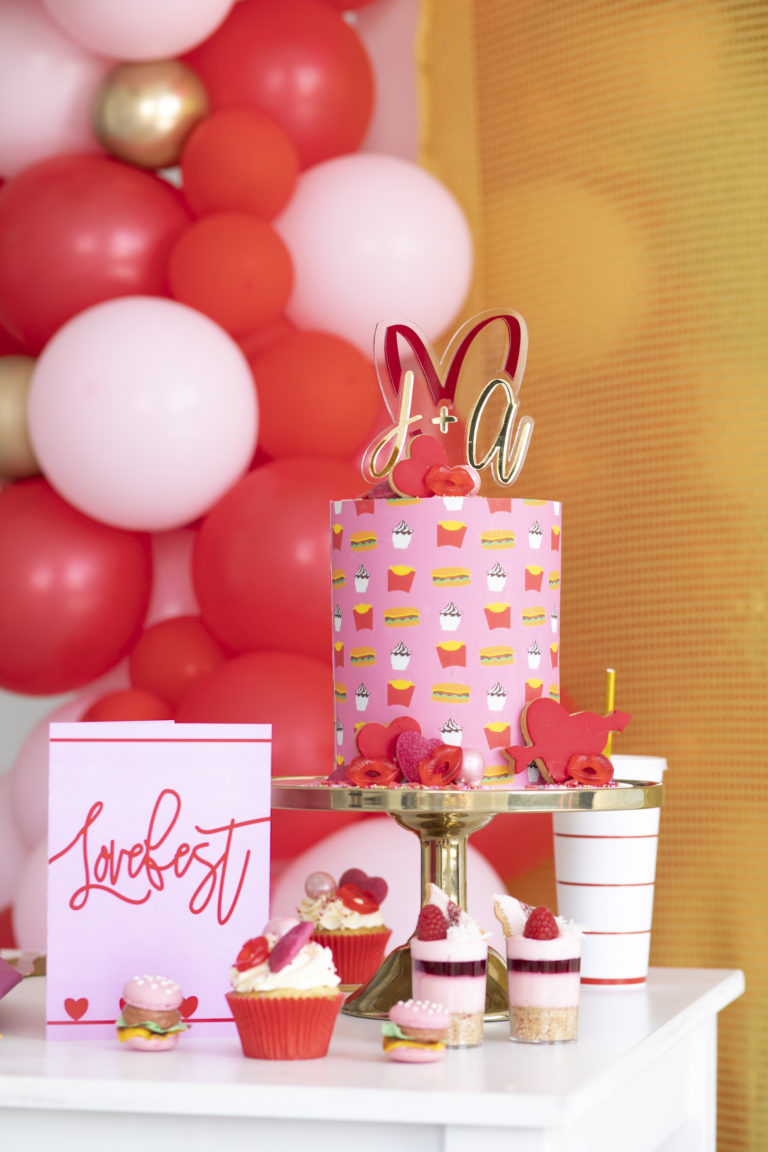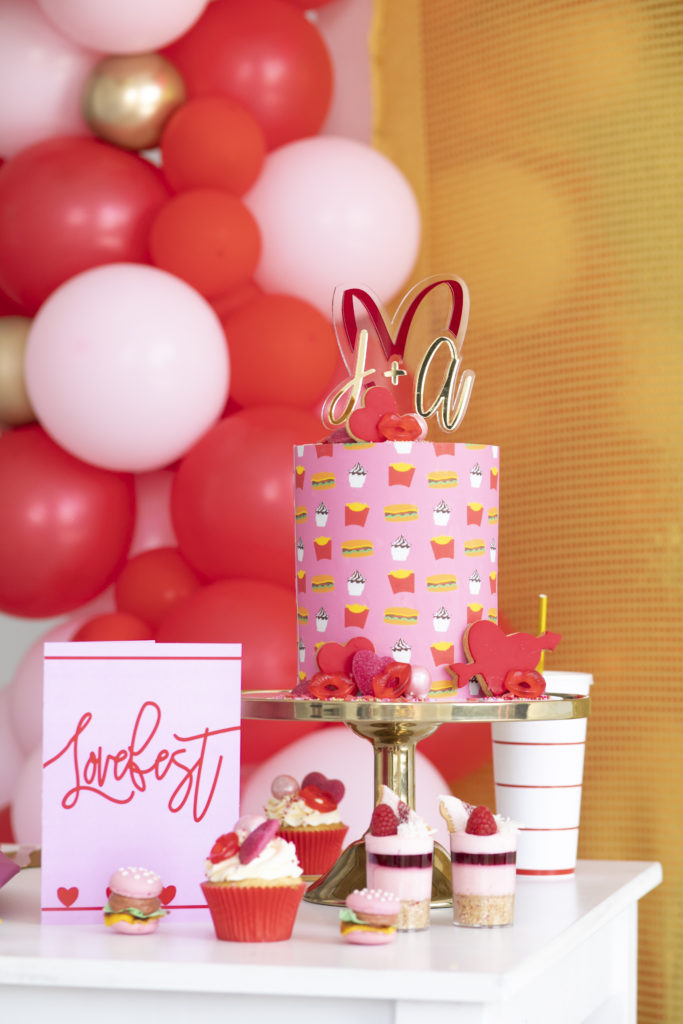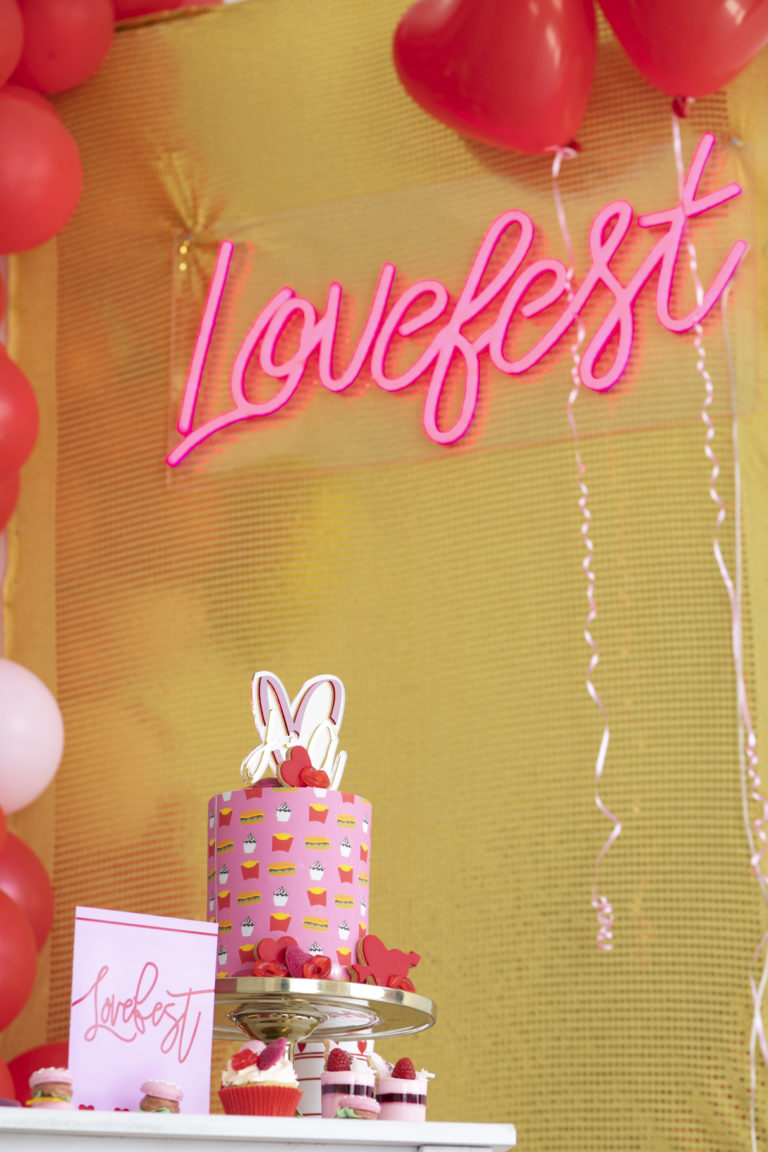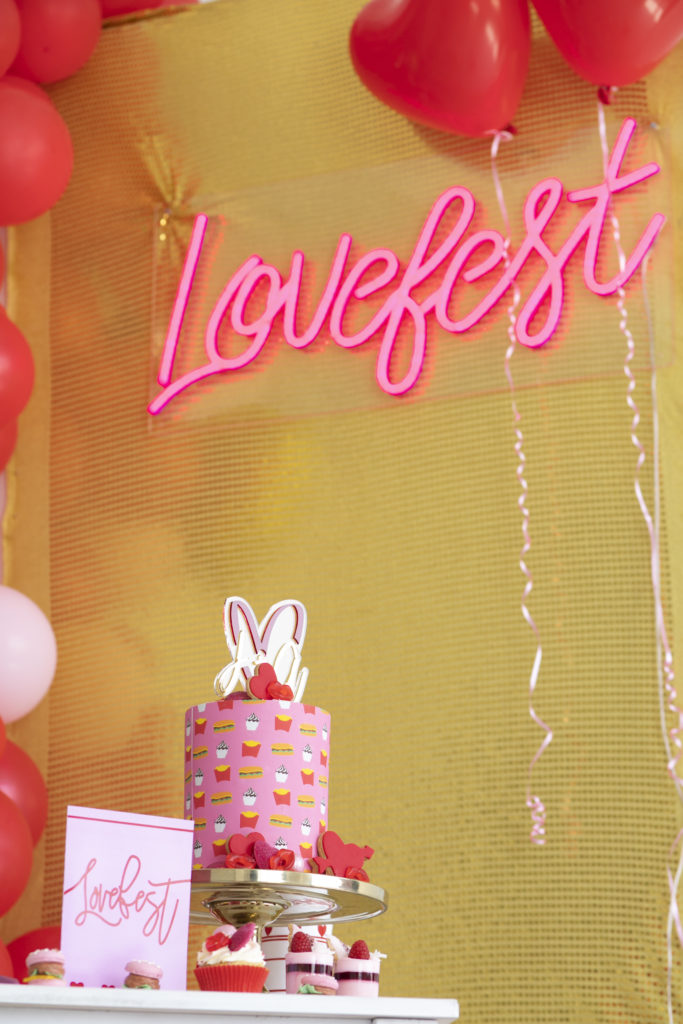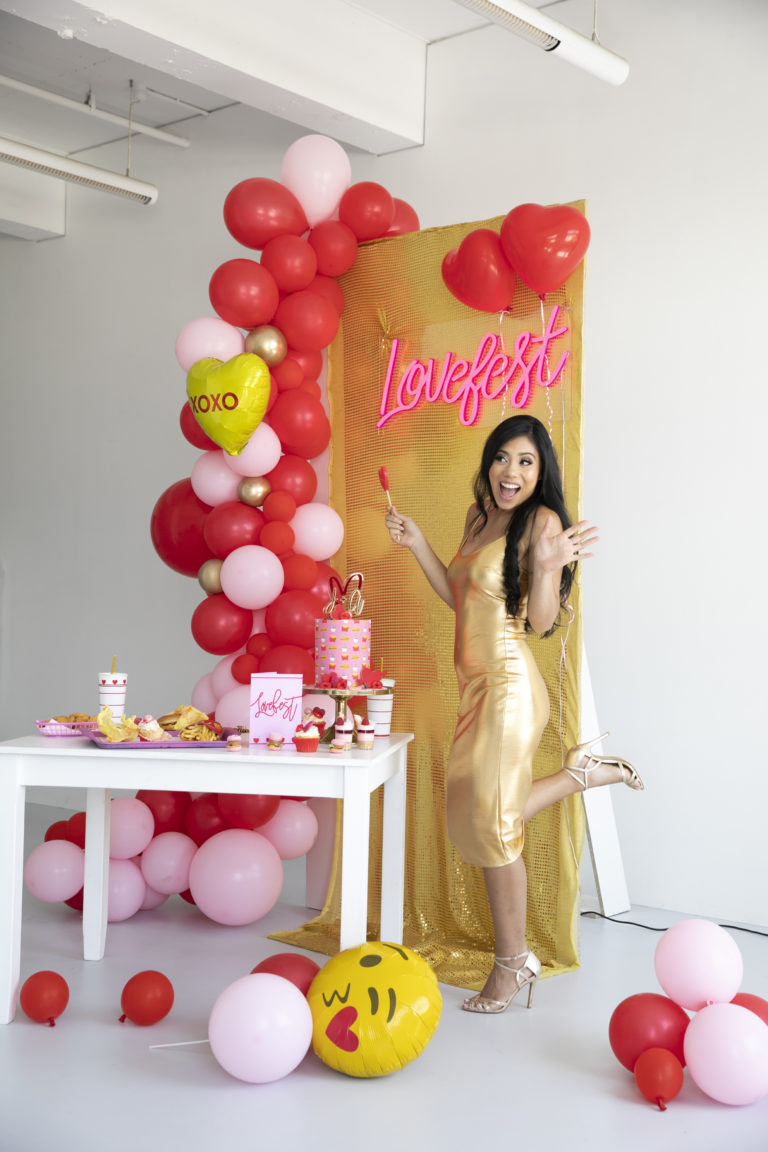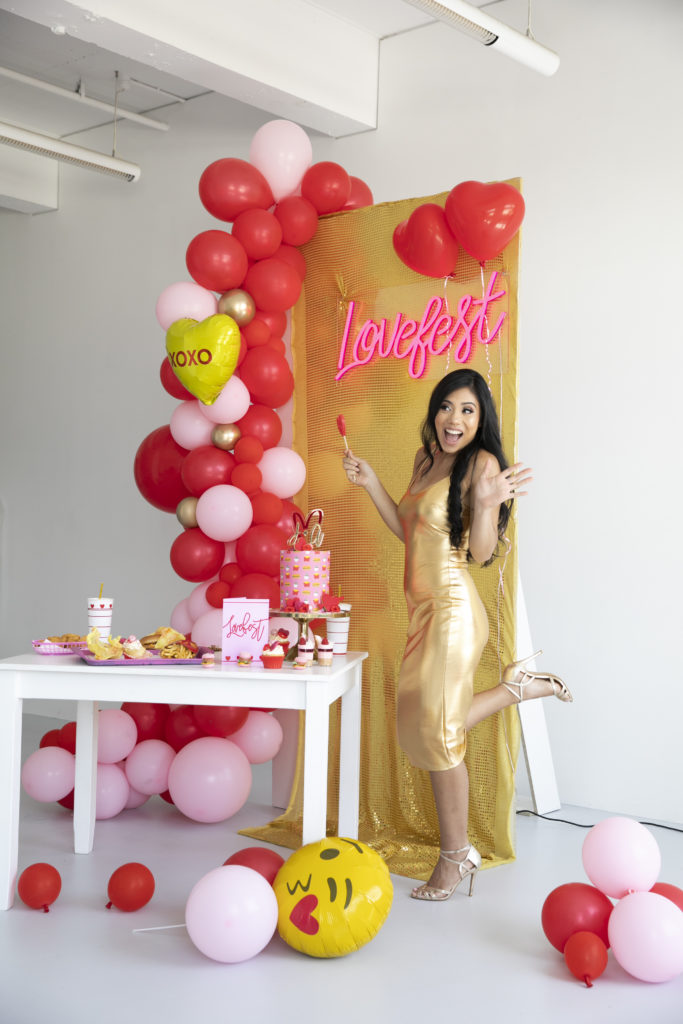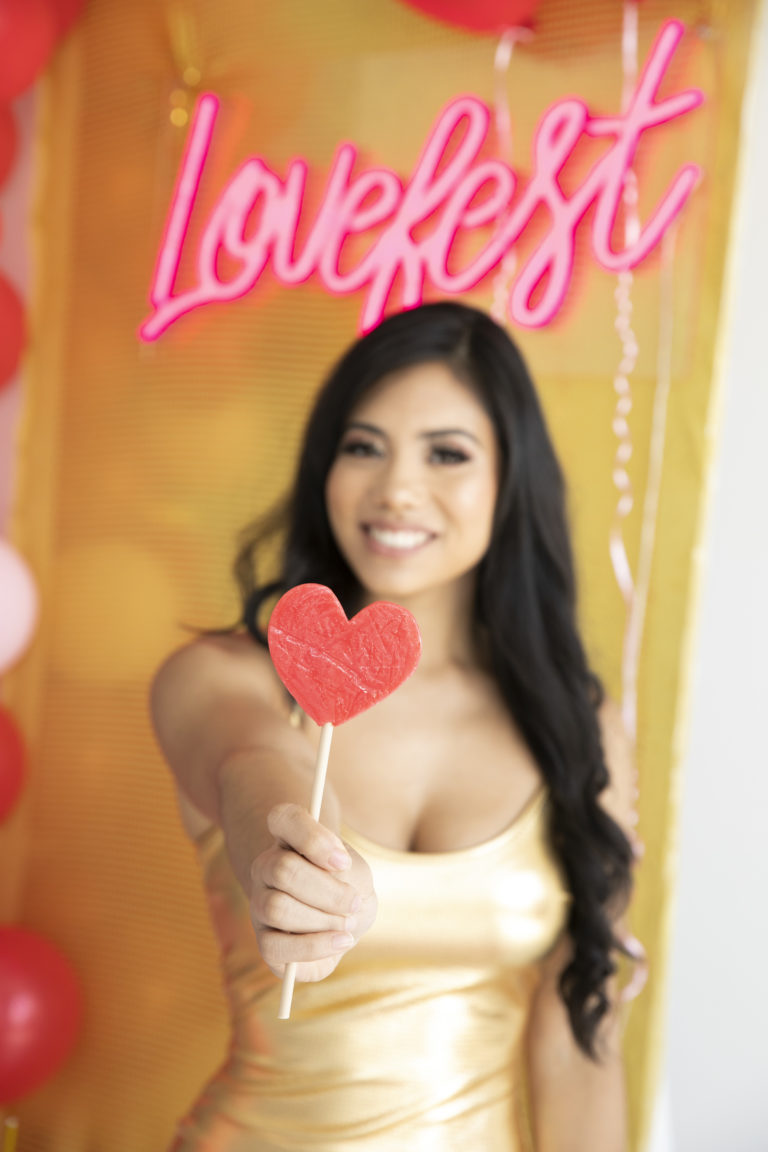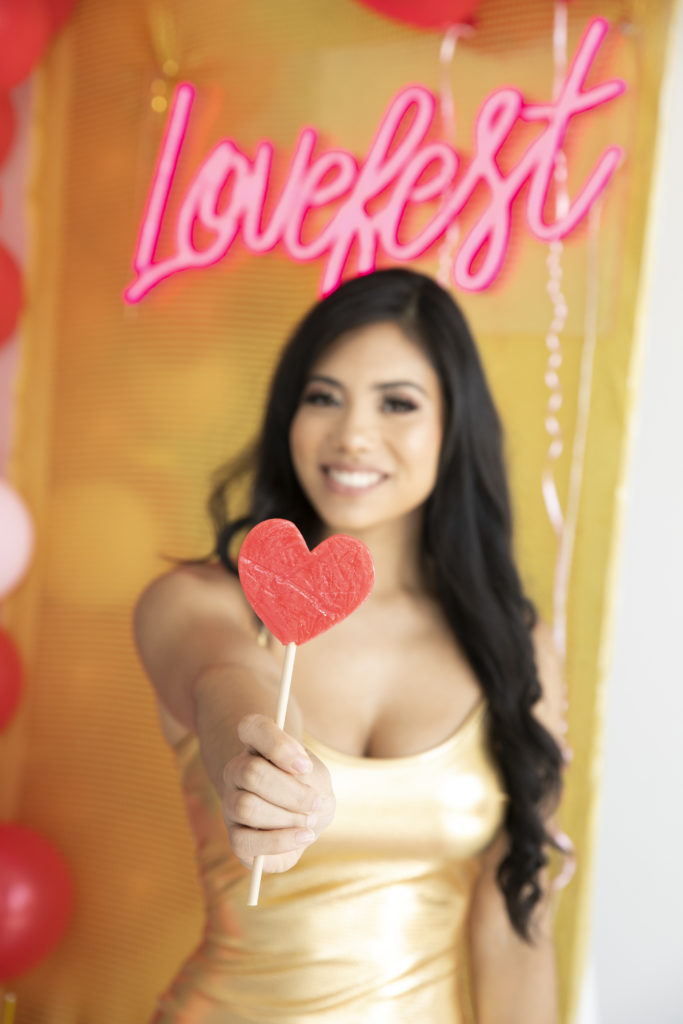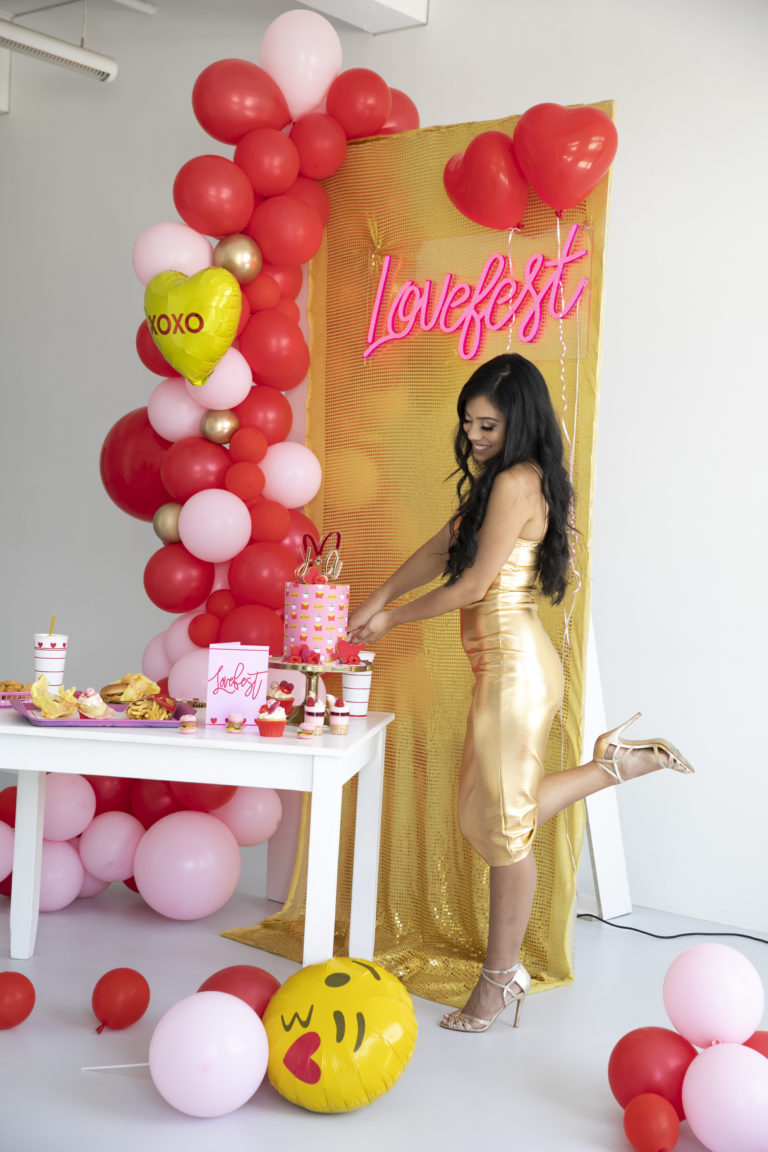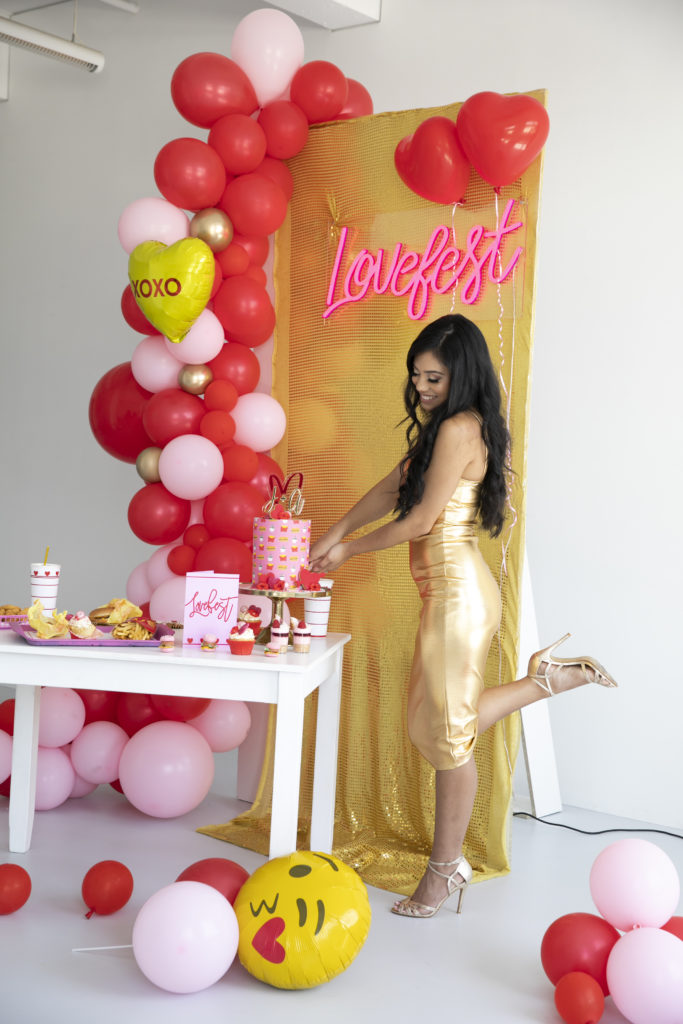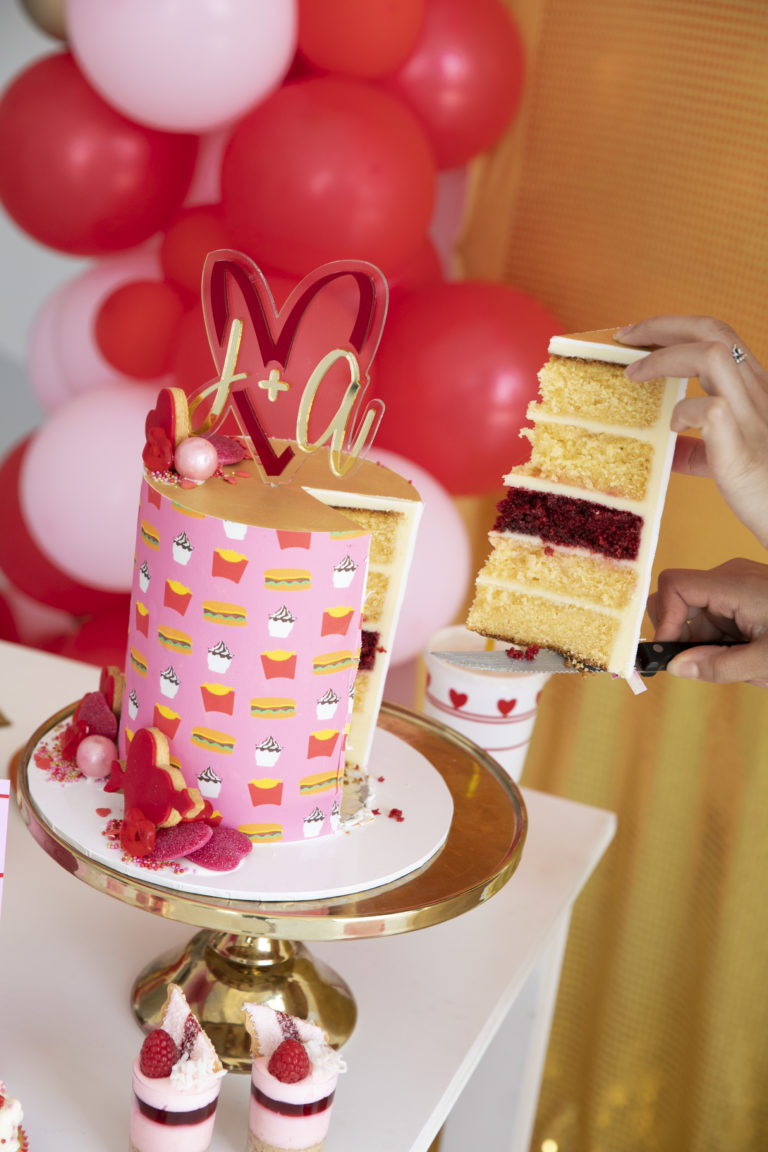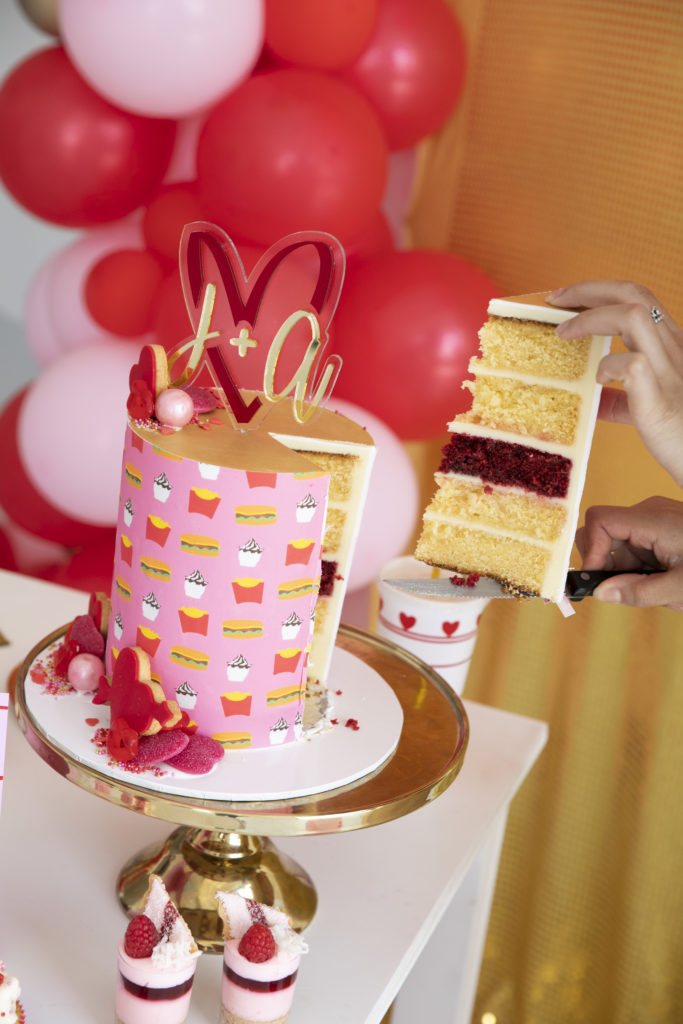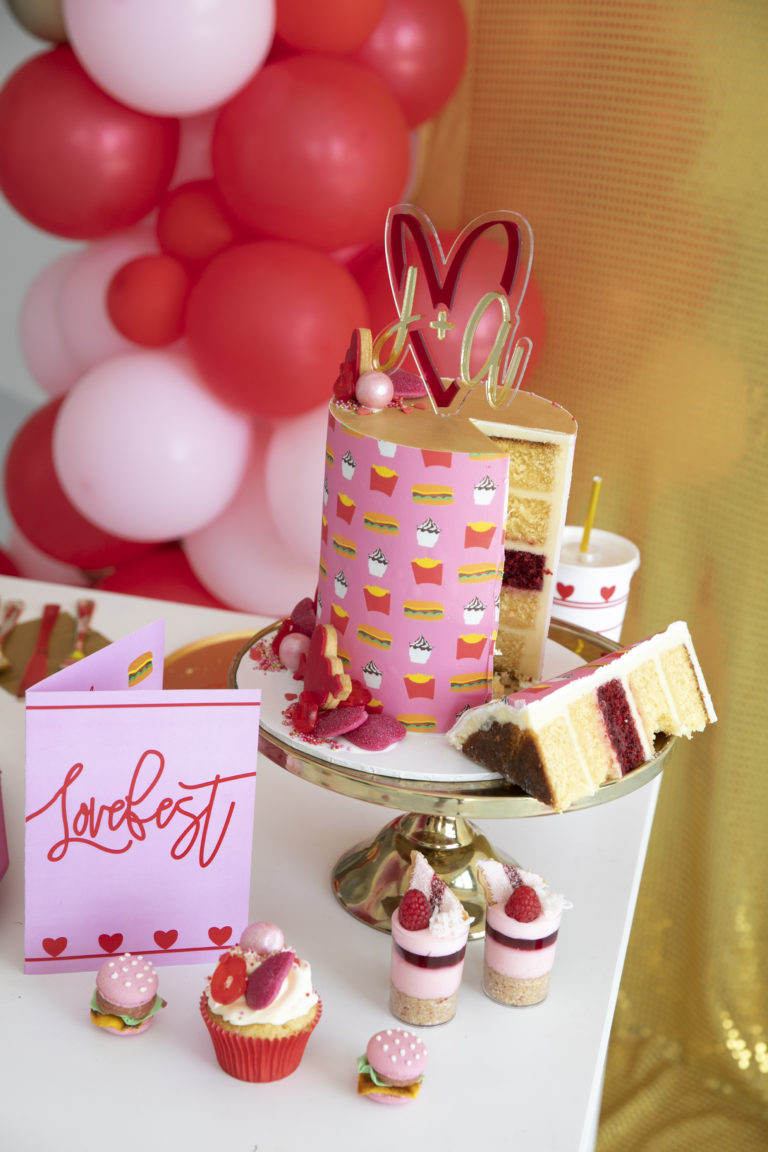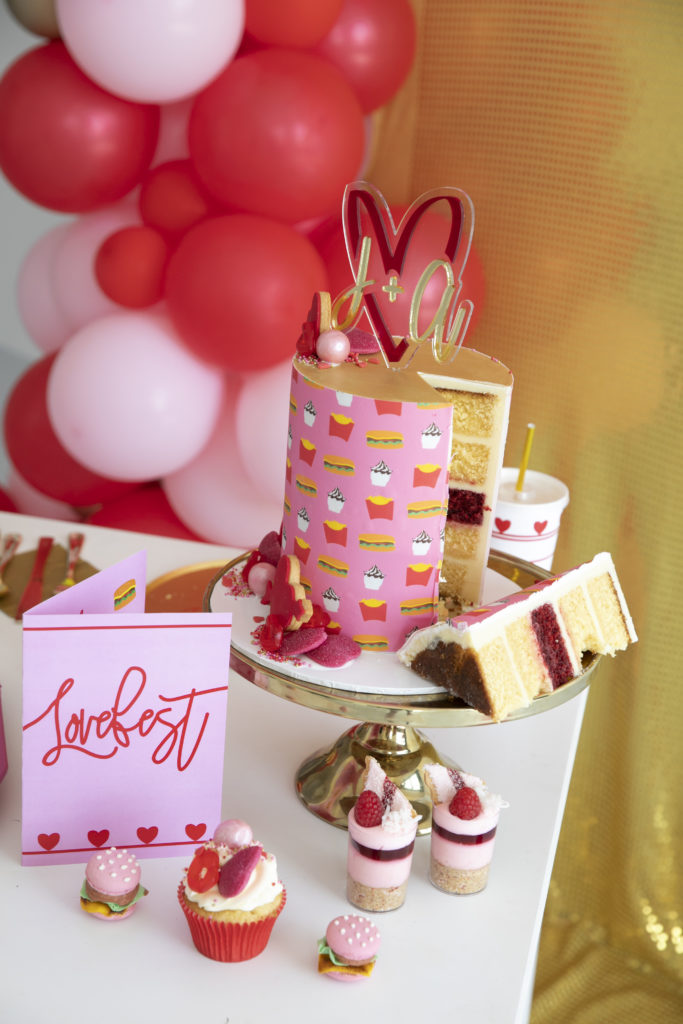 The day was captured perfectly by Cassie of Bedford Photography. With years of wedding photography experience, she really knows how to get her photography subjects to work it for the camera!
Vendor credits
Photographer | Bedford Photography| @bedfordphotography
Cake | Sassy Sprinkles Cakery | @sassysprinklescakery
Dessert Cups | Bella Noir Desserts | @bellanoirdesserts
Macarons | CupcAmyia | @cupcamyia
Cake Topper | Alison Caroline Designs | @alisoncarolinedesigns
Makeup | Tina Matti Artistry | @tinamattiartistry
Neon sign | Sammy and Lola | @sammyandlola
Balloon installation | Belles Decorations By Design | @belles_decorations_by_design
Tableware, XOXO and heart foil balloons | Favor Lane Party Boutique | @favorlanepartyboutique
Emjoi kissing balloons, heart balloons and paper straws | Lovely Occasions | @lovelyoccasions
Model | Miss Sassy Sprinkles Cakery – Nelle @sassysprinklescakery