This party is featured in Confetti Fair's 2019 Special Edition Magazine United States of Party. Click here to see it, or read on for the Botanical beach side bridal shower.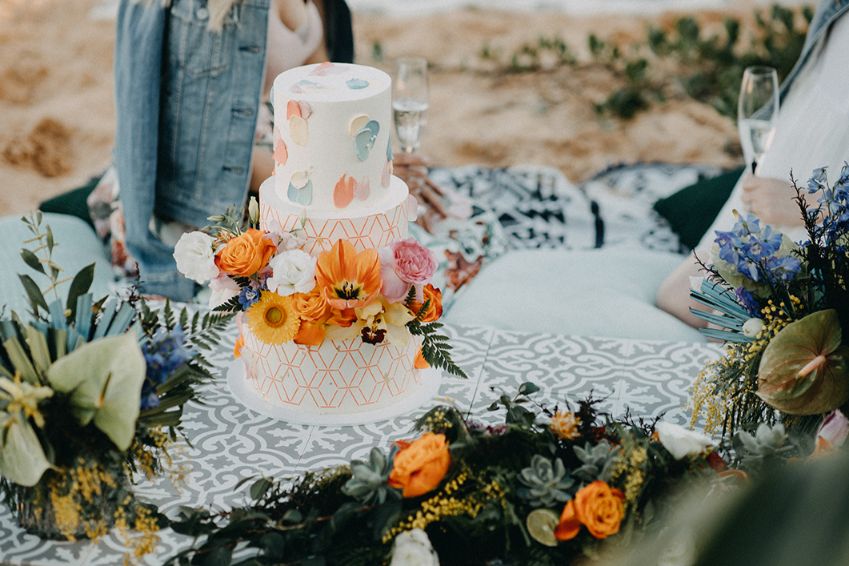 We challenged 23 talented party vendors to design a party inspired by a USA location.
ELK Prints was inspired by San Diego's Balboa park and old-wold Mexican heritage to create this beautiful picnic bridal shower.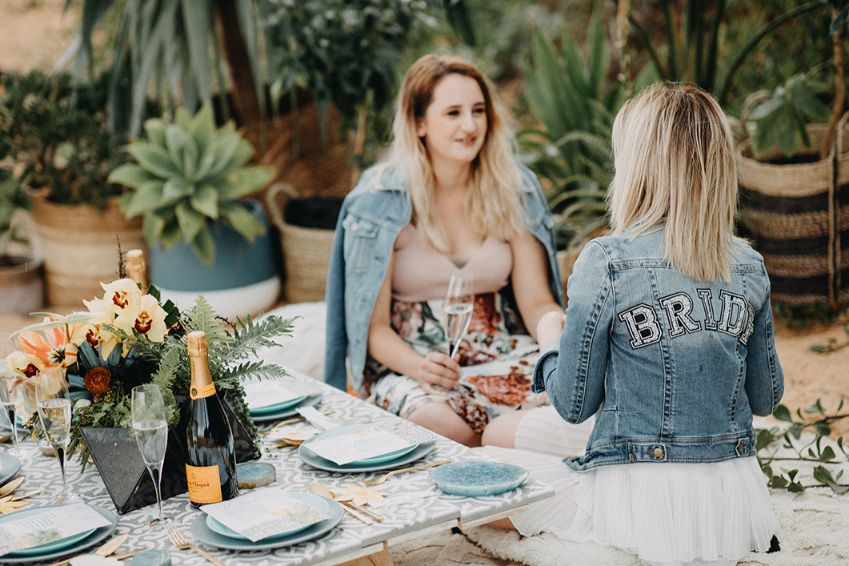 A botanical beach side bridal shower
What made you choose your shoot location for United States of Party?
I was inspired to choose San Diego as a location as it offered an interesting intersection between the vibrant colour and patterns of Mexico with the sophisticated coastal cool of California. I also loved the botanical diversity of the landscape where the desert meets the sea. San Diego has a really fresh vibe, rich with layers and influences that it has developed from these cross-cultural roots which for me as a creative is very inspiring.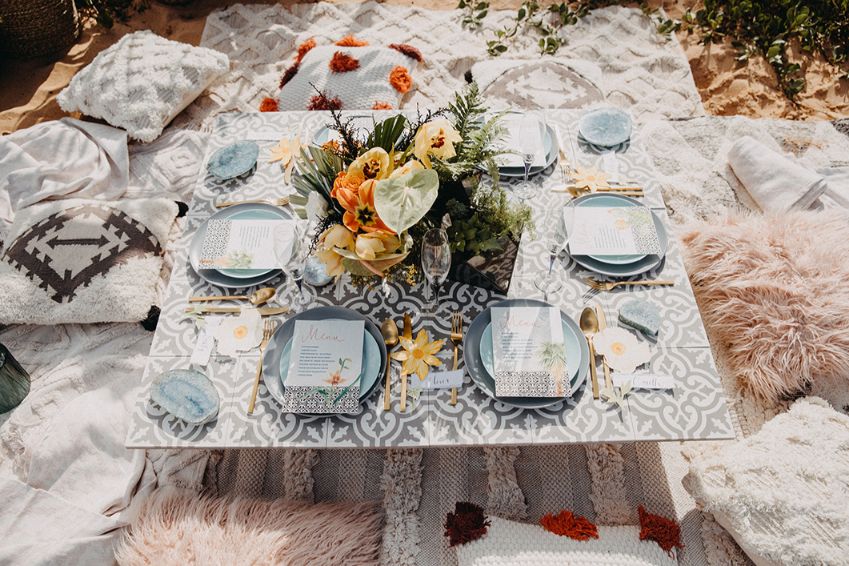 What inspired your shoot?
I was inspired by the encaustic tile patterns found throughout the architecture of San Diego, both historically and also in more contemporary interiors. The traditional geometric patterns have evolved over time, whilst still maintaining the essence of their character. I love how they are being used in cafés, bars and private residences today, as an intricate geometric base from which pops of vibrant colour and beautiful lush green botanicals are paired against. The famous botanic gardens of Balboa Park were also a key inspiration that I wanted to enrich the set-up with. The beautiful beaches and coastal landscapes also influenced my decisions in designing this look.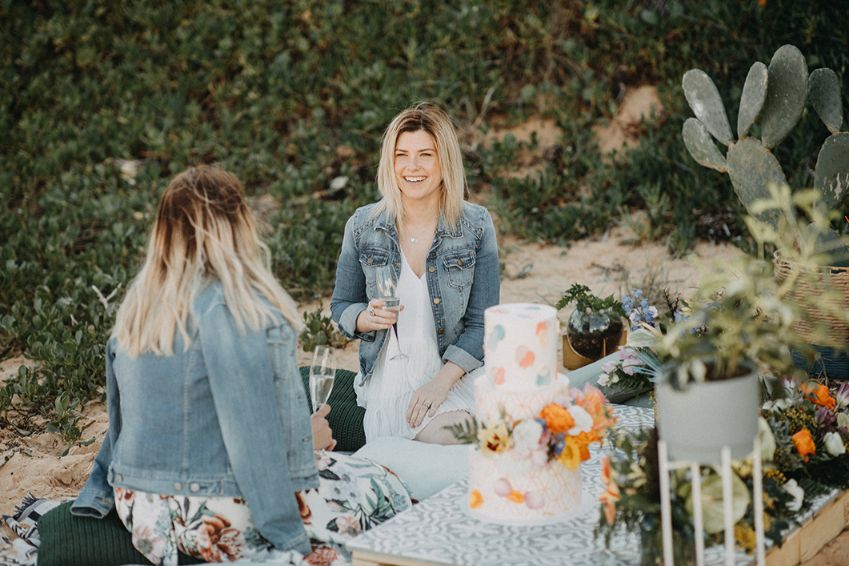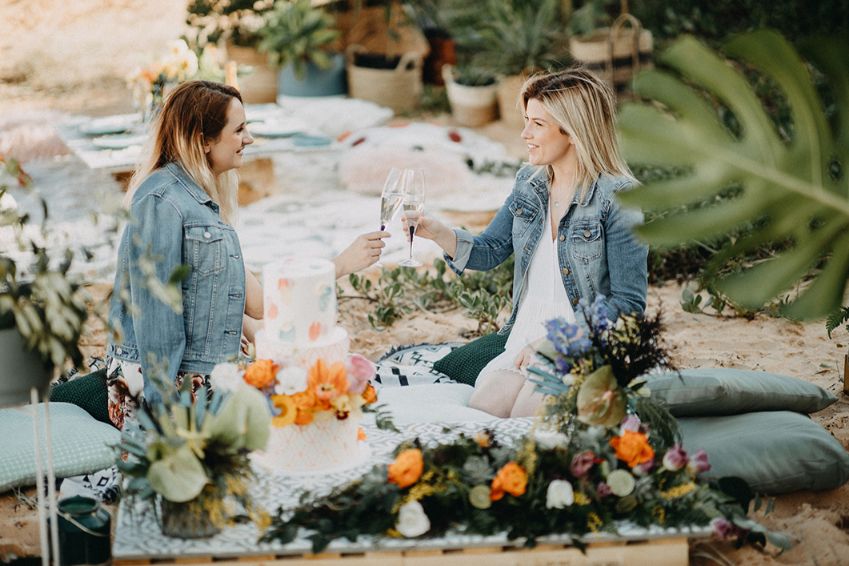 Did you incorporate any current party trends or DIYs in your shoot? If yes, what were they?
For the San Diego shoot I wanted to create a smaller more intimate party setting, one that was relaxed and chilled out that focused on friendships, conversation, good food and enjoying the moment. The picnic tables set out directly onto the beach with comfortable cushions and picnic blankets is the perfect way to create this vibe for an event. I chose to style the table with the encaustic tiles as a base as this reflected both the style and architecture of San Diego as well as providing a slick contemporary geometric base from which the other elements of the table could contrast against. Blue glassware and agate slice coasters were chosen to reflect the ocean setting and a colour palette of tones of blue, yellow and coral create a contemporary vibrant look that is fresh and light.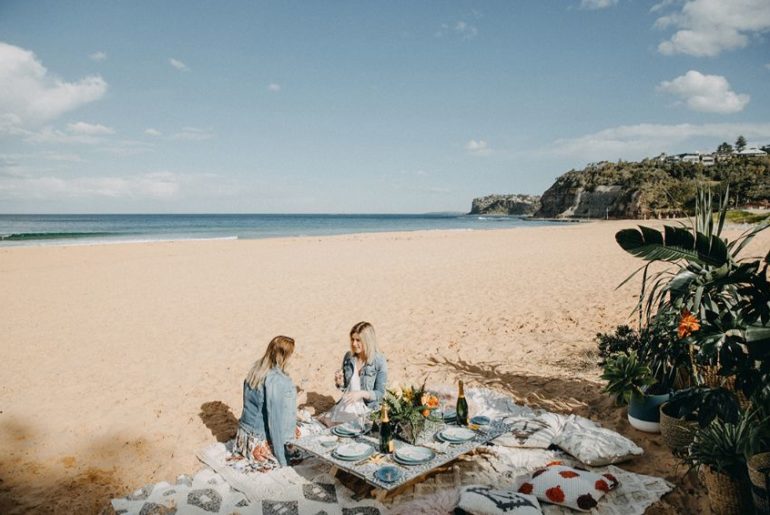 I love using botanicals in party setups – they look amazing. Using a service like Pop up Gardens provides a stunning and interesting backdrop that is environmentally sustainable. Flowers are also an essential inclusion as they instantly transform a table into a celebration worthy event.
Light fresh flavours are becoming more popular in cakes and Bre designed her vanilla and berry cake with this vibrance in mind. The geometric stencilled pattern in coral was counter-balanced with textured buttercream, fresh florals and fern leaves to reflect the bright, colourful yet sophisticated vibe.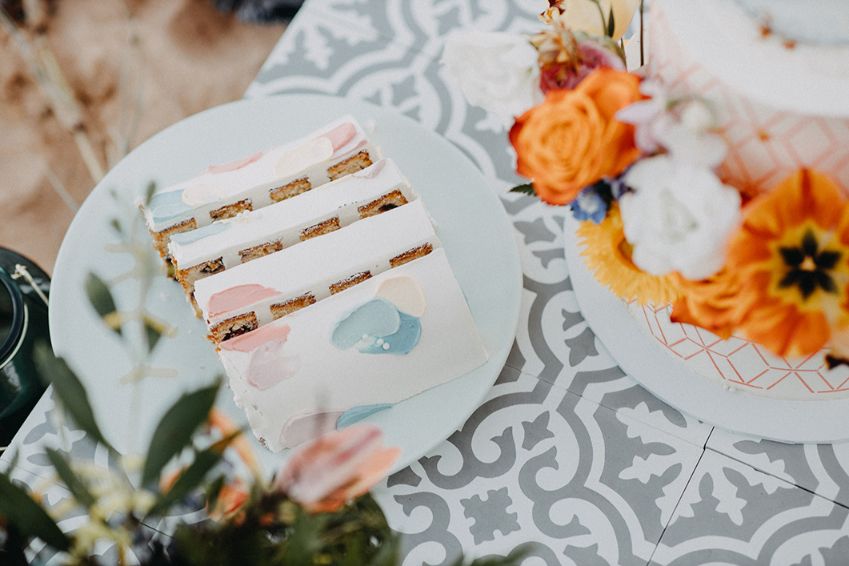 The custom denim jacket from Azul Denim is a really stylish way to mark out the bride – to – be in the party group and allows her to feel special and honoured amongst her friends instead of embarrassed. The denim look also perfectly suits the California setting and contemporary fashion tastes.
The placecards feature hand – calligraphed names wrapped around the stems of hand – painted watercolour flowers, the two designs are of a San Diego Sunflower and a Coulter ' s Matilija Poppy – both native flowers of the San Diego region. The Menu design also featured other local native plants including the Beach Suncup, Steam Orchid, Coast Prickly Pear and California Fan Palm. Taking inspiration directly from a geographical place is a really nice way to add significance to an event and help tell the story of that celebration.
PS. If you're wondering which beautiful location this is, it's Bilgola Beach on Sydney's Northern Beaches.
Vendor Credits
Photography @ballyhoophoto | Styling & Stationery @elkprints | Furniture, Props & Tableware @little_bird_boutique_events | Florals @wild_dahlia_florals | Plants @pop_up_gardens | Cake @cakesbybreparsons | Hair & Makeup @jocandelariabeauty | Denim Jackets @azuldenim | Models Kayla Rich @modern_vintage_mum | Jennifer Higgins @jennifergrace84 | Encaustic Tiles @teranovatiles
This party is featured in Confetti Fair's 2019 Special Edition Magazine United States of Party. Click here to see.