Read on for the best party ideas and trends you need in 2020!
Welcome to United States of Party! Our 2019 Special Edition Magazine featuring 23 original parties with all the latest trends and ideas for 2020. Read on below or click here for a full screen experience!
We asked a bunch of talented party people to choose a US location as inspiration and go wild with their creativity!
The result is magic, with 23 parties featuring the latest trends in parties and weddings to inspire you! Over 250 vendors came together to contribute to this amazing project – a beautiful 200 magazine (now only available in digital).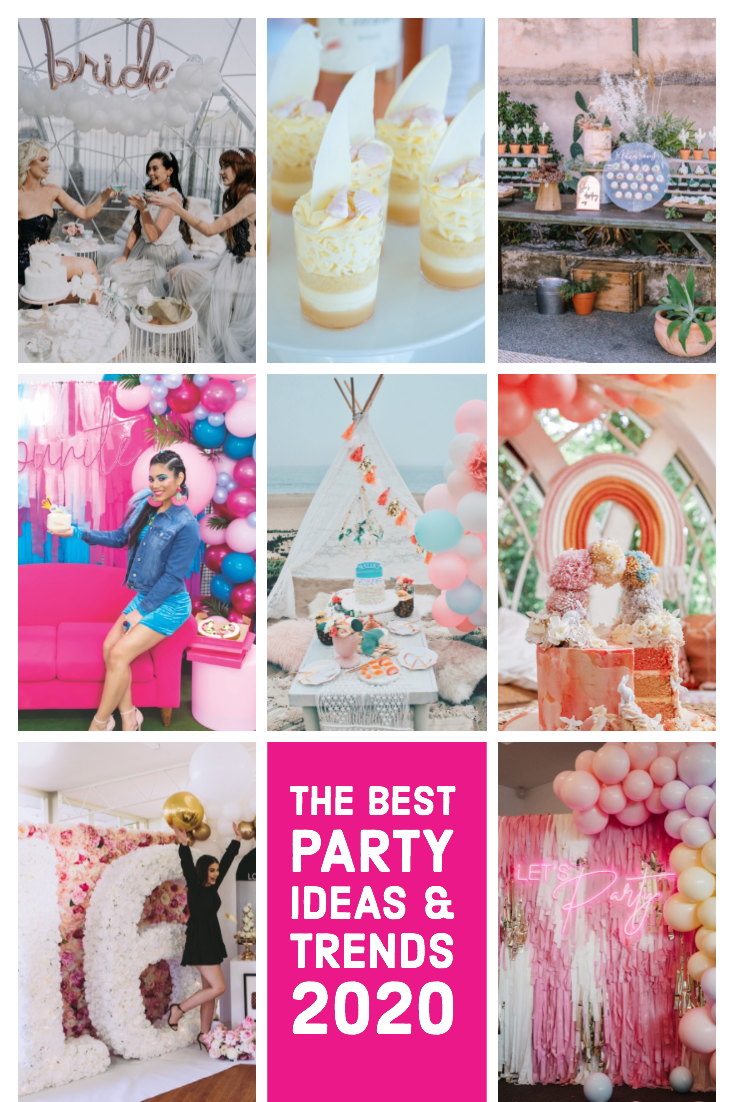 The parties include:
Rose the day away – an elegant luxe Hamptons inspired bridal shower by Stylish Soirees Perth
She's dessert-ing us! – a cool bridal shower featuring Arizona's south-west desert vibes by Favor Lane Party Boutique
Breaking the Ice – an ultra-glam grown-up winter wonderland bridal shower inspired by the icy landscape of remote Alaska by Lovely Occasions
An uber-luxe tropical wedding inspired by Hawaii, by Superb Event Styling
Happy birthday Sweet Sixteen – Rodeo Drive birthday for the designer brand loving girl by Sweet Sienna Event Styling
A Salem Halloween Horror Feast – by Zoom Images and Mary Ronis Events
A San Diego inspired, floral beachy bridal shower by Elk Prints
A San Francisco inspired Summer of Love 30th by Studio Bonito
A Sleepless in Seattle Elopement by Pop Up Elopements
A fabulous engagement party inspired by New Orleans's Mardi Gras festival, by Sassy Snaps Perth
Running Wild: A birthday party inspired by Canada's great outdoors, by Epic Installs
Girl's Beachy Brunch – celebrating the fab place that is Malibu by 3RD & LUXE
Rocky Mountain Camping Party – a Colorado inspired kids party by Confetti Dust Studio
Birthday Desert Oasis – A mid-century, Palm Springs inspired birthday lunch Petal & Fern
The Happiest Birthday on Earth – a fun mini Disneyland set up by Creative Themes Perth, featuring all your fave characters from Glass Slipper Entertainment
A boho Wizard of Oz Kansas party by Fable and Moon
Candyfornia – a pink infused Hollywood/California girls' party by Style Vine Events
A Chicago Jazz inspired proposal by Set in September
An 80s Miami hens night by Confetti Fair
A New York-inspired kids party by A Peachy Affair
A Vintage Boho Texas Wedding by Sitting Pretty Events Hire
A glam Las Vegas Wedding by Dazzled Events and Styling
A girly Barbie party inspired by the state of Wisconsin, by Confetti Party Hire
Here is the epic list of vendors and contributors involved. Special thanks to them all!
1. New Orleans
Styling & Photography @sassysnapsperth | Desserts @_cookieandco | Cake @verlenacakes | Laser Acrylic Signage @footeandflame | Personalised glassware & Bridesmaid Proposal boxes @papertheninth
2. Canada
Coordination and hanging installs @epic_installs_ | Round camp maple sign & gold maple leaf toppers @_etched | Wooden direction signs, cake topper, chalk board @perfectlycreated4u | Chocolate grazing board @carnivalcreations | Magnums, cookies and cake jars @cakes2celebratebylisa | Cake @delysscious.creations | Tent and styling accessories @nancybellevents | Furniture & styling accessories @poppyandposy_| Photographer @tarynhaysphoto | Kids clothing @littlelords | Kid models @ethanallenaustralia @fasteddi13 @maikos_adventures @tutusandsass @2hearts_1love | Grown-up model @bossbabe.perth
3. Disneyland
Concept, coordination, styling + props @creativethemesperth | Characters + concept @glass_slipper_ent | Photography @roseandrhymestudio | Venue @darlingsdayout | Children's play equipment @perthtoyhire | Children's chairs @allegra.and.grace.chairs | Children's clothing @fairytaleschildren | Mini desserts @kingdomcupcakesperth | Princess fairy-tale cake @art_of_cakes_by_manon | Cake pops + wonderland cakes @fondantfeatures | White event fencing @perthpartyhire | Storybook props @oldmatesstudio

4. Chicago
Concept, styling and flowers @setinseptember | Live band @thejunosmusic | Photography @caitlynjoycephotography | Prop hire @nspropstyling | Cookies @thewillowcottage_ | Cake @nooshysbakery | Neon love light @hoopalahire | Ring @ovalandpear | Hair and makeup @rachellefacelo | Venue @the_b_space
5. Los Angeles
Concept, planning + styling @sweetsiennaeventstyling | Photography @myeye_photography | Plinths, cake stands + chanel chairs @sweetheavenlyeventshire | Arch backdrops @props_and_platters | Balloons @bubblemooballoons | Flower wall + life-size floral 16 @bloomingmoments_ | Fresh flowers @flowerswithdevotion | Cake + mini Tiffany & Co cakes @sweet_es_cakery | Dessert glasses, cupcakes, choc covered oreos + tarts @sweetbitesbyangela | Cookies, cake pops + magnum pops @cookiequeenkitschn | Strawberry tower + cupcake bouquet @lushouscakes | Macarons @crumbsandbutter | Tableware @takemehire | Personalised place card tiles + favour boxes @parla_boutique | Acrylic letters + personalised magnum pop sticks @rycolina_designs | Book designs @efstathiacreative | Venue PJ Ferry Reserve Community Hall @grcouncil | Models Bianca Georgievska @biancageorgievska | Anna Petkovski @annapetkovski_ | Olivia Masalkovski @oliviamasalkovski
6. Kansas
Concept, styling, hire & balloons @fableandmoon | Photographer @lucylawsonphotography | Flowers @minouxflowers | Cake @bridiescakes| Invites & stationary @wonderland_invites | Party bags @truly_scrumptious_party_bags | Partyware @otherletters | Signage @herestousuk | Coconut bowls and bamboo straws @thekind_company | Rainbow banners @boomtingbunting | Yarn rainbow @made.by.thu | Venue @theoldparishrooms | Children's clothing @littlestylestories
7. Colorado
Wooden backdrop @justimagine.events | Birthday cake and cupcakes @bonfinessepartyplace | Acrylic trail mix sign @eventful.ai | Popsicle cart @tropicaltreatsaxa | Concept and styling @ConfettiDustStudio | Photographer @ksharpmedia
8. Malibu
Design, styling, cake, balloons, florals, & photography @3rdandluxe | Catering @805cateringco | Cake topper @kiki_sprinkles | Place settings / paper chandelier @ellieandpiperco | Balloons, tassels, poufs @rockandllamaparty
9. San Diego
Photography @ballyhoophoto | Styling & Stationery @elkprints | Furniture, Props & Tableware @little_bird_boutique_events | Florals @wild_dahlia_florals | Plants @pop_up_gardens | Cake @cakesbybreparsons | Hair & Makeup @jocandelariabeauty | Denim Jackets @azuldenim | Models Kayla Rich @modern_vintage_mum | Jennifer Higgins @jennifergrace84 | Encaustic Tiles @teranovatiles
10. San Francisco
Concept & styling @Studio.Bonito | Balloons @prettybonitodesign | Signage and etched coconuts @Studiot55 | Photographer @fionakphoto_weddings | Cake @elegantlyfrosted | Grazing @qyliaandco | Flower crowns @northsideflowermarket | Flowers – tables & bottles @alanahcheriefloristry | Bar – caravan @olive_mobile_caravan | Cake pops @srabrigadeiroaustralia | Cookies @missdeescakes | Mua @sophygonmua | Mua @carlystonemua | Models @reeces_photography101 @ceyahne89 @edenkyliee @rhiannaolguin @madeline.barclay @wikiwiki.NZ @thebellastylingco
11. Texas
Wedding dresses @lostinparis | Photographer @aishanicolephotography | Cake @cakesalon | Models @rosies_secret_garden | Models @shanisejones | Props @sittingpretty_eventhire
12. Seattle
Photographer @bedfordphotography | Flower @floral_fix | Ceremony @amandaknapton_celebrant | Stylist @hazelhurstcafeweddings | Cake @sprinklesandcreamcake | Makeup @jessicaamymakeup | Hair @leanneformicahair | Pop up elopements and mini wedding packages @popupelopements
13. Vegas
Neon light @loveglowsletterslightslove | Cake @gorgeouscakesbyhelen | Blackjack table and Vegas signs @omgfunnights | Styling, flowers and props including mesh backdrop, wishing well, signing table, welcome sign, cake table, cake stand, @dazzledeventsandstyling | Makeup @jasminethaliamakeupartist | Writing on the welcome sign, wishing well and cake table @pinkfishdesigns | Photographer @zoominwitheden
14. Miami
Venue @the_b_space Cake @sassysprinklescakery Cupcakes + heart outline cake @the_sweetest_crumbs Dessert cups @bellanoirdesserts Laser cutting @studiot55 Streamers + balloons @belles_decorations_by_design Cookies @sunflourcookiessyd Cake pops, mini cakes and pizza cake @crumbs_with_love Bar furniture @simply.seated Neons @loveglowsletterslightslove Engraved coconuts @kayter_co Meme box, lollipops and eclairs @delleicious.by.elle Makeup @jasminethaliamakeupartist@juliadamore_ Hair @thebraidboss_Plants @sittingpretty_eventhire Neon stools + tables @prop_my_party Denim @phedonix_denim_art Partyware @favorlaneparty Dessert cupcake toppers @bright.eyed.designs Models @marykaterina @tracyjoanne@shikks @sassysprinklescakery
15. Arizona
Styling, Tableware & Balloons @favorlaneparty | Photography @lifawall | Flowers @a_littlebohemia | Cake, Cupcakes and Cookies @sweetdaisymay | Cake Pops, Brownies and Macarons @niknakssweetesttreats | Picnic Tables and Décor @lacepetalsandhearts | Gourmet Grazing @thegoodgrazerperth | Vintage Caravan @caravanandtonic | Venue @feldandco | Hair + Makeup @bethanyartistry | Cake Topper, Acrylic Dessert , Table Sign + Macaron Stand @xoxodesign_au | Models @bethanykinners @the.norton.tribe_
16. Hawaii
Styling @superbeventstyling | Photography @pink.elephantphotography | Venue @zimzala_cronulla | Cake @silverliningcakedesigns | Flowers @flowerhourflorist | Tiffany Chairs @sublimepartyhire | Tableware @luxurypartyhire | Signage & Place Cards @gigglesandgrace | Cookies @cave_cookies
17. Salem
Styling and props @maryronisevents | Concept and photographer @zoomimages | Brain and heart cake and cupcakes @fancyeventsparties | Panacotta heart and brain cheesecake @mamatucks.au | Props and tableware @npm_events | Eyeball and severed finger cookies @annemariemolloycookies | Invitation @elkprints | Makeup @jasminethaliamakeupartist | Hand silhouette painting @jossignsbydesign | Flower crowns @abeliaflowercrowns
18. Palm Springs
Styling, Props and Flowers @petalandfern | Photography @emily_marie | Venue @the_b_space | Stationery @elkprints | Cake topper and swizzle sticks @studiot55 | Balloons @belles_decorations_by_design | Partyware @favorlaneparty | Cakes @crumbs_with_love | Desert cups @mamatucks.au | Cookies @annemariemolloycookies
19. Alaska
Styling, balloons, partyware & decorations | @lovelyoccasions Photography @keiramccall Cake @brisbanecakeco | Gourmet fairy floss @fluffycrunch | Dresses @whenfreddiemetlilly | Headpieces and jewellery @littlewhitecouture Makeup @jessicamayhmua Cookies @cookies.with.love | Venue @customshousebne | Bride model @Nattyfaulks | Bridesmaid models Serena Brookes | Caitlin Collins @rocketgirlmodelling
20. Wisconsin
Styling props furniture balloons and streamers @Confettipartyhire | Light up letters and neon lights @loveglowsletterslightslove | Flowers @1969Floristry | Decals @getglitteredtutus | Cake topper and desserts @alaroch | Confetti @Bioconfetti | Venue @theargentonhotel | Cake @scarletjadeaustin | Photography @wolfandwildflowerphotography
21. California
Concept and styling @style_vine_events | Photographer@brooketunbridge | Streamers @xstream_things | Venue @shaghair | Cake cupcakes and doughnuts @miss_ivy_and_i | Meringue pops @oh.sweet.darling | Fairy floss @fluffycrunch | Dance floor decals @able2create | Acrylic signs and props @maccreationsau | Bespoke paperie and selfie frame @sevensix_eventsndesign | Mdf props @customwholesaledesigns | Light up letters @loveglowsletterslightslove | Plinths and styling assistant @partymamma | Balloon sculptures @keencreations1 | Pinatas and props @cojicreations | Food carts and props @djmagoo | Flowers @boyditaflowersdelivered | Girls' tutus @heartcore.legends | Girls' lace bodysuits @frilledneckfashion | Hair central coast braids @centralcoastbraids | Girls make up @jaydapalmermua | Models @miss.coco.dancer @miss_mia_faith_dancer @miss_britney_summer_knight @tehya_djs @ruby.tania @miss_mia_b
22. Hamptons
Concept/styling/balloon garlands @stylishsoireesperth Photography @viktoriasaar_photography
Venue @scarborosurfclubwa Bar/arbour/table/chairs/lounge @maiseycollections Cake/mini desserts/donuts/cupcakes/biscuits @cakes2celebratebylisa
Flowers @missbloomingbird Balloons/styling assistance/favour bags/photo props/bunting @favorlaneparty Doughnut board/signage @xoxodesign_au Bar tables/stools @littlepalletco Tableware and napery @sideserveperth Chocolate strawberries @in.dulge Catering @pickledpinkprovisions Makeup @starletconcepts Hair @arimahhair
Rosé magnum bottles @liquorbaronsduncraig
Models @hayley.beardman_model @taylorlawler @_reikkileenewman_ @lilyancsmith @_tainuitupaea
23. New York
Styling, Concept, Coordination, Flowers, Custom Decals, Acrylic Name Plates, Signs, Street Signs and Tableware | @apeachyaffairevents Photography | @light.gloss Venue | @littlegingercoBalloons and Streamer Backdrops | @bedazzledparties Cake, Dessert Cups, Custom Cookies and Donuts | @tangleandcoCake Topper | @kiki_sprinkles Neon Light | @neonoasis Mesh Screen, White Plinths and Dessert Cart | @lifesroseyeventhire Children's Table, Tiffany Chairs, Cake Stands and Glass Ornamental Jars | @rndeventsmelb Cubby House, Bench and Vintage Care Ride Ons | @littleluxepartyhire Custom Fairy Floss and Popcorn Tubs | @floss.d_