We love sharing eclectic Halloween looks on Confetti Fair! This dark red Halloween glam look by Indulgence Table was a real fresh take on the spooky theme and we loved it! It featured a colour scheme of dark reds, black and gold. Read the details of the dark red Halloween glam party as recounted by Lyn of Indulgence Table below!
Don't forget to scroll down to the bottom to find party and event vendors in Melbourne who can create this stunning look for you!
Dark red Halloween glamour party
Ghosts and skeletons, creatures of the night, come one, come all in the threads of the Season.
When witches go riding and black cats are seen, the moon laughs and whispers, tis near Halloween.
When you think of Halloween you think of creepy, blood and gore, we elaborated on this concept and created something extraordinary that did not only capture Halloween but also incorporating a touch elegance and luxury.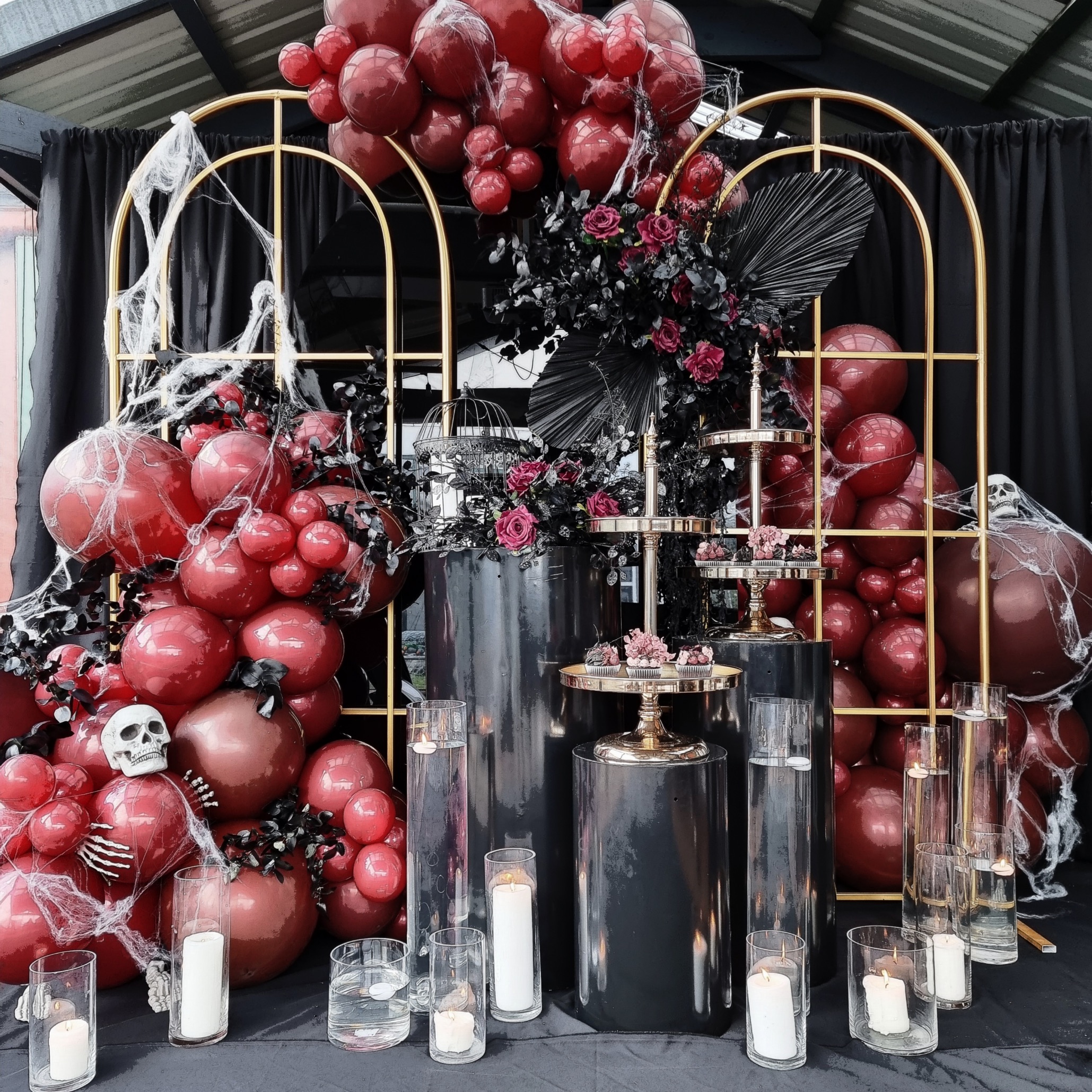 The colour of blood was our muse for the balloon work. The simplicity of the dark red palette used enhanced the black statement pieces such as the floral arrangements, black backdrop and plinths. skulls and bones were strategically placed to give the illusion as if they we are emerging from the blood toned balloons. Cobwebs and black foliage were carefully entwined throughout the set up to complete the eerie experience.
Our essence is elegance and luxurious, to incorporate that into our Halloween party we added gold arch backdrops and gold dessert stands which were accompanied by magnificently designed skull sugar cookies and alluringly rich chocolate cupcakes with a subtle chocolate Swiss meringue buttercream. The desserts were inspired by the dark toned colour palette with a dash of elegance.
To complete the final touches we added lit pillar and floating candles in cylinder vases, we also used 3m high black draping to create a moody ambiance.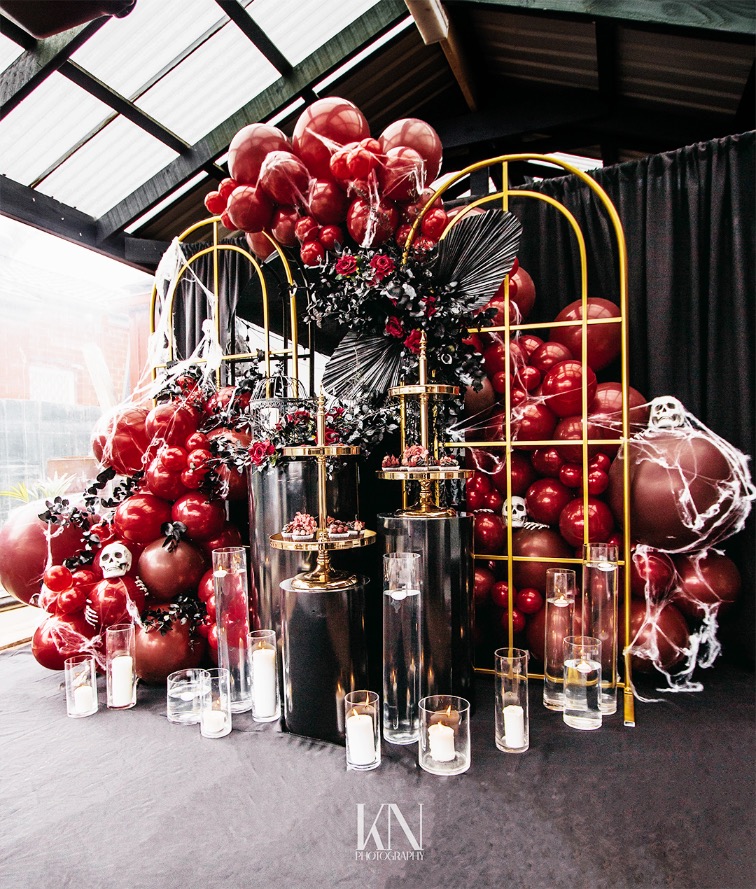 Halloween is about more than just scary decorations, costumes and treats, while the spooky celebration is only just beginning to take off in Australia, what cannot be denied is that it is fantastic at binging communities together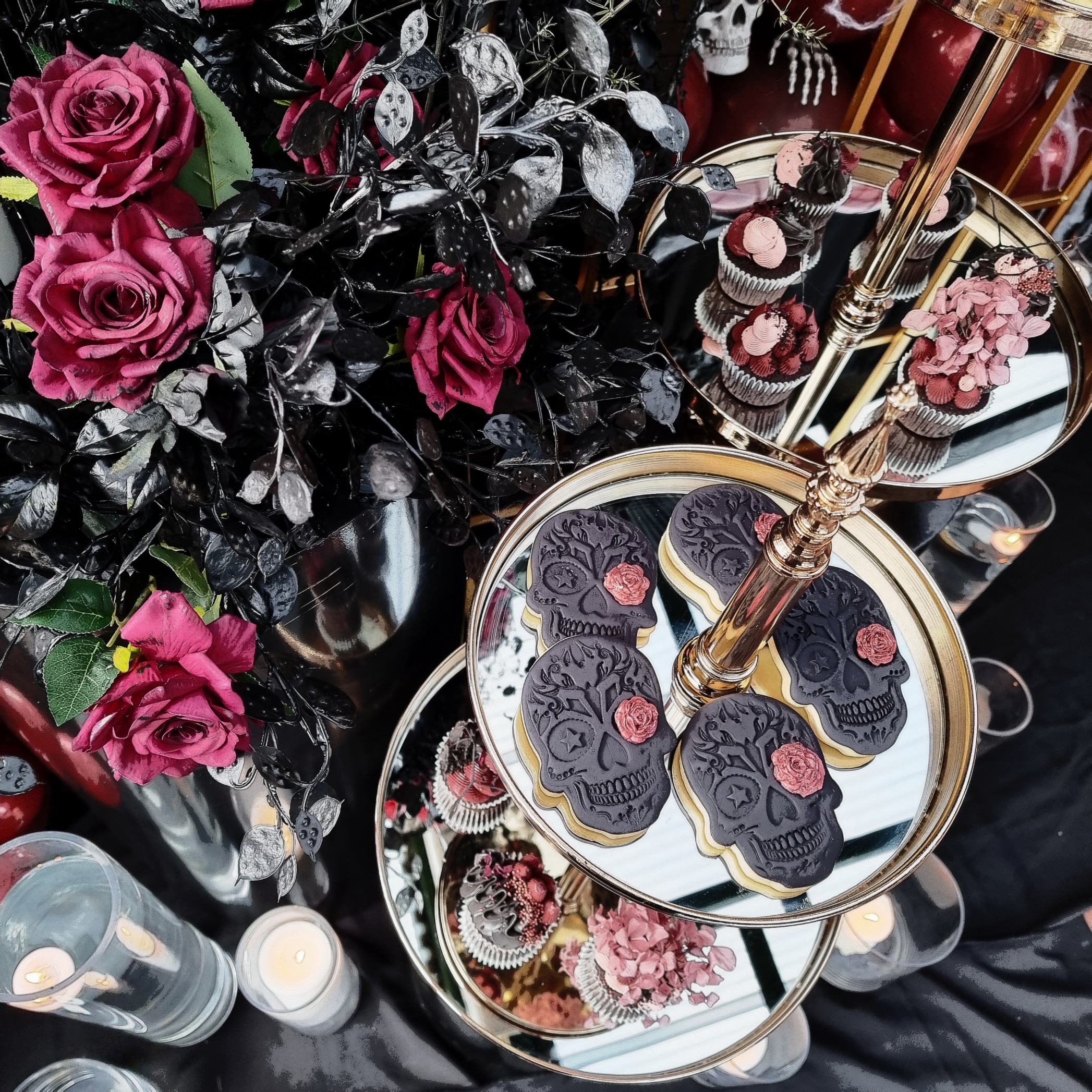 Vendor Credits
Concept, balloon artistry, floral arrangement, Halloween props | @indulgence_table
Concept, backdrops, plinths, dessert stands, black drapes, skull sugar cookies | @style_your_events Cupcakes | @sweettoothmelbourne
Photography | @knphoto_graphy
Find more Melbourne party and event vendors here.