Tasked with planning a work Christmas party yet tight for time? No problem! We teamed up with our friend Roxanne from Lovely Occasions, to give us the low down and best advice on last minute Christmas party ideas. As owner of the fabulous Aussie party store, you can be certain that Roxanne has this one in the bag!
Last minute work Christmas party ideas – our favourite ideas
Celebrations are back and that means the work Christmas party is on! But it might feel like it's crept up on us this year as we start looking to organise the perfect way for the team to let off a little steam from a stressful year and enjoy some social time together to help build better relationships and team culture. Creating an EPIC (but probably last minute) work Christmas party that is going to please everyone is no easy task, so we have outlined some great ideas for you to use to create something fabulously fun and festive!
Christmas party in the office
If you are planning a last-work-day or half-day Christmas celebration in the office, then why not create a Christmas themed Wonderland! Decorate the boardroom or staff room with foil Christmas balloons, create a grazing table with lovely Christmas foods, set up a fun and quirky photobooth to have a few laughs and capture a few happy snaps! Don't forget the Christmas soundtrack and of course a glass of bubbly. Make it even more special with the below suggestions.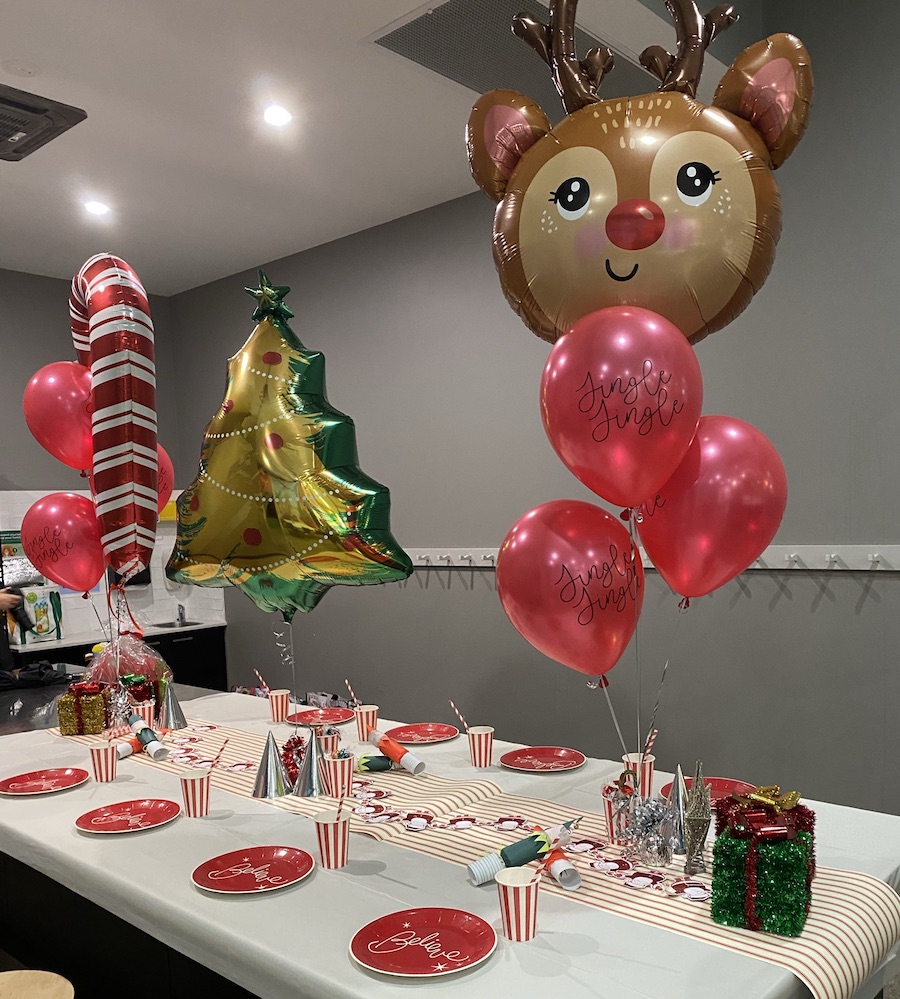 Office party decorations
Modern decorations will really transform the space. The more the merrier! Helium filled foils are great because staff can take them home for the kids, they are long lasting so no need to rush around last minute, they are easy to DIY and fill in the office if you need to with a disposable helium tank, the chance of them popping is low and they look great and are easiest way to create a party space – no hanging, wall hooks or ladders required.
Office Christmas party food
Some awesome food and drinks is a sure fire way to up level your office party. Have catering delivered or create your own grazing table using a great paper table runner, modern Christmas themed quality paper plates, napkins, themed cocktails or drinks.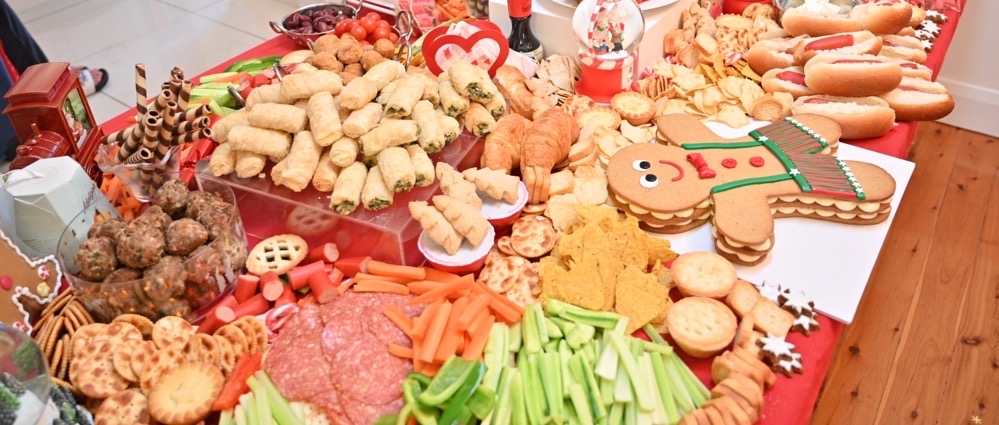 Entertainment for office Christmas parties
Entertainment is generally a must have for work Christmas parties – and they're a great way to make an in-office party just that little bit extra. Roving entertainers, magicians, dance groups, carol singers, bartenders with flair and celebrity look-alikes are just some ideas.
Last minute work Christmas party experiences outside of the office
An experience might be a great activity for your team to enjoy outside of the office – some great ideas are:
Book a Tour
A winery tour, pub crawl or harbour/river cruise with a meal is a real special treat!
Indoor Experiences
There are plenty of novel ideas to try here! Some to try include; arcade games, cocktail making, cooking class, baking class, axe throwing, beer tasting, laser tag, bowling, Rage room, sip 'n paint, murder mystery dinner, spa day, karaoke, ice-skating or roller disco.
Corporate Team Building
You will certainly find amazing ideas here that a few probably haven't tried. There's escape rooms for office parties, city treasure hunts, minute to win it, and even beach Olympics!
The Great Outdoors
We're lucky to enjoy beautiful weather in December down under. Take advantage of it by planning an outdoor Christmas party incorporating a styled picnic, golf day, lawn bowls and putt putt. For activities that are less leisurely, try kayaking, bubble soccer, paintball or rock climbing!
Shop the entire Lovely Occasions Christmas collection here.
More than just Christmas lunch
The obligatory end-of-year staff lunch doesn't need to be boring. Create a memorable experience by trying something new or different, and create a merry atmosphere with a few simple decorations on the table like a festive table runner, bonbons on each place setting, festive napkins and a fun table game (read on further down for more on epic Christmas games).
Try one of these different lunch ideas:
Teppanyaki dinner or lunch
Lunch with a view – rooftop bars and restaurants with great views
High tea experience
Seafood Buffet
Degustation dinner
Comedy, Drag or Theatre show
Explore Christmas party ideas and inspiration here.
Work Christmas party games
Check out these table great group table games; Santa Dipsticks Family Game and Cheesy Xmas Jokes! And let's not forget that Secret Santa or Kris Kringle is a staple at every Christmas staff event – but it doesn't need to be the same old game – mix it up with our Secret Santa Stealing Game – I guarantee you have never played Secret Santa (Kris Kringle) like this before!
Family Fun Day
Maybe planning a fun day for your team and their families would be a perfect fit – you can't go wrong with a family picnic featuring giant lawn games. or maybe hire some Inflatable Games like sumo suits, jumping castle, inflatable obstacle course or slides. You might like to invite the families to a theme park, zoo, bounce/play centre or a local kid friendly cafe or restaurant.
Feel good factor
The staff Christmas party doesn't always need to be about food and gifts. It's a time for giving so you could volunteer as a group packing Christmas hampers for charities or donating time to charities and volunteer to organisations close to your heart
Don't forget your virtual team
And don't forget about your virtual team – you may be apart but could send a care package or Christmas hamper to them, buy a voucher to a local restaurant for them to have a Christmas dinner/lunch, or send a prepaid Visa card for them to enjoy an experience or massage.
Find party suppliers and vendors for your work Christmas party here.