So, you've just bought your first set of party printables and aren't sure about the next step? Getting your invitation and decor designed is the first part of the process. Read on as we break it down for you!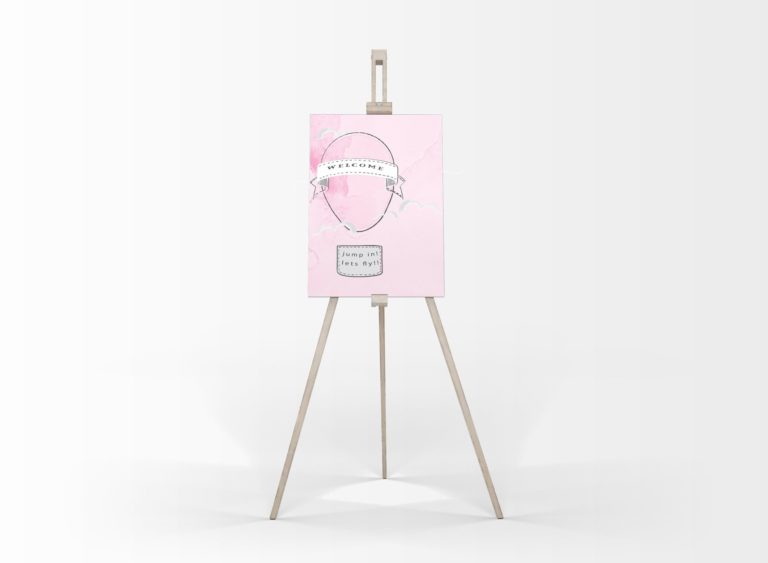 Printable poster by MooiCo – available in a range of themes
File types used for party printables
Printable files will almost always be delivered in PDF or JPG format.
PDF is better for printing because there is a good output of colour and quality, and the software that creates PDF files tends to have better text handling capabilities.
In addition, if it is a file that is editable, PDF software is the only type of software that would allow this possibility.
PDF readers tend to come pre-installed into computers and devices, but one of the best free ones on the market is Adobe Reader.
JPG format is best for sending digital invitations.
Paper for printing party printables
Your invitations and decor will look much better if they are printed on cardstock. Stick with white but varying shades of creams and beiges are available from stores (if you are also printing other decor items that are patterned, white is probably best). If you're printing at home, know that the cheapest cardstock option is to buy a ream of 200gsm from Officeworks.
Photo paper and textured and shimmery card from specialty paper shops will look great and help give a luxe look but are pricier.
Work out how many of each invitation or decor item you can get onto a page too, as most papers come in A4 sizes. For invitations, photo paper definitely does come in smaller rectangular sizes which you should be able to fit into a standard size envelope favoured by Australia Post (invitation sizes can be found further down).
For labels, you can also buy A4 sized sticker paper from Officeworks. If you are on a budget, a hack I like to do is just to print on regular paper and wrap my label with clear contact paper, especially if it is an item that might get wet. Otherwise regular old glue is fine. I do prefer spray adhesive myself, as you can control the 'tackiness' factor, should you wish to create a reusable label.
Whatever you do, check that the cardstock you buy works with your printer! The two things to check are the maximum thickness (GSM) your printer accepts, and whether the paper is for laser or inkjet printers.
Getting your party printables printed
You generally have the option of printing your files at home, at a store like Officeworks or sending a digital version. If sending a digital file you can skip ahead, but you might find this information handy if buying printables to use for other decor items too, which are often available.
If you have requested a standard size invitation, getting your invitations printed at Officeworks or Vistaprint will be a fairly straightforward process. This might not be the best option for you if you're pressed for time. However, you will receive them cut to size. In addition, it's easier to find envelopes for standard sizes (more below). For other decor items, you'll still need to mostly do the cutting yourself. For posters, be aware that you'll probably need to outsource the printing, and anything bigger than A3 will probably take a few days.
Outsourcing the printing will likely give you better output in terms of colour and vibrancy, which is a plus especially for invitations. However, as mentioned, you can get professional results at home with the right paper. Also, when printing, check your printers settings to see if there is an option that will allow you to output with more ink for deeper colours
Some common invitation sizes are:
Australia Post prefers rectangular sizes. If you love square invitations though, they commonly start at 120mm and increase in increments of 10mm to about 160mm.
When printing at home, make sure you buy a fresh batch of ink before you start, and also, ensure you are printing true to size to avoid any issues! This is normally a setting selected at the time of printing.
Final steps for your party printables
When you're done printing, there will be some cutting needed. For straight cuts, I like to use a guillotine such as this one from Fiskars. For other decor items, I tend to alternate between scissors and an X-acto knife (use a cutting mat). I also love the rounded corner look, and use a round corner cutter sometimes too.
Two of my favourite places for invitation envelopes are
Truly, Madly, Deeply
and
Peterkin Paper.
Both do a wide variety of colours and sizes. Note that Australia Post prefers standard size letters too – and they work out to be cheaper to send. Stick with the sizes listed above and you'll be good to go.
Other extras include magnet tape for your invitations, string for your bunting and elastic for party hats.
Further reading
Stress Free Guide to Party Printables – Print2day.com.au
How to print Printables – Carrielle.com
Quick Guide: Printables – Angelamariemade.com
– Written by Maria Andriopoulos