When Jennifer of Perfect Party Moments in Perth wanted to throw a party for her daughter's fourth birthday, she knew exactly what to choose. Little Red Riding Hood was her favourite fairy tale growing up, and now, it was her daughter Karina's too! Enter the Little Red Riding Hood Party…
There were a few things Jennifer knew she wanted for the party. An outdoor do, in traditional red and white, with artisan desserts. Thus she set out to engage her regular party vendors, as well as a few new ones. The party was an intimate celebration in the comfort of their backyard. Lush green plants from the backyard were placed around the dessert table and the kids seating to create the feeling of being in the 'woods'.
In addition to the items supplied by vendors, Jennifer also created some items herself, as she does with all of her parties. She designed all the printables with Red Riding Hood images purchased from Etsy. These included the Welcome Sign, Stay on your Path sign, dessert labels, grandma's cookies favour bottles and favour boxes filled with additional goodies. Check out the details below!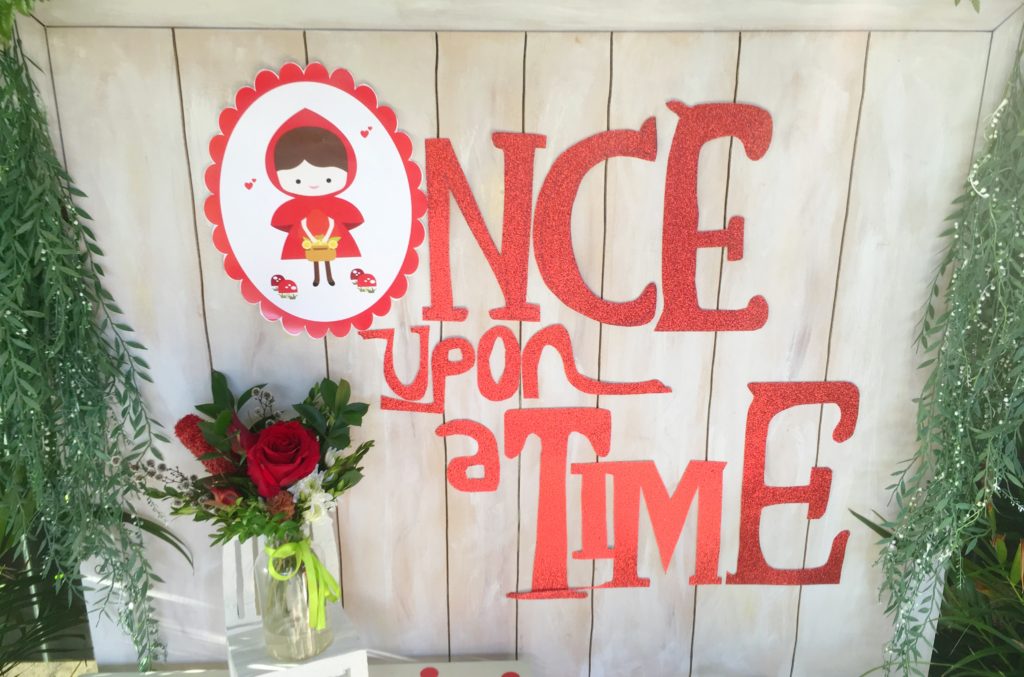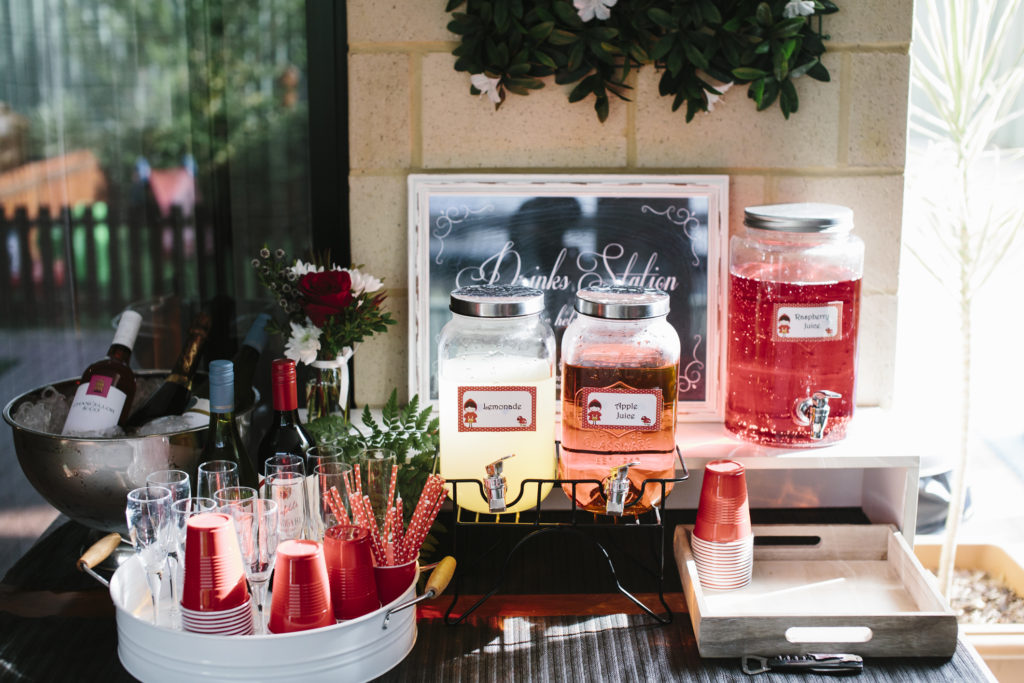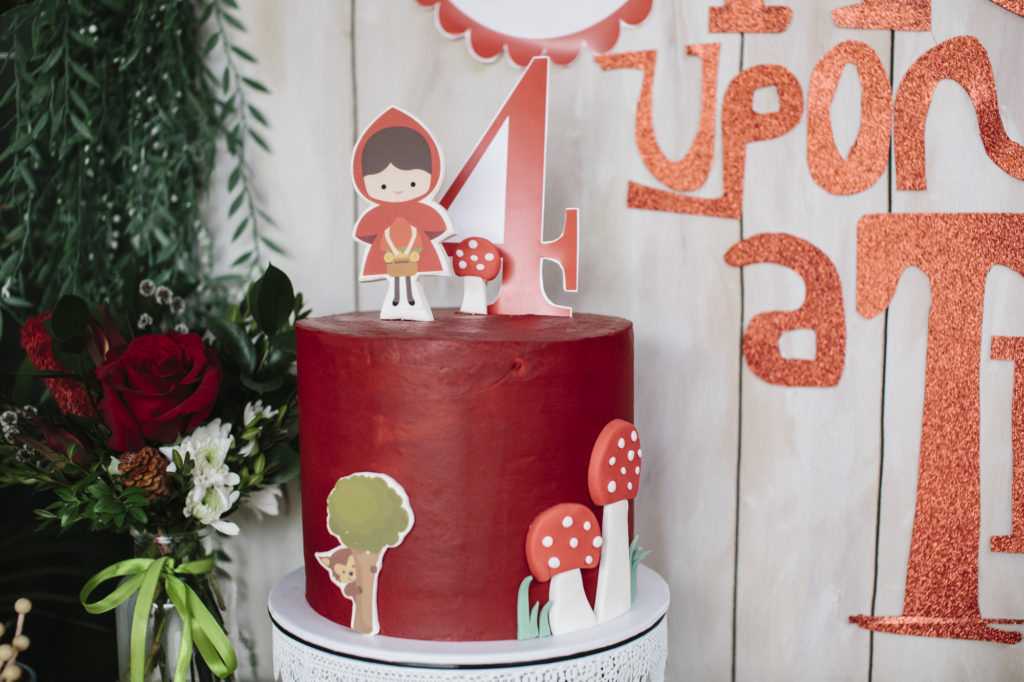 Jennifer designed labels for the favour boxes, which fit perfectly on the white treat boxes from Favor Lane Party Boutique. They were filled with holders designed by Glitter and Glue Designs. Every kid got to take home a box filled with a crayon box, play dough, a lollipop and a chocolate bar. The parents were happy to take home 'Grandma's Cookie Mix' from Sweet Health Cookie Mix which had Smartie colours to match the theme. This was an amazing favour add-on and a fun activity for the kids to do at home with their family, extending the joy to other family members too!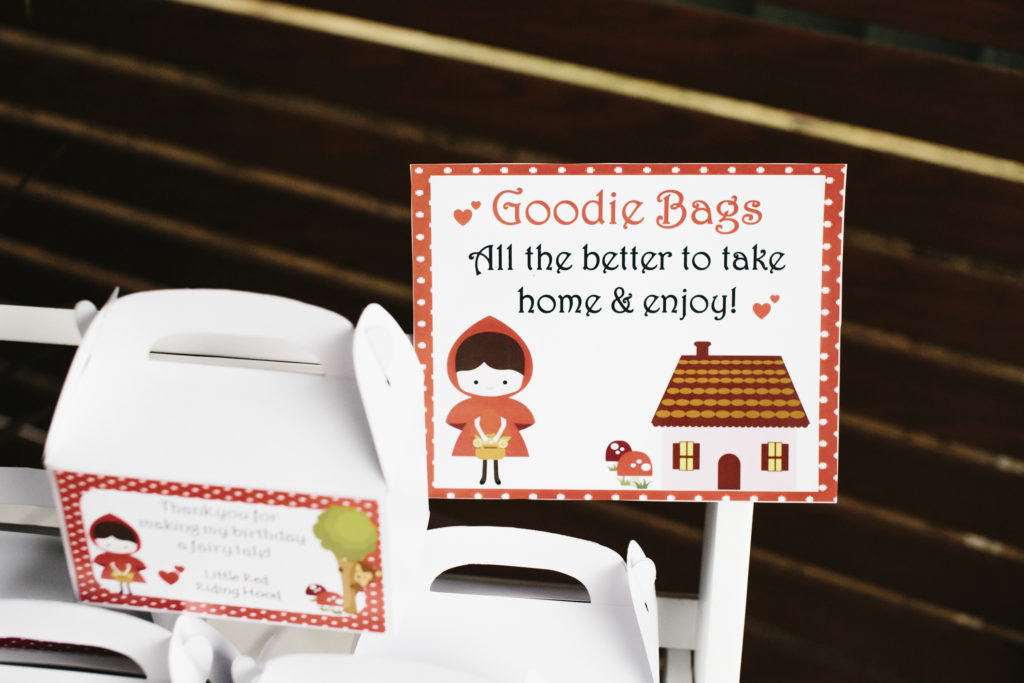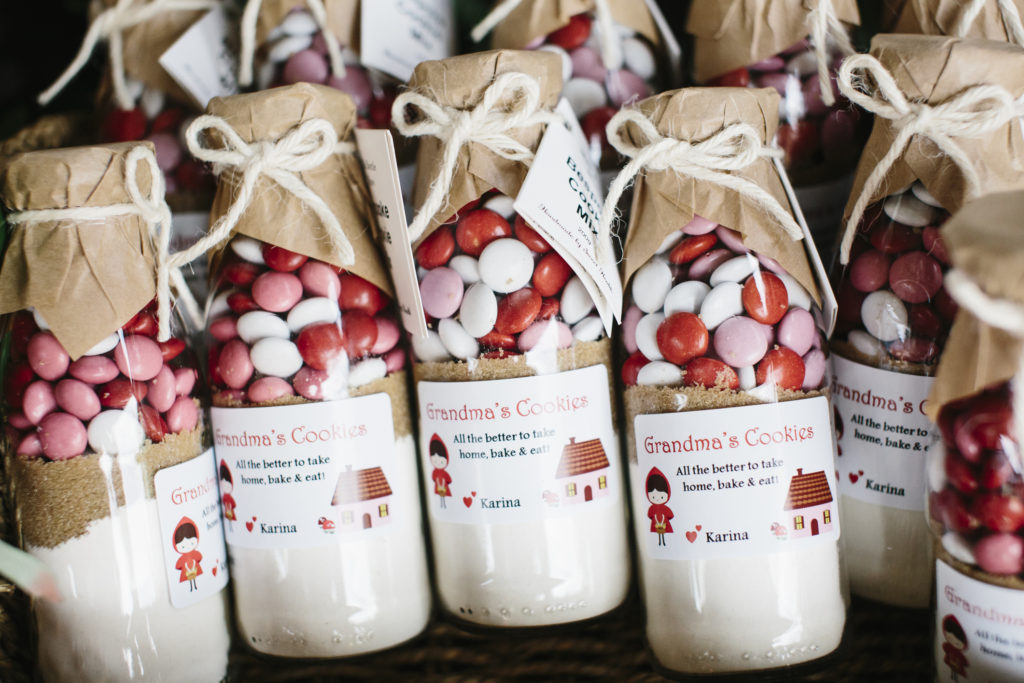 The 'Once Upon a Time' backdrop for the dessert bar was also made by Jennifer. She meticulously chose all the desserts to ensure they tie in with the theme. There were beautiful 'toadstool' and 'apple' sugar cookies, and jelly cups by Nancy of Stak'd Desserts, custom red and white spotted macarons by Rochelle of Chef Baked Treats which were perfect. Finally, as Jennifer put it, "I could not have had my party without the amazing desserts from Nikki Niknakssweetesttreats. Her custard puffs and fudge were YUM and also all matched to the theme." All the desserts looked perfect when styled together. The shiny balloons were from Favor Lane Party Boutique and polished off the dessert table beautifully.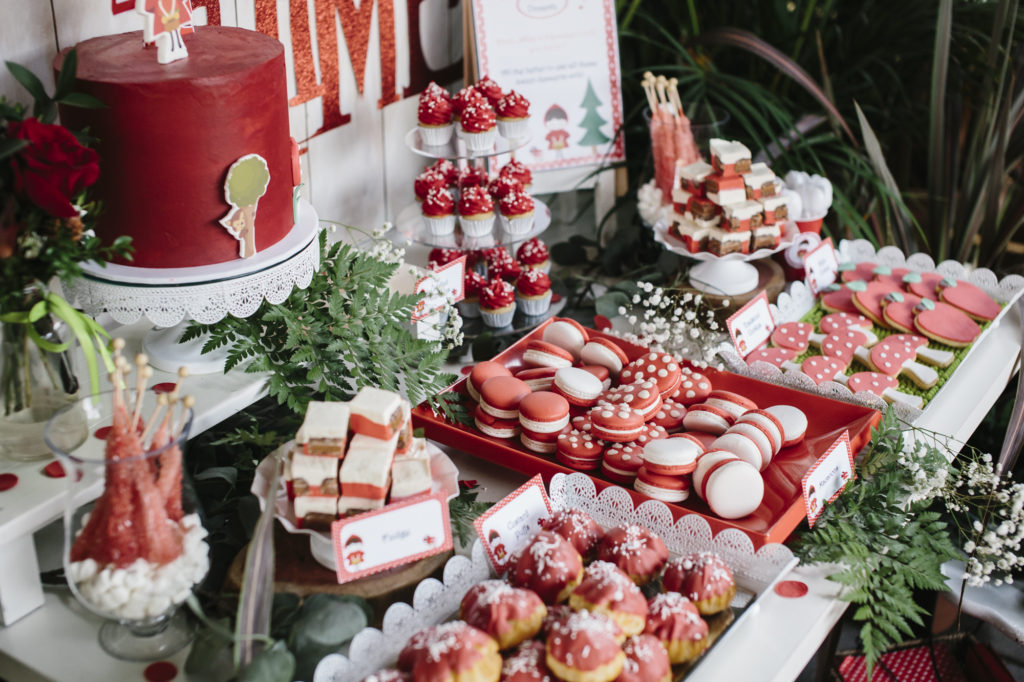 Nancy from Stakd_Desserts, who made the cake, suggested adding the images on to the cake to tie in with the invite. The cake flavour was chocolate mud with dark chocolate ganache filling.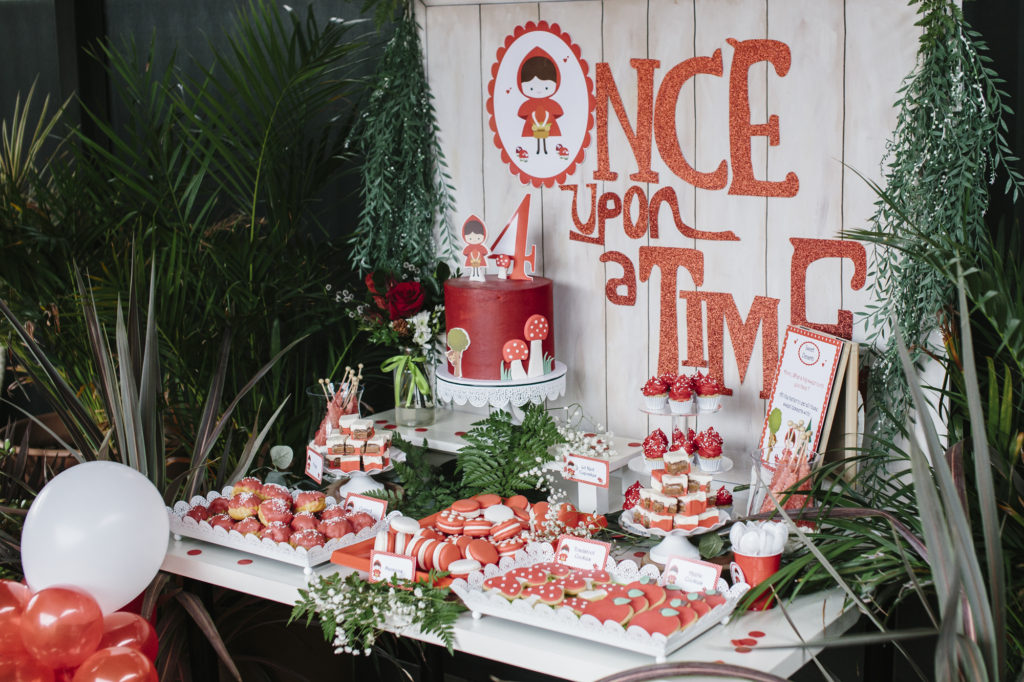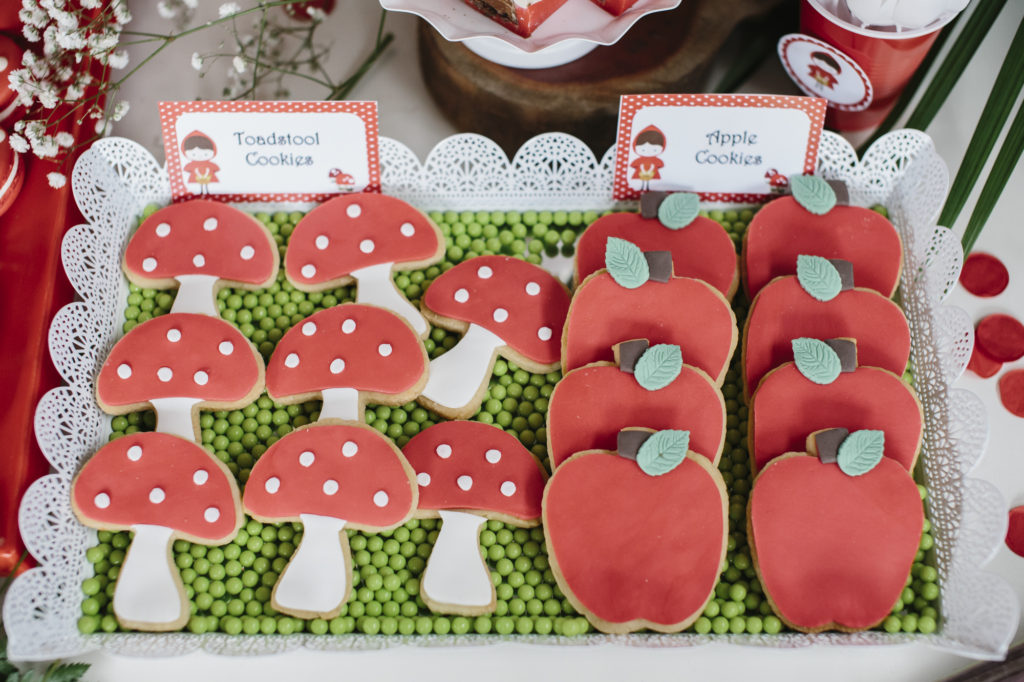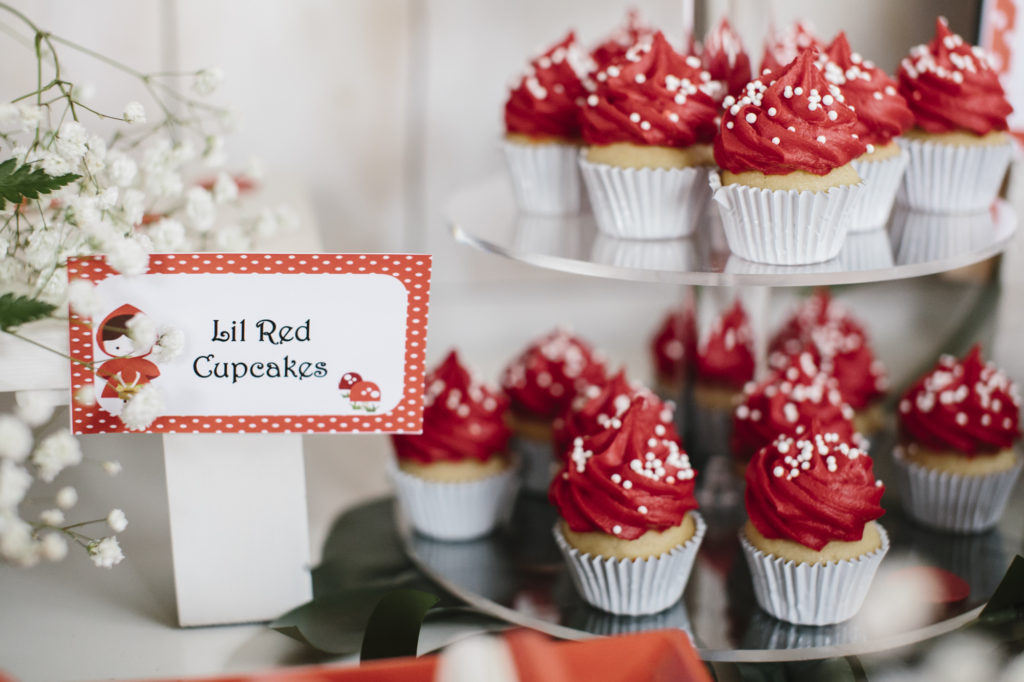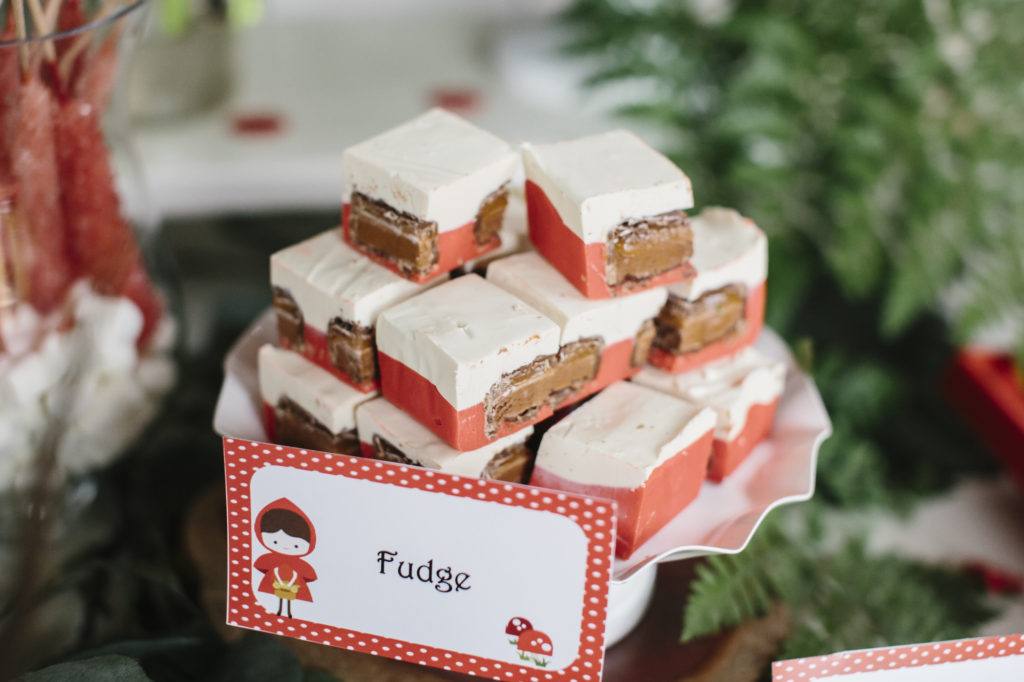 The kid's table setting was also a sea of red! The red chairs and tables were ordered from Perth Toy Hire. They were covered with red linen cloth and paired with a red and white dotted table runner. The setting was simple with space for kids to bring some finger food and enjoy also lining up for their faces to be painted in their special animal or character. The bamboo cone holder from The Little Big Company was perfect to serve popcorn!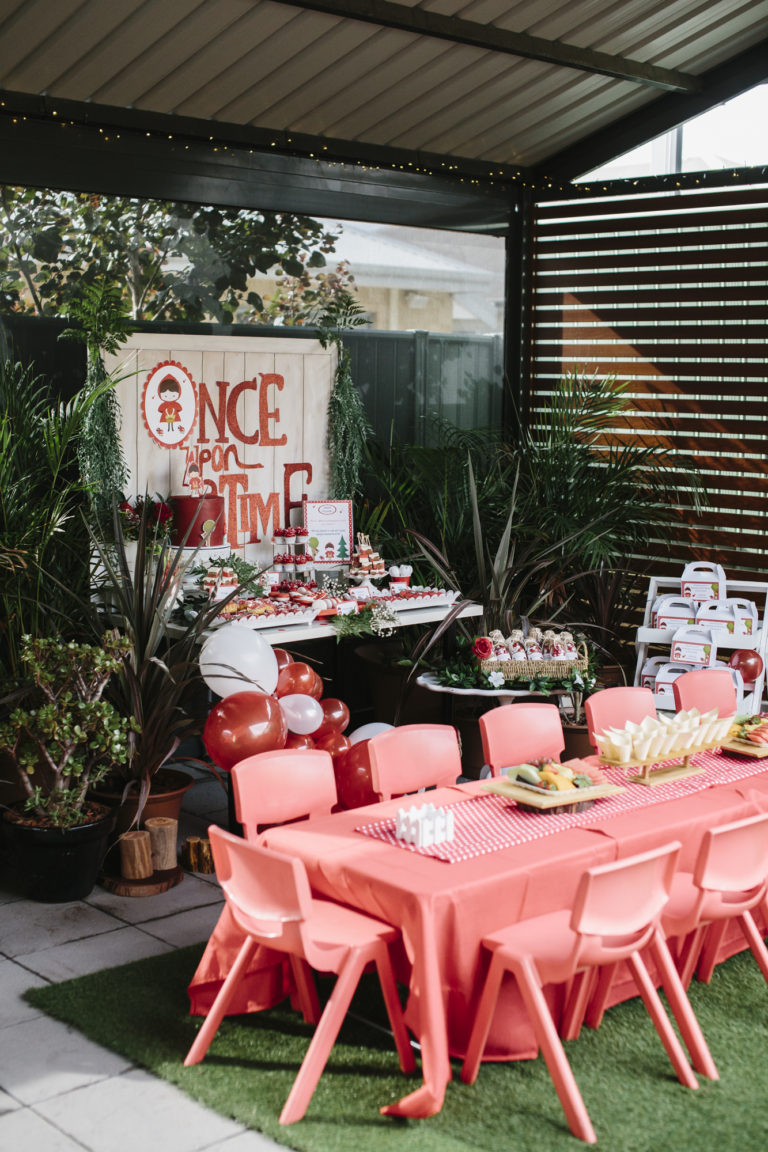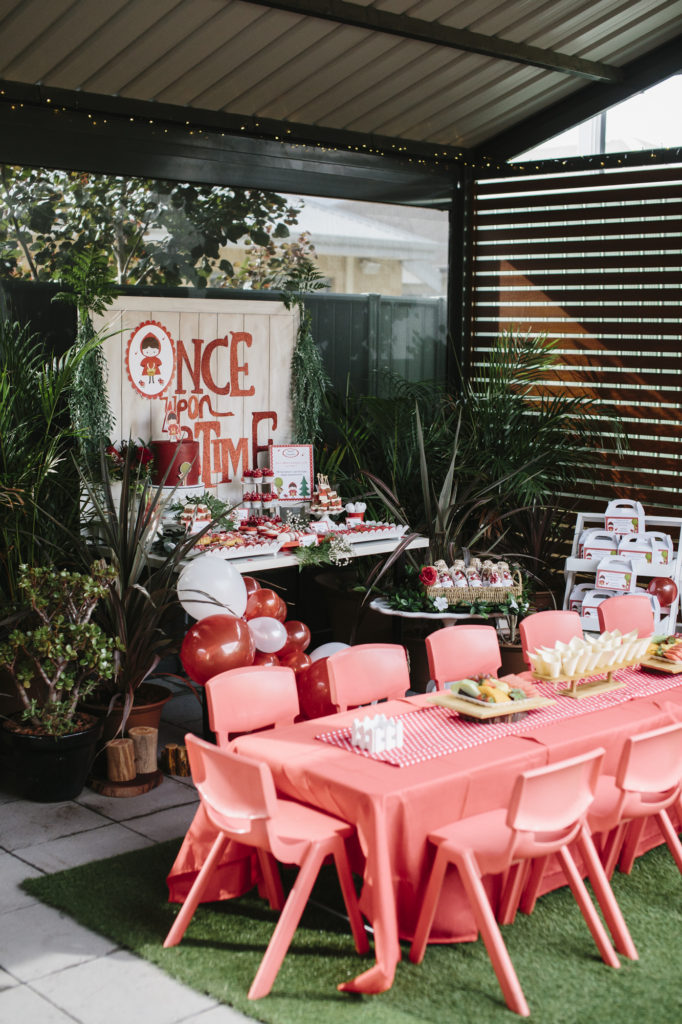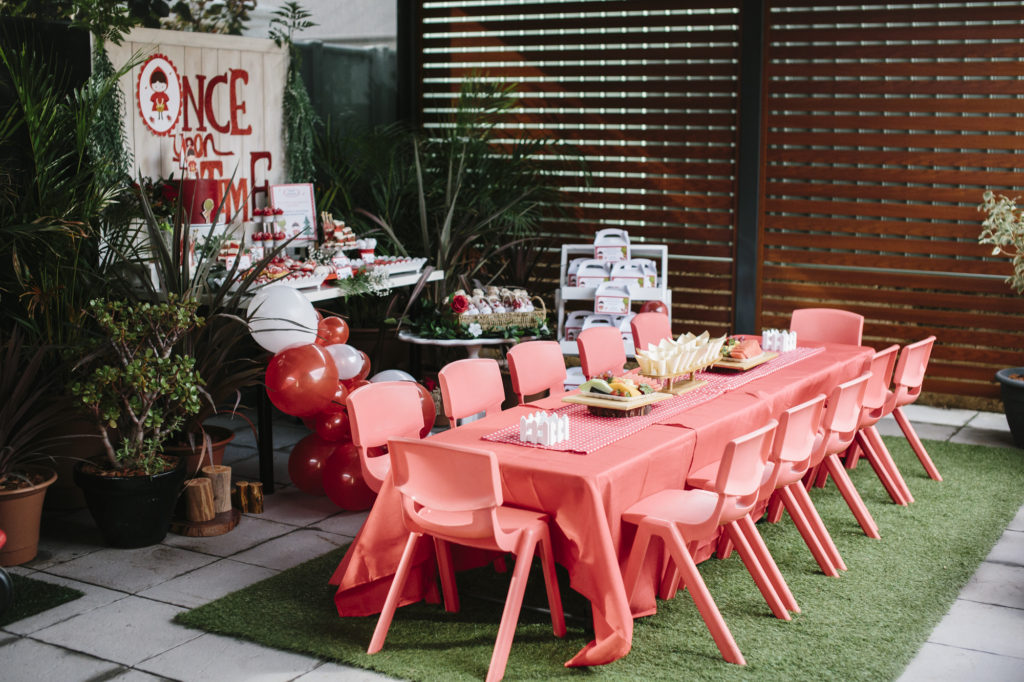 The kids had a 'ball!' in the ball pit hired from Perth Toy Hire, as well as other play equipment like the see-saw, toy cars and a slide too! Jennifer added that this was the first time she had hired a kids entertainer and face painter and that it was the best decision! Katherine from Encore Kids Parties did a great job. There was also a wolf! Jennifer hired the wolf costume and had a family friend dress up as Mr Wolf.
The kids play area

The gorgeous birthday girl

Yummy finger food

The big bad wolf cam to visit too!
A Finger Food table featured all of the faves, such as curry puffs, sausage rolls, chicken Satay, Aranchini balls and pinwheel sandwiches by Cherry's Catering. There was a small antipasto platter, and fresh fruits for the adults too!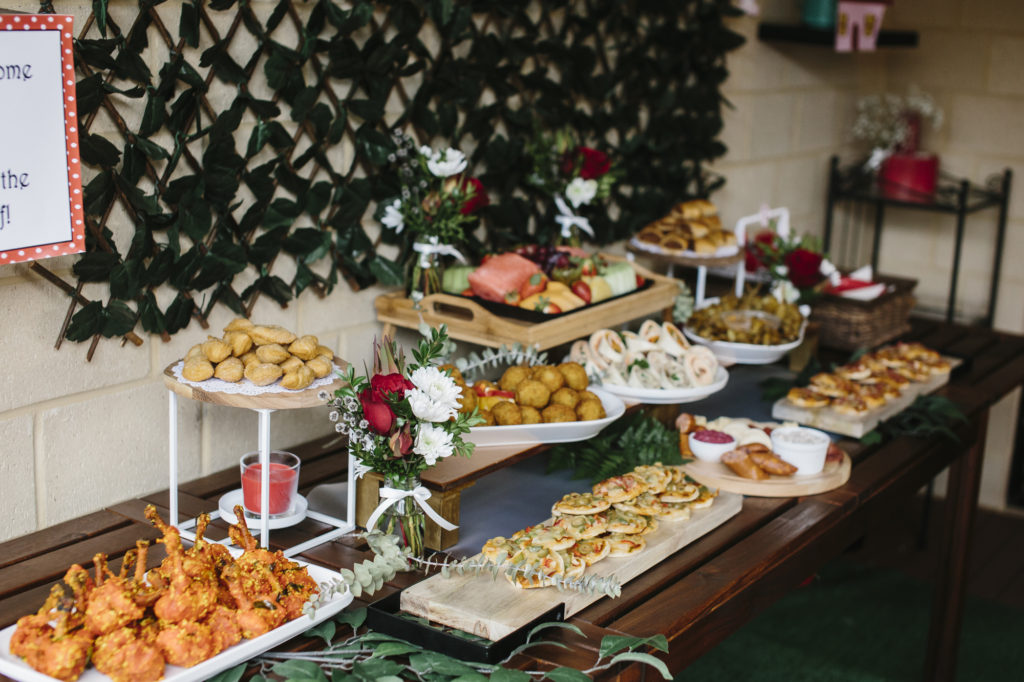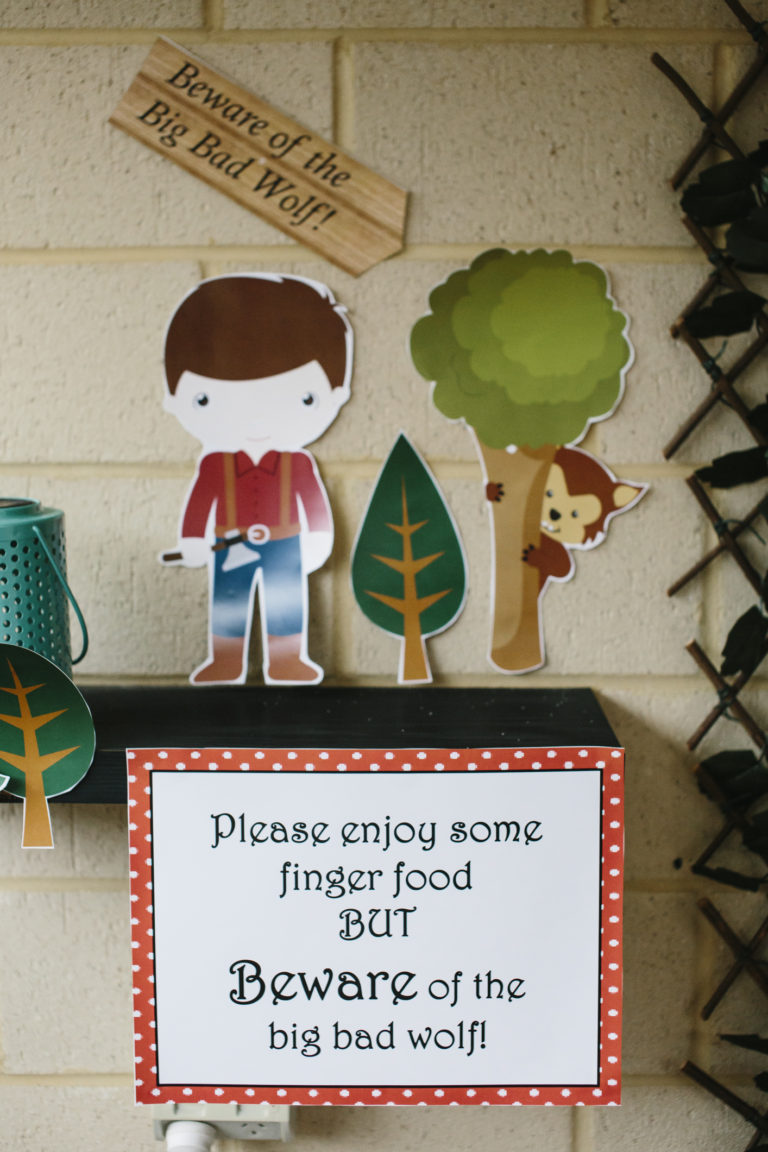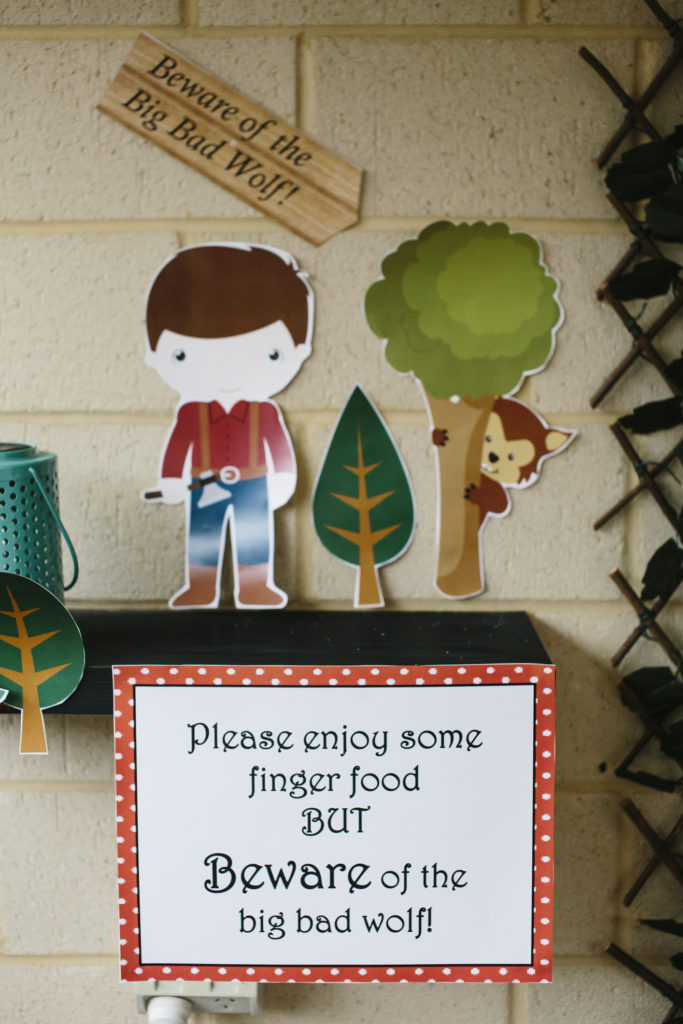 Vendor Credits
Perfect Party Moments – Full Event Planning, Concept, Styling, Printables and Props
Chef's Baked Treats – Macarons and Mini Cupcakes
Nik Naks Sweetest Treats – Fudge and Custard Puffs
Stak'd Desserts – Cake, Cookies and Jelly Cups
Rose & Ribbon – Fresh Blooms
Perth Toy Hire – Kids Table, Chairs, Ball Pit, See Saw and Car Toys
Favor Lane Party Boutique – Balloons and white treat boxes
Sweet Health Cookie Mix – Cookie Mix Bottles
Glitter and Glue Designs – Holders for items in Treat Boxes
Cherry's Catering – Sausage rolls, curry puffs, arancini, pinwheel sandwiches and chicken satay.
For Fruit Sake Platters – Fruit platters for adults and kids
Encore Kids Parties – Entertainer and face painter
Moments Photography – Photography
You can catch Perfect Party Moments on Instagram, Facebook or email