These cute and spooky RIP graveyard chocolate mousse Halloween dessert cups are simple to make and add extra scary vibes to your Halloween!
Special thanks to Sophie Lozanoski of Sweet Sienna Event Styling for the recipe and images.
What you'll need for the Halloween dessert cups (Makes 12)
2 boxes White Wings chocolate mousse mix
680ml full cream milk (approx. 2 1/2 cups)
1–2 packets Arnotts Milk Arrowroot biscuits
1 packet Arnotts Chocolate Ripple Biscuits
1 CK Products black chocolate flavoured candy writer or equivalent
12 plastic dessert cups
12–24 sugar fondant mini flowers
piping bag
Directions
1. Make the chocolate mousse according to the packet. White Wings mix is super easy and quick to make. This must be done first, so the mousse has time to set in the fridge.
2. Once the mousse has set, use a piping bag with the base nozzle to fill each dessert cup 3/4
of the way. You can spoon the mixture in each dessert cup if you don't want to use a piping bag. These square dessert cups are from a local dollar store.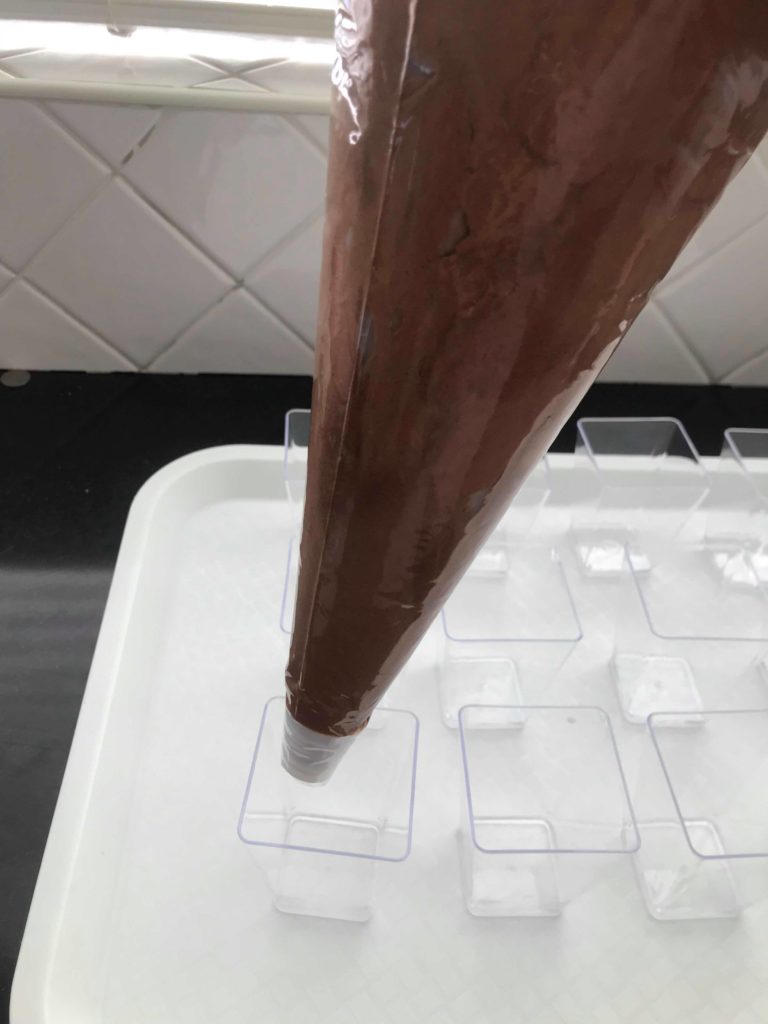 3. Place dessert cups on a tray in the fridge to set for another 30 minutes.
4. Place a packet of Chocolate Ripple biscuits into a ziplock bag, ensuring it's securely closed.
Using a meat tenderiser, roughly crush the biscuits until they are mostly fine. Leave some a little
chunky, as this will add a realistic dirt effect look to the top of the dessert cup. Put aside.
5. Place Milk Arrowroot biscuits on a tray facedown. Using the black candy writer, write RIP
on each one. The candy writer requires heating before use as it is rock solid. Place in a cup of
hot water (tap water is fine). Don't place it in the microwave as it may overheat. As the chocolate begins to melt, take it out occasionally and knead the tube with your fingers to ensure total melting. Once melted, cut the tip off with scissors. Squeeze on to the side first to test the consistency. If the chocolate comes out smoothly, it is ready to use. It's tricky to do, so I piped way more than I needed so I could pick the ones that came out best. Wait 10 minutes before handling them, so they are dried completely.
6. The chocolate mousse cups should be firm enough to take out of the fridge by now. Using
a spoon, sprinkle the entire top of the dessert cup with the crushed Chocolate Ripple biscuit
mixture. Place a RIP biscuit towards the back of each dessert cup. You can then sprinkle a little
more crushed Chocolate Ripple to ensure RIP biscuit sits nicely upright. Decorate with one or
more fondant mini flowers for an added touch. I purchased fondant flowers from Nanda's Cake Store in Bexley. But can be purchased from any cake decorating supply store.
Once all dessert cups are decorated place back in the fridge to continue to firm.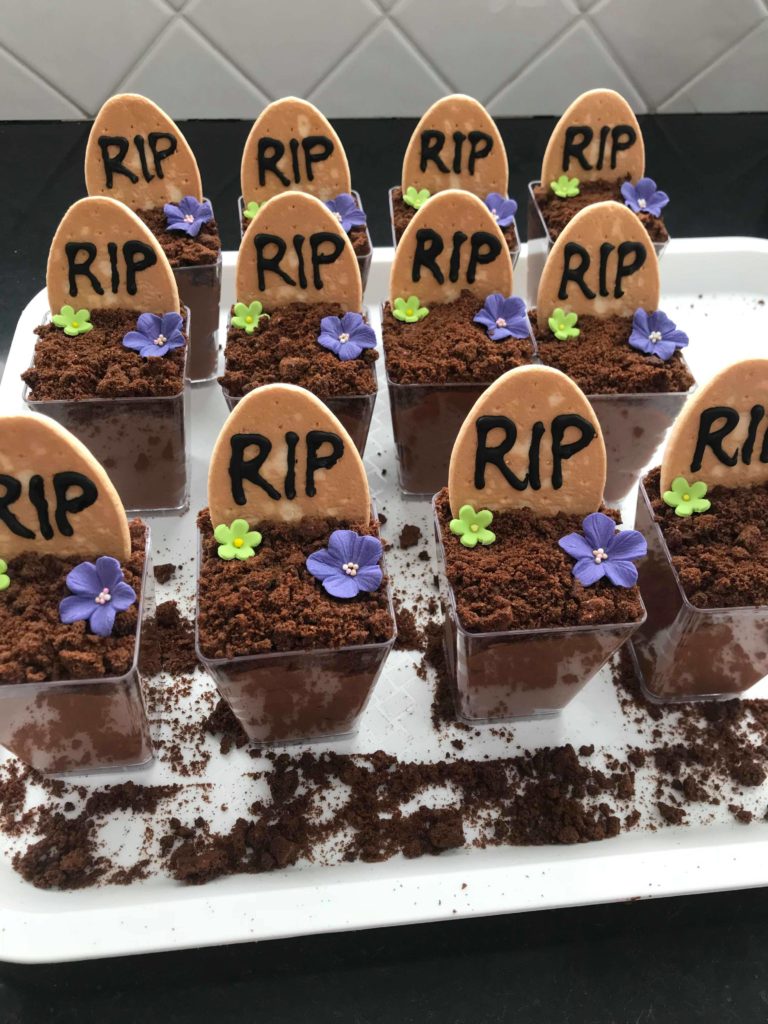 Note
Dessert cups should be consumed within 1-2 days of making.
Enjoy!! Happy Halloween!
You can get in touch with Sweet Sienna Event Styling via email or call on 0412 158 551. You can also reach out via Facebook.