Yesterday we featured the awesome Luxe Roaring Dinosaur party thanks to Angela from Honeypunch. The party featured some pretty cool DIY projects, which Angela has shared with us. Read on for the roar-some dinosaur party DIY ideas below!
Get your craft on with these 6 dinosaur party DIY ideas
Party Hats
These hats are the cutest thing ever! I mean, I want one.
You'll need pre-bought party hats, white self-adhesive felt, gold card or stiff fabric, gold pom-poms, glue
Cover the hat with the felt, trimming to size (if you want to make your own, we do have a template here)
Cut triangles into the gold card to create spikes, keeping the same length as the hat. Don't forget to keep the base thick, to allow for a 'tab' that will be glued onto the hat.
Top it off with a Pom Pom!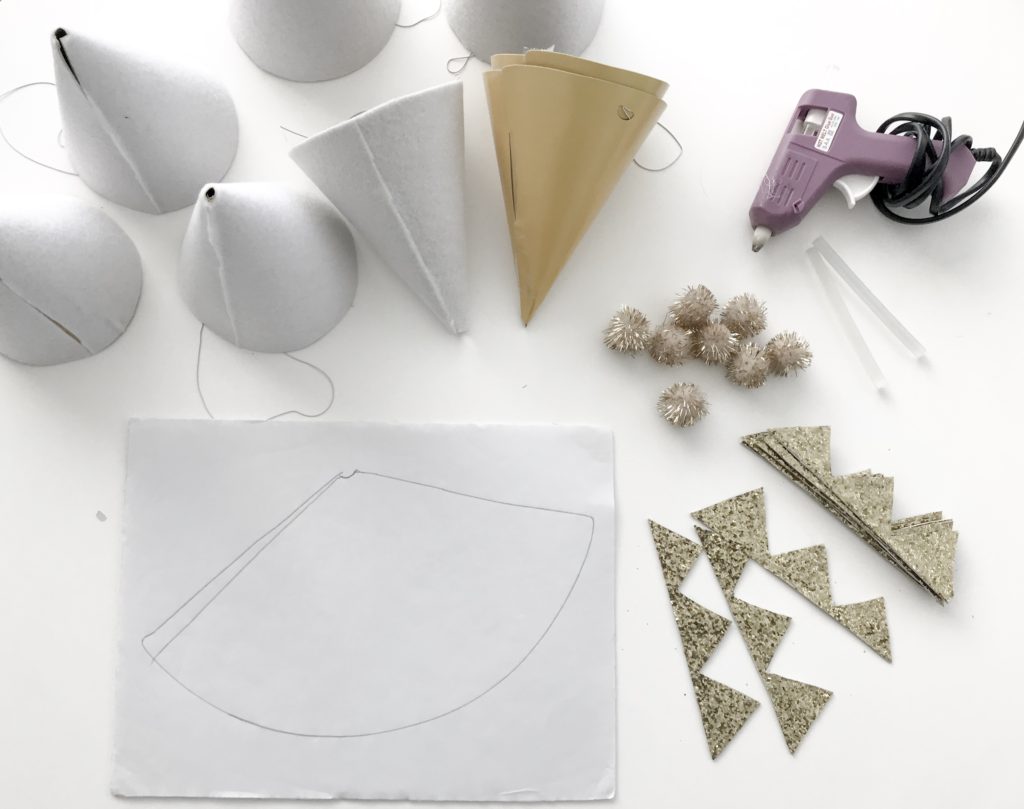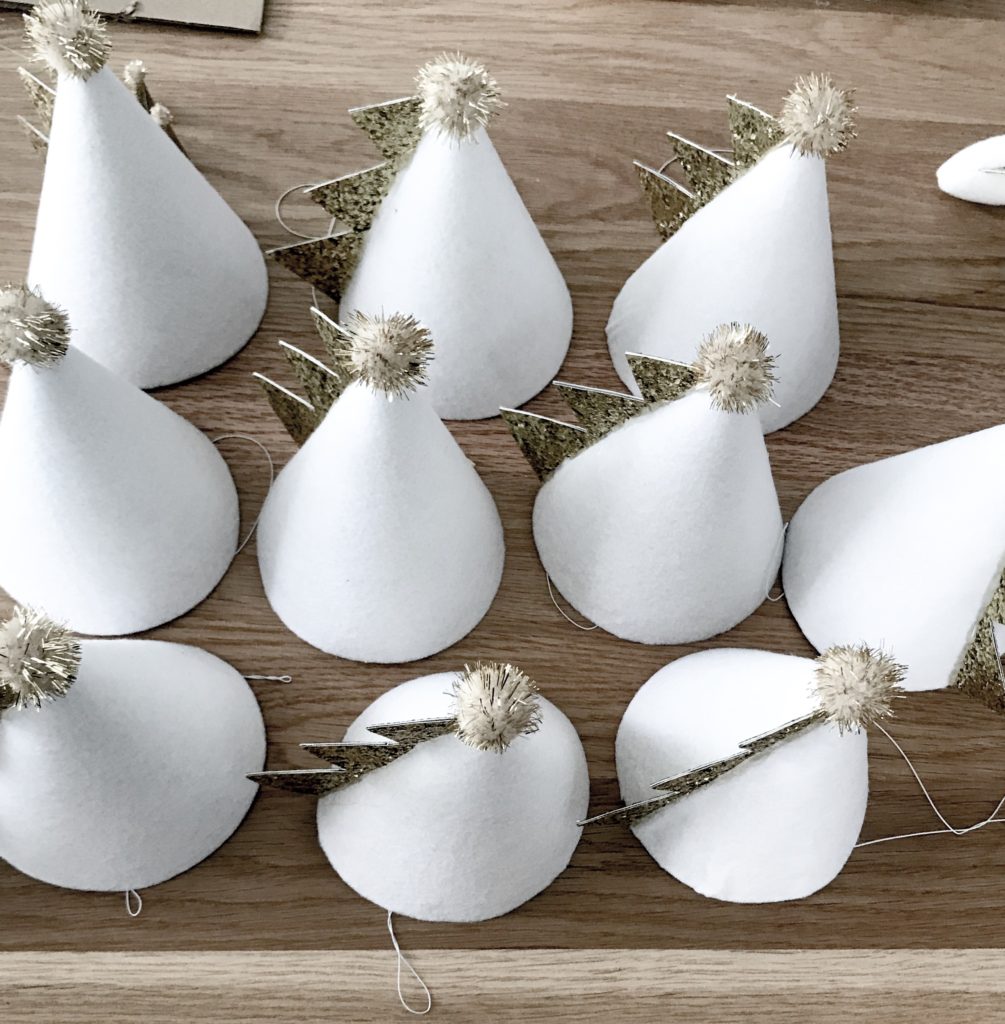 Dinosaur cake toppers
For this one, you'll need plastic dinosaur toys from Kmart, spray paint and cardstock and pom pom for party hats.
Purchased plastic dinosaur toys from Kmart
Gave them approx. 5 coats of white spray paint (plastic doesn't take well to paint)
Cut out a small semi-circle from gold card and make into a cone
Add a small pom pom
Using hot glue gun stick to dinosaurs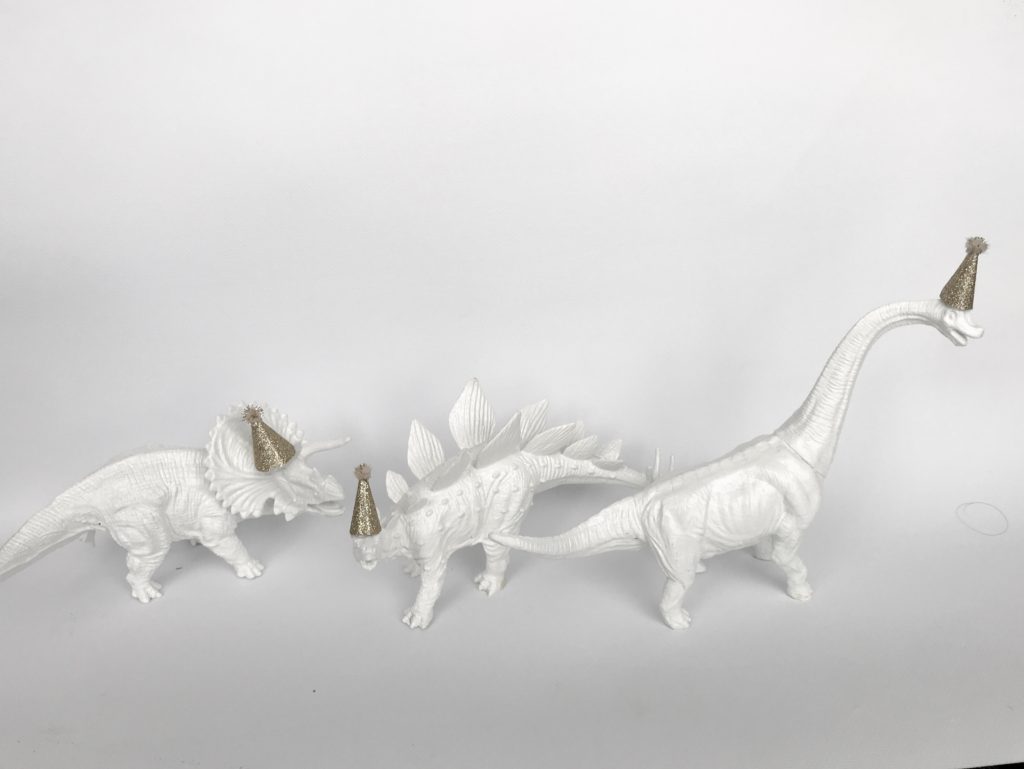 Party Favour Jars
The concept for these ever-popular and favours can be used for any theme party in which a cute little figurine exists. I've seen jungle, rubber ducky and even army versions.
You'll need a glass jar with a screw top lid (not plastic), spray paint or acrylic paint (we've used spray paint when we've made these, but it's messy) and hot glue gun.
In this version, Angela spray painted the lids, and hand painted the plastic dinosaurs. Simple hot glue gun would do the trick to adhere to the lid.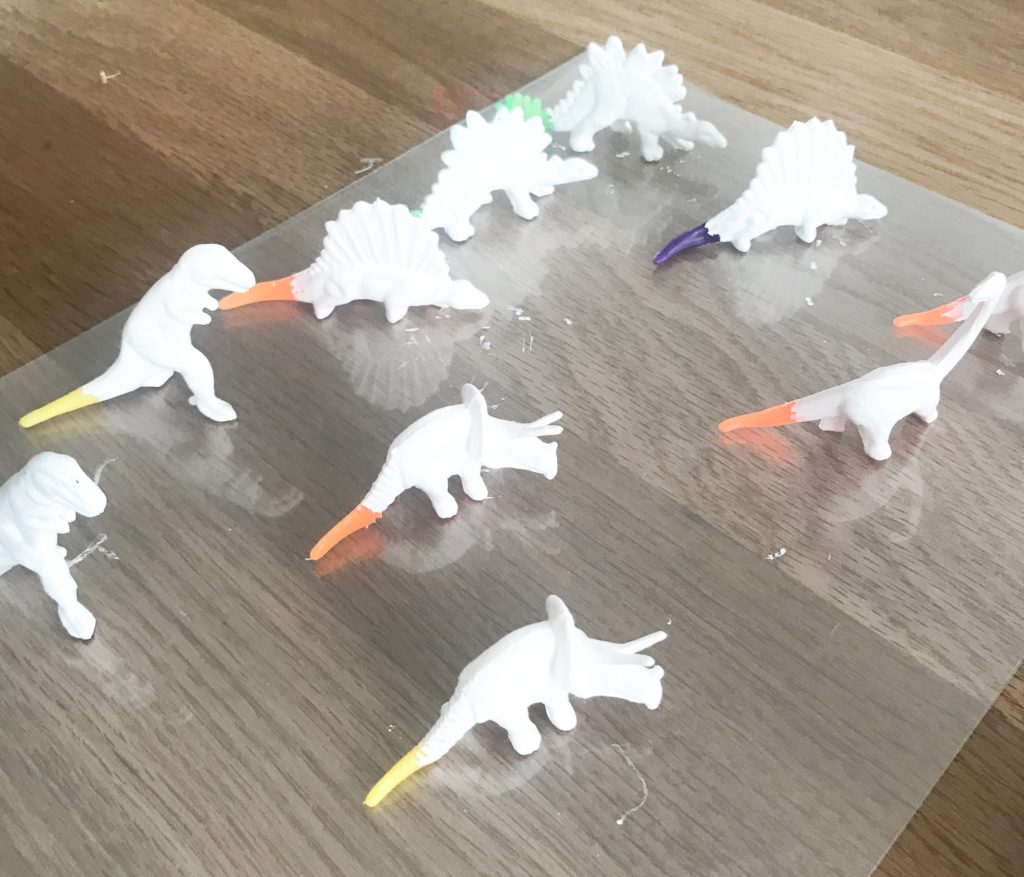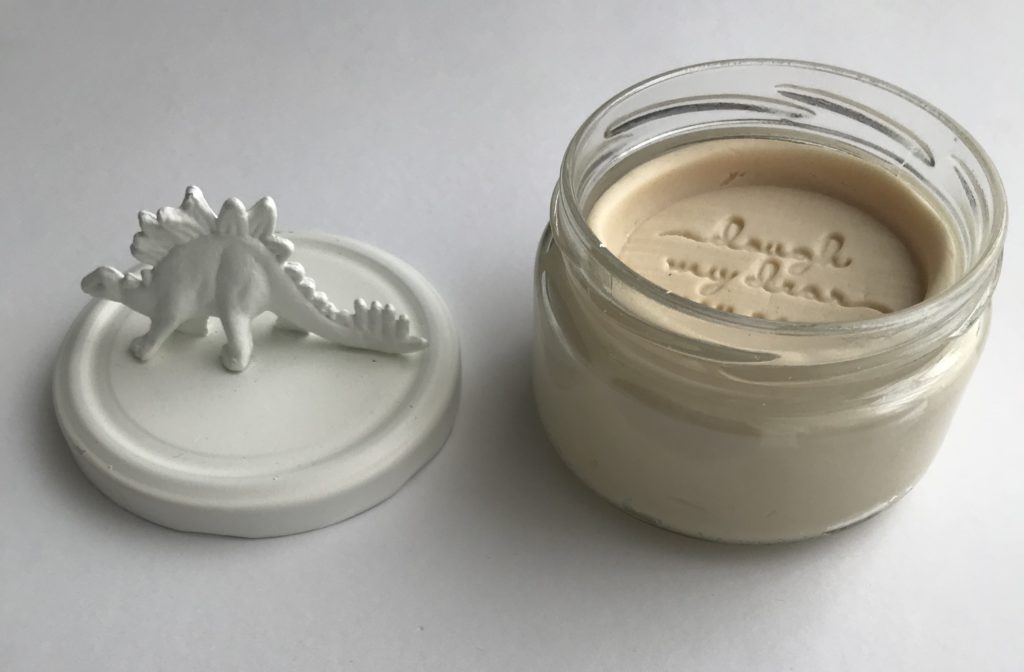 Dino Foot Prints
This idea was so cool. You'll need a marker, cardboard and contact paper.
Cut a dinosaur footprint template out of cardboard.
Trace onto the back of the contact paper
Cut, peel and stick on the floor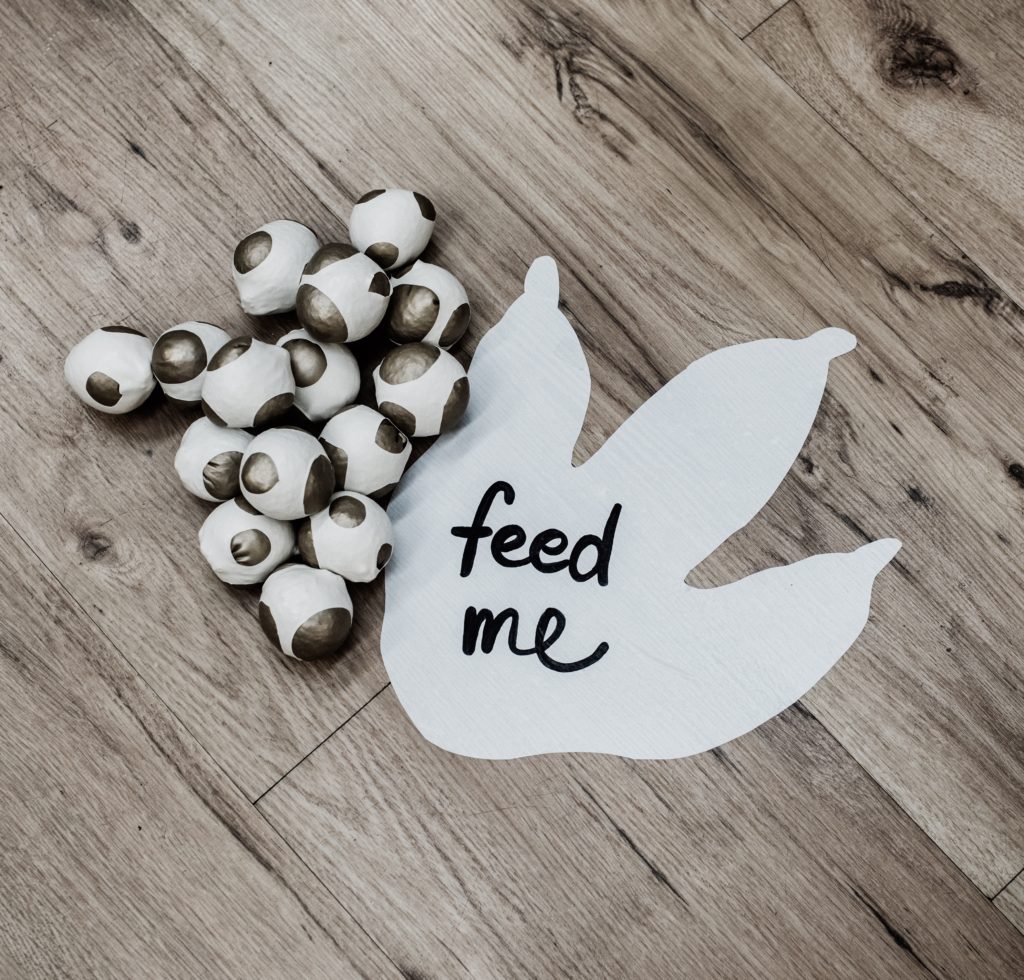 Peg- Stegosaurus craft activity
This is a really cool game for a dinosaur party! You'll need cardboard, felt, googly eyes, popsicle stick and trusty glue gun. Coloured cardstock and a pompom is an optional extra for the party hat.
Cut a stegosaurus template from cardboard (excluding the spikes)
Trace onto hard felt and cut out
Hot glue gun popsicle stick
Stick on googly eyes
Cut out 2 small triangles for a party hat, stick back to back and add a small pom pom
Kids to complete the task by decorating the spikeless stegosaurus using glitter pens and adding the small pegs as the spikes on the back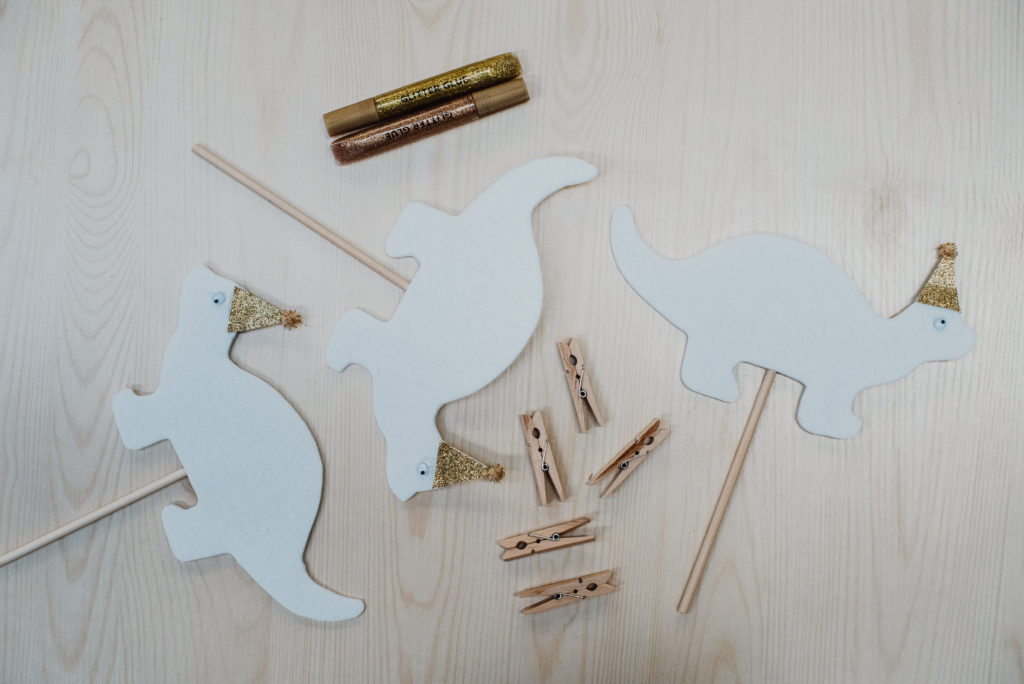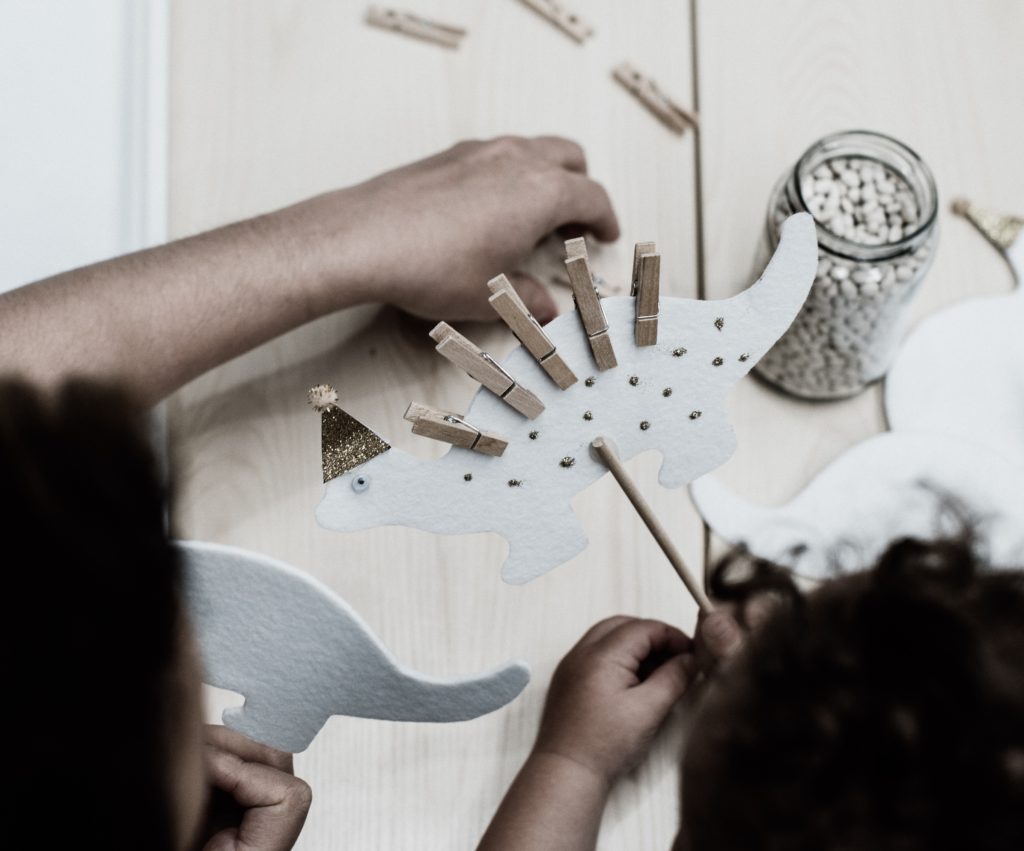 Feed T-Rex Ball Toss activity
Now is is a slightly more ambitious DIY, but definately worth it if you give it a go.
You'll need cardboard, a market, tape and a box (cardboard will do), plus cardstock and pompom for the hat. For the balls you'll need gold balloons, white balloons, a funnel, rice, and scissors.
Hand draw a T-Rex head onto a thick cardstock (or try a template here)
Cut out the shape. An X-acto knife might work best.
Using a black texta draw the face
Cut out a triangle shape from gold cardboard
Stick on top of T-Rex and add pom pom. This is for the optional hat.
Secure to a box to support the cut-out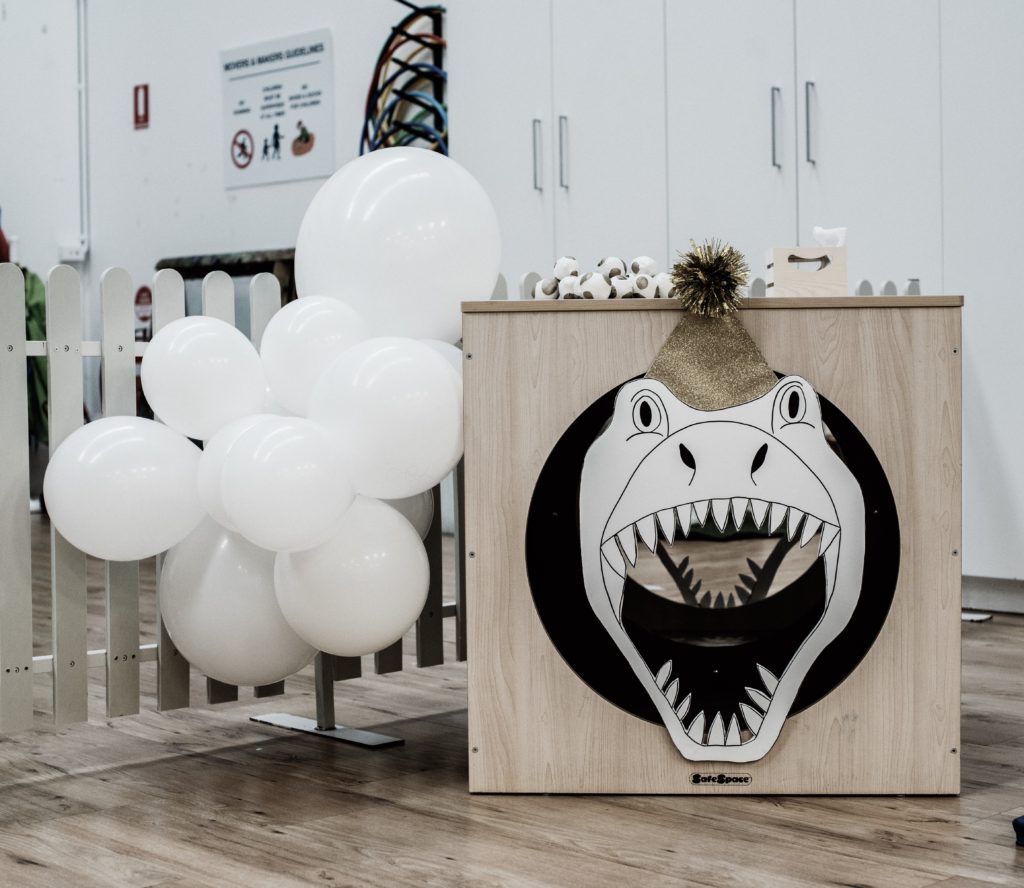 To make balls
Fill up gold balloons with rice using a small funnel
Suck out the air and tie a knot to secure close.
Using a second balloon (white one) cut off the balloon at the base of the stem
Continue to cut 4-5 small random holes with your scissors.
Insert the gold rice balloon inside the white balloon and stretch out the white balloon as needed to ensure the balloon is secure
Thanks again to Angela Strong for these awesome dinosaur DIYs. You can follow her and her little man Louis at Honeypunch on Instagram.